Being a food blogger, and food lover, and being raised by an excellent cook who was also raised by an excellent cook, has pretty much helped form into the foodie that I am today.
 "What's a foodie?"  You might ask.  According to Wikipedia, where I go for all the answers, a foodie is "a person who has an ardent or refined interest in food."    That's me, in a nut shell.  However, that leaves me with no way to avoid having kids who also love food.
Many of our family activities revolve around meals, or snacks, or appetizers at a party or get together.  Food is every where for us.  And we like it that way.
Now, I didn't set out on a mission to raise my kids to be foodies.  That just happened to be what I liked, and my kids are, apparently, going to follow suit.
So, after being around my kids for a little while, and listening to them (ya know, just being their parent), I've picked up on a few signs.  Things you can watch for in your kids to see if you are raising foodies as well.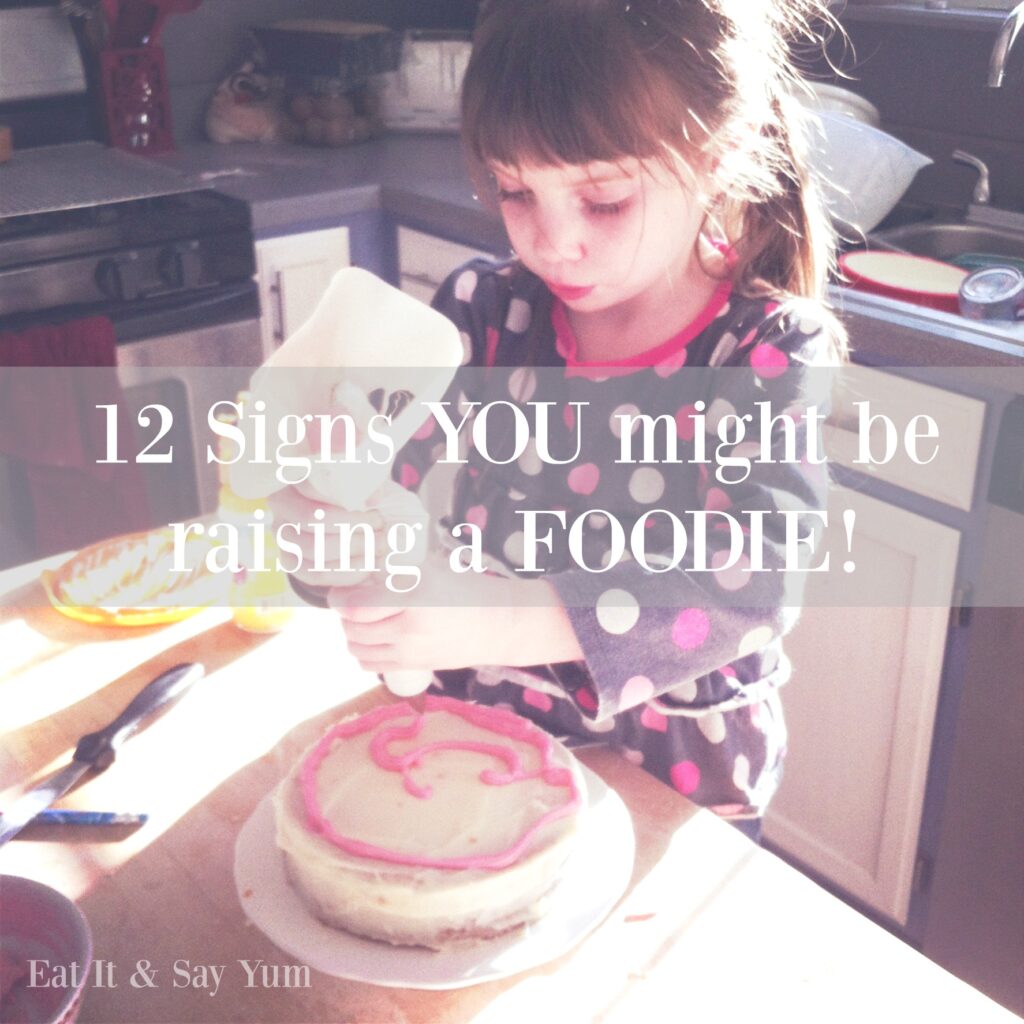 1. Your kids have high food standards.
I'm not going to say 'food snob' because I really don't like the negative connotations that come with that.  Who wants to admit their kids might be snobs about something.  But your kids know good food.  And they like it.
For example:  Hypothetically speaking (we all know what that means) you take your kids to your friends house so she can babysit them.  She is kind enough to feed them dinner and it is ramen noodles.  Your kids, being the polite sweethearts that they are, reply with 'What is this mush?"  Nice, huh.  Your friend is super easy going, and even volunteers to watch them again.  Next time, she feeds them a nice salmon dinner, and your kids just rave about how good it is.
See, you can't fool them.  They have a refined pallet.
2. Your kids love eating out, at the $25 a plate hibachi restaurant…
Sure they'll go to Mc'D's, but if you give them a choice?  It's the Filet Mignon at the fancy place where they cook in front of you.  (Actually the kids call it 'Flaming yawn.'  Close enough.)
I really can't blame the kids on this one, I love eating there, too.  But, I take this as a definite sign of the 'foodie-ness' growing inside them.
3.  Your kids CHOOSE to watch Food Network.
My oldest was home alone for a little bit one day, and when I walked back in the door he was watching Cupcake Wars.  Not Sponge Bob.  Or Ben 10, or whatever else kids watch these days.  It was Cupcake Wars.  A child after my own heart.  🙂  This wasn't an isolated incident either. My kids regularly watch Chopped, Mystery Diners, Duff til Dawn, Cutthroat Kitchen, and every baking championship show there is.  Which brings me to my next point…
4.  Your kids KNOW they are going to be on the next kids baking/ cooking  show.
All of my kids ask when they can go on one of those shows.  It is a common conversation around here for them to tell me all the dishes they know how to make and would definitely make while cooking in a competition.  Things like Mac and Cheese, Pancakes, Snickerdoodles, Fried Eggs, and Scrambled Eggs.  My middle son made snickerdoodles every weekend for a month, just as practice for when he gets on that cooking competition.
What's funny, though, is when I suggest that we practice cooking some things so they will have more experience and more recipes to rely on in a cooking competition scenario.  Their answer is always 'no.'  They don't need me to teach them anything, they already know it all!
5.  Your kids have plans to own a cupcake shop someday.
They also talk about being chefs, owning restaurants, and ask when they can take cake decorating classes, too.   My oldest boys have plans to open a movie theater together someday, but they 'will serve GOOD food.'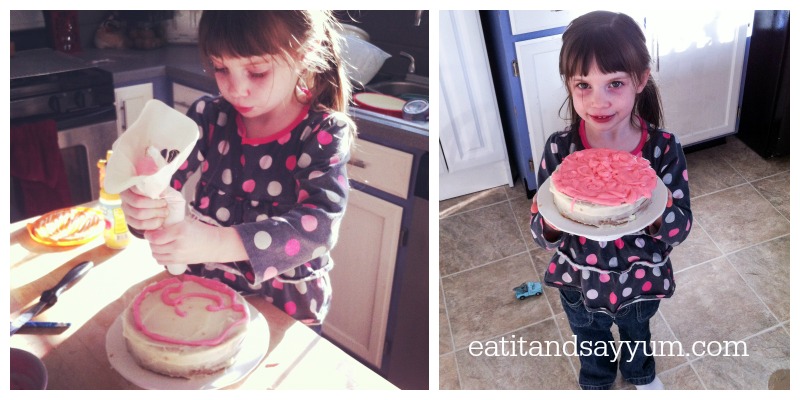 I have had to resort to doing most of my cake decorating at night or while the kids are out of the house.  Just too many helpers sometimes.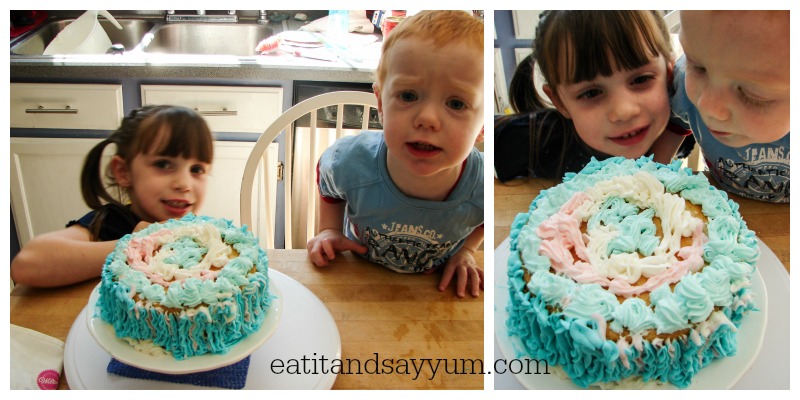 But when I have a leftover cake and frosting, they are all too excited to put the leftovers to good use.  These cakes were done completely by my daughter.  Impressive, no?  You can see one her cake plans here.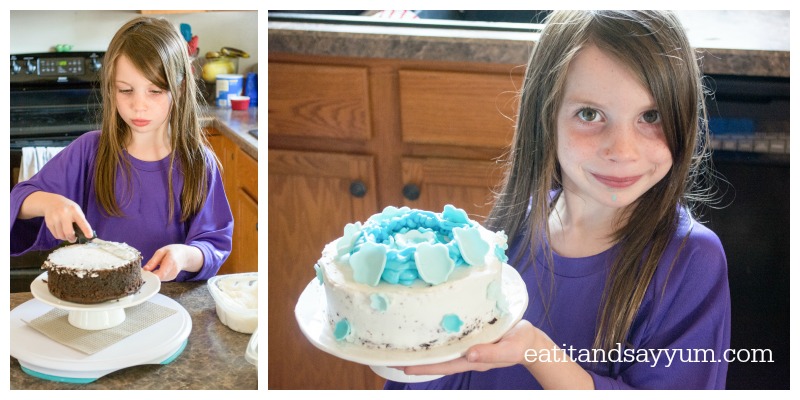 6.  They like to style food and take pictures of it.
This is really the future food blogger coming out in them, but this for reals happens.  My daughter will stage some food item, with props and then raid the pantry for the small details, like chocolate chips to sprinkle in the background to add interest to the photo.  And then mom has to come and take pictures of the whole thing, too.  These pics are of a shoot that my little girl styled all by herself.  She even got the white foam boards and set them up, EVERYTHING about this was her idea and her work.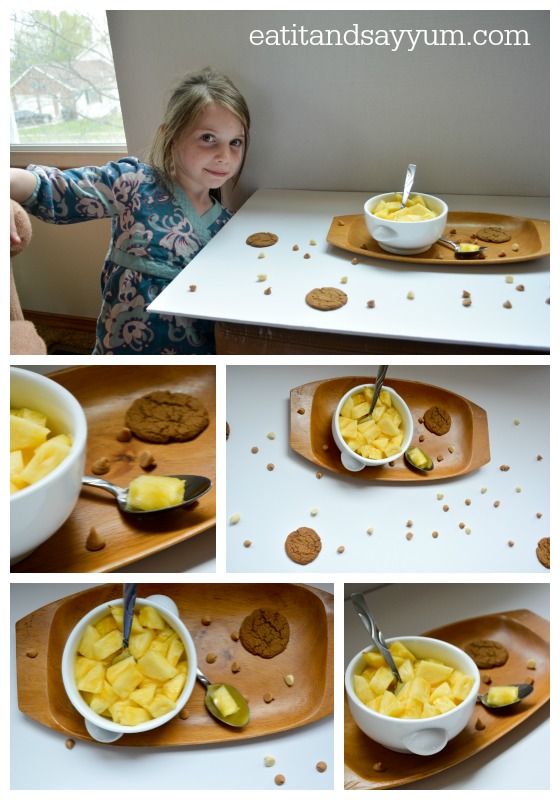 Even though I wouldn't normally eat pineapple with ginger snaps, butterscotch chips, and white chocolate chips all together, I'm SUPER proud of this.  #ProudParentMoment
Another creation of hers are these cute little sugar cookies, with a reindeer, and a snowman.  Again, all her own work!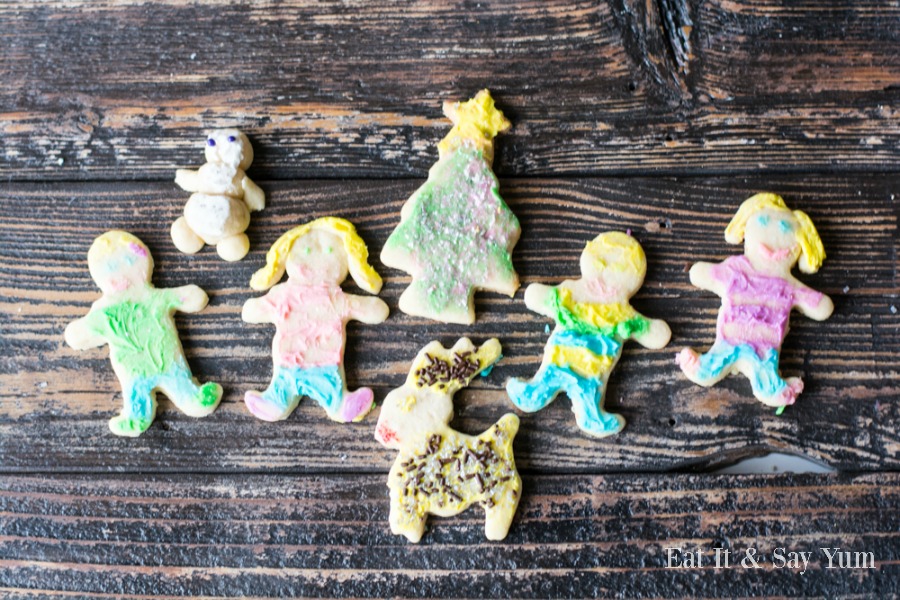 Six more "Signs of a Foodie" are on the NEXT page!