This is a great appetizer, snack, or side dish.
It's fresh and healthy.
And it's really good.
(My Dad loves it!)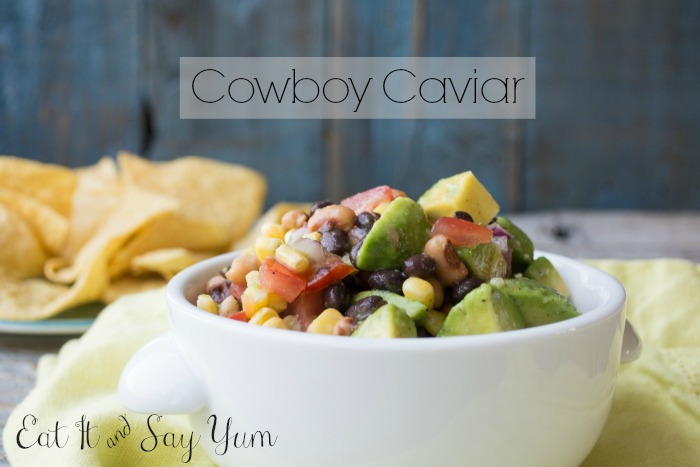 Ingredients
Dressing: 1 Tbs sugar
2 Tbs vinegar (plain white/ distilled)
2 Tbs vegetable oil
Juice from 1 lime (about 1 Tbs)
1/4 tsp cumin
1/4 tsp salt
1/4 tsp pepper
Dip: 4 avocados- diced
2-3 tomatoes- diced
2 cups frozen corn
1 can black beans- drained and rinsed
1 can black eyed peas- drained and rinsed
2 cloves garlic- minced
Instructions
Dressing: Mix the dressing ingredients together and let sit.
Dip: Chop, or rinse, etc. the dip ingredients. Toss all these ingredients in a medium/ large bowl. Drizzle dressing over top, give it a quick stir to fully incorporate.
Let sit in fridge for a few hours.
http://eatitandsayyum.com/33/
Then serve with tortilla chips.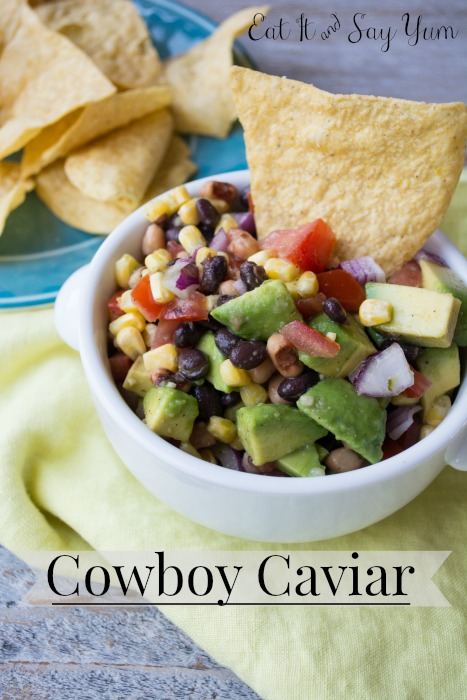 Here is a quick tip for easy avocado dicing.
Slice avocado in half, remove pit.
While still in the peel, use knife to cut through avocado, but don't cut through the peel.
Go both directions, cutting into desired size chunks.
Use a spoon to scoop diced avocado out.