Hey everyone!
Since it is February, this is our second month of the Monthly Ingredient Challenge!
The featured ingredient this month is Apples.
I decided to do a dessert this month, and use some apples in a cake.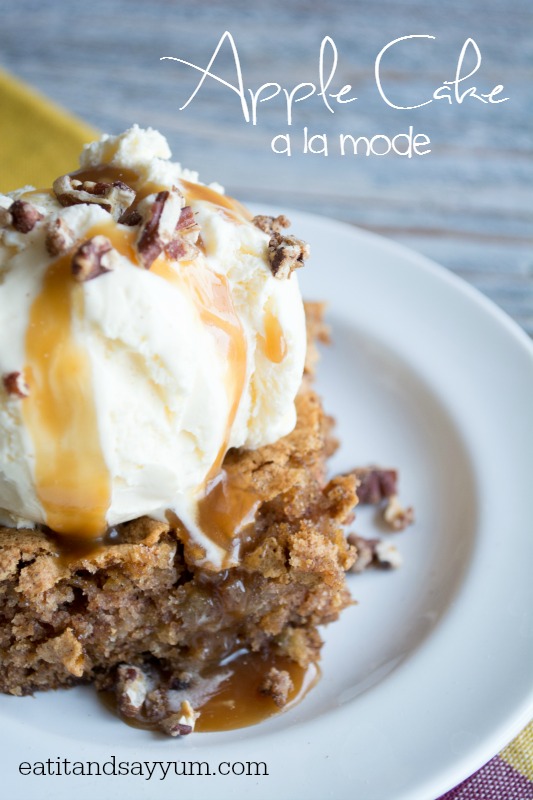 I just can't resist apples with caramel.  And when you have warm cake, you need ice cream.
The cake has a great apple cinnamon flavor.  It has a nice texture, and a slightly crisp top.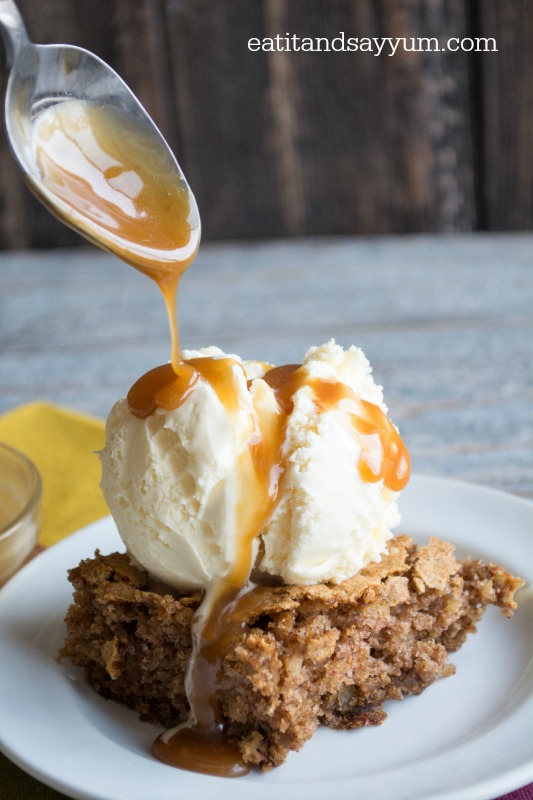 The cake is easy to make, and bakes in a 9×13 pan.  Super convenient.  You could get 12 large servings, but cutting it a little smaller still produces a nice size portion when you add the ice cream and toppings.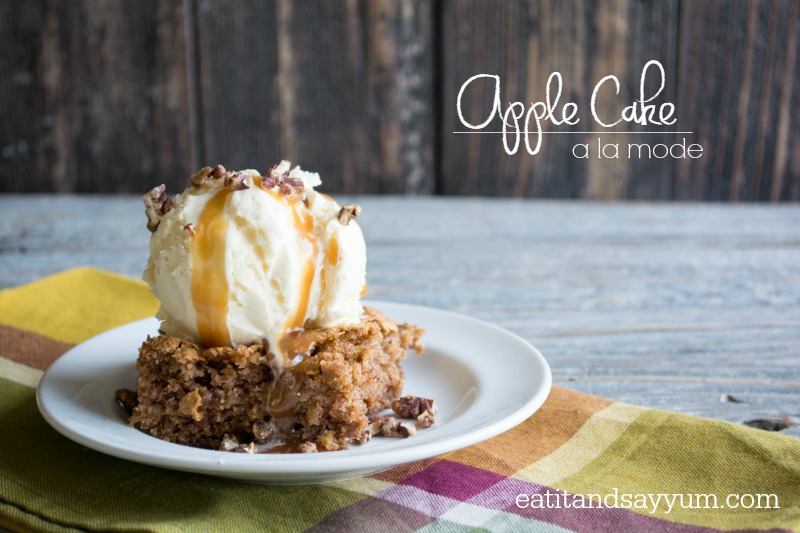 I added some toasted pecans for a nice crunch.
My kids could not get enough of this dessert.  I know that's typical of kids and dessert, but quite honestly I couldn't get enough either.
Apple Cake with Ice Cream and Caramel- Monthly Ingredient Challenge
Ingredients
2 cups flour
2 tsp baking soda
1 tsp salt
2 tsp cinnamon
1/2 tsp nutmeg
2 cups sugar
2 eggs
1/2 cup oil
1 1/2 tsp vanilla
4 cups of peeled and grated apples- about 3 medium apples
Vanilla ice cream (or whipped cream)
Caramel Sauce
toasted chopped pecans- optional
Instructions
Preheat oven to 350 degrees. In a large mixing bowl whisk together the flour, salt, baking soda, cinnamon, and nutmeg. Set aside.
In a medium mixing bowl, with a hand mixer, beat the eggs til frothy. Beat in the sugar, oil and vanilla just until combined. Grate the apples and add to the sugar mixture. Stir to combine. Add the apple mixture to the bowl of dry ingredients and stir together just until fully combined, scraping the sides of the bowl when needed.
Pour the batter into a greased 9×13 pan and bake for about 45 minutes or until a toothpick inserted near the center of the cakes comes out with a few crumbs, not wet batter.
Let the cake cool slightly , then serve each portion with a scoop of ice cream, a drizzle of caramel sauce, and top with the pecans. Keep any left over cake in air tight container, on the counter for a few days.
http://eatitandsayyum.com/apple-cake-with-ice-cream-and-caramel-monthly-ingredient-challenge/
I know apples and cinnamon are typical flavors of the Fall, but I love it year round.  So make this now, and again in the Fall.  And maybe every Sunday in between there…
Don't forget to check out all the other Apple Recipes that are part of our Monthly Ingredient Challenge.
You might also like: