Soft apples with a crisp, sugary crust is a great Fall dessert.  Especially topped with ice cream!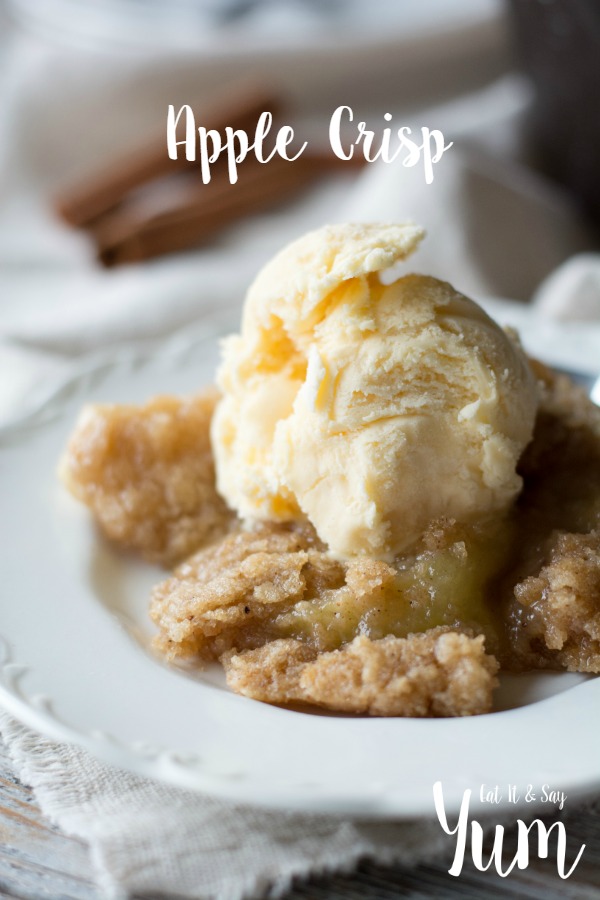 This is my favorite apple crisp!  I love the crisp topping, with the tender apples.  And I have to add ice cream or whipped cream- just because.  😉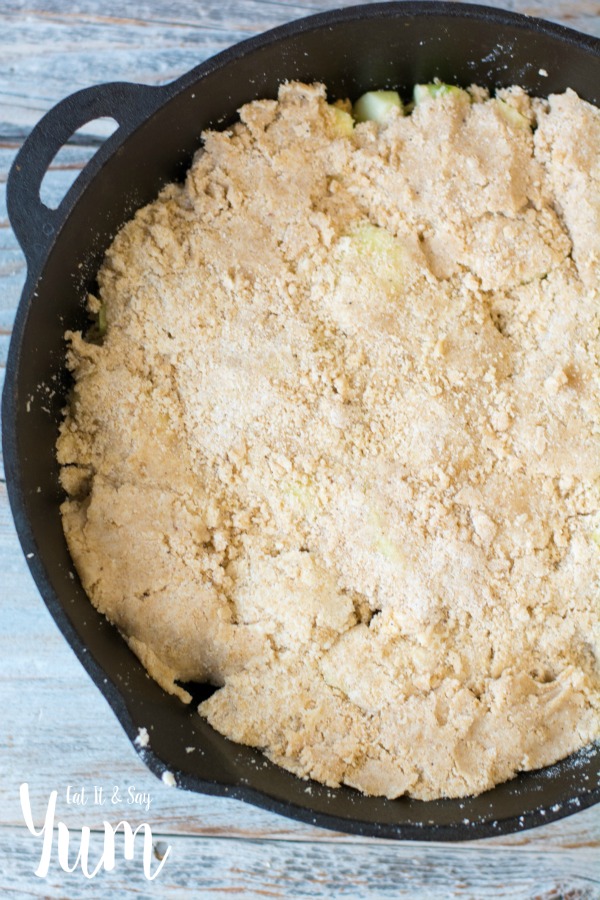 You start by peeling and slicing your apples.  I cut the apples into eighths.  You want to have them all about the same size so they cook at the same rate.  I tossed the apples in my dutch oven with some water, and then made the topping.
When putting the topping on, I pressed handfuls between my palms to compact it and then laid it over the apples.  There are going to be crumbs and bits falling into the pan, so once I get all the topping on, I press it down gently, all around in the pan.  So it makes a nice crisp topping, instead of just a crumbly one.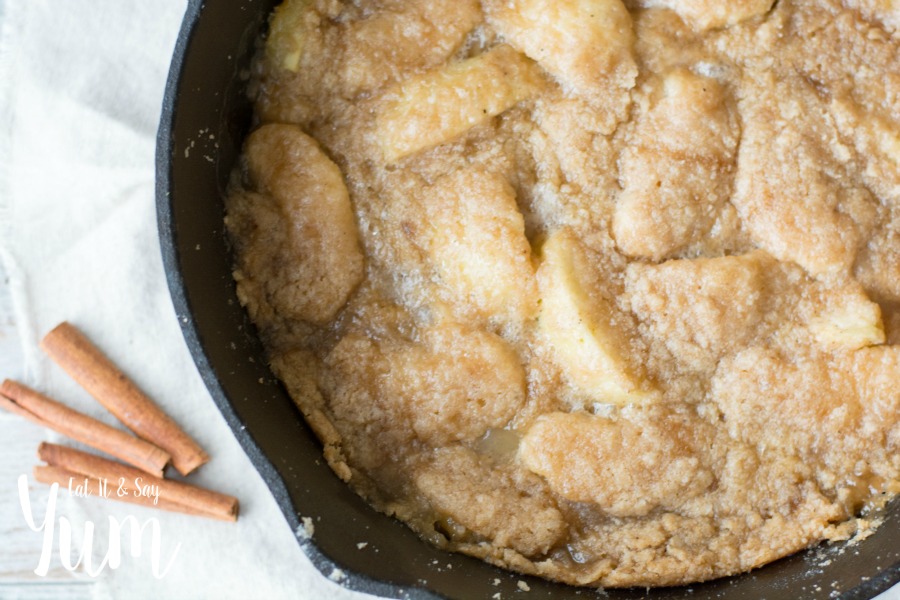 Bake the apple crisp covered with foil for part of the time, then remove the foil and bake again.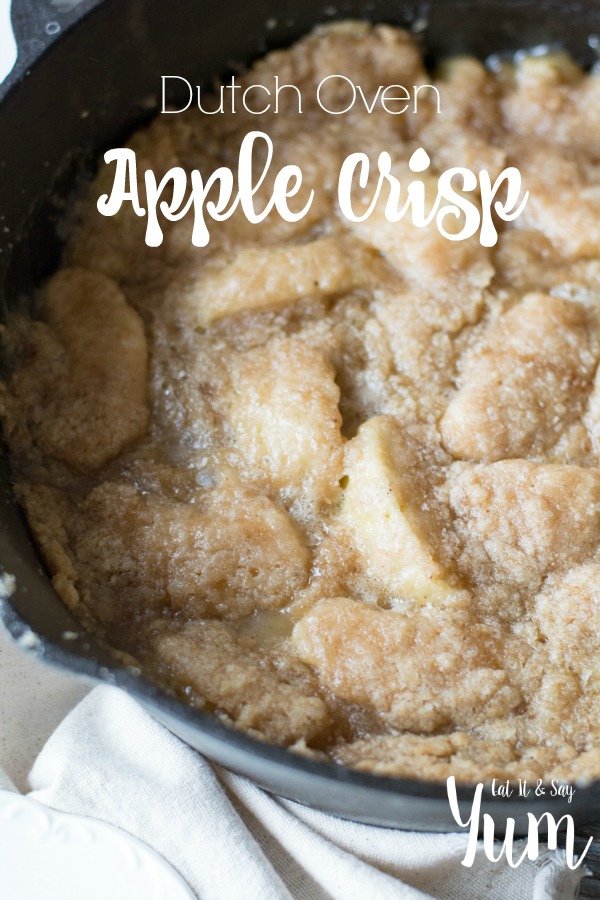 You only want to cook it long enough to get the apples nice and tender.  And I suggest removing the pan from the oven just before the apples are perfectly done.  They will continue to cook as they sit in the hot pan.  And, this recipe can easily be done in a 9×13 pan, if you don't want to use a dutch oven.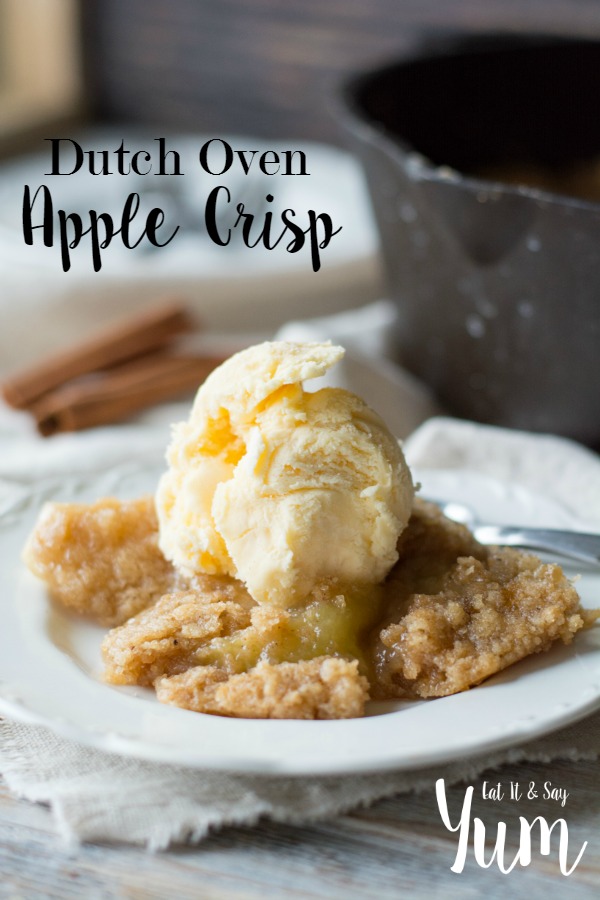 Serve up some of the crisp and top it with a scoop of ice cream or a dollop of whipped cream.  This is a great dessert for Fall, and Thanksgiving, but really apples are in season all year!  I say you can enjoy this year-round.
Ingredients
7-8 large granny smith apples
1/4 cup water
Topping: 1/2 cup plus 2 Tbs sugar
1/2 cup plus 2 Tbs brown sugar
1/2 tsp nutmeg
3/4 tsp cinnamon
1 cup plus 2 Tbs flour
3/4 cup butter (12 Tbs)
scant 1/2 tsp salt (just less than a 1/2 tsp)
Instructions
Preheat oven to 350 degrees. Peel the apples then slice into eighths. Place all the apples evenly in a 12 in dutch oven, or a 9x13 pan. Add the water over the apples.
In a food processor, or with a pastry cutter, add all the topping ingredients and mix until combined, and mixture resembles sand.
Press the topping between your hands to compact it, then lay each piece gently on the apples. Repeat with all the topping, filling in any holes and making a nice covering over the apples.
Cover the pan with foil and bake for 25 minutes. Then remove the foil and bake again for 10- 20 minutes, depending on how tender you want your apples. You can poke the apples with a fork to see how soft they are. Remove the pan from the oven before they reach your full desired tenderness. They will continue to soften in the hot pan, out of the oven.
Let cool slightly before serving. Top each serving with ice cream or whipped cream if desired.
Store leftovers in an airtight container in the fridge. Reheat before serving again.
http://eatitandsayyum.com/apple-crisp/
I am sharing this recipe as part of the #Blogsgivingdinner.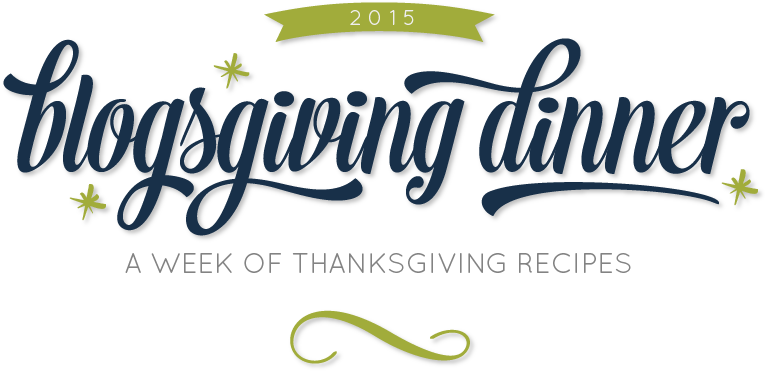 As part of the food blogging community and to celebrate Thanksgiving, Meghan from Cake 'n Knife and Susannah from Feast + West are hosting Blogsgiving Dinner. There are more than 60 blogs sharing recipes this week!
The idea is based around a potluck dinner party. Each blogger is bringing one or more dishes to the party, so be sure to stop by each one and get some ideas for your own Thanksgiving meal. We'll be posting to social media with the hashtag #blogsgivingdinner, but you can see all the whole menu in Part 1 and Part 2 of the recipe round-up.
You might also enjoy: