I love Asian food.  Especially tepanyaki style Japanese food.
My husband lived in Japan for 5 years and of course loved the food there.  So, we have tried to help our kids develop a love for Asian food as well.
We have given them a healthy dose of Japanese style curry, edamame, gyoza (pot stickers), yakisoba, etc.
The fried rice recipe I am sharing today, actually has it's roots tied to my side of the family.  My dad has a love of cooking tepanyaki style food, and makes a mean fried rice.  There is also a restaurant in my hometown that serves a bacon fried rice and my family really likes it.
I love this dish because, #1- It has bacon in it.  #2- It's easy.  #3- My kids love it.  #4- It goes great with so many entrees.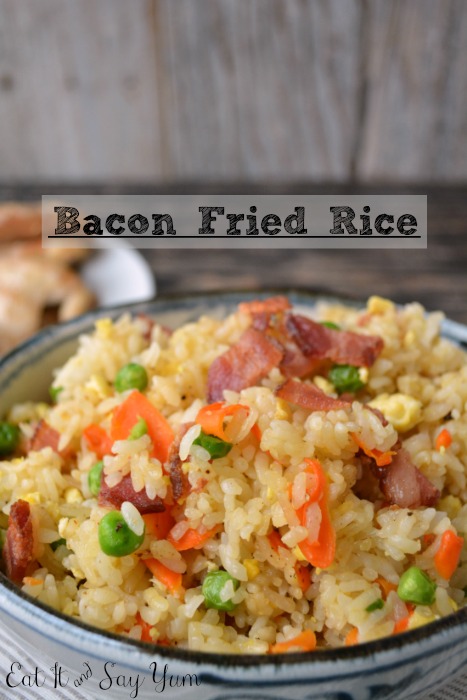 So this is my version of bacon fried rice.  I have learned over the years, and from a few different people, that day old rice works great for fried rice.  So, I make rice in a larger batch and then freeze the amount I want for fried rice in baggies, so I can just defrost a bag during the day and then whip up the fried rice that evening.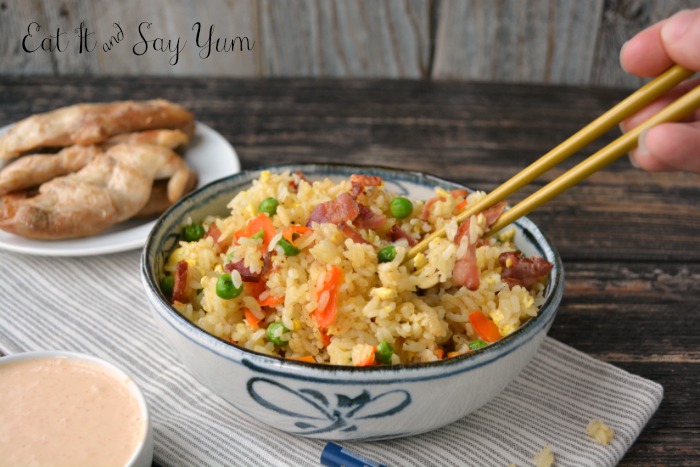 It's not necessary to make the rice ahead of time.  You can definitely make fresh rice the day you want to make fried rice.  Either way, do what works for you.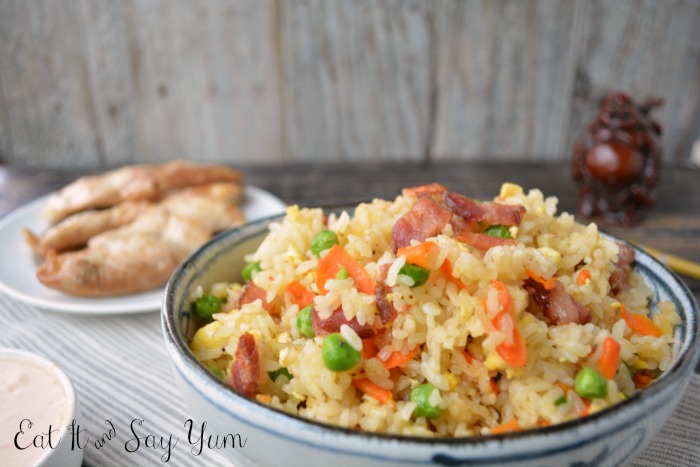 I love the flavor the bacon lends to the rest of the dish.  I mean, bacon is good in just about anything.
This rice can all be made in one pan.  Sweet!  Not a ton of dishes to wash.  I cook the bacon, then the eggs, then start adding things together to get the fried rice.
Even though my husband lived in Japan for 5 years, he's not a huge fan of soy sauce.  So, the soy sauce in this recipe is just a mild favor.  Feel free to add more if you want to.  But try the recipe first.  The bacon has a salty flavor and so does the soy sauce.  Don't go overboard and get things too salty.  Taste as you go.
Ingredients
4 slices of bacon, cooked til crispy then crumbled
1 medium carrot, grated
3/4 cup frozen peas
2-3 green onion stalks
1 Tbs soy sauce- can add more
2 Tbs butter
2 eggs, scrambled
2 cups cooked rice
salt and pepper to taste
Instructions
In a large pan over medium-high heat, cook the bacon til crispy. Remove bacon from the pan and let rest on paper towels. Remove the grease from the pan and cook the two scrambled eggs in the same pan. When eggs are done, remove them to a small bowl and set aside.
In the same large pan, grease with cooking spray or a little oil. Grate the carrot into the pan over medium heat. Add the cooked rice right on top of the carrot, then add the frozen peas. Add the butter in dots all around the rice. Stir everything to evenly spread the butter and the veggies.
Let cook for about 2 minutes then stir again. Cook a few minutes more then stir again. Repeat this until everything is heat through and rice starts to get crispy on the bottom of the pan. While the rice is frying, chop the bacon and green onions.
Add the scrambled eggs, chopped-crispy bacon, soy sauce, and sliced green onions to the rice. Stir to combine everything and season with salt and pepper to your taste.
Remove from heat and serve while hot.
http://eatitandsayyum.com/bacon-fried-rice/
P.S.  Did you see that sauce in the pictures above?  That's a copycat version of Yummy (Yum Yum) Sauce from Japanese Steakhouses.  I'll be sharing that soon!
See where I link up.
You might also like: