Now the chimichanga could be served right out of the oven all golden and crispy, but you would be sad if you were missing out of the delicious cheese sauce that covers these!  This sauce really makes all the difference.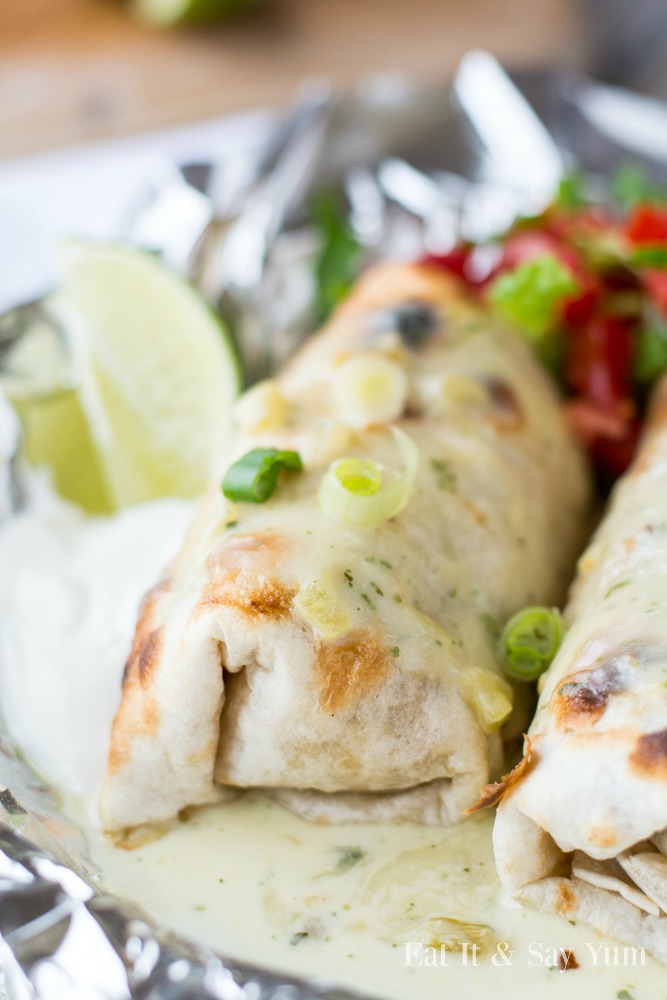 I spoon some sauce over each chimichanga and then pop them under the broiler just to finish them off.  See all that cheesy sauce up there!
Once they are covered with cheese sauce you can top these anyway you like.  I am a fan of pico de gallo, green onions, cilantro, sour cream, guacamole, lime wedges, etc.  Choose your favorites!
Baked Chicken Chimichangas
Ingredients
Chicken filling: 2 cups shredded chicken
salt and pepper
1/2 tsp garlic powder
1 1/2 tsp dried cilantro- fresh will work, too
4 oz cream cheese
1, 4 oz can diced green chiles
1/4 tsp chili powder
Other ingredients: 1 can refried beans
and a cup or two of grated cheese- pepper jack, Monterey Jack, cheddar, etc.
8 inch tortillas- warmed
Cheese Sauce: 1/3 cup milk
1 tsp flour
1, 4 oz can diced green chiles
1/4 tsp garlic powder
8 oz grated cheese- preferably a white cheese, something that melts well
1/2 tsp dried cilantro- fresh works ok, too
Instructions
Preheat oven to 350 degrees. In a large mixing bowl add all the ingredients for the filling and mix together until smooth.
In each warm tortilla, spread 2 Tbs of refried beans, 2-3 Tbs of the chicken filling, and top with 2 Tbs of the grated cheese. Roll the tortillas up, and place seam side down on a foil lined baking sheet. Grease the foil first.
Repeat until all the chicken filling is used. Spray the tops of the chimichangas with cooking spray.
Bake for 18-20 minutes, until the tops are golden brown and crispy.
While the chimichangas are baking, make the cheese sauce. In a medium bowl, add the grated cheese and the flour, toss the cheese to coat it with the flour. In a medium saucepan over medium-high heat, add the milk and cheese. Stir until the cheese begins to melt, reduce heat if needed. Add the garlic powder, green chiles, and cilantro. Stir just until the cheese is all melted and everything is combined, then remove from the heat. Set aside until ready to use.
When the chimichangas come out of the oven, spoon some cheese sauce over each one and place them back in the oven under the broiler- just for a minute or two. Watch them carfeully, so they don't burn.
Serve the chimichangas while hot and top with your favorite toppings: sour cream, guacamole, pico de gallo, etc.
http://eatitandsayyum.com/baked-chicken-chimichangas/
Store your leftovers in an airtight container in the fridge.  The cheese sauce will firm up once it cools, just reheat and stir when ready to use, or let it melt over the chimichangas under the broiler when using leftovers.