Sometimes ideas for food just pop into my head.  Sometimes the idea is a result of some brainstorming.  And sometimes the ideas come to me while I'm sleeping.
I think about food a lot.  A lot, a lot.
Well, one morning, pancakes were on the menu.  And there were some over ripe bananas just begging to be in those pancakes.  But my little brain started turning and I decided banana pancakes were not going to suffice.  These needed to be extra special banana BREAD pancakes.  And I instantly knew just how I was going to do it.
I love that my brain works like that.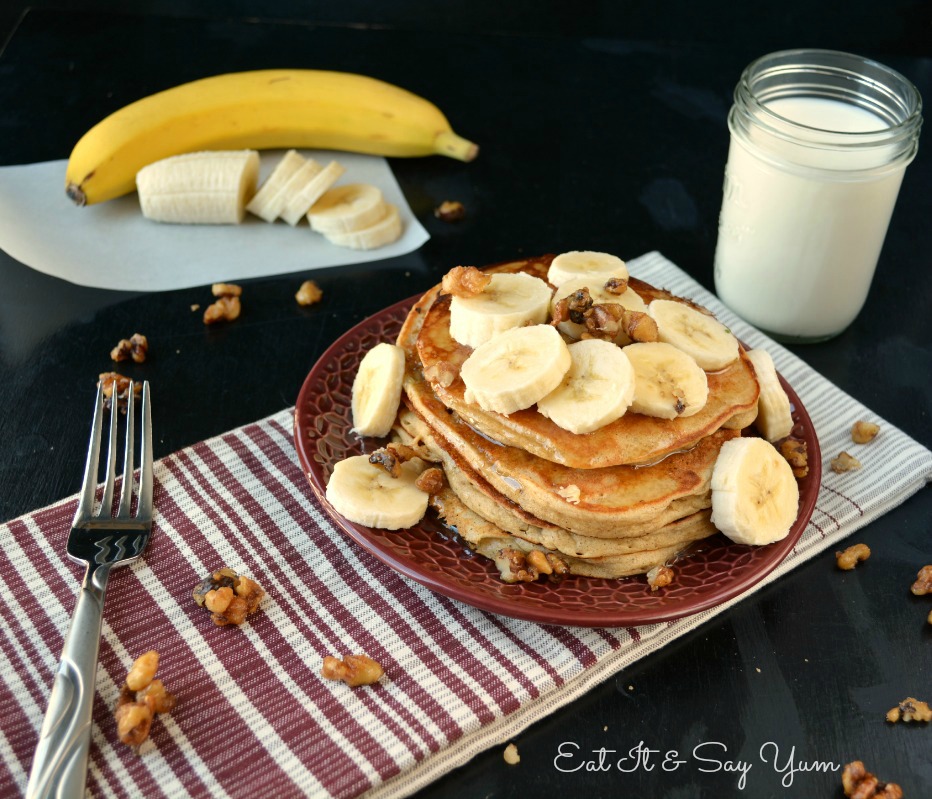 These pancakes have two whole bananas smashed into them, and candied nuts.  You can use candied walnuts, or candies pecans.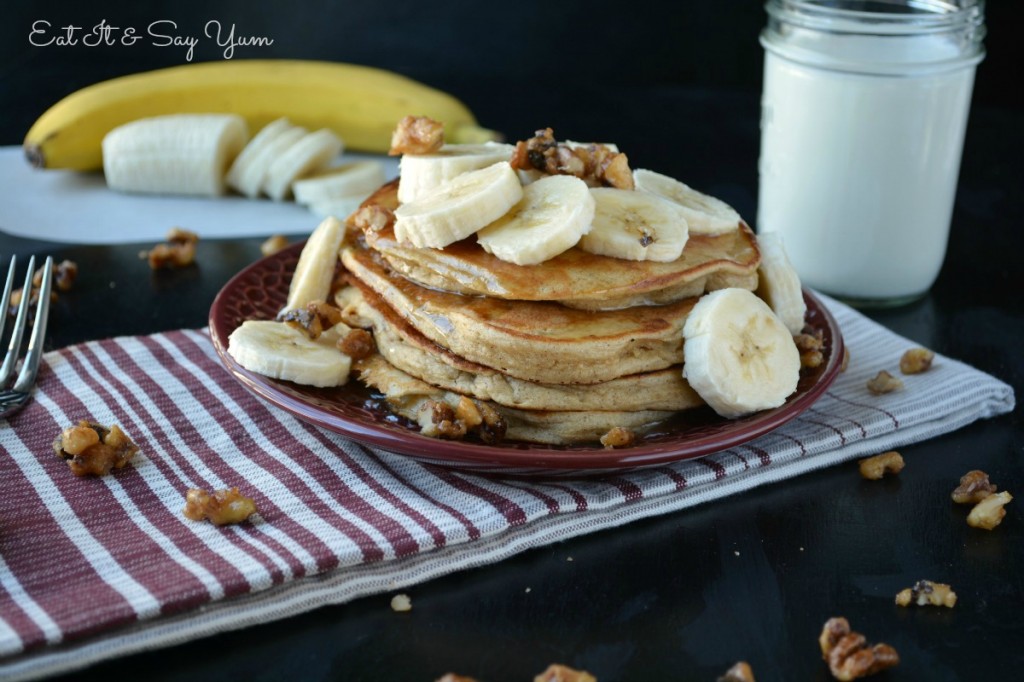 Of course I served these with Buttermilk Syrup.  But maple would be delicious as well.
Ingredients
1 2/3 cups buttermilk
1 tsp baking soda
1 1/2 cups flour
1 tsp salt
1 tsp sugar (or 1 tsp honey)
1 tsp baking powder
1 tsp cinnamon
1/2 tsp nutmeg
3 eggs- yolks separated
1/2 cup oil
1 tsp vanilla
2 ripe bananas- mashed
1/2 cup walnuts or pecans (optional)
2 Tbs brown or white sugar- to candy the nuts
Instructions
In a medium frying pan, add the nuts and the 2 Tbs sugar. Over medium heat allow the sugar to melt, or dissolve, and coat the nuts. You can can add a tsp or two of water if the sugar isn't melting well. Remove the nuts to a sheet of parchment paper, or foil with non-stick spray. Separate the nuts a little, so they aren't in a big clump, and allow to cool.
In a large mixing bowl, combine the buttermilk and baking soda. Stir with a fork and let sit.
In a small bowl or two cup measuring cup, combine the flour, salt, sugar (if using honey, add it later), baking powder, cinnamon, and nutmeg. No need to stir yet.
Separate the egg yolks from the whites. Put the yolks in the same bowl as the buttermilk. Put the whites into a third bowl, a medium size mixing bowl. Using an electric hand mixer whip the egg whites until stiff peaks form.
Add the flour mixture to the buttermilk. Mix with the hand mixer. Add the mashed bananas, oil, and vanilla to the buttermilk mixture and mix again.
Using a rubber scraper, fold the egg whites into the buttermilk mixture. Fold in the candied nuts as well.
Cook the batter, about a 1/3- 1/2 of a cup for each pancake, on a hot griddle for about two minutes on each side. Make sure the inside is cooked all the way through before serving.
Serve warm with your favorite syrup. Makes about 12- 15 pancakes.
http://eatitandsayyum.com/banana-bread-pancakes/
Makes about 14 pancakes.
Click here to see what parties I join.
You might also like: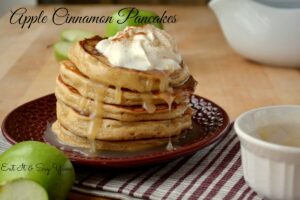 Candied Bacon in Peanut Butter and Banana Crepes