This banana cake is better than a whole lot of things!  Lots of caramel, whipped cream, and topped off with crushed Butterfingers and Reese's Peanut Butter Cups.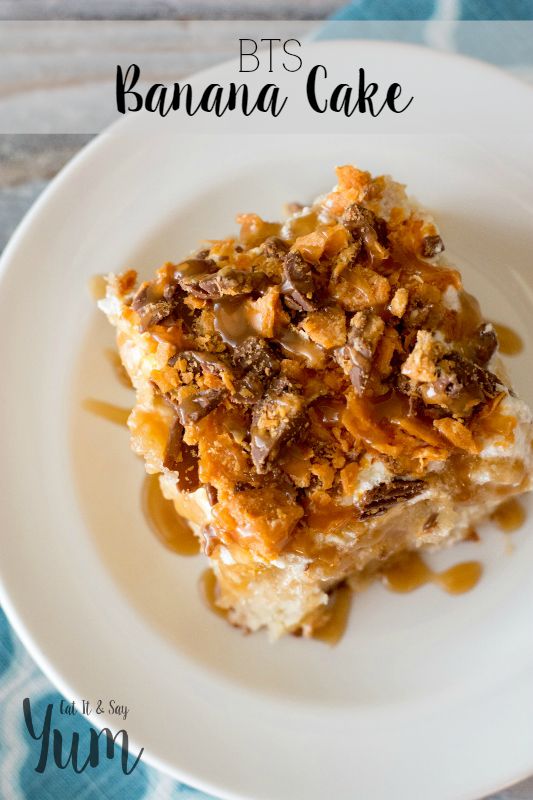 I'm sure you have all heard of 'Better Than Sex" cake, right?  No denying, it is delicious.  But I had the idea to put a spin on the original, and I like it even better!
Instead of a chocolate cake, I started with a made-from-scratch banana cake.  This cake is light, and moist, and so delicious.   And then I covered it with caramel.  Homemade caramel!  You could use a store bought jar of caramel, but I bet it won't be as good as this recipe!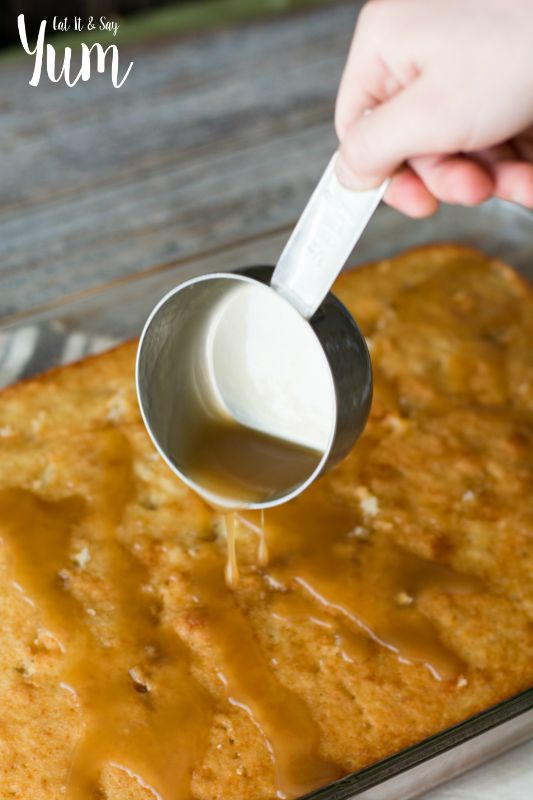 I topped that with whipped cream, and then sprinkled lots of crushed Butterfingers and Reese's Peanut Butter Cups on top.  We just love bananas and peanut butter at our house, so those candy bar choices were just obvious to me.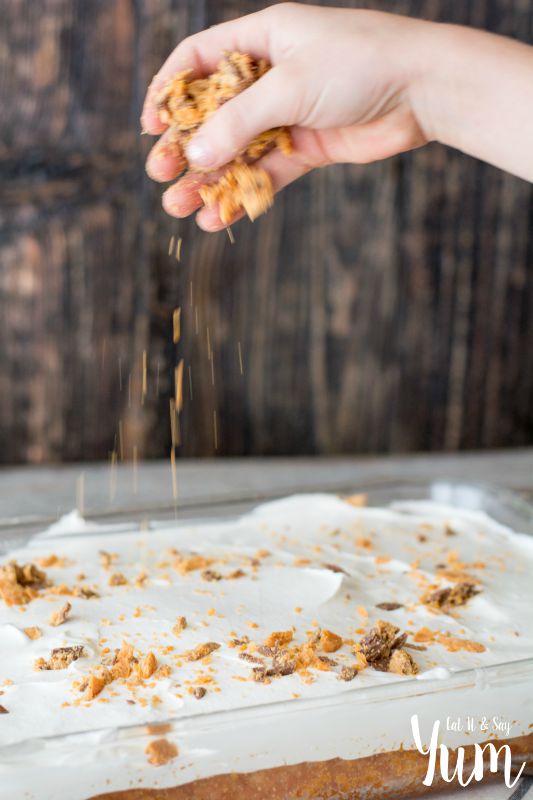 You can drizzle even more caramel over each slice as you serve it, if you want.
Who wouldn't want that?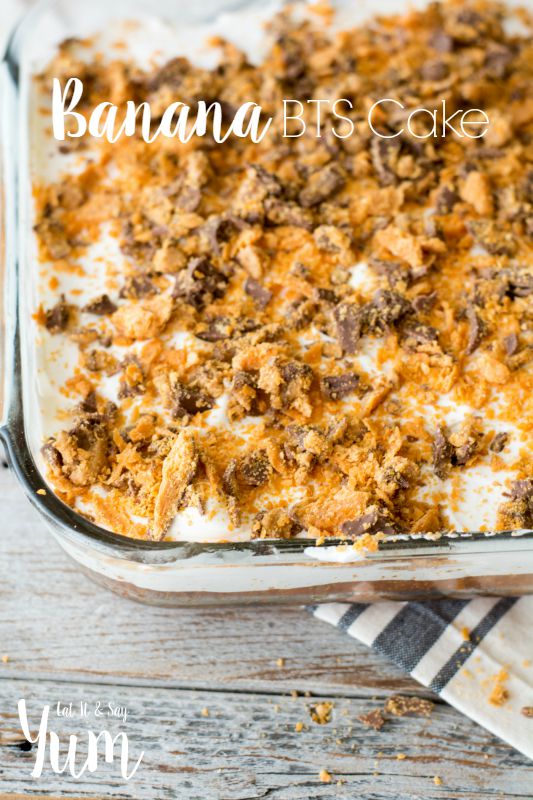 So, next time you need to make a dessert, make this one!  Plus, it's a great way to use up those overripe bananas that are sitting on your counter…  (doh!)   I could probably make two more of these cakes with all the overripe bananas sitting on my counter…
Ingredients
Cake: 1 1/2 cups sugar
1/2 cup butter- soft
1/4 cup buttermilk (sour milk, sour cream, or yogurt work as well)
2 eggs
3-4 bananas- very ripe and crushed (4 if they are small)
1 tsp baking powder
1/4 tsp salt
1 3/4 cups flour
Toppings: 1/2-3/4 cup caramel sauce- plus more for drizzling over each slice
1 tub cool whip (16 oz) or 2 cups homemade whipped cream
1 king size Butterfinger candy bar
6 normal size Reese's Peanut Butter Cups
Instructions
Preheat oven to 350 degrees. In the bowl of a stand mixer, or with an electric hand mixer, cream the butter and sugar until light and fluffy. Add the eggs and mix in, then mix in the crushed bananas and buttermilk.
Add the remaining ingredients and mix until all combined- don't over mix.
Pour the batter into a greased 9x13 pan and bake for about 40 minutes, or until a toothpick inserted near the center comes out clean.
Remove the cake from the oven and poke a fork in it all over to create small holes throughout the cake.
Pour 1/2- 3/4 of a cup of caramel sauce over the cake while it is still warm. Then let the cake cool completely.
Frost the cake with the whipped cream/ cool whip. Chop the candy bar and peanut butter cups into small bits. Sprinkle them over the whipped cream frosting. Chill cake until ready to serve. Optional- drizzle each slice with more caramel while serving.
http://eatitandsayyum.com/banana-bts-cake/
You might also like: