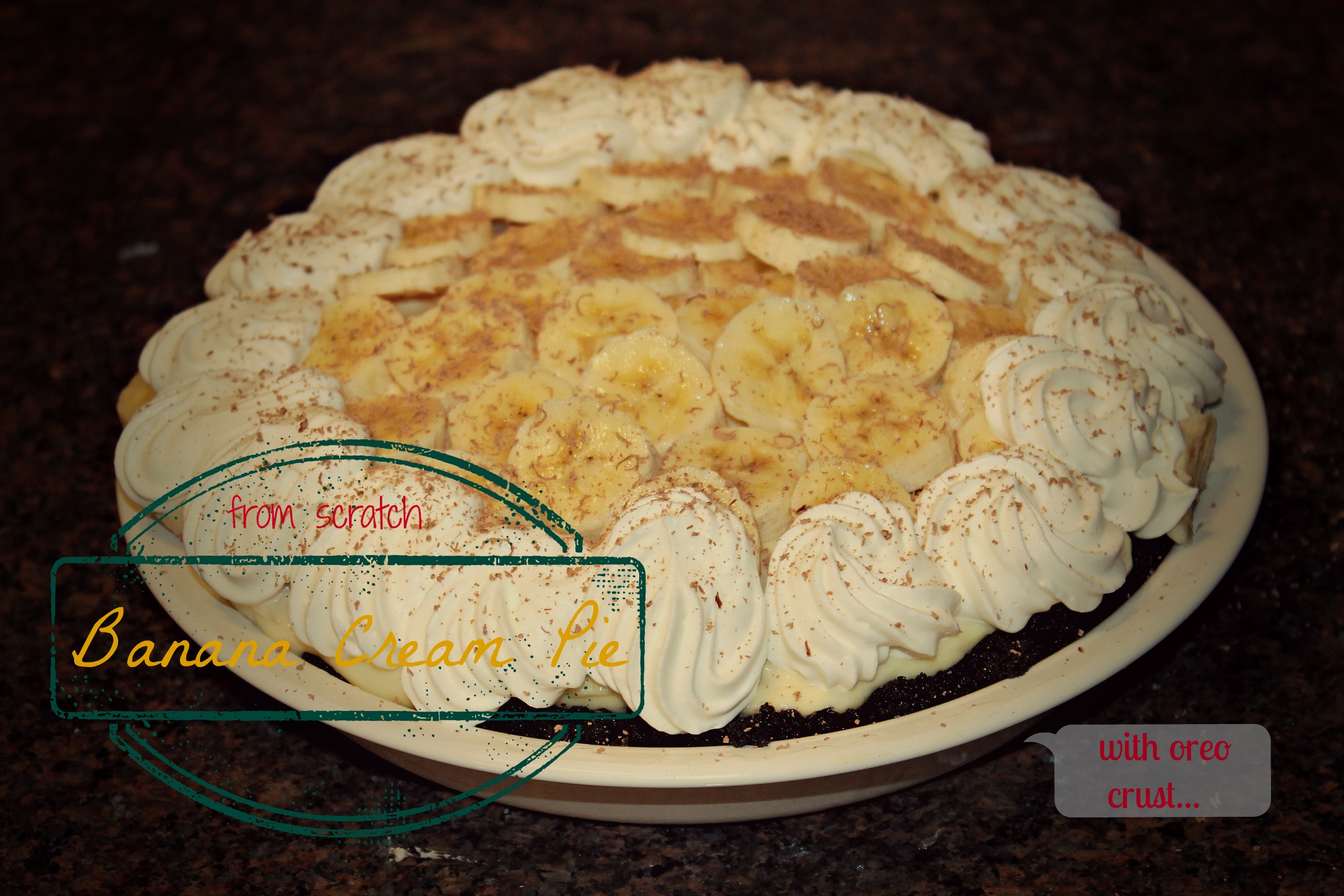 I used to think a good banana cream pie was made with a box of pudding mix and heavy whipped cream
instead of cool whip.
I've learned my lesson…
This pie is made from scratch, including the cream part.
The cream is made like a custard with tempered egg yolks, and sweetened condensed milk.
(And a few other ingredients.)  It is so rich and creamy, it puts those box mixes to shame.
My husband and I have differing opinions on which type of crust a banana cream pie should be made with.
He likes pie crust, I like graham cracker crust.
Both of us are products of our childhood, in that respect.
For this pie I have used Nilla Wafers or Oreos.  Both are delicious.
And both my husband and I are happy either kind.
Anyway…
I altered it slightly to fit american ingredients.
Ingredients
Approximately 1 box of Nilla Wafters or Oreos
1/4 to 1/2 cup butter- melted
2 cups milk
1 cup heavy whipping cream
1 can sweetened condensed milk
1 tsp vanilla
1/4 cup corn starch
4 egg yolks
5 bananas (You need 3 for the filling and 2 for the top)
2 cups heavy whipping cream- for the piped swirls on top
Instructions
Crust:
I started by crushing up enough Nilla Wafers to make about 2 cups of crumbs.
(Very scientific, I know)
Add to that, 1/4- 1/2 cup melted butter, and mix with a fork until fully combined. (Start with 1/4 cup butter and add more if the crust is still too dry and won't hold together.)
Press into bottom of pan.
Cream Filling:
Heat the milk, heavy whipping cream, sweetened condensed milk, and vanilla. Bring to a boil.
While that is heating, and in a separate bowl, whisk the egg yolks and corn starch til smooth.
Gradually spoon some of the hot mixture into the egg yolk mixture. Whisk them together, slowing adding a little more of the hot milk and cream. Once the egg yolks are hot, after you have added roughly 1/2- 1 cup of the milk and cream mixture, whisk the egg yolks into the pot with the remaining cream mixture. Stir constantly.
Cook until very thick, and keep stirring!
Once cooked and thick, pour the cream filling or custard through a mesh strainer to keep any lumps out of the pie.
Chop 3 bananas and stir into the custard. Pour over the crust and cover with some plastic wrap. Place the wrap directly on the custard, so no film forms.
Let the pie set in the fridge for at least 3 hours.
Top with 2 sliced bananas. Sweeten and whip some heavy whipping cream, then pipe around the edges. Any star tip will work to make the swirl.
Grate a chocolate bar on top to get the chocolate sprinkles.
http://eatitandsayyum.com/banana-cream-pie-2/
This is such a yummy treat.
You should definitely make this, and soon.
Your and friends and family will be impressed!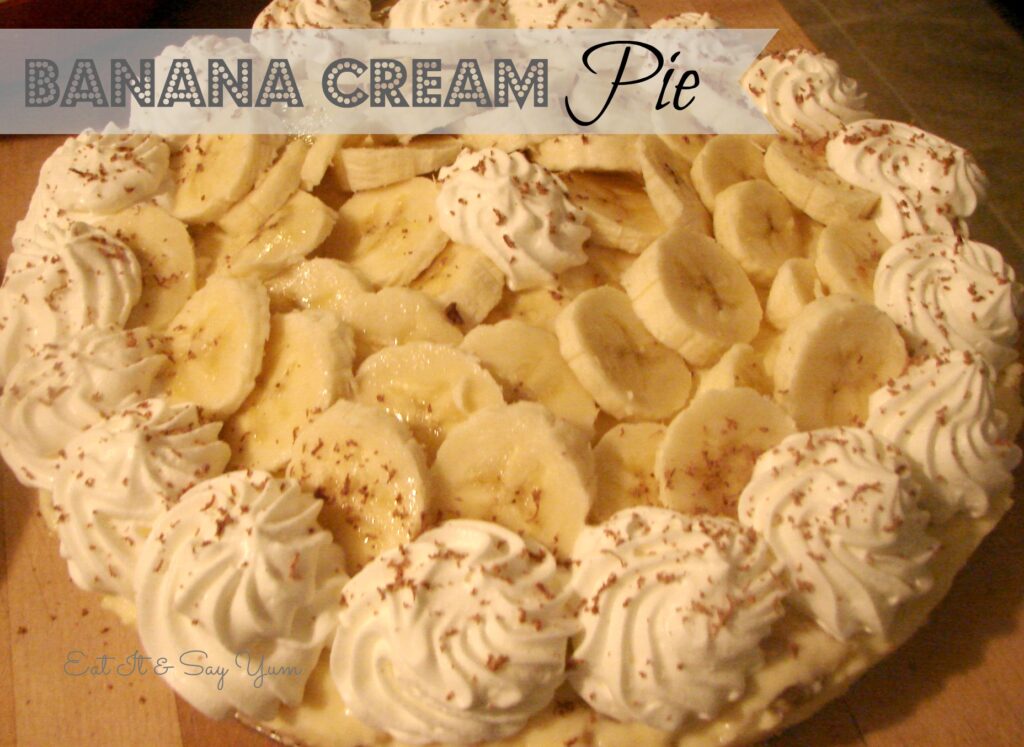 You might also like: