The holidays just would not be complete, at my house, without this Banana Slush Punch.
It's a staple.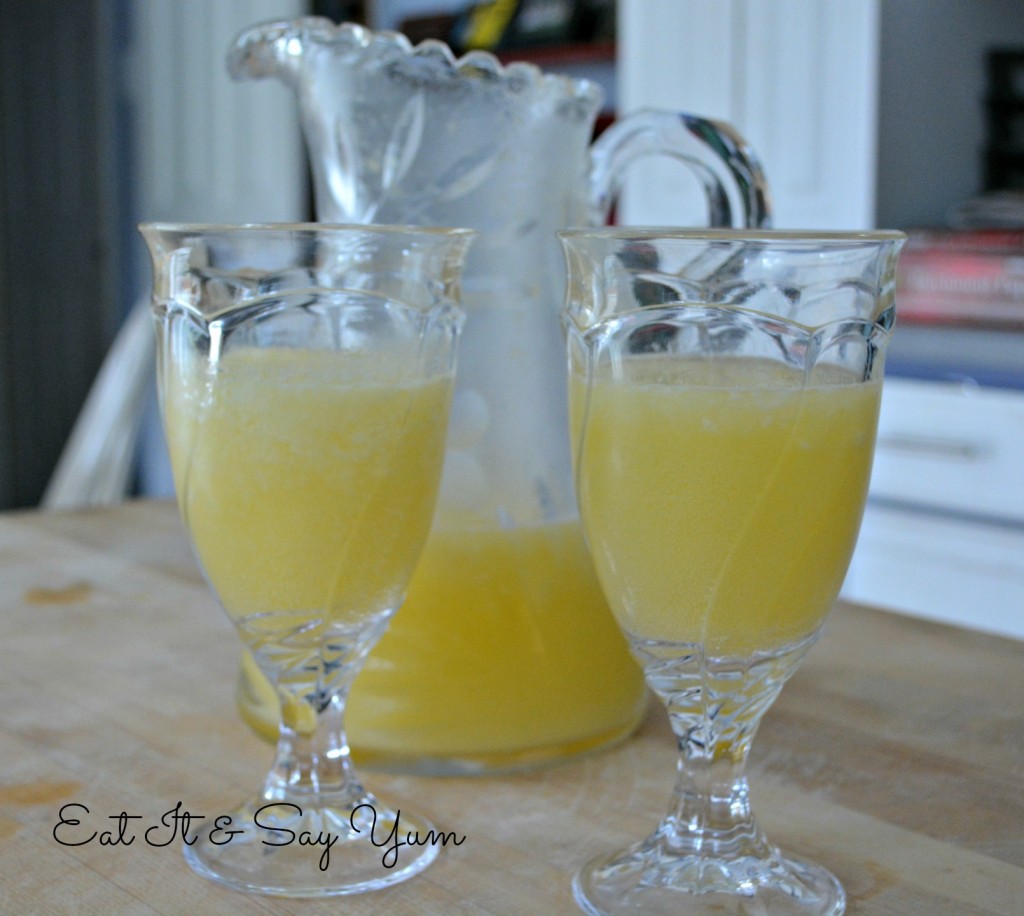 We have it at Easter, Thanksgiving, and Christmas.  My mom has been making this as long as I can remember.  And my kids will have that same memory about me.  🙂
What you'll need:
Pineapple Juice, bananas, orange juice concentrate, lemonade concentrate, sugar, and water.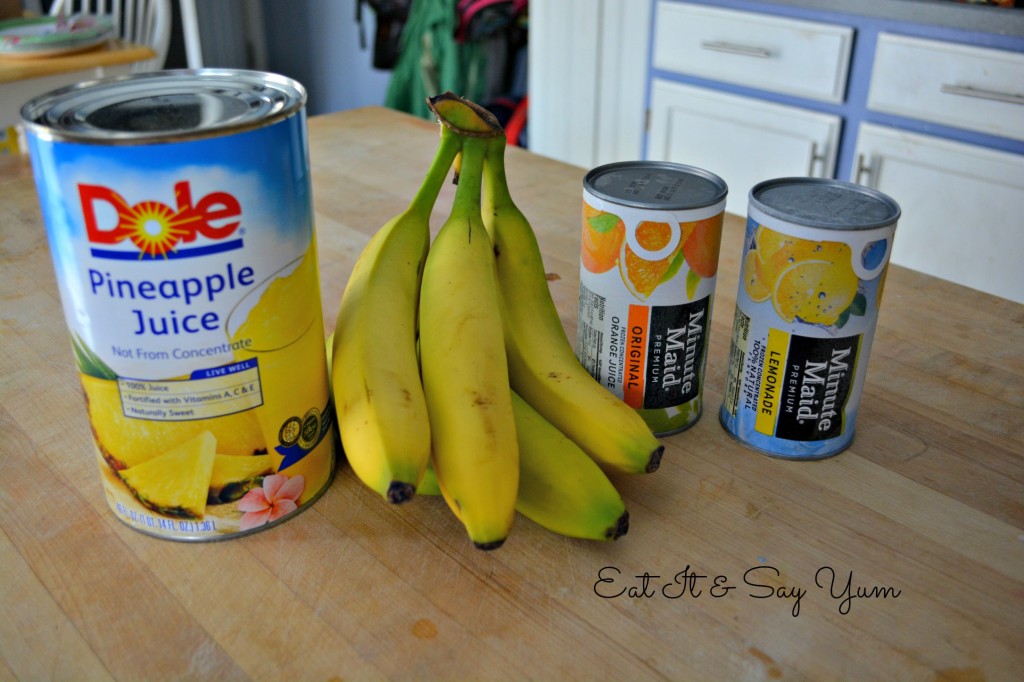 Boil your water and add the sugar to it, so it can dissolve.
Measure out 4 cups of the pineapple juice.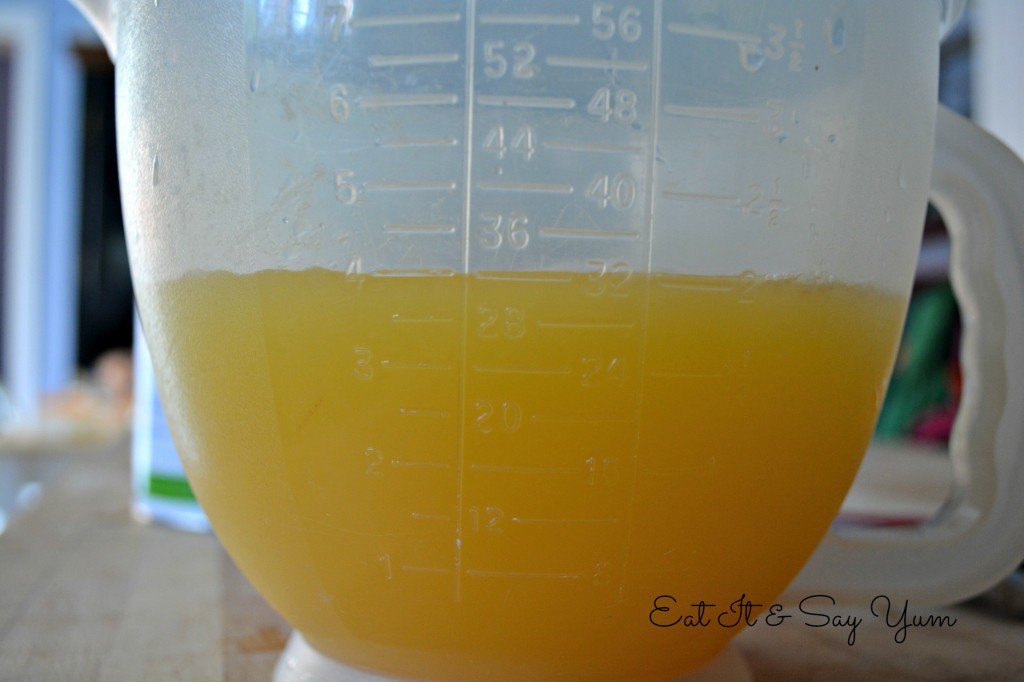 Once the water has boiled and the sugar is dissolved, remove the pot from the heat and add both the orange juice and lemonade concentrates.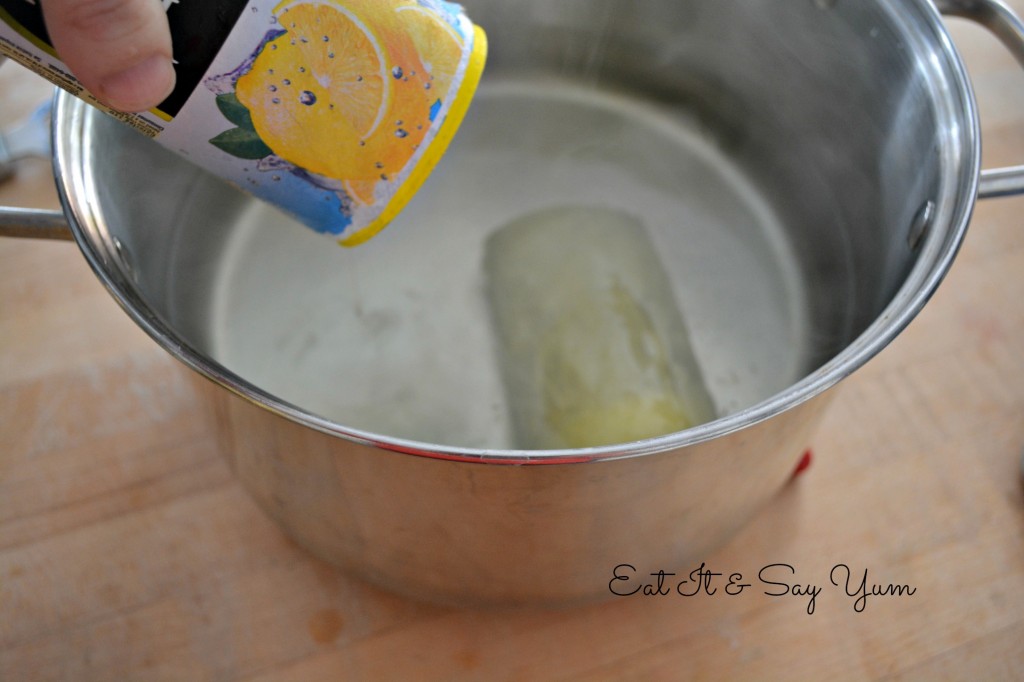 Mash the bananas.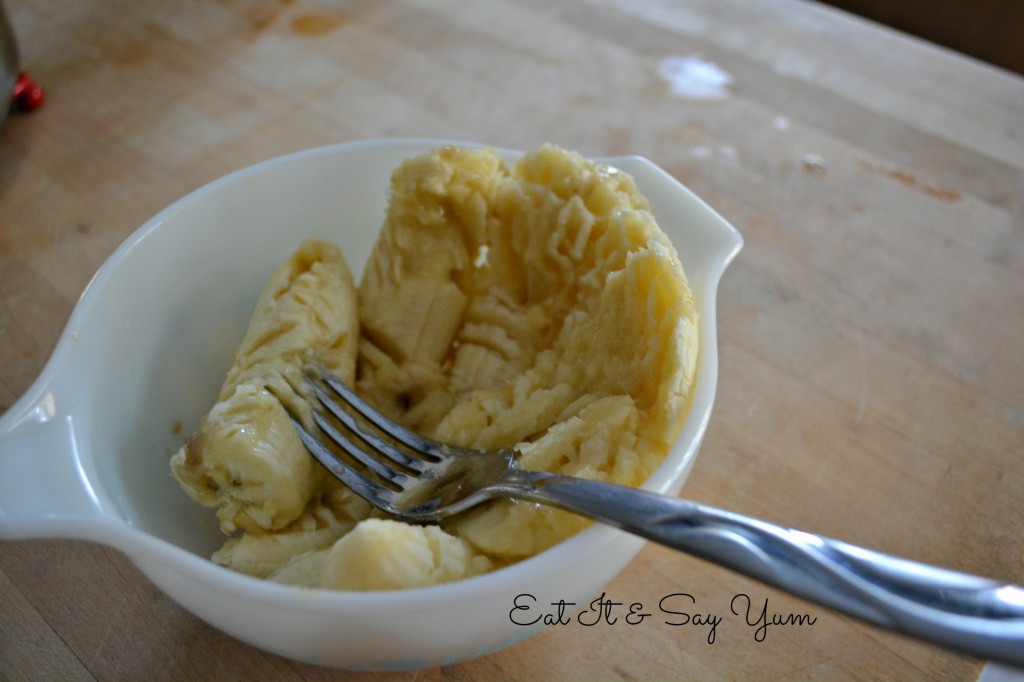 Add the mashed bananas, and pineapple juice to the pot.  Let cool.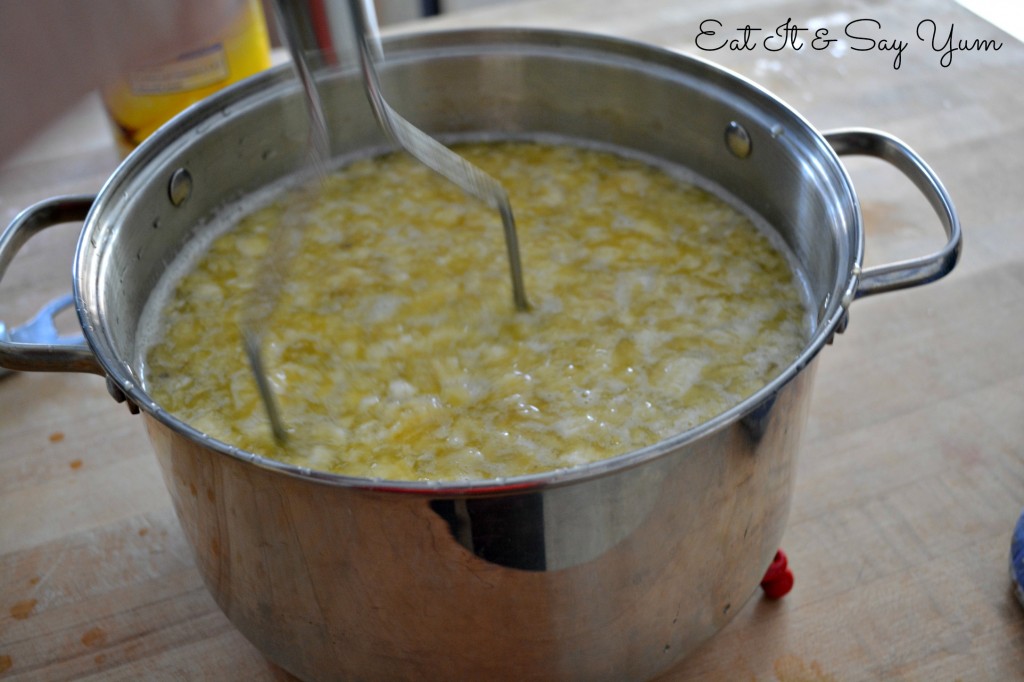 Divide the punch concentrate evenly-ish among 3  ziplock bags, or thin, rectangular shaped tupperware, so the mixture can freeze more evenly.  Gallon size freezer bags, works best.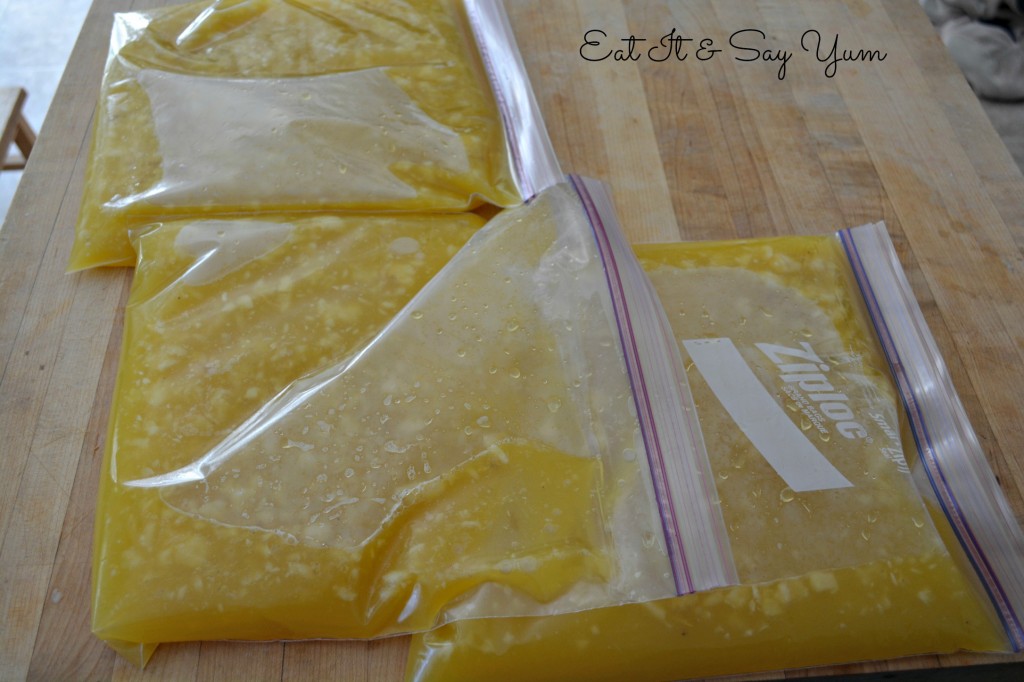 Lay the bags flat in the freezer.  Now you are done until they are frozen.  And you can make this WAY ahead of time.  Likes weeks.  It will be fine just waiting in the freezer until you are ready to use it.
When you are about 20-30 before being ready to serve this, take a bag out of the freezer and let it sit for a little bit, so it softens slightly and you can break the concentrate into chunks and begin to mash it.  I like to mash this with a variety of utensils: forks, wooden spoons, potato masher, ice pick, etc.  Whatever breaks it into chunks. You can do this in a serving pitcher or bowl.
A few minutes before serving, mix the frozen concentrate with the soda in a serving pitcher or punch bowl.
You can make this punch as potent or as weak as you want.  I like it about 2, 2 liters of soda per ziplock bags worth of concentrate.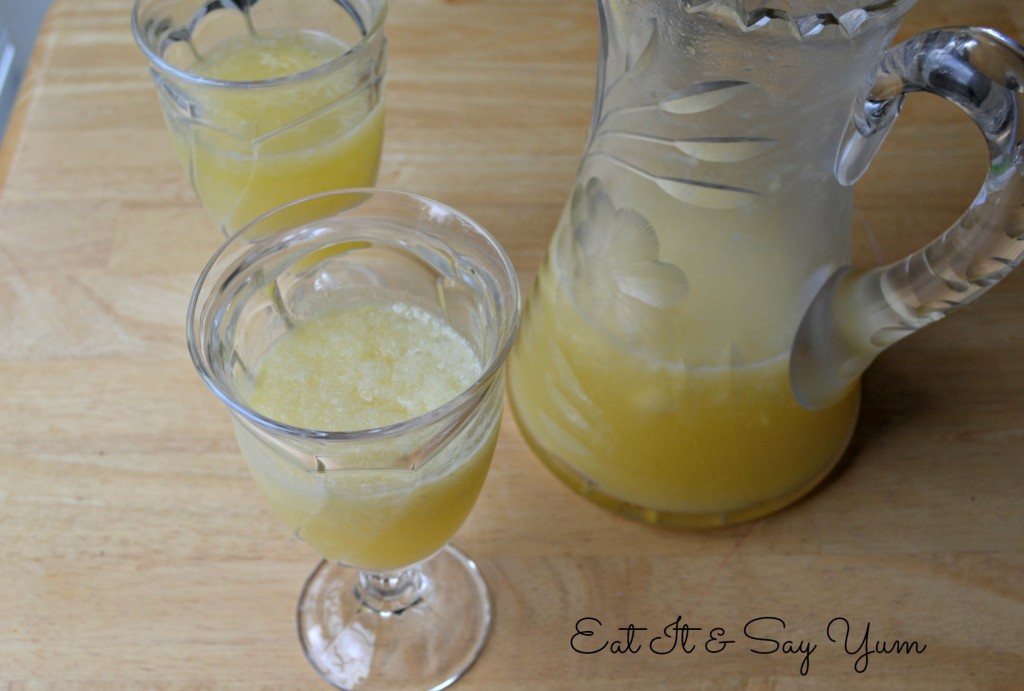 Ingredients
6 cups boiling water
3 cups sugar
1 small can orange juice concentrate
1 small can lemonade concentrate
1 quart pineapple juice
5 mashed bananas
3+ 2 Liters of Lemon-lime soda (Sprite, Sierra Mist, 7-UP, etc)
Instructions
In a large pot bring water and sugar to a boil to dissolve the sugar. Remove from heat and add both juice concentrates, pineapple juice, and mashed bananas. Let cool. This makes the punch concentrate.
Pour (or ladle) the cooled mixture into ziplock bags, or tupperware containers that can go in the freezer. (Thin, rectangular shapes are best, so the mixture can freeze more evenly.) The mixture should be divided equally between at least 3 containers/ bags. Put bags or containers in freezer. (Lay bags flat for best freezing.)
About 30 minutes before serving remove a bag or container from the freezer and allow to thaw slightly.
About 5 minutes before serving break the frozen mixture into chunks using the utensil of your choice. (Fork, wooden spoon, potato masher, ice pick, etc.) Place chunks in serving pitcher and mash until no big chunks remain.
Add soda to dilute the punch concentrate. You can decide how much punch/ soda ratio you like. I usually like 1/6 of the total recipe (or 1/2 of one ziplock bag when concentrate is divided equally among 3 bags) per 2 liter of soda.
Stir together and serve while still slushy.
http://eatitandsayyum.com/banana-slush-punch/
Everywhere I take this people ask for the recipe.  So give it a try this year, impress your guests!
And this one batch should leave you with plenty left over for another day!
Linked up with Crafty Allie.