Mexican food is definitely one of my favorite foods, if not my favorite.  (Who can really pick one kind though, right?!)
When we had that polar vortex come through here last week, I was busy making warm, comfort food to keep my family warm.
This Beef and Bean Enchilada Casserole is such a hit at my house.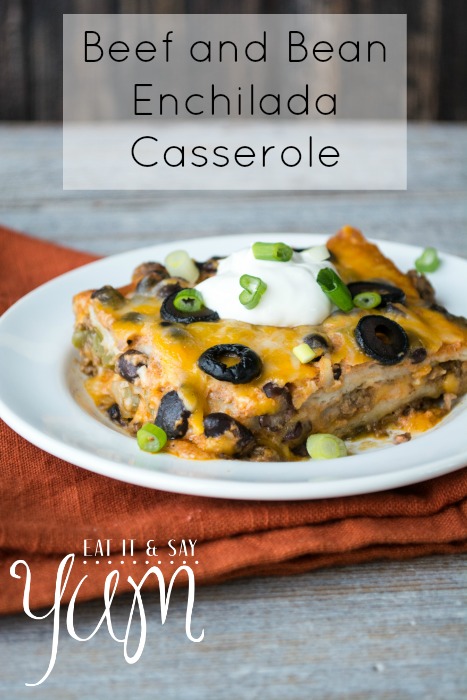 My 9 year old had FOUR servings once!!  I had to limit him this week, otherwise not everyone would have had some.  And I make this in a 9×13 pan.  It's crazy.  And good.  Crazy good.
This casserole could be described as a Mexican lasagna.  It has layers and layers of yummy beef, tortillas, cheese, and sauce.
And I seriously cannot eat Mexican food without sour cream.  In my house, really any excuse to put sour cream on something and my kids and I are for it.  Love that stuff.
Beef and Bean Enchilada Casserole
Ingredients
1 pound ground beef
1 bell pepper, diced
1 Tbs chili powder
1/2 tsp oregano
1 tsp cumin
1/2 tsp salt
1 clove garlic- minced
1 Tbs flour
1 onion- diced
2/3 cup water
1 1/2 cups red enchilada sauce
1/3 cup sour cream, plus more for topping
1, 15 oz. can black beans, drained and rinsed
1 1/2- 2 cups grated cheese- cheddar, Colby-Jack, etc.
4-6 flour tortillas- cut into strips, about 4 strips per tortilla
1/2 cup sliced black olives
2 green onions, sliced
Instructions
Preheat oven to 375 degrees. In a large pan over medium-high heat, brown the beef with the diced bell peppers, diced onion, garlic, salt, chili powder, cumin, and oregano. Once meat is fully cooked, stir in the flour, until fully mixed, then slowly add the water and stir until thickened. Remove from heat and set aside.
While meat is browning, combine the beans, enchilada sauce, and sour cream in a medium mixing bowl. Set aside.
In a greased 9×13 pan, put half of the meat mixture, spreading evenly. Put half of the tortilla slices over the meat, similar to layering lasagna noodles. Top the tortilla strips with half of the sauce, and then half of the cheese. Repeat all of these layers again, in the same order. Meat, tortillas, sauce, then cheese. Top with the sliced olives.
Bake for 15-20 minutes, or until the sauce and cheese are bubbly.
Garnish each serving with sliced green onions, and a dollop of sour cream.
http://eatitandsayyum.com/beef-and-bean-enchilada-casserole/
So, like I said, this casserole is the perfect meal to warm you up this winter.  But it's also easy.
I make my own enchilada sauce to use in this recipe, but you could easily use store bought, if that works best for you.  Other than that, everything comes together fast and easily.
See where I link up.
If you like Mexican food, you might also like these other awesome recipes…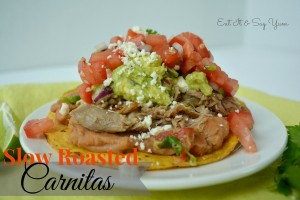 Red and White Swiss Enchiladas