So, turns out it's really hard to post new recipes when your computer isn't working…  Right now I'm using an old computer that doesn't always cooperate, so we'll see how this goes.
These Chicken Fajitas are so good.  They are a little different from traditional fajitas because they have beans in them.  But, I love black beans, so they were a welcome addition to the fajitas.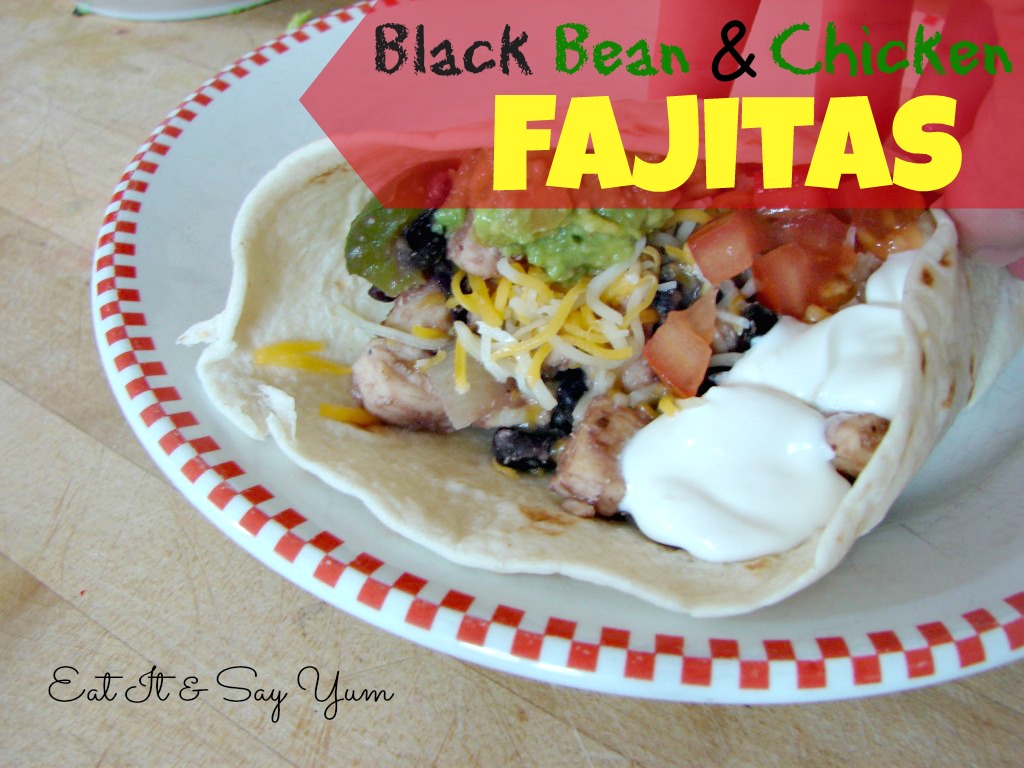 You start with some cubed chicken breasts, chopped bell pepper, drained and rinsed black beans, chicken broth, chopped onion, garlic, salt and pepper, and a little oil.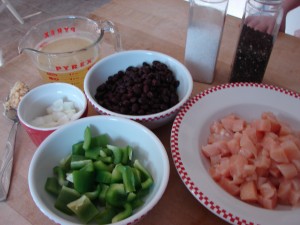 Heat the oil in a large saute pan, add the chicken and garlic.  Salt and pepper the chicken in the pan, as much as suits your fancy.  Stir occasionally until the chicken is almost done.  Toss in the peppers and onions and stir till those start to get soft, about 3 minutes. Then add the beans and broth.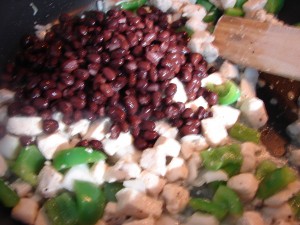 Let everything simmer until the liquid has reduced down. The peppers and onions will be soft by now.
Remove from heat and spoon into a warm tortilla.  Top with your usuall favorite Mexican food toppings.
Easy, right!?  Enjoy.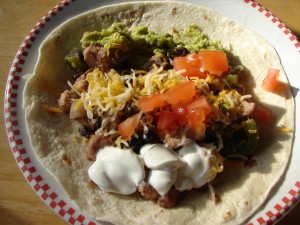 Black Bean and Chicken Fajitas
Ingredients
2-3 chicken breasts- diced
1/2 bell pepper-diced
1/2 onion- diced
1 clove garlic- minced
1 15oz can black beans, drained and rinsed
1 cup chicken broth
Salt and pepper to taste
1 Tbs oil
6-8 tortillas- small size
Instructions
Prep all ingredients by chopping or dicing, etc.
Heat oil in large skillet and add chicken. Stir in the garlic, and add salt and pepper. Let cook for about 3 minutes then add peppers then onions. Let these cook for about 3 more minutes then add beans and broth. Bring to a boil then let simmer until the liquid is mostly gone, and chicken is fully cooked.
Spoon into warm tortillas and top with cheese, tomatoes, sour cream, quacamole, etc.
http://eatitandsayyum.com/black-bean-and-chicken-fajitas/
You might also like: