Tender, braided breadsticks brushed with butter and sprinkled with seasonings.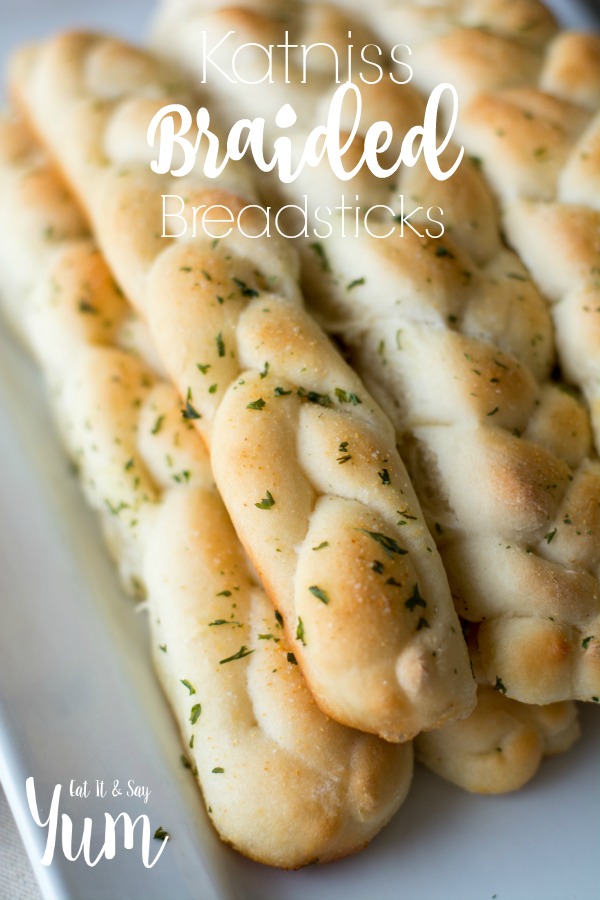 The new Hunger Games movie, Mocking Jay part 2, comes out soon!  I don't know about you, but I read the books and have seen all the movies so far, and I gotta say, I'm a fan.
So, I have teamed up with a few other bloggers to come up with ideas to help you celebrate the new movie.

So, what better way to celebrate the Hunger Games than with some bread, in honor of Peta.  And I shaped it into braids, in honor of Katniss.  And really, do you need an excuse to eat delicious braided breadsticks?!  I don't think so.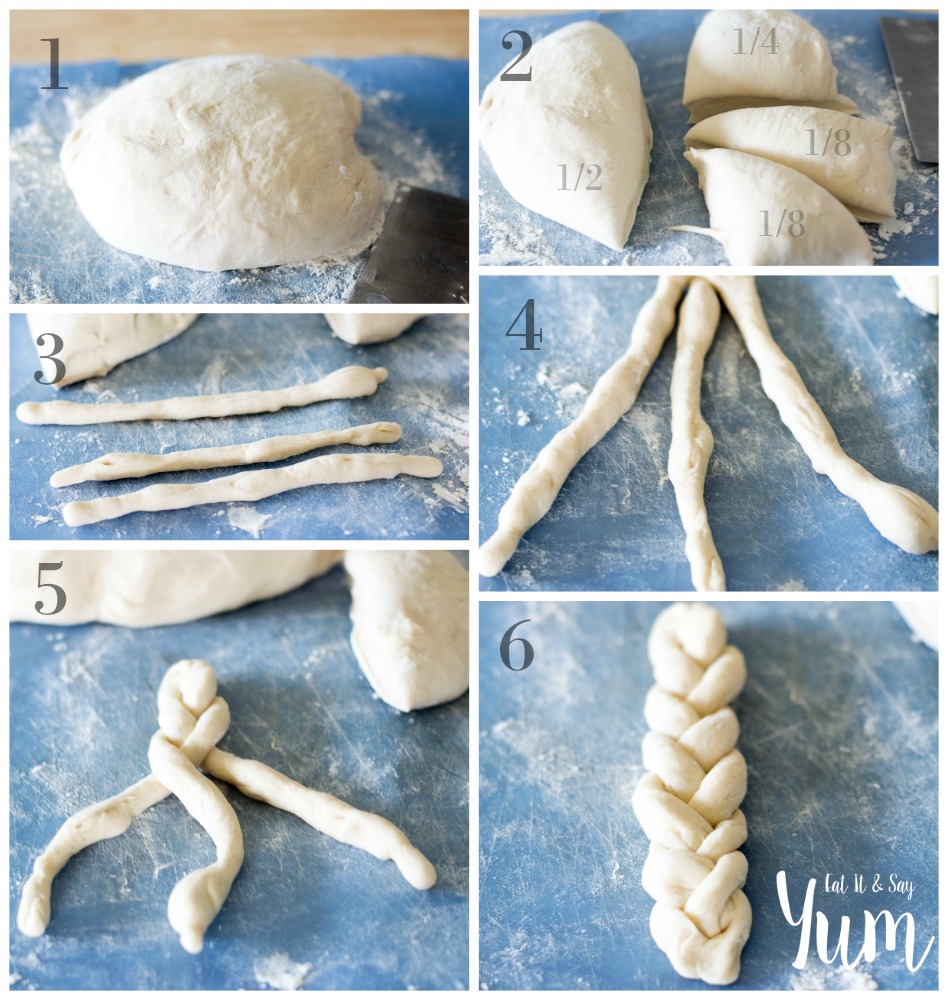 The dough is pretty simple to make, especially if you have a stand mixer, but one isn't required.
Step1- once you have made the dough, form it into a ball.
Step 2- cut that ball in 1/2, then 1/2 again, and again, and again, until you get 16 pieces of dough.
Step 3- cut one of the 16 pieces into 3 pieces- as equal in size as possible.  Roll those 3 pieces into snakes.
Step 4- Press one end of the three snakes together and fan out the other ends.
Step 5- braid the snakes, just like you would braid hair.
Step 6- press the ends of the snakes together, to seal them, then place on a buttered pan, and repeat with the remaining dough.
I covered the bottom of my pan with some melted butter before I put the breadsticks on it.  This adds to the flavor and gives the bottoms a nice crispness.  Before baking I brushed the tops of the braids with a little more melted butter and sprinkled on some seasonings.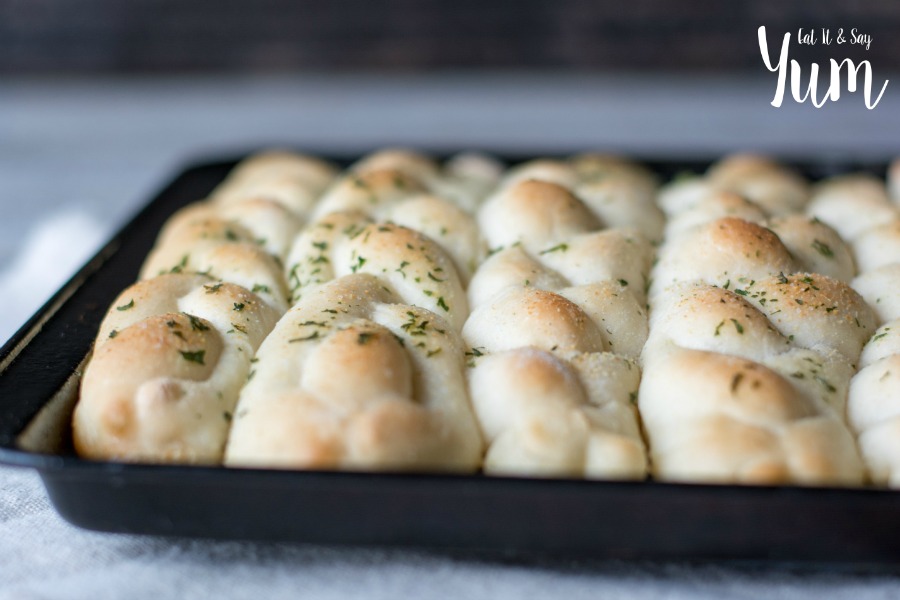 These are amazing!  If you aren't eating them right away, just pop them back in the oven to get warm before you do eat them.  So.  Good.
Ingredients
1 1/2 cups warm water
1 Tbs yeast (rapid rise)
2 tsp salt
3 Tbs sugar
1 Tbs olive oil
3 1/2 cups flour- plus a little extra for your work surface
5 Tbs butter- melted
Spice mix: 1/2 tsp garlic powder
a pinch or two of salt
1/4 tsp onion powder
1/2 tsp parsley
Instructions
In the bowl of a stand mixer (or a large mixing bowl), add the first 5 ingredients and stir together for about 10-20 seconds. Let the mixture sit and the yeast activate for about 5 minutes, or until nice and bubbly.
Add two cups of flour, then turn the mixer on low and add the other cup as the mixer is going. Add the remaining 1/2 cup when most of the flour is mixed in. Let the dough knead in the mixer for 3-5 minutes (or at least that long if by hand). Then let the dough rest for 5 minutes. Then knead the dough in the mixer for another 3 minutes (or another 3-5 minutes if by hand).
Sprinkle more flour on your clean work surface and hands. Then remove the dough from the bowl and shape it into a ball. Using a knife or a scraper, cut the dough in half, then each half in half, and keep repeating until you have 16 equal sized pieces of dough.
Cut one of those pieces of dough into 3 equal parts, and roll those 3 parts into long snakes. (about 8 inches long)
Press one end of each snake together to seal those ends, and fan the other ends out. Then braid the snakes together, until you reach the ends, then press those ends together to seal. (See the photo in post for visuals.)
Repeat with the remaining 15 pieces, until you have 16 braided breadsticks.
Spread 2-3 Tbs of the melted butter on the bottom of your baking sheet. Line the breadsticks on you baking sheet, about 1/4 inch apart. Brush the remaining melted butter over top of the breadsticks.
In a small bowl combine all the 'spice mix' ingredients and sprinkle them over the breadsticks.
Let the breadsticks rise for about 10 minutes, while you preheat your oven to 400 degrees.
Bake the breadsticks for 10-12 minutes.
Serve while warm.
http://eatitandsayyum.com/braided-breadsticks/
Check out the other great Hunger Games ideas!
The Girl on Fireball Cocktail from The Love Nerds
President Snow's White Rose Cake from Sugar & Soul
Katniss Braided Breadsticks from Eat It & Say Yum
Hunger Games Logo Cut Files from Hey, Let's Make Stuff
Cinna-mon Sugar Scrub from Hey, Let's Make Stuff
"Nightlock" Berry Cupcakes with Berry Frosting from Cookie Dough and Oven Mitt
Hunger Games Wreath from illistyle
Ultimate Collection of Hunger Games Party Ideas from Play. Party. Pin.
Hunger Games T-Shirts from Play. Party. Pin.