It was during college that I was first exposed to broccoli salad.  It's fair to say that I instantly fell in love with it.  Shortly after that I got a recipe for this salad from my Mother-in-law.  Since then I have added a few things, and made the salad just how I like it.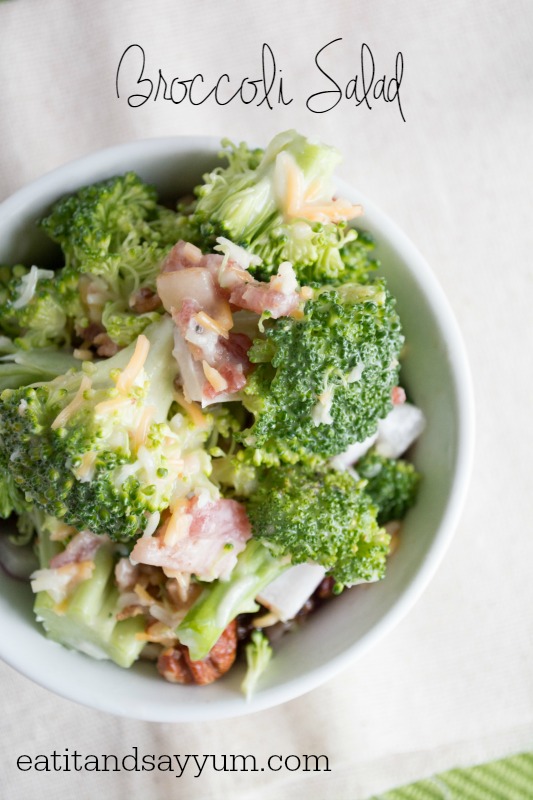 I love the freshness of the broccoli, and the saltiness of the bacon.  Plus the creamy cheese, and crunchy nuts.  They all come together for a great salad.  And the dressing is sweet and tangy, and perfect.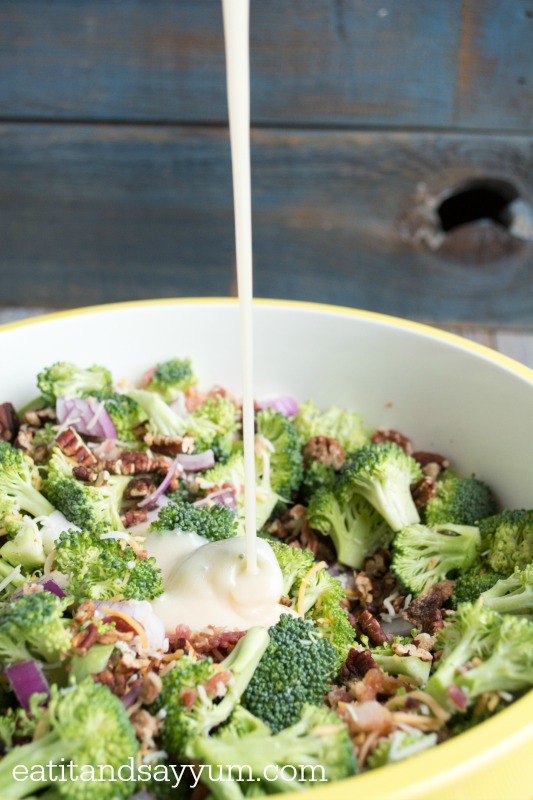 This salad can be really easy to throw together, too.  If you have the bacon made ahead of time, you really just need to chop everything and toss it together.  Oh and toast the nuts, that makes them they way better.  But that only takes a minute or two.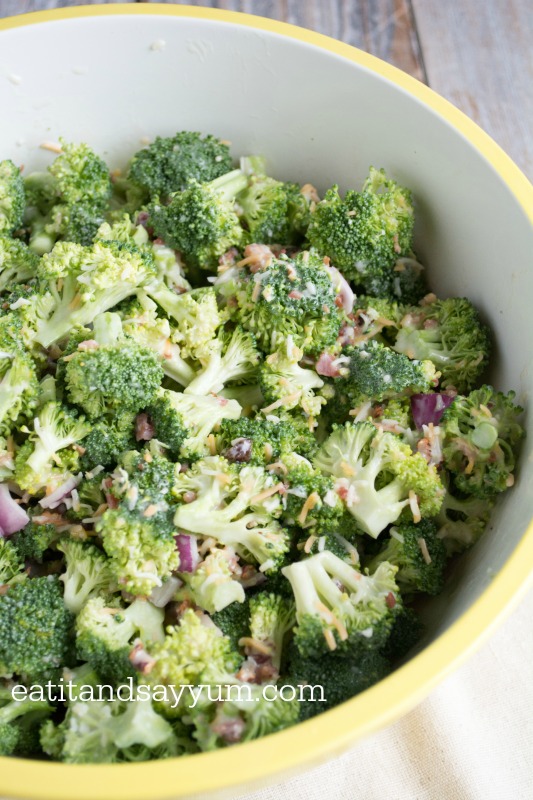 Toss the salad and let it sit in the fridge until ready to serve.
This is a great side dish for summer barbecues and pot lucks.  Everyone seems to love it!
I love that is has all that fresh broccoli.  I don't feel so bad about eating it.  A lot of it….
Ingredients
1 large bunch of broccoli, separated into florets and cut into bite size pieces
1 red onion- diced
6 slices of bacon- cooked and chopped
1/2 cup toasted walnuts or pecans
1/2 cup raisins
1 cup grated cheddar cheese
1/2 cup mayonnaise
3 Tbs apple cider vinegar (or red wine vinegar)
1/4 cup sugar
Instructions
Combine the mayonnaise, vinegar, and sugar in a small mixing bowl and stir. Set aside.
Combine the bite sized broccoli, cooked and crumbled bacon, grated cheese, toasted nuts, raisins, and diced red onions in a large bowl. Pour the dressing over top of everything and stir to coat the salad. Store the salad in the fridge until ready to serve.
http://eatitandsayyum.com/broccoli-salad/
What's your favorite summer side dish??
Here are some more of my favorites: