A few years ago my little sister made this yummy appetizer at a family gathering, and I have been hooked ever since.
The flavors are so bold, and bright. I love the combination of the warm, buttery, toasty bread paired with the cool, crisp tomatoes.
Seriously, a match made in kitchen heaven.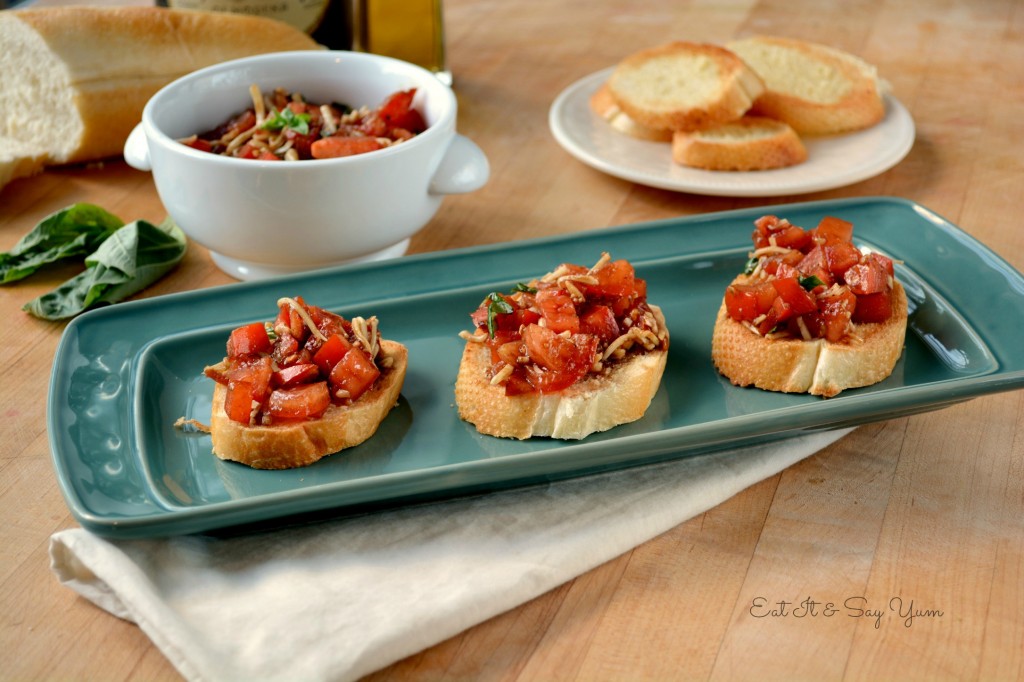 I like to reduce the balsamic vinegar.  This allows it to thicken and then really coat and stick to the tomatoes.
You can see in this (fuzzy) picture the difference.  The left side shows how the balsamic just runs off the spoon.  The right side is after letting it boil for a few minutes, and you can see the vinegar is thicker and really coats the spoon.  That's what you're looking for.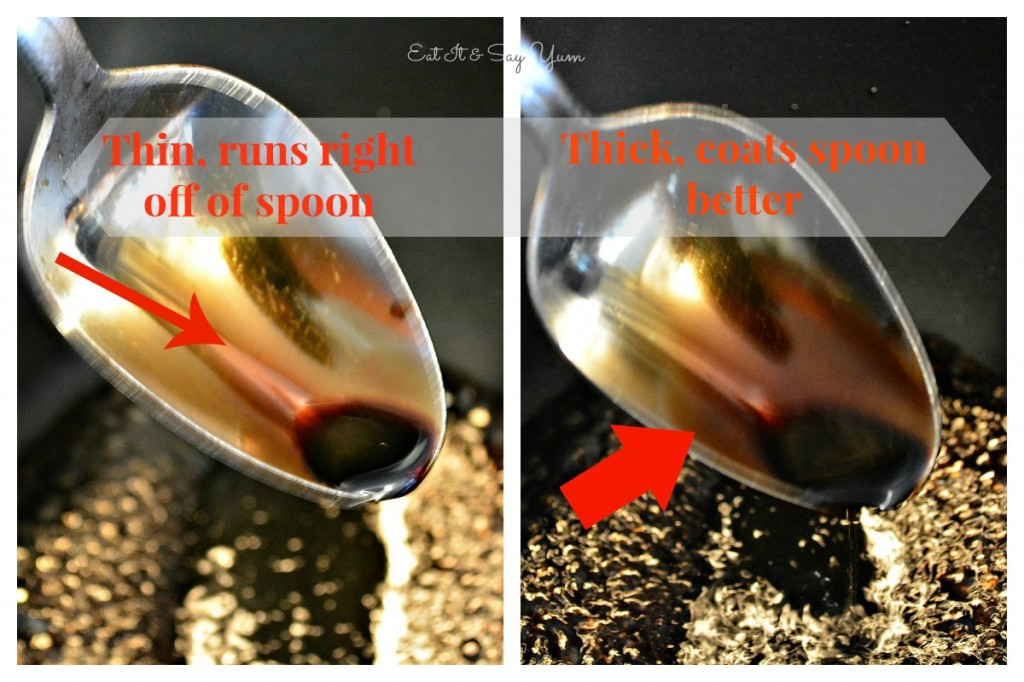 After the vinegar is prepped, dice the tomatoes.  I halved the tomato, then cut the slices you see below.  Then I cut those slices crosswise to get small pieces.  (Tip, I think Roma tomatoes work best for this, but you can use any kind you want.)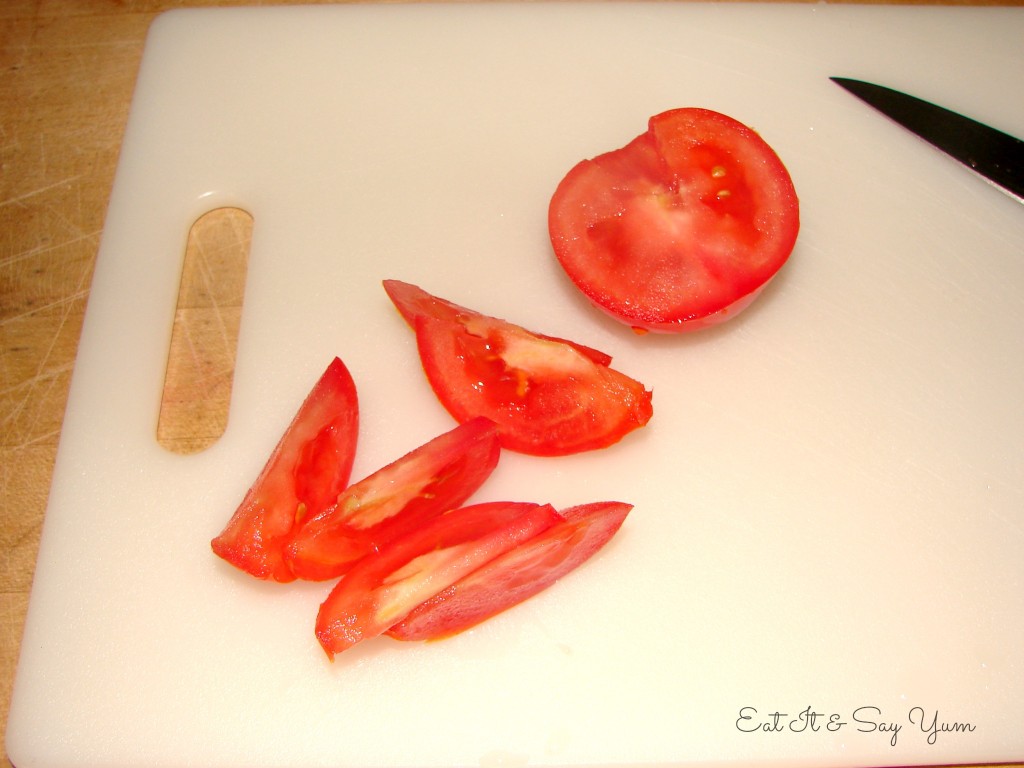 Add all the ingredients, except the bread and butter, to a medium mixing bowl and lightly stir to evenly distribute all the ingredients.
You can see the tomatoes, mozzarella cheese, and fresh basil.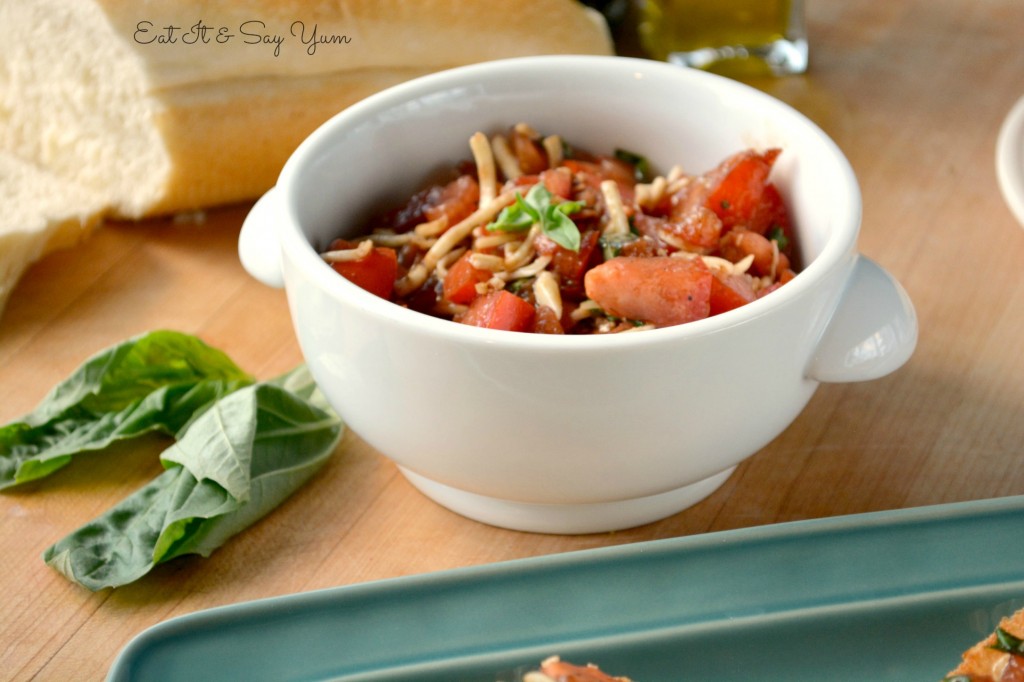 Slice your bread, butter one side and toast the slices under the broiler.  Watch them carefully, you want them golden brown, not black.  Then turn the slices over and butter the other side.  Toast again, so both sides of the bread are golden brown.
Top the warm toasty bread with the bruschetta.  Eat immediately.  Mmmmm…  Yum.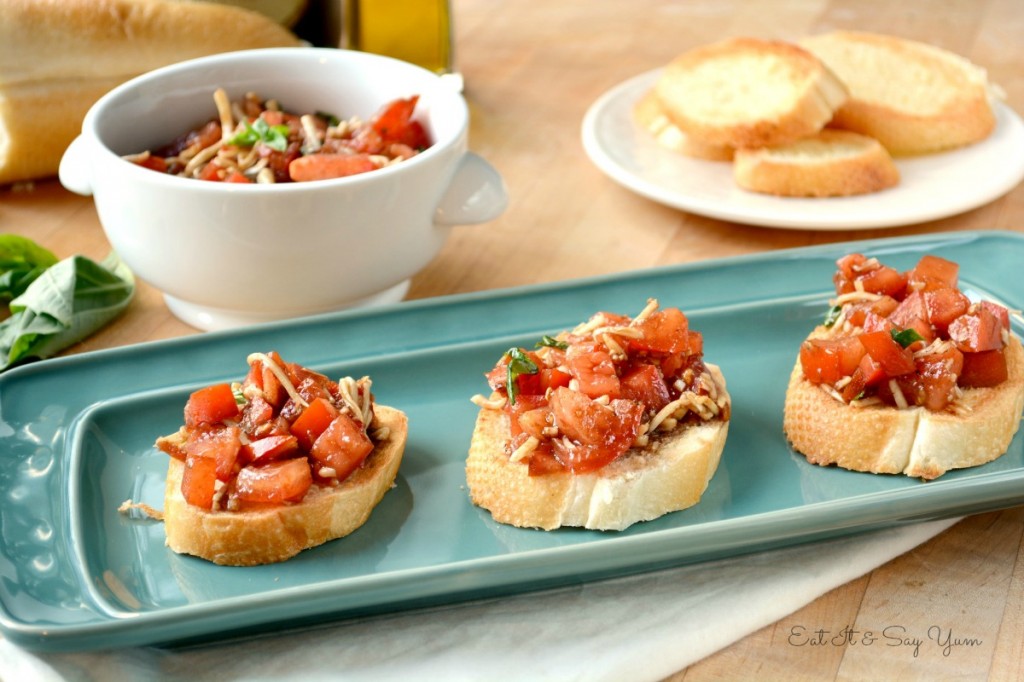 For this recipe I used 5 tomatoes, and 1 loaf of french bread.  That made enough to serve my family of 6, with a little left over.
Ingredients
5-6 tomatoes
1/4 cup balsamic vinegar- reduced
1-2 cloves garlic- minced
1-2 Tbs olive oil (I just drizzle it on)
2 fresh basil leaves- chopped or sliced (dried basil works in a pinch, about 1 tsp is good)
salt and pepper to taste
1/2 cup grated mozzarella
1 loaf french bread- sliced, buttered, and toasted on both sides
Instructions
In a small pot reduce the balsamic vinegar. Boil for a 2-4 minutes until the vinegar is thicker and can coat a spoon. (See photo above) Set aside to cool.
Dice tomatoes. Combine in a medium mixing bowl with cooled balsamic, garlic, olive oil, basil, salt and pepper, and cheese. Set aside to let flavors combine.
Slice french bread and butter one side. Toast in oven under the broiler. Watch carefully, so as not to burn the bread. Repeat on the other side of the bread once it is toasted to a nice golden brown.
Serve while bread is still warm, by spooning the tomato mixture on to a slice of toasted bread.
http://eatitandsayyum.com/bruschetta/
Linked up with Lady Behind the Curtain and…