If you love Cheesecake Factory's Buffalo Blasts, then you will love these.  Both of 'em.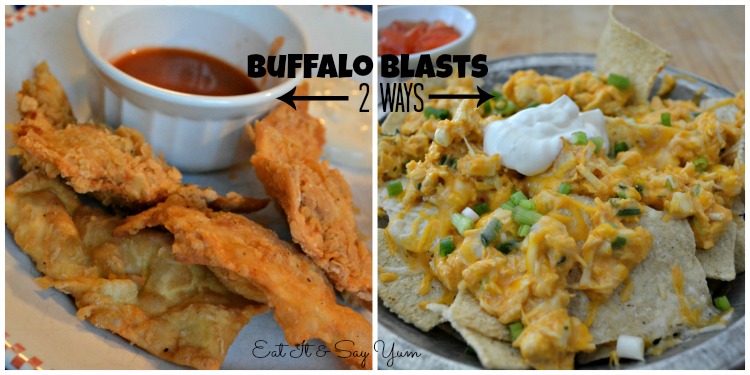 My family loves the buffalo blasts, but these buffalo blast nachos are just as good!
Both of these dishes have the same buffalo chicken mixture.  The blasts are filled with the cheesy, spicy, chicken, and the nachos are topped with it.
A multi-purpose recipe?  Yes!  Plus making the filling once, fed my family for TWO meals!
Does anyone else like it when their job gets easier?  Well, you're welcome.
Start off by cooking your chicken.  I sliced it in half to make it thin, and therefore cook faster.  However, you can cook your chicken any way you like.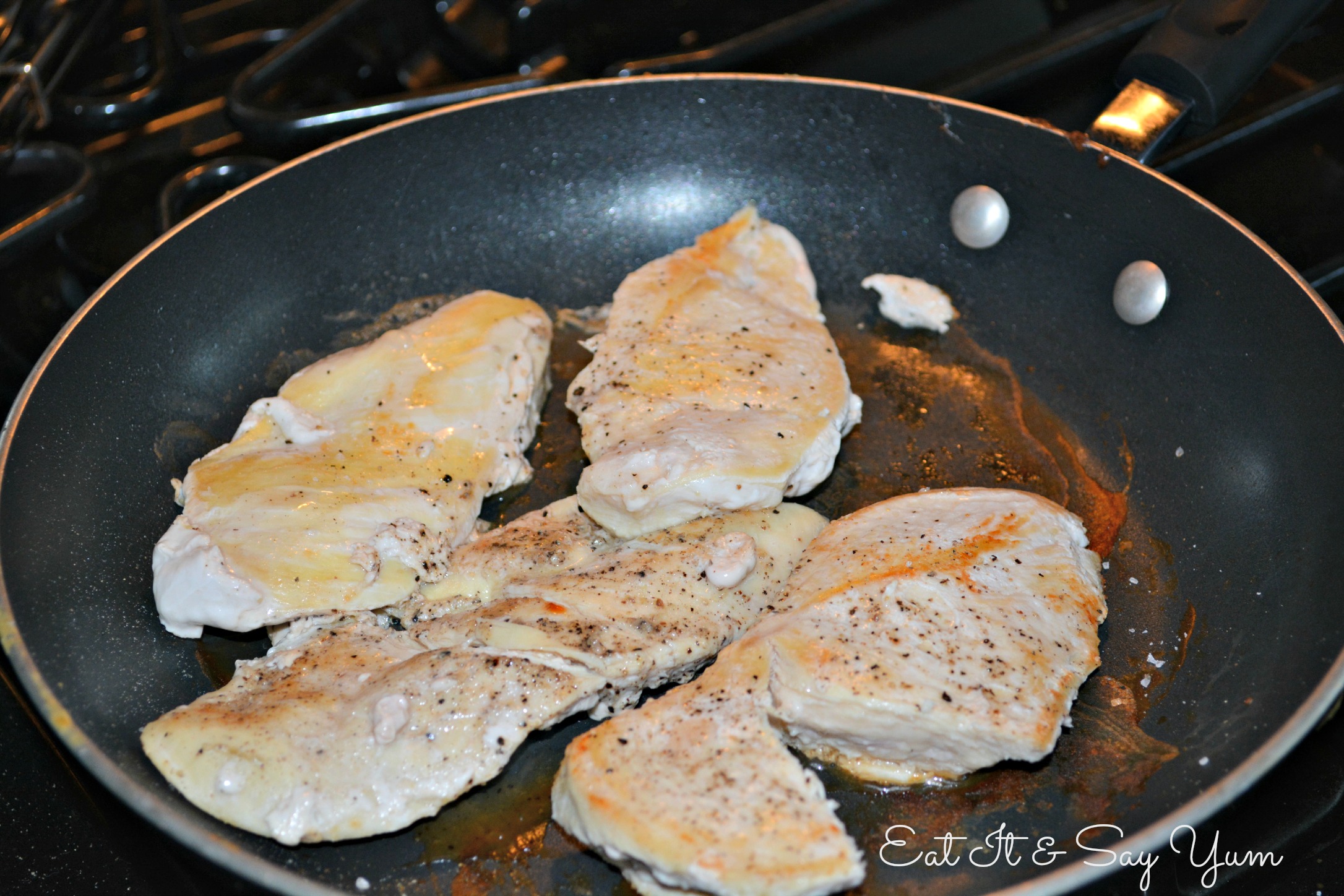 Then I cut the chicken into big chunks.  And threw it in my food processor.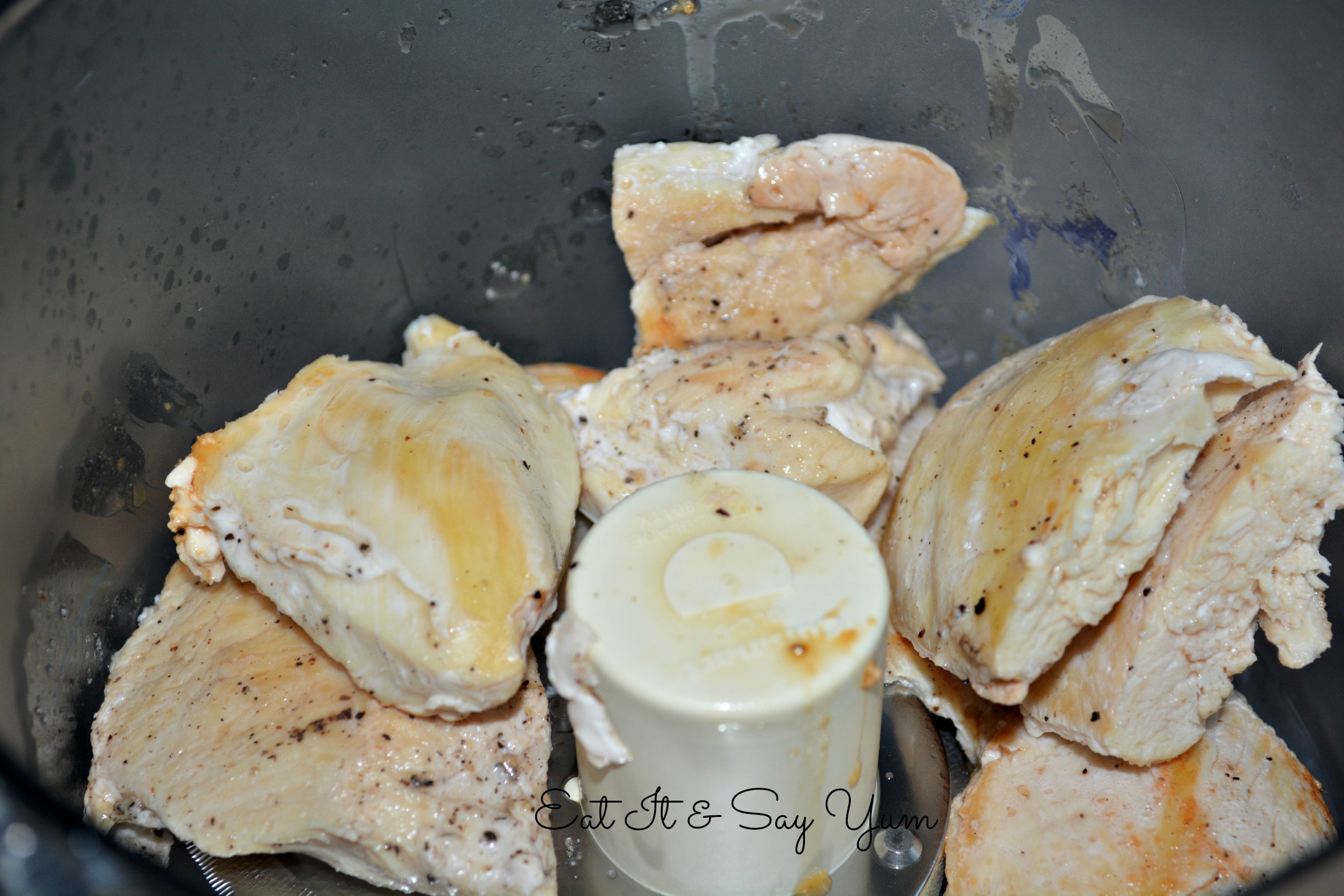 A quick push of the button and the chicken is finely chopped and ready to go.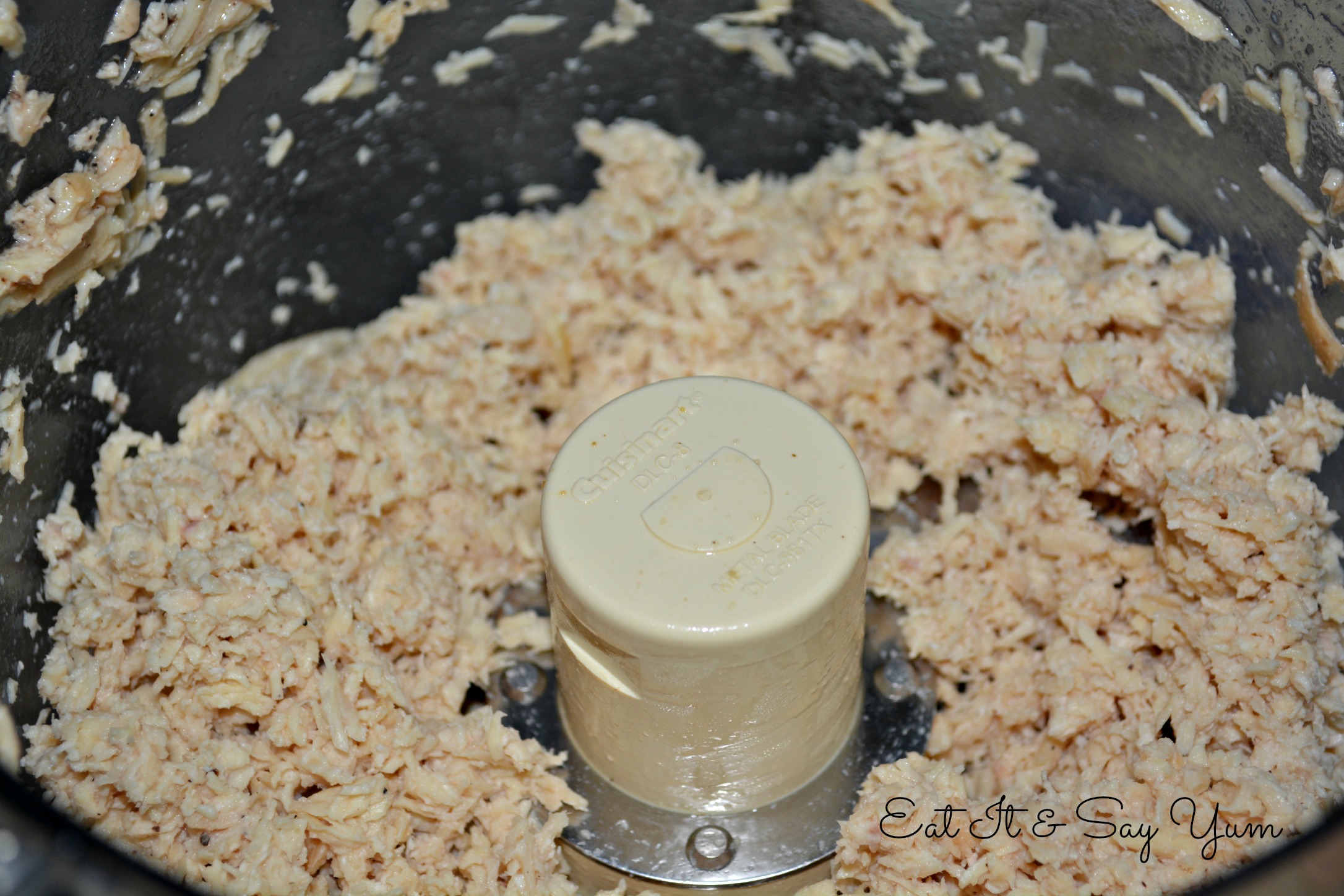 If you don't have a food processor, fear not.  I have made these without it.  Just finely chop or shred the chicken by hand, using forks, or a knife.  That works just as well.
With your chicken in a mixing bowl, add the ranch seasoning, cream cheese, chopped green onions, and Franks Hot Sauce.  Stir to fully combine.  Make sure the cream cheese is completely mixed it.  Last, fold in the grated cheese.
Now you are ready to fill the wonton wrappers to make the blasts, or you can skip these next steps and go down to the Nachos directions.
For The BLASTS:
Place the filling on the wonton wrappers, and brush the edges with an egg wash.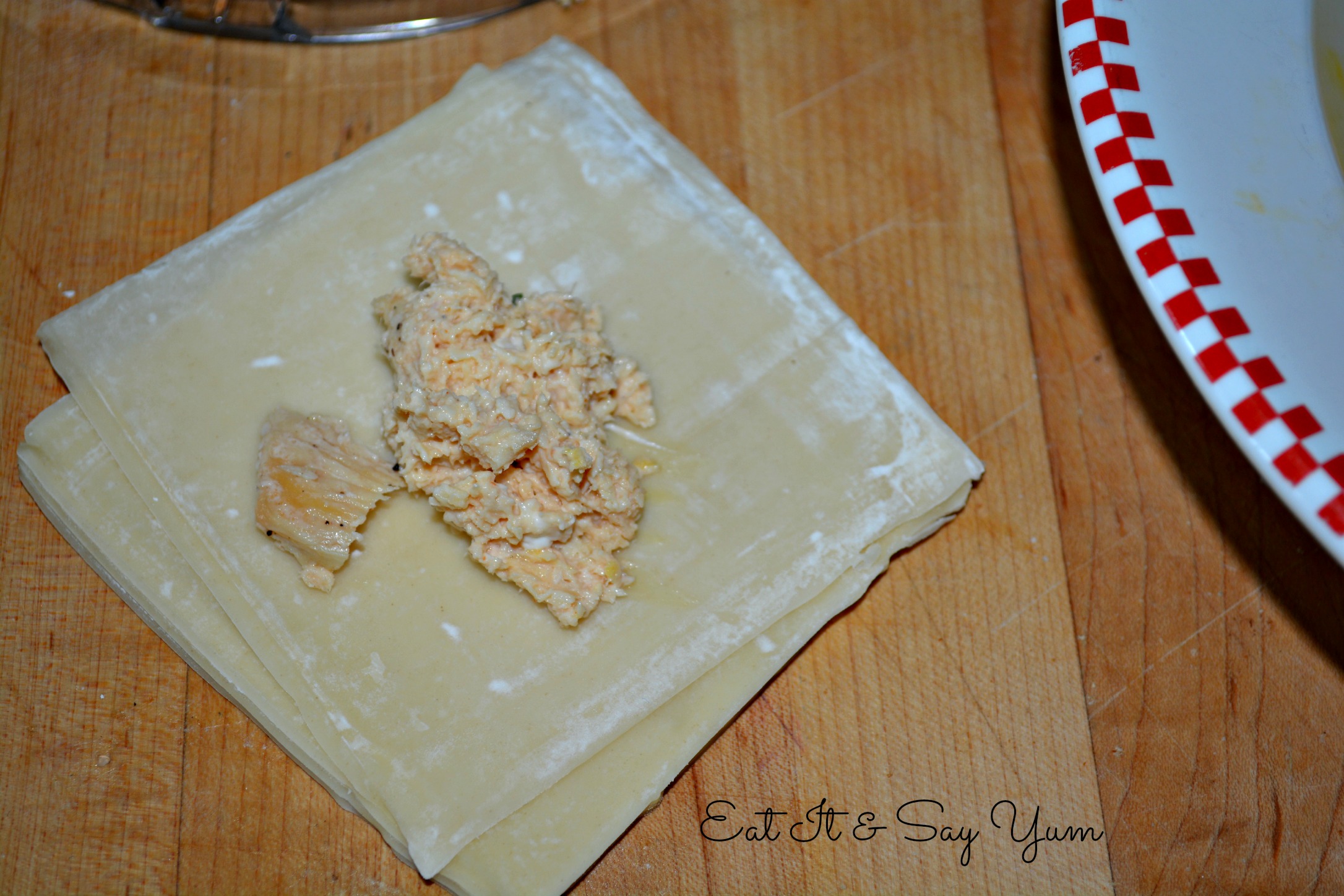 You can simply fold the wrappers in half, corner to corner, to make a triangle.  Or if you have one of these handy pastry presses then you can use that.  (My kids love to help, so we can't get away without using the press.  They all fight over who gets that job.)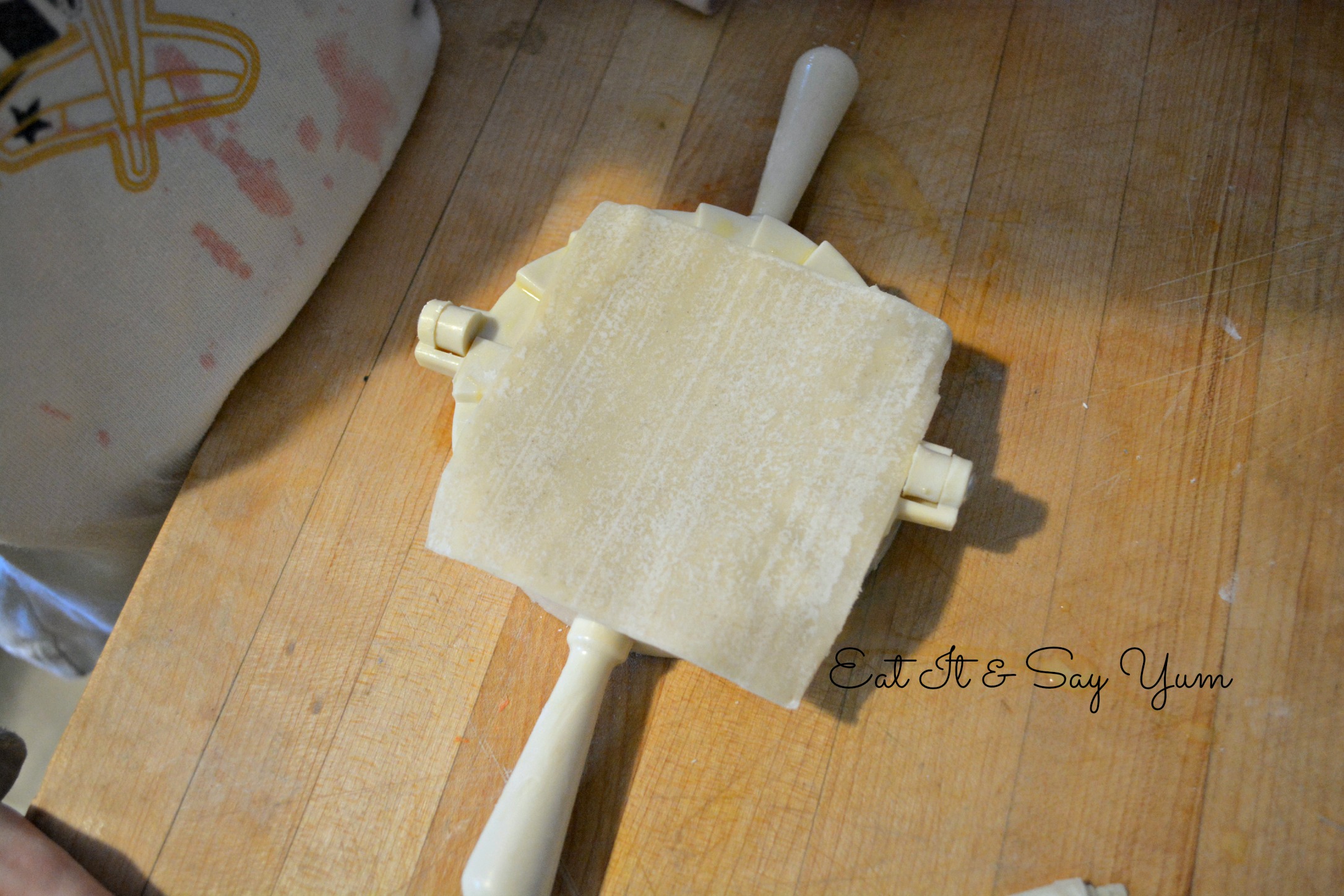 And the job of press and seal is great for 3 year old's with otter pop stains on their shirt…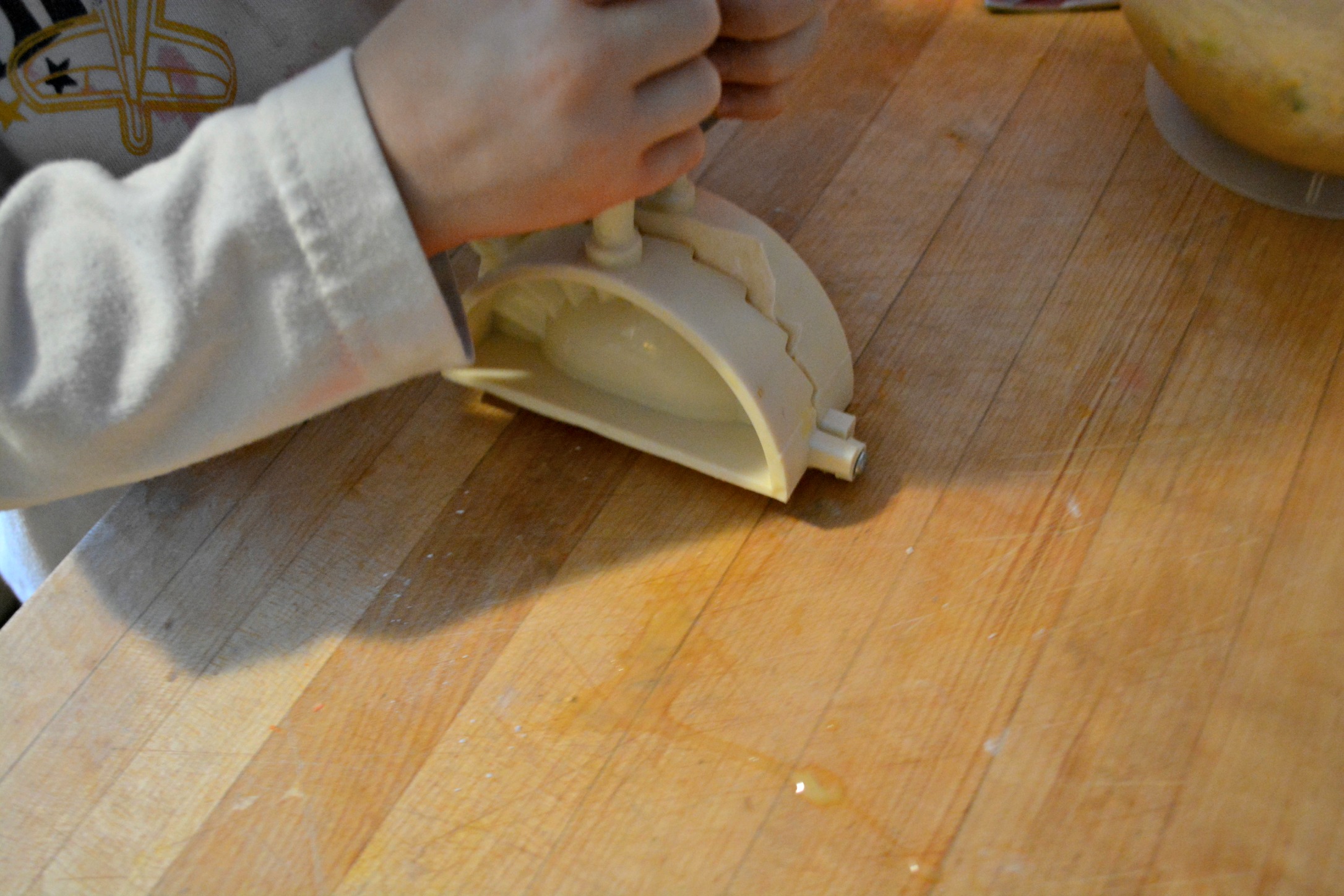 Ta daaaa!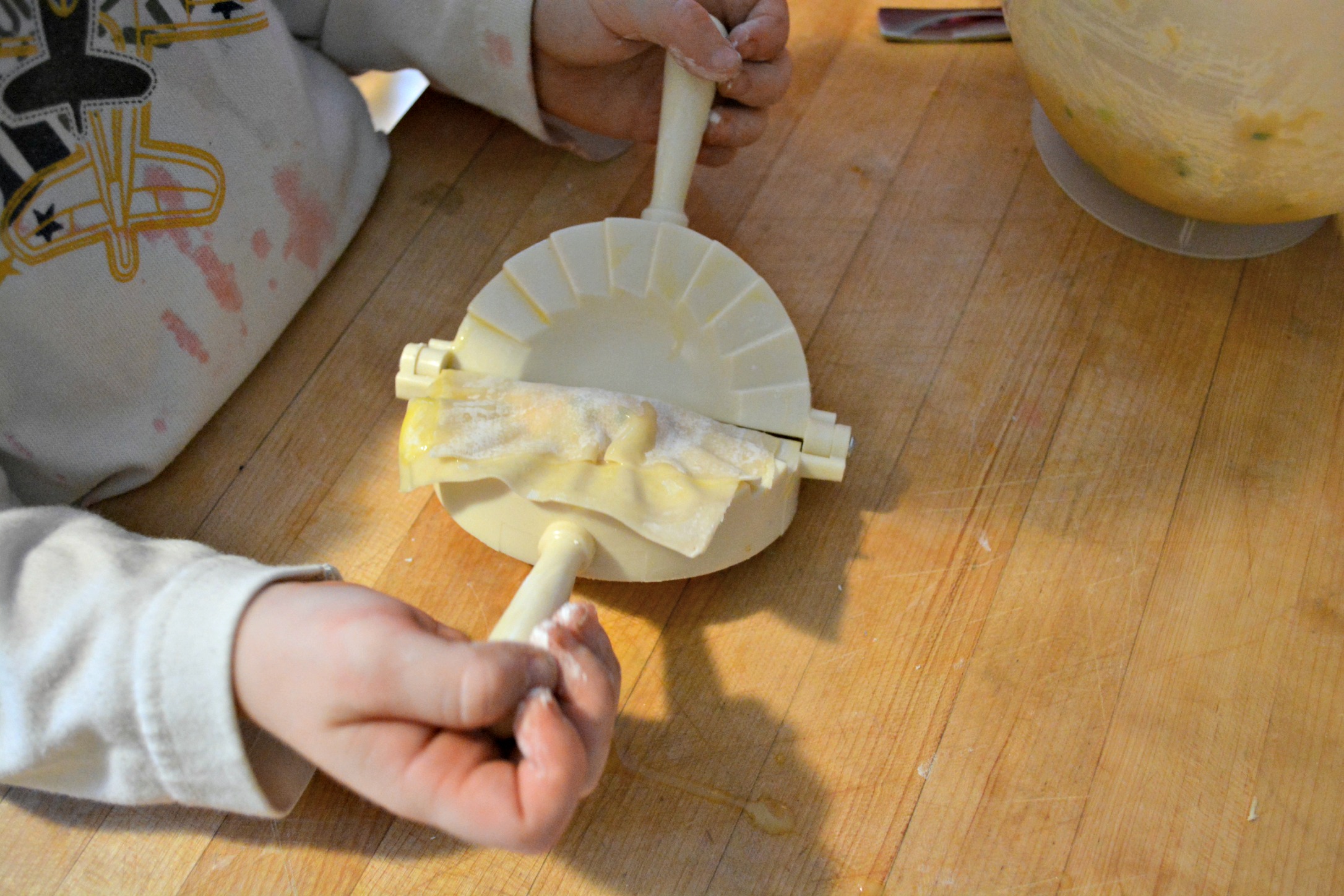 Perfection is not important here.  In fact even though the edges aren't totally lined up, I think these ones are perfect.  😉
After a quick dip in the egg wash and then in the flour dredge, line them up on some parchment paper, ready to fry.  (Another good job for kids.)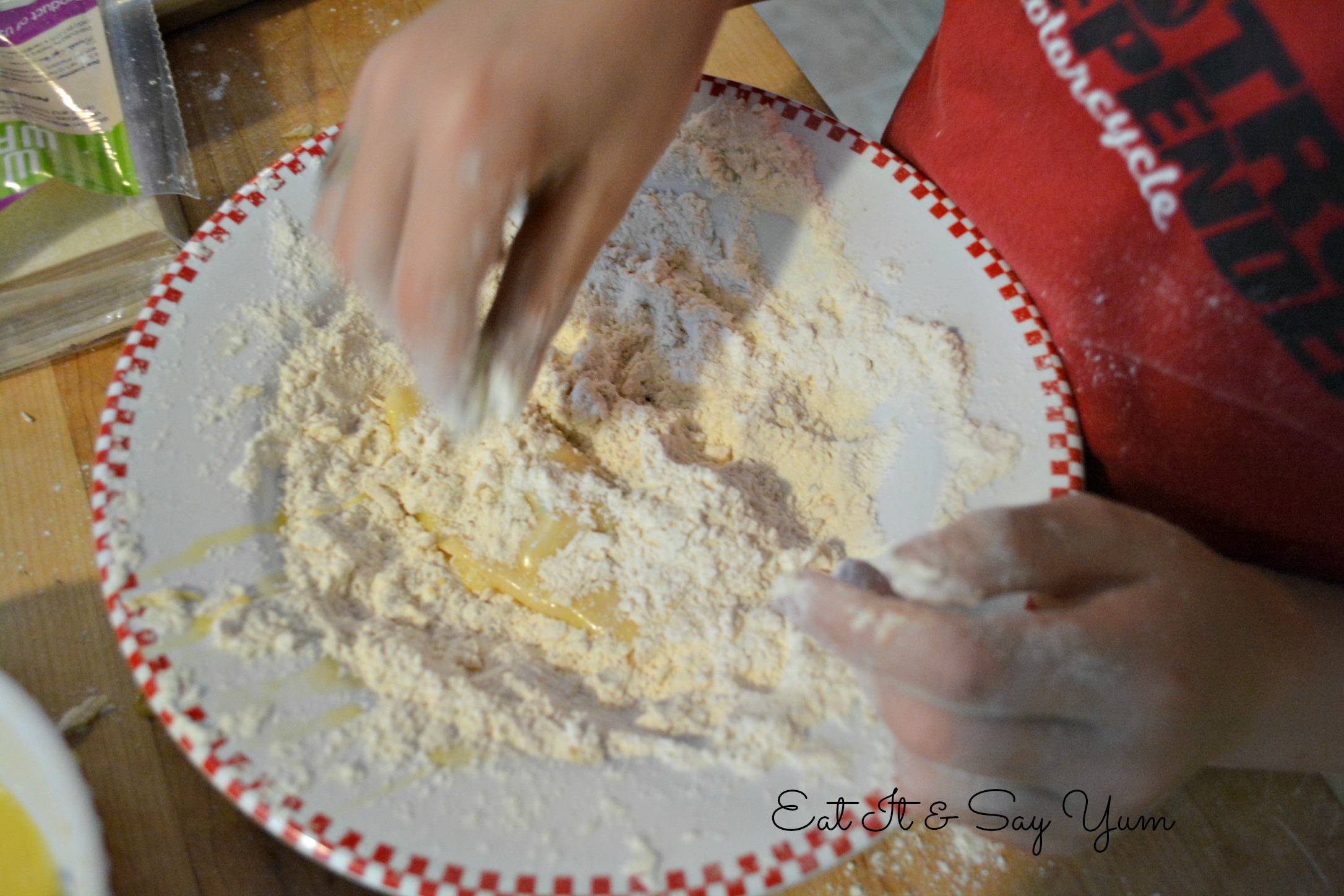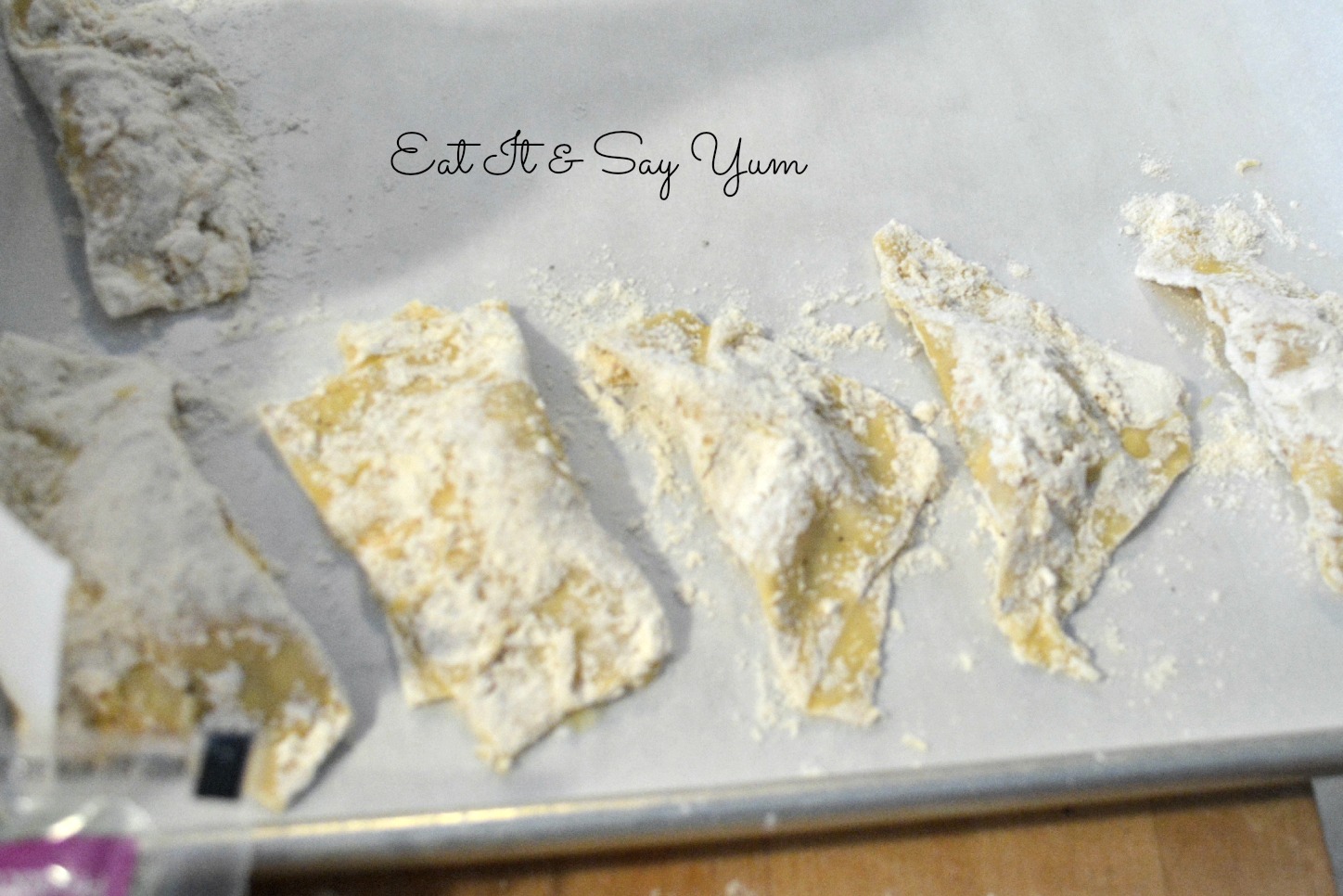 Keep the oil for frying between 350-400 degrees.  They will fry fast and be nice and crispy at this temperature.  If you need to let the oil reheat a little between each batch, then do that.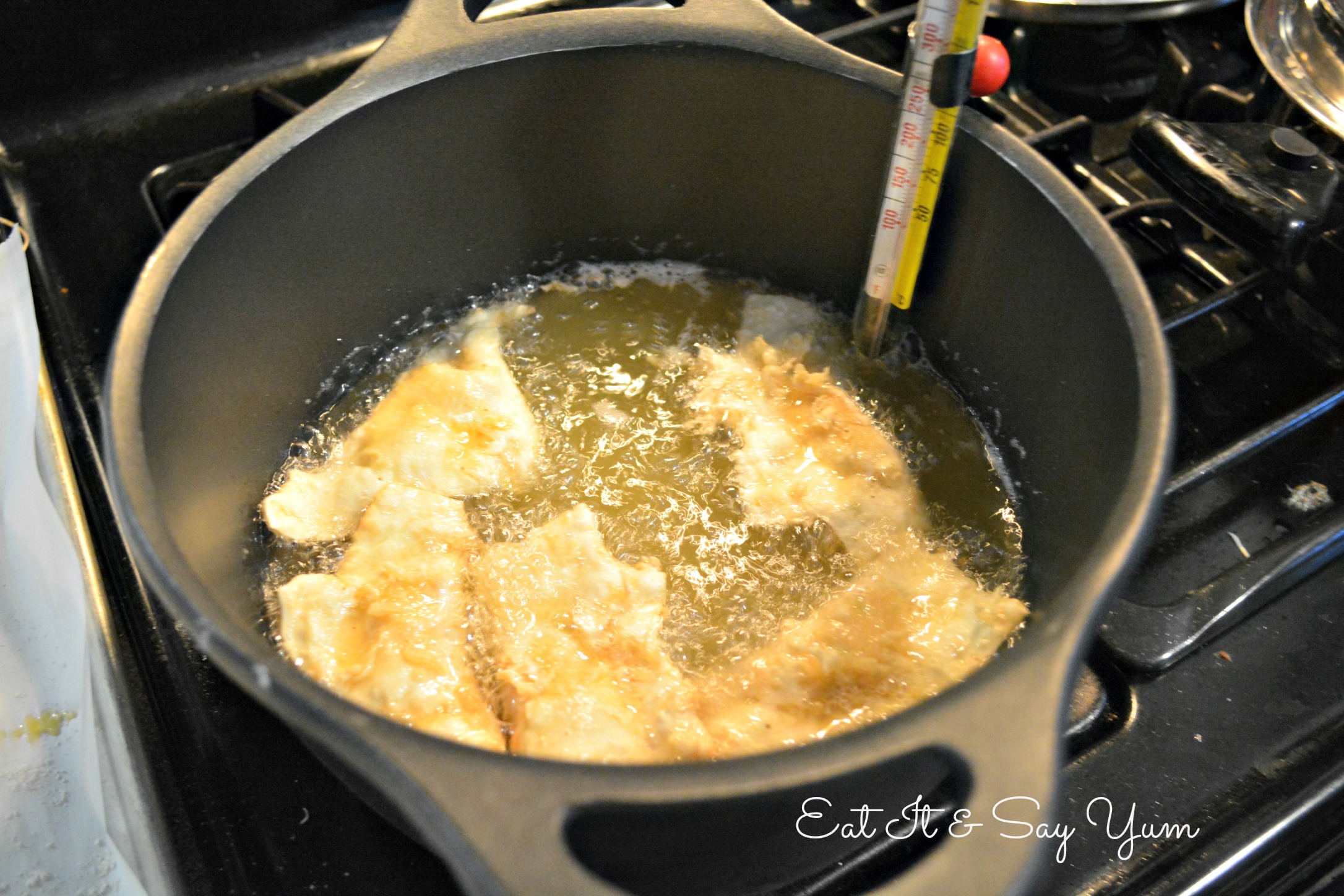 Fry til golden brown and drain the grease on a paper towel.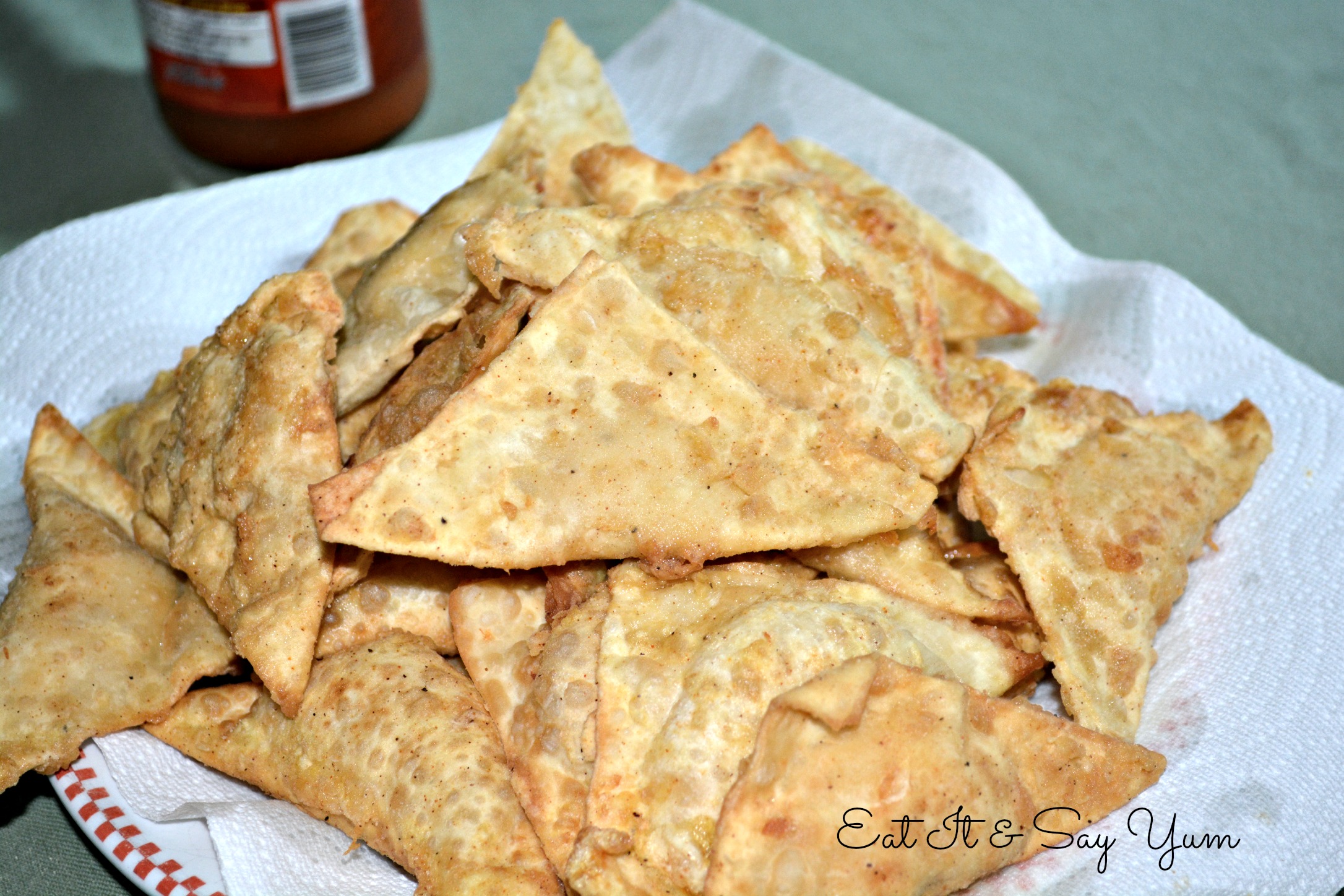 Serve with more Franks Hot Sauce and Ranch, or Bleu Cheese, if you like that sort of thing.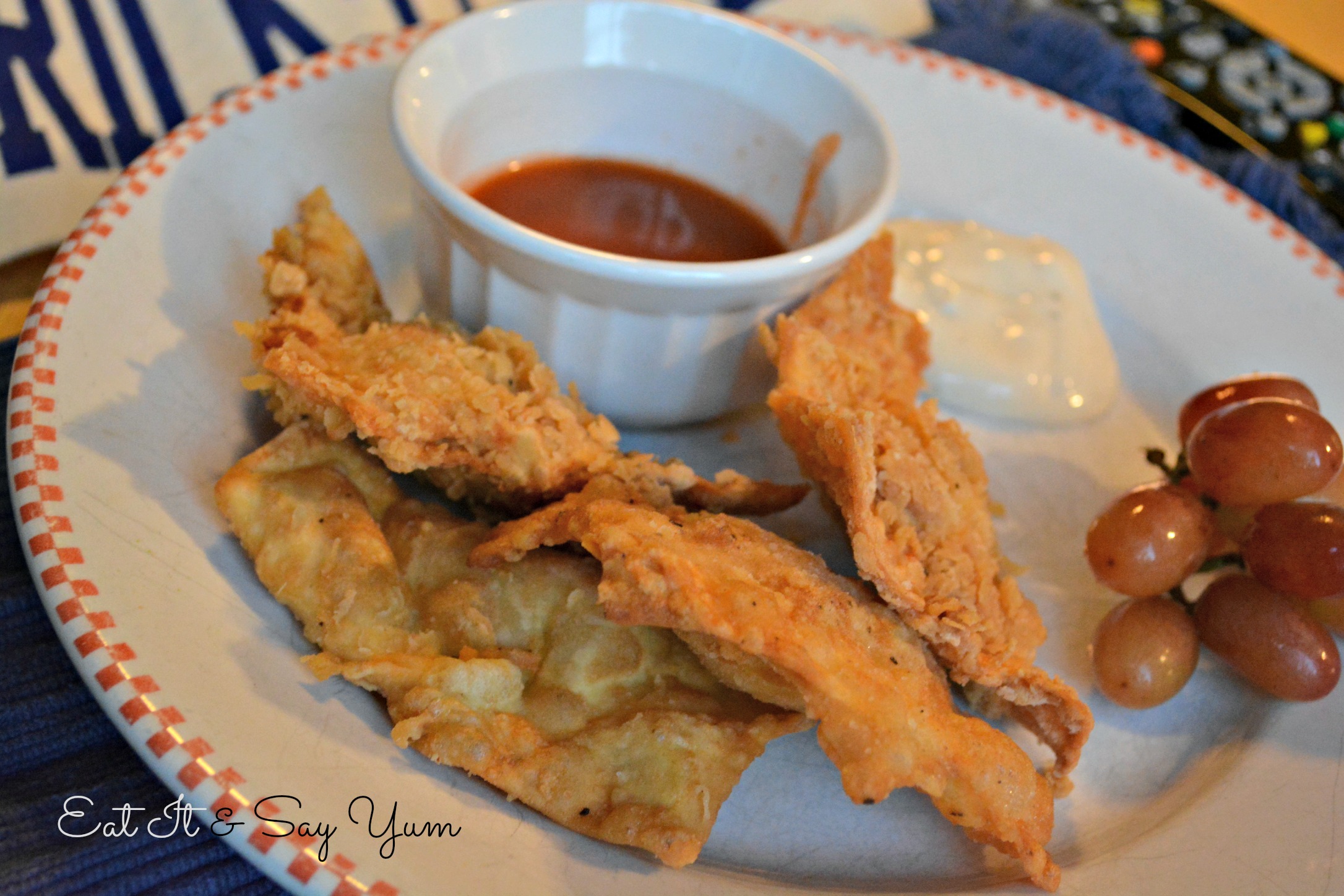 Ingredients
3 green onions (1 or 2 more to top nachos)
3 ounces cream cheese
2 chicken breasts
1 1/2 tsp ranch dip mix
1 cup grated cheese (any kind- I used colby jack. 1 cup more for nachos)
2 Tbs Franks Hot Sauce (more if you like it spicier, and extra for dipping)
20- 40 wonton wrappers, and/or tortilla chips for nachos
2 eggs
1 1/2 cups flour
salt and pepper (to your tastes)
Instructions
Thin slice chicken breasts and cook, til juices run clean.
Shred or finely chop chicken. A food processor works great for this.
In a medium mixing bowl combine the chicken, cream cheese, sliced green onions, ranch seasoning mix, and Franks Hot Sauce. Stir to fully mix.
Fold in 1 cup grated cheese.
For Buffalo Blasts:
Mix eggs in a bowl for egg wash. In separate bowl combine flour with salt and pepper, to make flour dredge.
Brush egg wash on edges of wonton wrappers and fill with 1 tsp of chicken filling. Fold the wrappers over the chicken to form a triangle and press to seal the edges.
Dip the filled wrapper in the egg wash, and then in the flour dredge. Lay on parchment until ready to fry.
Heat oil to 350-400 degrees. Fry the blasts for about 1 minute on each side, until they are golden brown and crispy.
Drain grease on a paper towel.
Serve with Franks sauce and ranch dressing, or bleu cheese.
Makes 40 blasts.
For Nachos:
Prepare the chicken mixture as directed above.
Fill a pie tin (or any oven safe dish) with tortilla chips.
Sprinkle 3/4 cups of the additional cheese over the chips.
Evenly spread the chicken mixture over the chips and cheese. Top with remaining 1/4 cup cheese.
Melt cheese under the broiler in your over until the cheese is bubbly and the chicken is heated through again.
Top with more sliced green onion, tomatoes, sour cream, and Franks Hot Sauce.
http://eatitandsayyum.com/buffalo-blasts-2-ways/
Note: To make both versions out of this one recipe, I used half the chicken mixture and made 20 blasts and saved the other half of the chicken to top the nachos with.  The 20 blasts were enough for my family of 6 to have with dinner.  If you want these for a big party, you might want to use all the chicken in the blasts and make around 40.
For The NACHOS:
These are super simple.
I like to make my nachos in pie tins.  You can use a pan, just make sure whatever you use is over safe.
Fill the tin with chips, top with cheese, spread the buffalo chicken mixture from above on top of the cheese.
Add a little more cheese on top of that.  Then place under the broiler until the cheese is hot and bubbly and the chicken mixture is hot again.

Sprinkle with more green onion, tomatoes, sour cream, whatever makes you happy.
Note: To make these nachos I only used half of the chicken recipe.  The other half was used to make 20 of the buffalo blasts.
Both of these dishes are great for parties, as appetizers, football (or any sport) watching, lunch, or dinner.  I hope you try these, and let me know what you think!