This mac n' cheese is made for adults, too!  It has chicken and an added kick from the buffalo hot sauce.
Mac n' Cheese isn't just for kids!  Adults and kids alike can enjoy this homemade dish.
Pasta in cheese sauce is some guaranteed comfort food.  But I added some buffalo chicken and now we have a dish that we really crave.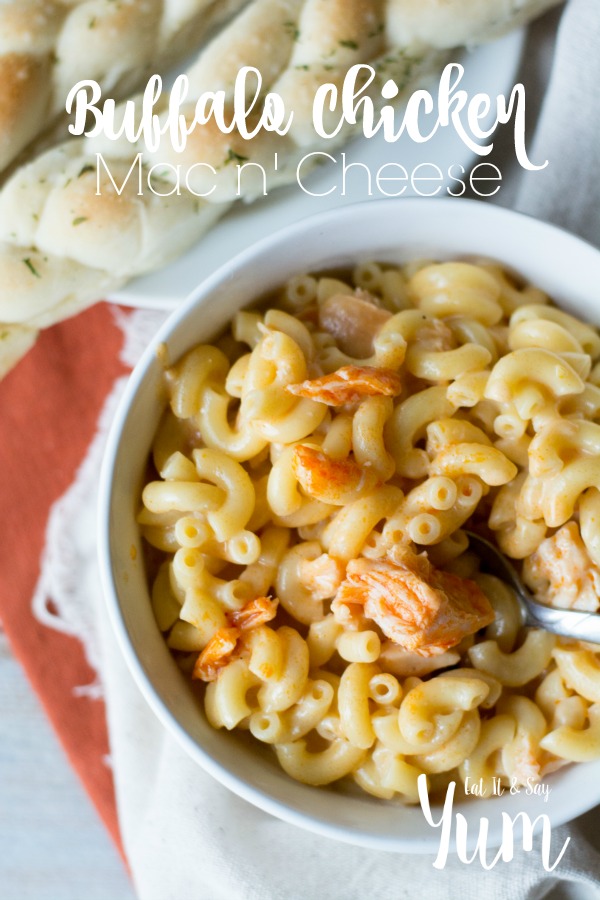 Making a cheese sauce for pasta is actually SUPER easy!  Make a roux with butter and flour, then add milk, cheese, and seasonings.  Easy.  I toss my cheese sauce with the cooked macaroni noodles, and then toss in my chicken.  I cook the chicken separately with some Frank's Hot Sauce, and a little butter.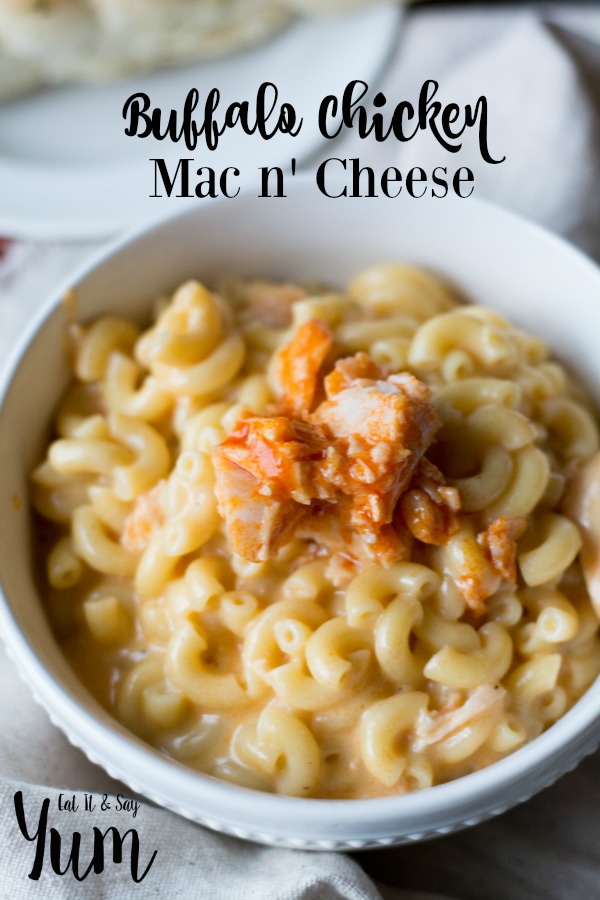 Now I have a quick, and easy weeknight meal.  A tip to make this dish even easier is to use leftover rotisserie chicken.  It's already cooked, and ready to toss in.  I use rotisserie chicken in so many meals!!  I swear, it makes my life easier.
Buffalo Chicken Mac n' Cheese
Ingredients
1 pound elbow or shell noodles
2 cups chicken, cooked- diced or shredded
3 Tbs Franks Buffalo Hot Sauce
1 Tbs butter
Cheese Sauce: 3 Tbs butter
2 Tbs flour
1 1/2 cup milk - or half and half
1 cup cheddar cheese- grated
1 cup pepper jack cheese- grated
1/4 tsp garlic powder
Optional bleu cheese or gorgonzola cheese as a garnish
Instructions
Cook noodles according to package directions. While the pasta is cooking melt the butter for the cheese sauce in a medium pot, over medium-high heat. Add the flour and stir to make a roux. Slowly add the milk, whisking as you go. Let the sauce heat through, and come to a low boil. Reduce heat to low. Add the garlic powder and slowly add the cheeses, stirring to combine. Let the cheese melt, then toss with the cooked, drained pasta.
In a medium pan, over medium-high heat, heat the chicken with the 1 Tbs butter and the hot sauce. Toss the hot chicken with the pasta and cheese sauce. Serve immediately.
Garnish each serving with bleu cheese or gorgonzola cheese- if desired.
If reheating leftovers, add a Tbs or two of milk to the mac n' cheese before reheating.
http://eatitandsayyum.com/buffalo-chicken-mac-n-cheese/
More easy chicken dinners: