This post contains affiliate links.  All opinions are my own.
Between my family and my husband's family, we have tons of birthdays in February.  Just between our 4 kids, two of them have birthdays in February.  Five days apart.  Planning parties is quite the task when you have to do it twice in one week.  Yikes!
And to that birthday planning craziness, add a week or so of sick kiddos.  Because we had some nasty bugs go through our house last month, birthday plans were changed at the last minute and we ended up throwing two parties on the same day.  One right after the other.  It was chaos.  But then it was over, and we recovered.
The few days before the party were also crazy.  As every mom who has ever planned a party knows. And I'm not even one of those awesome moms who throws extravagant parties.  I try to do a great cake, but everything else ends up being on the easier side.
Speaking of cakes, this year my son chose a Millennium Falcon Cake.  Thanks, kid.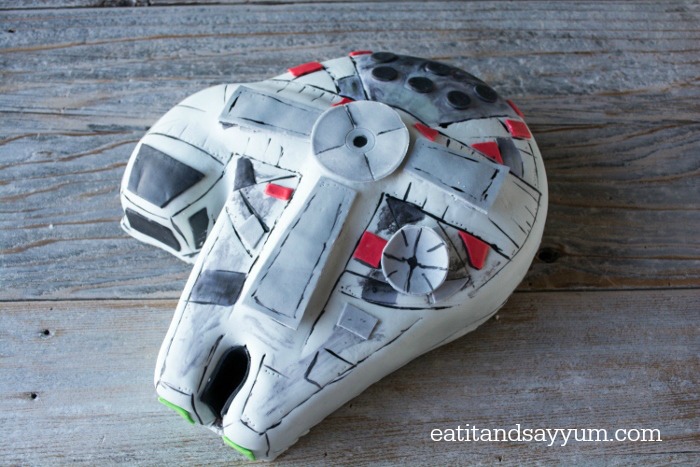 I'm putting together a little how-to post for this cake.  Coming soon…
My daughter wanted a Frozen cake.  At first she picked this cake…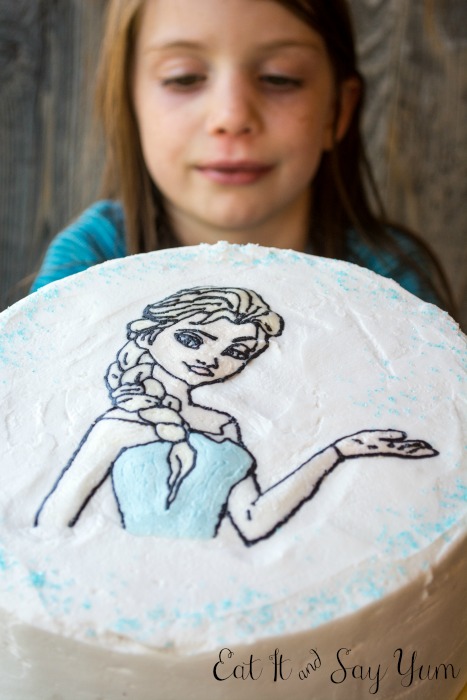 But, I didn't want to do a repeat of the same cake.  And she wanted fondant. So, I decided I wanted to try paining on fondant again.  I had painted fondant on the Treasure Chest Cake I made last summer, and I was happy with it, so why not.
I started with a piece of white fondant, rolled out big enough to fit the picture I was using.  (I used a coloring page of Elsa.  Similar to the method used for the Elsa cake shown above.)  Then I put the coloring page on top of the fondant and traced the drawing, pressing down hard enough to draw on the fondant, but not rip the paper.  I was inspired by this tutorial from McGreevy Cakes.  (AAAAWE-SOME!!!)
After I had the basic lines of the drawing, I went over them with black food coloring.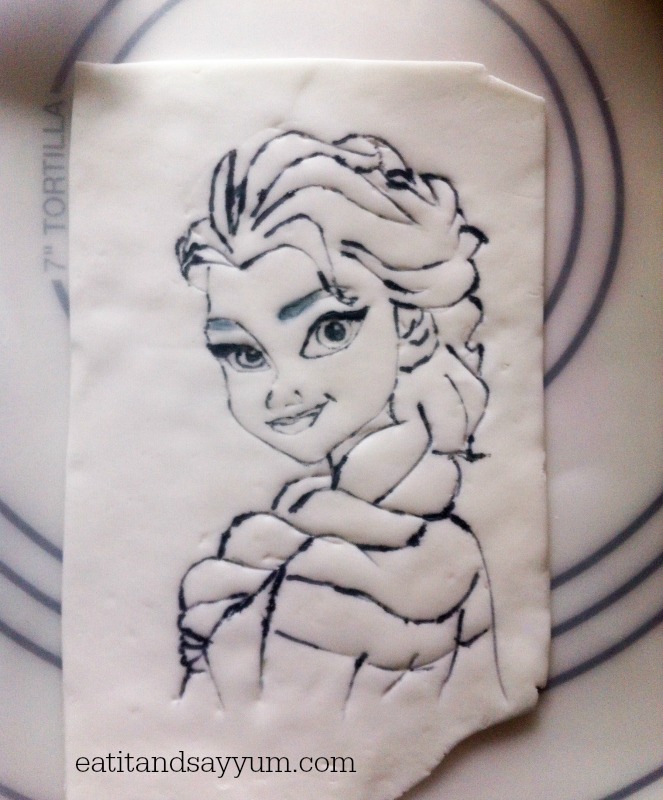 I think next time, I wouldn't do the black lines, just paint with the colors I wanted.  Live and learn, right?  I was still super happy with how the drawing came out.  I mean, I drew THAT with a toothpick, and food coloring, y'all!!  If you're not impressed, too bad.
Then I filled in the lines with the colors.  Cut out the fondant and stuck in on the cake.
Next time I want to paint right on the fondant on the cake, but if I had messed up this time I would have had to peel off all the fondant and start over.  No thanks.  First try, I'll take less risk.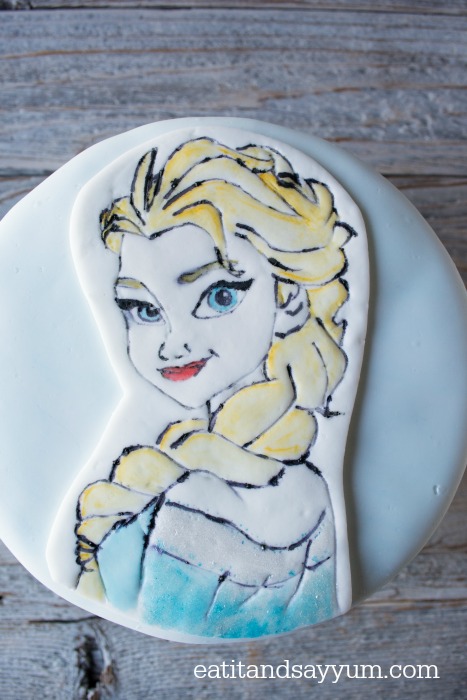 Anyway, both kids were SUPER happy with their cakes.  That's what matters.
But now, that the cakes have been eaten, and the parties are over, I need a vacation.
Speaking of vacation and Frozen, it's been freezing here Montana.  I know it's still Winter, but really.  I'm ready for a vacation to someplace warm.  Disney California Adventure Park has been taken over with a Frozen theme and after decorating this cake that sounds super fun.  My kids would love that.  If you are in the market for a fun vacation in Southern California click here.  For an extra $10 off use the code EIASY.
Anyway, it's almost Spring.  Yay!
Have you seen these 10 Drool Worthy M&M Desserts, yet?