California Cheesecake Pie.  It's like the best of two worlds.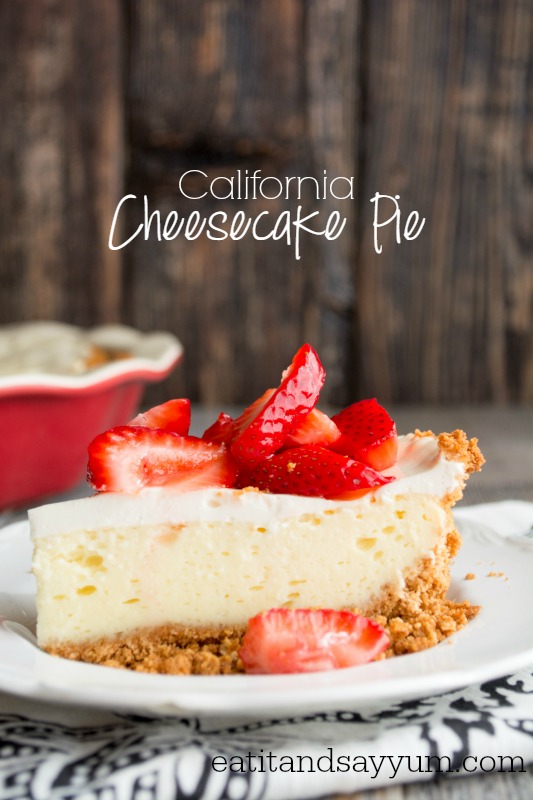 This recipe is one that I got from my mom.  She got it from her mom.  And her mom got it from a close friend who owned a hotel/ restaurant where they served California Cheesecake Pie.
It's been a family favorite for years.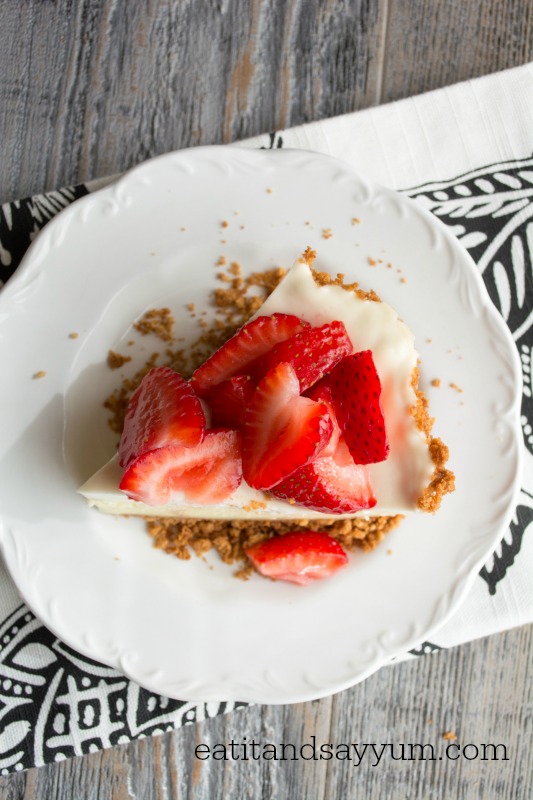 I've modified the recipe just a bit, to make it a better size.  I have a some big pie pans, and I want them to be full.  🙂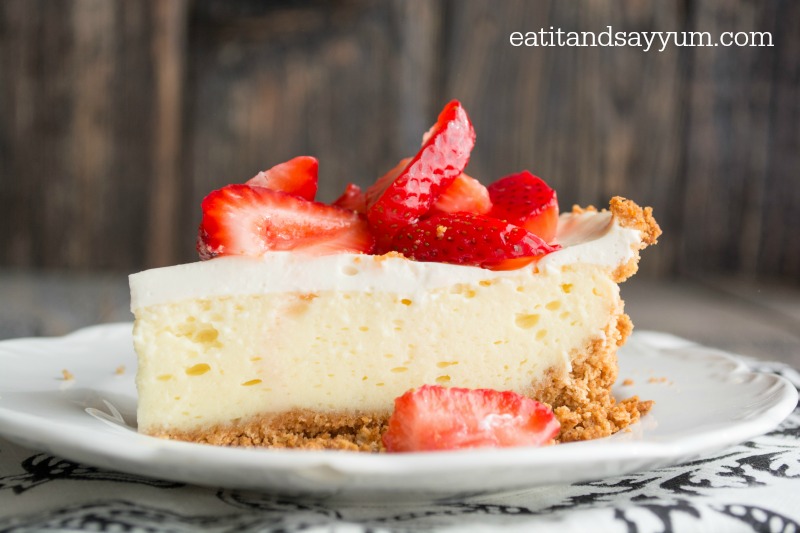 The cheesecake filling here is so creamy.  It almost reminds me of a custard.  Check out those air bubbles in there, see how light and airy it is.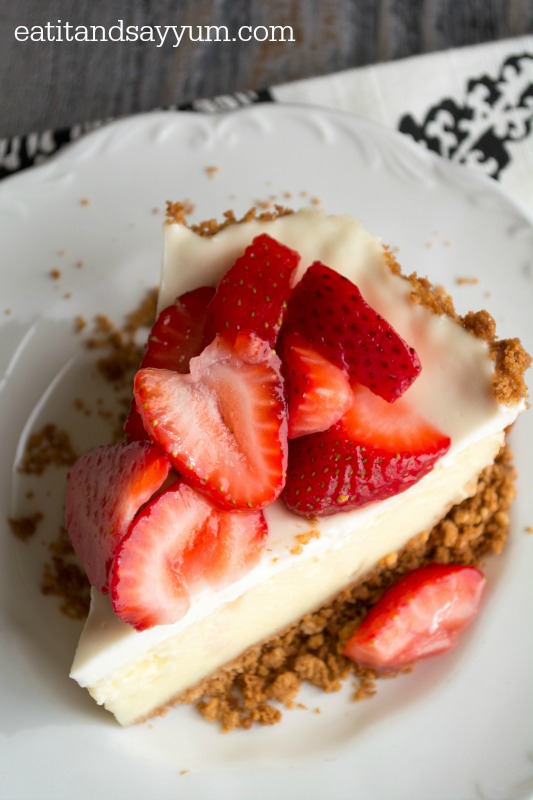 The cheesecake filling is topped with a sour cream layer, and then some macerated strawberries.  I just LOVE strawberries.  Really there isn't a fruit that screams 'California' more than strawberries.  Growing up in California provided many opportunities for picking and buying fresh strawberries straight from the field.  I miss that.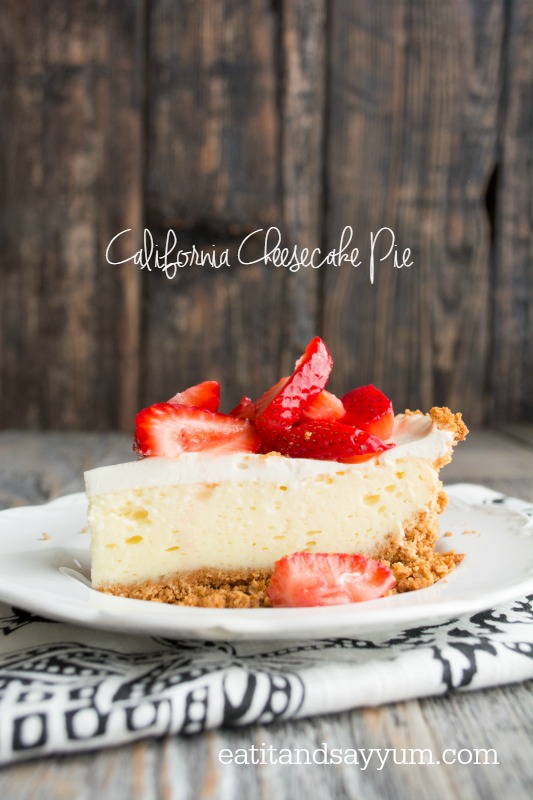 This cheesecake pie is easier to make than a normal cheesecake.  You don't need a water bath in the oven.  And you don't need to let the cheesecake sit in the oven for an hour after baking.  Nice and easy.
Oh and don't forget that graham cracker crust.  I think an Oreo or Golden Oreo, or Nilla Wafer crusts would also be delicious.  Yummy.
California Cheesecake Pie
Ingredients
Crust: About 10-12 whole graham crackers
1/4 cup butter- melted- more if crust is to dry and crumbly
Filling: 12 oz cream cheese- at room temp
3/4 cup sugar
3 eggs
1 1/4 tsp lemon juice
1 tsp vanilla
pinch of salt
Sour Cream Layer: 1 cup sour cream
2 Tbs sugar
1/2 tsp vanilla
Topping: Fresh strawberries- 2-3 cups, sliced
1 Tbs sugar
2 Tbs cold water
Instructions
Preheat oven to 350 degrees. Crush graham crackers in a zipper lock bag, or in a food processor to make fine crumbs. Mix the crumbs with the melted butter and press them into a pie pan. Press the graham cracker crust evenly along the bottom and sides of the pan.
In a medium/ large mixing bowl beat the cream cheese until smooth. Add the sugar and beat again. Add the eggs one at a time, beating after each addition. With the last egg add the vanilla, lemon juice, and salt. Beat until smooth. Pour the cream cheese filling into the pie pan and bake for 50-55 minutes. The top will get golden brown and puff up.
Just before the time is up for baking the cheesecake pie, mix the sour cream with the 2 Tbs sugar, and 1/2 tsp vanilla. Fold together with a rubber scraper and then spread on top of the baked cheesecake filling. Don't spread over the crust on the sides. Bake the cheese cake pie for 10 more minutes. Then let cool completely. You can place in the fridge to speed the cooling process up, once the pie is not quite so hot.
While the cheesecake pie is cooling slice your strawberries and toss them with the 1 Tbs sugar and 2 Tbs water. Let them macerate in the fridge while waiting to be served.
When ready to serve slice the cheesecake pie and top each portion with a spoonful or two of the macerated strawberries.
http://eatitandsayyum.com/california-cheesecake-pie/
You might also like: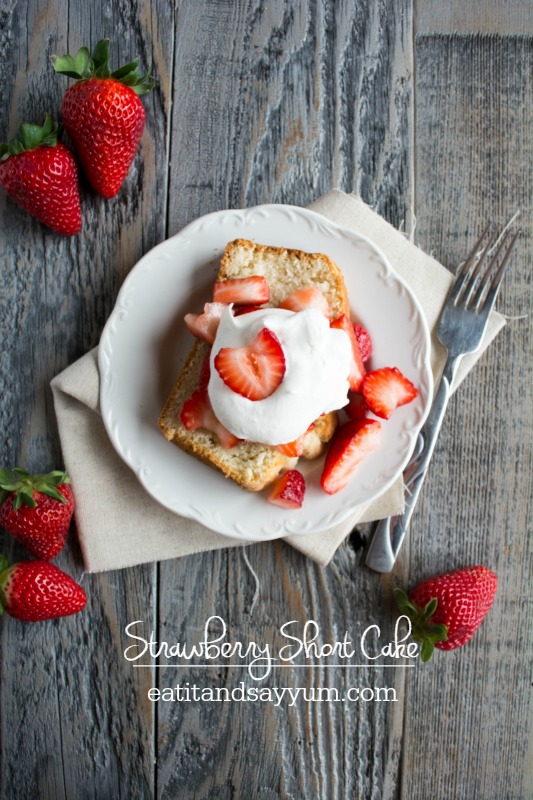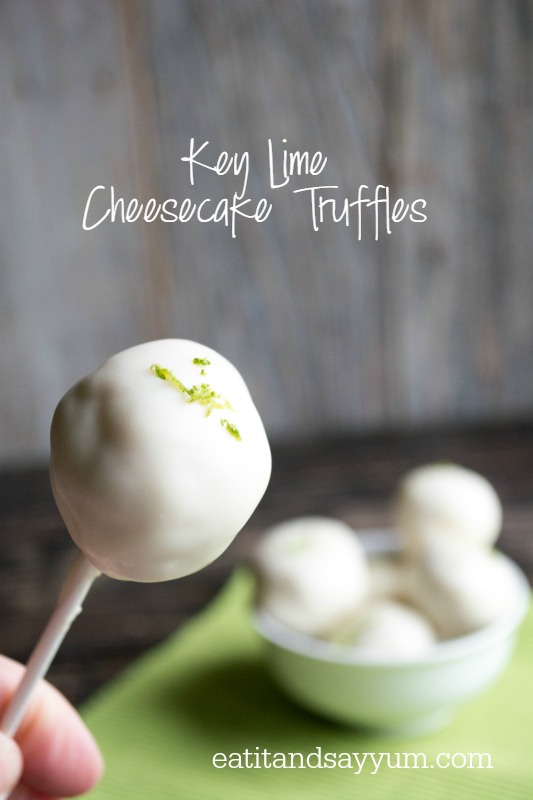 Vanilla Bean Cheesecake with Cinnamon Apples and Caramel