Have you ever tried canning things at home?
Salsa is a great food for trying your hand at home canning.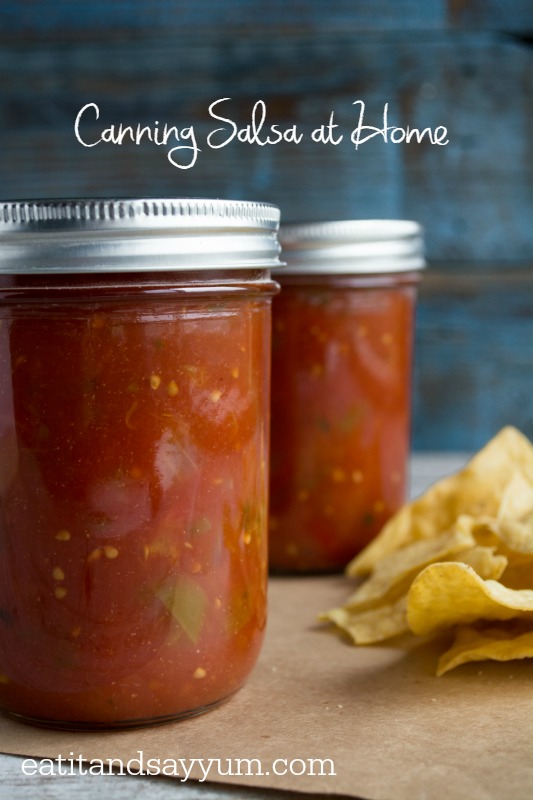 I know to many people the thought of canning something at home seems a little overwhelming.  But let me reassure you, you CAN do it!
It takes a little time, but think of the rewards.
1.  You won't have to buy salsa at the store, that might contain some unwanted preservatives.
2.  You can control how spicy your salsa is- for the most part.
3.  You can store you salsa for months, or years even.
4.  You make a large batch and then you don't have to do it again for a long time.
5.  Home canned foods make a great gift.
Have I sold you yet?  You need to try your hand at canning.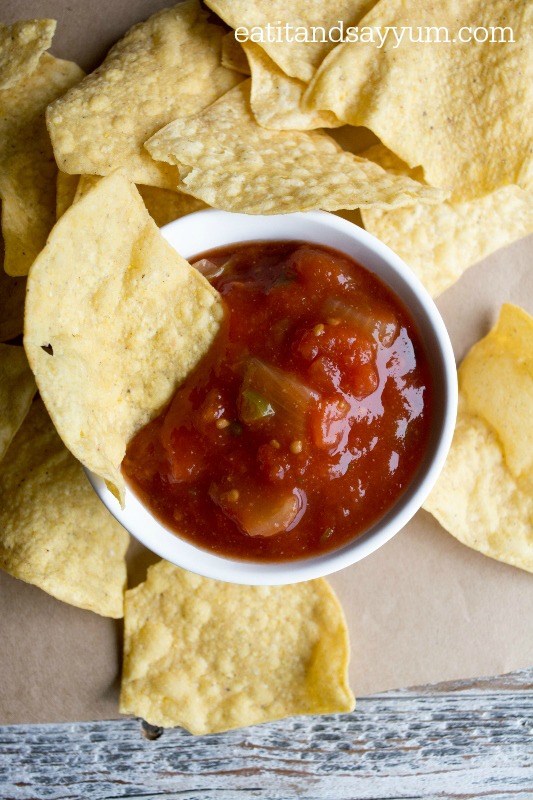 This salsa recipe is adapted from my Mother-in-law's.  Her kids, and kids-in-law, all LOVE her salsa.  There was always some rejoicing when you found some stashed away in the pantry.   I would compare this salsa to Pace Salsa.  It has about the same texture and thickness.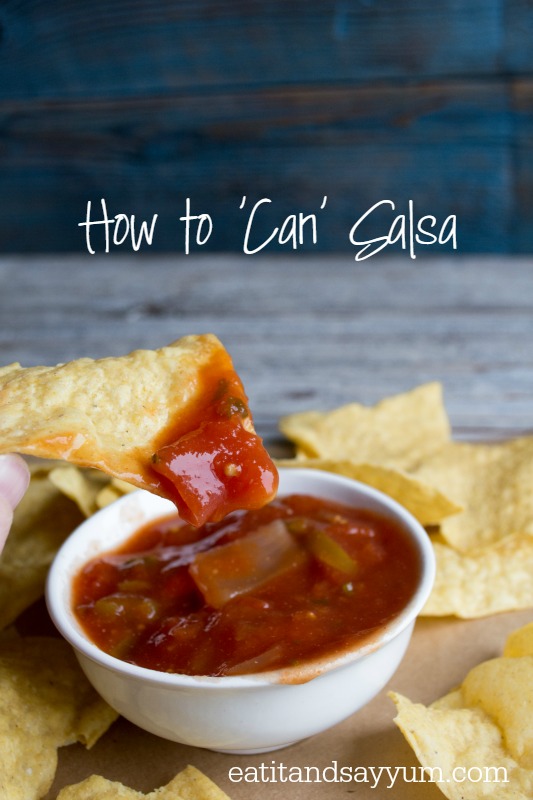 I recently got a good deal on a large flat of tomatoes.  I think it was 16 pounds for $10, or something.  I knew I had to make some salsa with them.
So, I set aside an afternoon and set to work.  Having an extra set of hands will help the job go faster, but you CAN do it on your own.  Lucky for me I have my college aged niece living with me this summer, so I took advantage of her offer to help.  🙂
To prepare the tomatoes you need to blanch them in boiling water for 1 minute and them submerse them in ice water.  This makes the skins peel right off.
Once the skins are off, you cut the tomatoes and all the other veggies and throw everything in a large pot.  And I do mean a LARGE pot.  I used my tall stock pot.  Worked great.
Once you get everything in the pot, just bring it to a boil and simmer for 30 minutes.  Stirring occasionally, so it doesn't burn or stick to the bottom of your pot.   You will be surprised by how much the salsa cooks down.  It will look very chunky to begin with, but it turns out nice and saucy in the end.
You will need canning jars, lids and rings to 'process' or 'can' the salsa.  Warm the jars in some hot water, or in the dishwasher, before spooning the salsa into them.  The salsa will be hot and you don't want your jars to break.  Place the lids and rings on the jars and then place them in your water bath (a VERY large pot of boiling water, with a lid)  for 30 more minutes.
So, home canning does require some equipment, but you only need to buy it once.  This is the set I have.   I do use new lids each time I can something.  But jars and rings can be reused.
Load your jars into the water bath on the elevated rack, placing the jars opposite of each other as you go, to keep the rack balanced.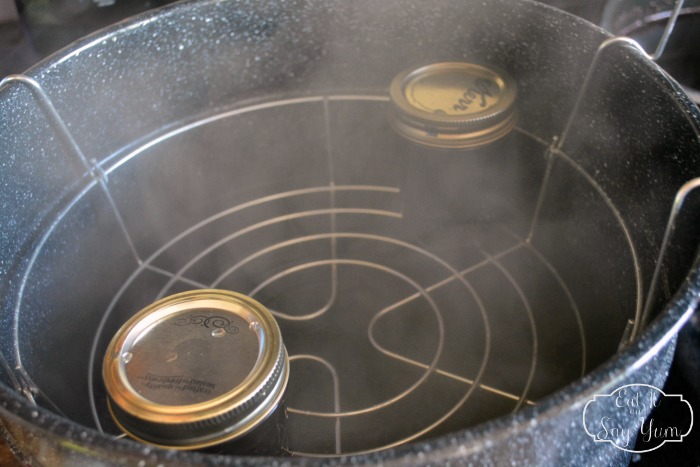 Be careful dealing with hot jars when they come out of the water bath.  Place them on a towel on the counter.  I even put a cooling rack over my towel.  As the jars cool the lids will suck in and 'seal' making a little pop sound.  That's how you know if they have sealed correctly.  You can also press in on the top of the jars to test them.  If the lids bounce up and down, then they didn't seal right.  Store those jars in your fridge, if you have any that didn't seal.  It's pretty rare that I have any like that.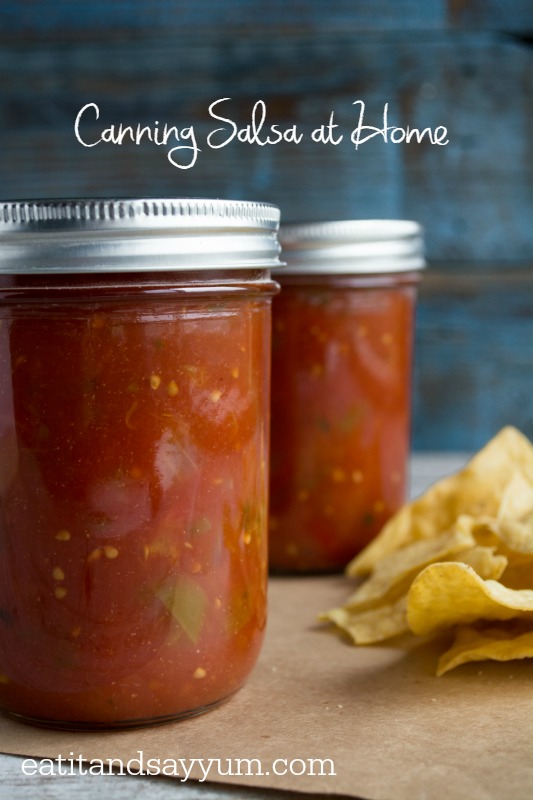 All jars that are sealed correctly can be stored in your pantry.  I label the tops with the date I made the salsa, just to keep track.
You can always modify the amount of heat in your salsa, to a certain degree.  The recipe calls for 7 jalapenos, so you could use less if you wanted.  Of course jalapenos do sometimes have a mind of their own and some can spicier than others.  So no guarantees, but typically, I think 7 is the perfect amount of heat.  Also, you can decide if you want to leave the seeds in or not.  Those do make it spicier.
Ingredients
5 quarts of tomatoes- about 15 pounds- blanched, peeled and chopped
3, 6 oz, cans of tomato paste
5 medium onions- diced
7 jalapenos- diced
2 large bell peppers- diced
1 cup white vinegar
1/3 cup sugar
8 tsp salt
6 tsp garlic salt
optional- 1 bunch cilantro- roughly chopped
Instructions
Blanch, and peel the tomatoes. Chop them in about eighths after peeling. Place them in a large stock pot, and add all the other remaining ingredients. Turn the stove to high and bring the salsa to a boil, stirring frequently to prevent burning. Once boiling, turn heat down to simmer, just high enough to keep the salsa simmering. Let simmer for 30 minutes, stirring occasionally to prevent burning and sticking.
Prepare the jars by cleaning and warming them. Warm the lids and rings, too, by placing in hot water until ready to use. Fill your water bath to the marked line and bring the water to a boil. Fill the jars with the salsa and place the lids and rings on. Place the jars on the rack in the water bath evenly, to balance the weight, then lower the rack into the boiling water. Place the lid on the water bath and let boil for 30 minutes.
Carefully remove the jars and place on a cooling rack over a towel. Listen for the lids to 'pop' or check the lids, once cooled, to see if they have a good seal- by pressing on them. If the lids are bouncy then store those jars in the fridge. All lids that are sealed well, can be stored in the pantry.
Enjoy the salsa over chips, tacos, burritos, eggs, chicken, nachos, etc.
http://eatitandsayyum.com/canning-salsa-at-home/
From this recipe I got 4, 32 oz, quart  jars and 3, 16 oz, pint jars.
If you like canning you should also try my Pomegranate Jelly recipe.
It's even easier than this salsa recipe.  Just sayin'.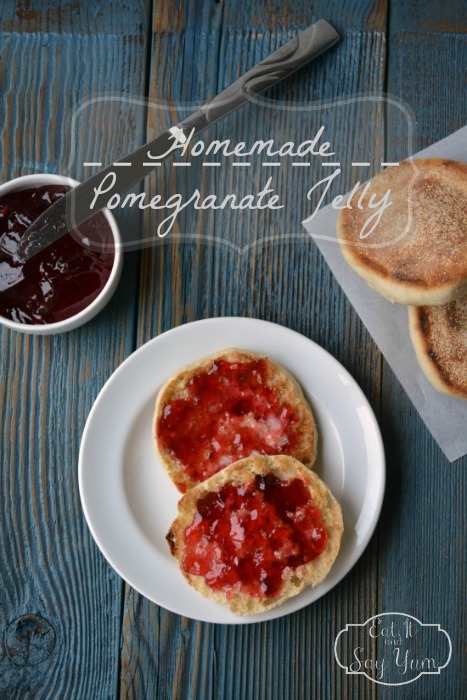 You might also like:
Tomatillo and Avocado Green Salsa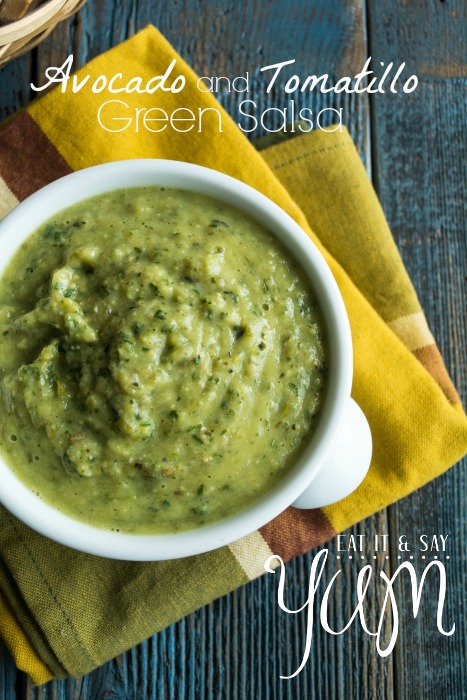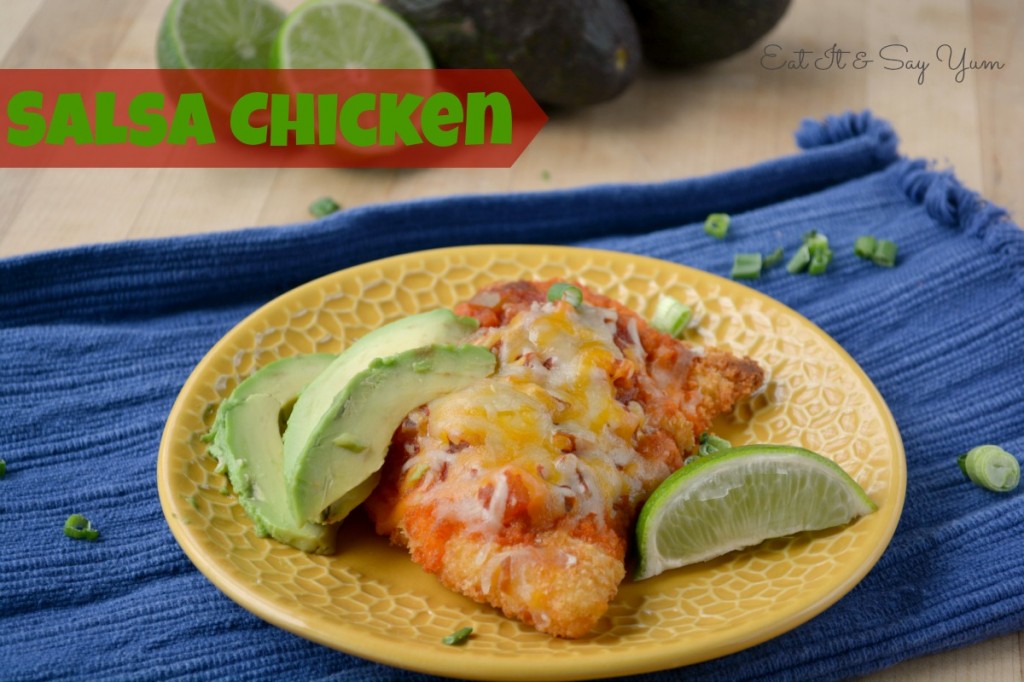 I am not compensated for any of the above links.  I just think they might be helpful to you.