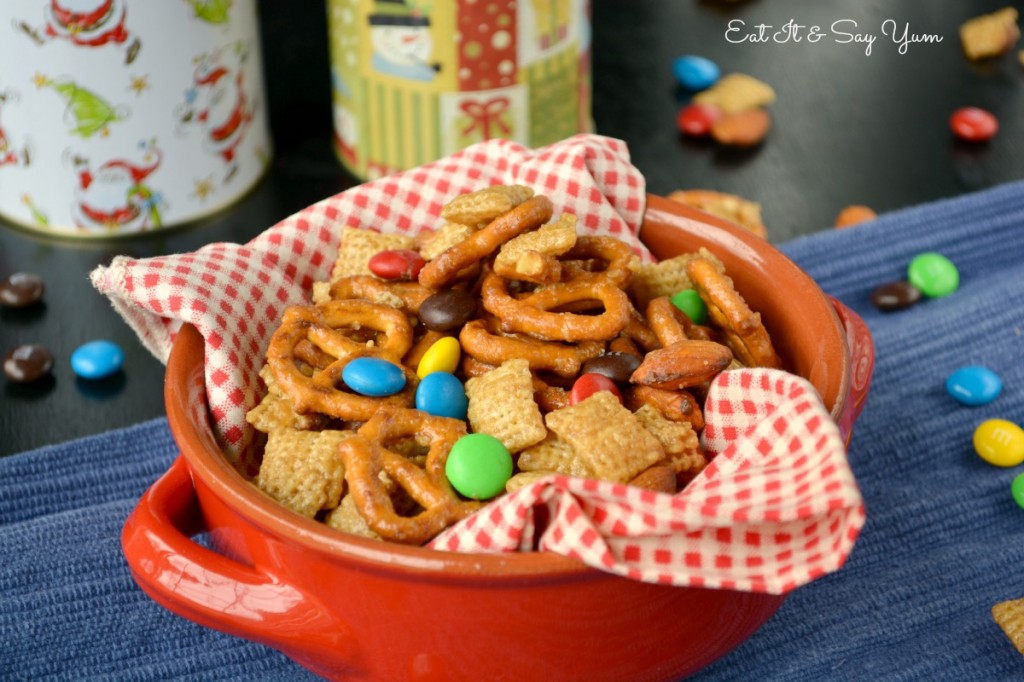 Tomorrow is Christmas Eve!  Do you still need a gift idea for a neighbor or friend?  How about something to take to a party?
Don't worry, I got ya covered.  🙂
This Chex party mix is so FAST and EASY!  And it's sure to be a hit with kids and adults alike.
I used the same caramel sauce here that is used in my Caramel Popcorn recipe.
This mix has Corn (or any other type) Chex, pretzles, toasted almonds, and M&Ms.  If you don't want nuts, you can leave them out.  If you want a gluten-free option you can leave out the pretzles.  Customize this to meet your wants.
To toast the nuts.  Place the nuts on a plate and microwave for 1 1/2- 2 minutes.  Until the nuts become aromatic.  You can stir them half way through the microwaving time.
The recipe calls for corn syrup, but you can substitute honey for a different flavor if you want.
Note: To make this you will need a brown, paper grocery bag.  A large one, not a lunch size, or ice cream bag size.
Well, I better go finish my shopping.  Enjoy the holidays!  Merry Christmas everyone!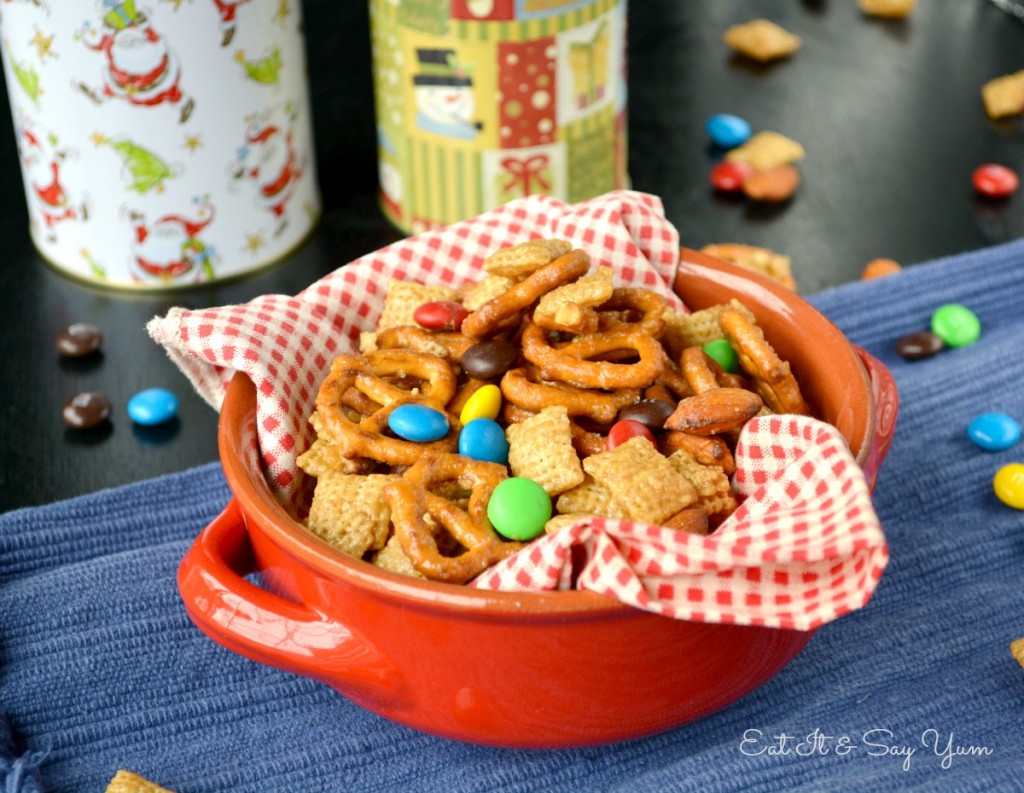 Ingredients
1 cup brown sugar
1/2 cup butter (1 stick or cube)
1/4 cup corn syrup (can substitute honey for a little different flavor)
1/4 tsp salt
1/2 tsp baking soda
1 tsp vanilla
7-8 cups Chex (about 3/4 of a 14 oz box)- Corn, Wheat, Rice, any kind (if not adding pretzles, use a whole box of Chex)
2- 3 cups pretzles
1 cup toasted almonds, or any kind of toasted nut you want
1 1/2 cups M&M's- I used plain, but peanut, or peanut butter would work too
Instructions
In a microwave safe mixing or measuring bowl (about 4 cup size), add the butter, brown sugar, corn syrup, and salt. Microwave for 2 minutes. Stir, then microwave for another 1 1/2 -2 minutes. Stir. Add the baking soda and vanilla. Stir again.
Pour the cereal, pretzles, and toasted nuts into a large, brown paper grocery bag. Pour the caramel sauce over everything in the bag, shaking lightly as you go. Using a rubber scraper get all the caramel sauce into the bag. Then roll the top of the bag shut, and shake the bag to cover the contents with the caramel.
Microwave the bag for 1 minute 15 seconds, with the top still rolled shut. Remove the bag and shake it again to mix. Microwave again for 1 minute, with the bag still rolled shut. Shake again. Microwave again for 30 seconds.
Pour the contents of the bag onto a greased cookie sheet. Let cool for a minute or two. Before completely cool sprinkle the M&Ms over top and carefully stir together with a fork or spoon.
Once cooled carefully transfer the Chex Mix to a bowl or serving dish. Store in an airtight container when not eating.
Note: Each microwave varies in strength. Cooking times may need to adjusted plus or minus 10-30 seconds. As long as you don't smell the caramel burning, you should be ok.
http://eatitandsayyum.com/caramel-chex-party-mix/
You might also like: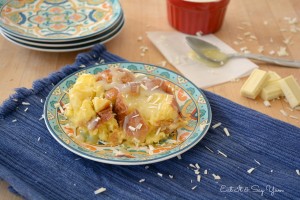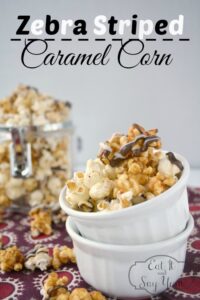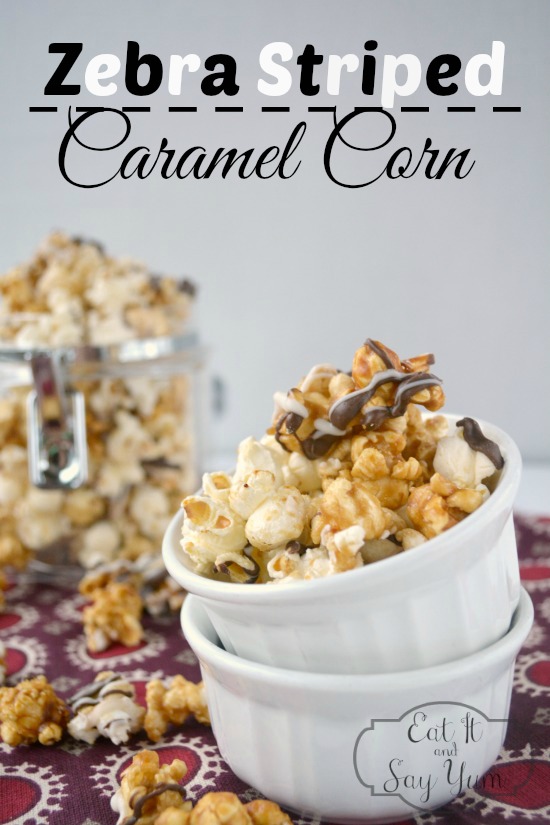 White Chocolate and Toffee Coated Popcorn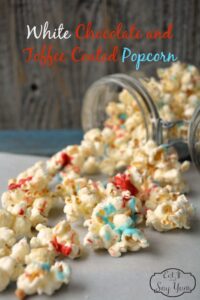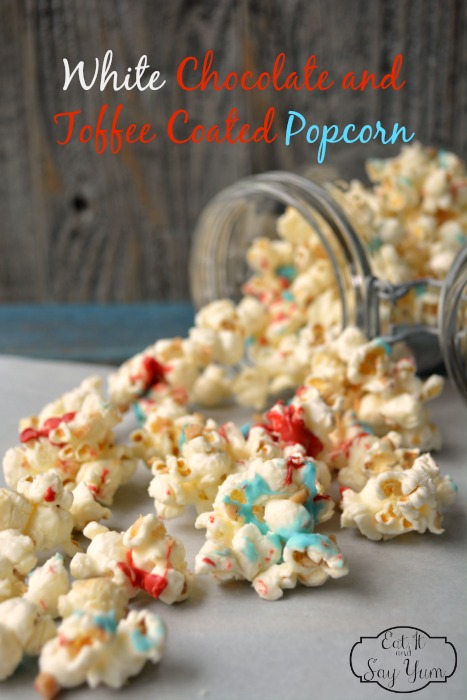 Stay Soft Peanut Butter Sandwich Cookies