This post was sponsored by Omaha Steaks.  The recipe, photos, and opinions are all my own.  The Carnitas was provided by Omaha Steaks.  
So, Omaha Steaks sent me this carnitas.  And I was SO excited.  If you read this blog regularly then you know how much I love Mexican food.
I didn't want to make tacos with the carnitas, because I've done that before.  I knew I wanted to do taquitos.  This finger food is loved by everyone at my house.  It's just perfect for dipping.  With that in mind, I came up with the idea for the cilantro-lime crema.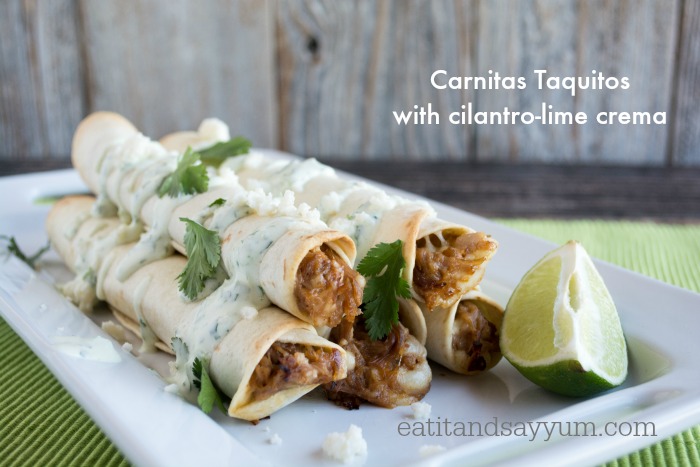 So, this carnitas from Omaha Steaks comes seasoned and ready to cook.  It's super easy.
After cooking, I used two forks to shred the meat.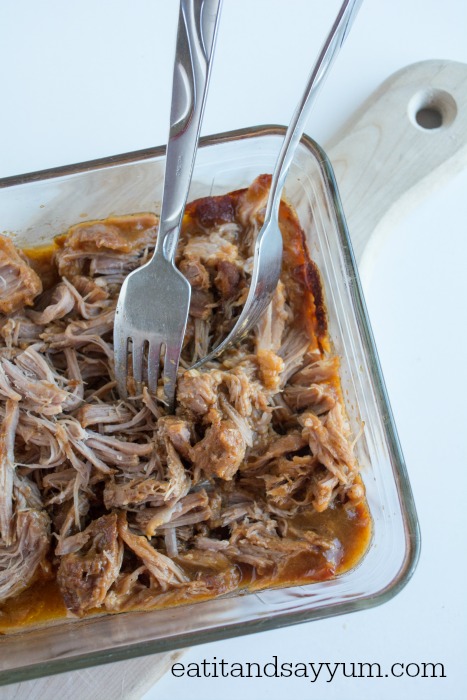 Then I added some queso fresco and mixed that together.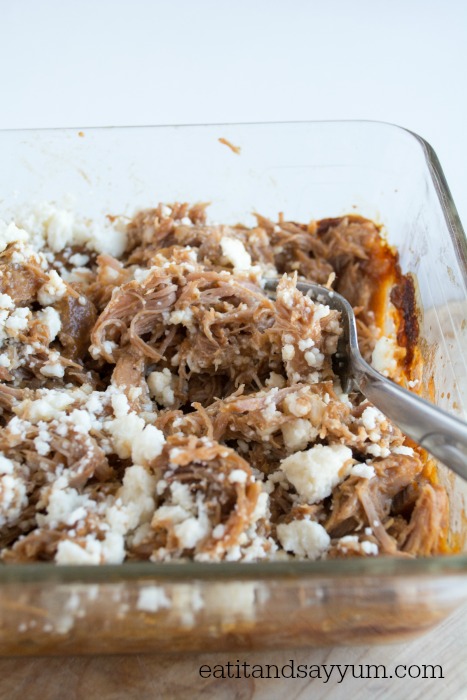 Warm up some flour tortillas and start spooning some of the meat mixture on the them.
I put the meat off to one side, and then roll up the tortilla.  Just keep lining up the taquitos on the pan as you roll them.  Keep going until you run out of meat.  Then spray the tops of the tortillas with cooking spray or brush them with a little oil.  This makes the tops get crispy when you bake them.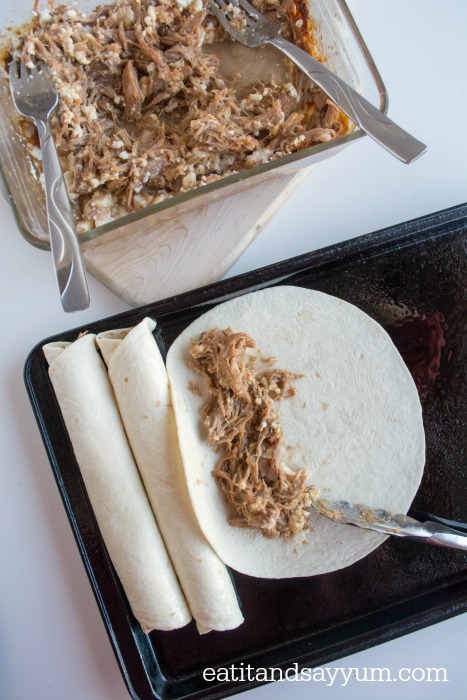 Bake at 400 degrees for about 15 minutes.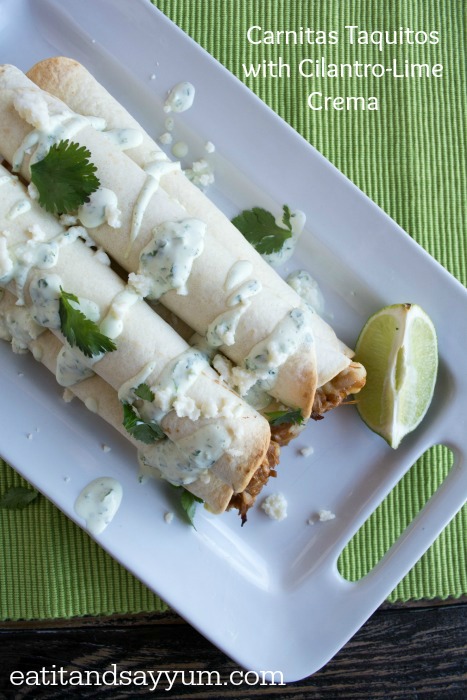 While the taquitos are baking you can make the crema.  I used cilantro, lime juice and zest, and some jalapeno.  A minute or so in the food processor, or blender with some milk and those are ready to mix with the sour cream.  Then I thinned the crema with some more milk to get the consistency I wanted.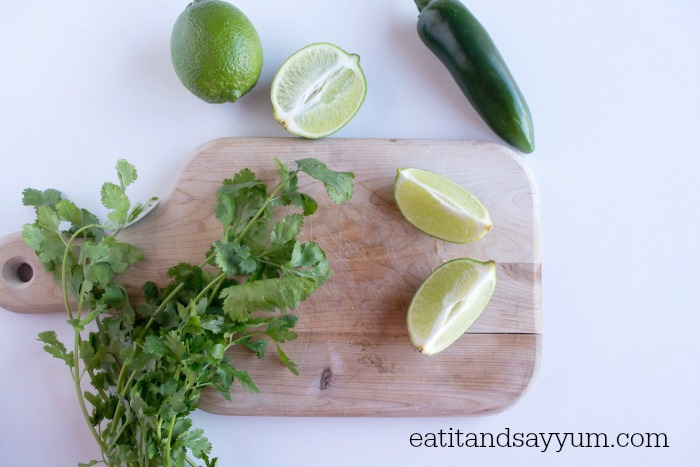 Not too difficult.  And these would make a great appetizer for a party, entree for dinner, or lunch- even for the kiddos.
Carnitas Taquitos with Cilantro-Lime Crema
Ingredients
Taquitos Ingredients: 2, 8 oz. Pork Carnitas Roasts
8 flour tortillas- taco sized
1 cup queso fresco- crumbled (or substitute your favorite cheese)
Cooking spray or oil
Crema Ingredients: ½ cup sour cream
¼ cup milk
1 cup cilantro- bulk of stems removed
Juice and zest from 1 lime
¼- 1 whole jalapeno- seeds removed
Instructions
Cook the carnitas according to package directions. Cooks for about 70 minutes- if frozen. Use two forks shred the meat in it's juices and let cool slightly. Add the cheese to the meat and toss together, then divide the meat among the 8 tortillas. Roll the tortillas up and spray the tops with cooking spray, or brush with a little oil. Bake at 400 degrees for 15-18 minutes, until golden brown.
In a blender or food processor, blend the cilantro, lime juice and zest, and jalapeno. Add the milk and blend. Pour into the sour cream and stir to combine. Add more milk if you want a thinner consistency. Chill until ready to use. Serve with the taquitos.
http://eatitandsayyum.com/carnitas-taquitos-with-cilantro-lime-crema/
You might also like: