Delicious, fluffy, buttermilk biscuits with cheese and parsley.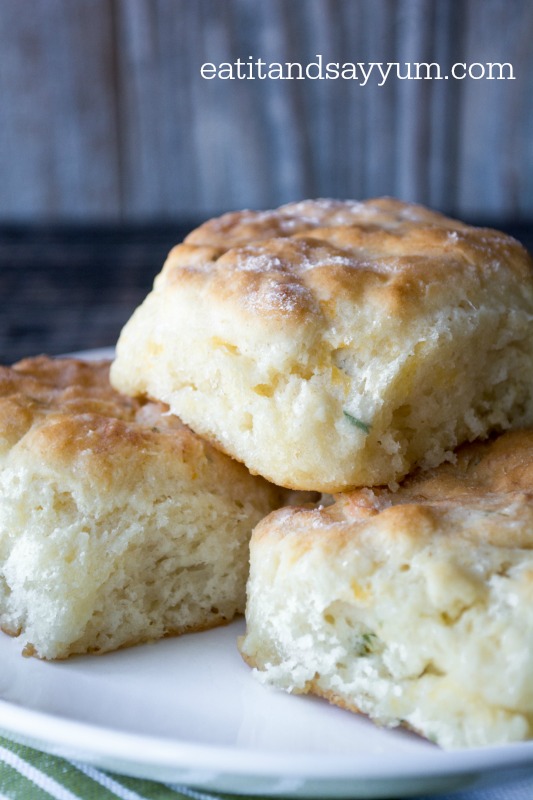 I love how light and fluffy these biscuits are.  Typically I enjoy eating jam or honey on my biscuits, but these are a savory version.  They would still be fabulous with my Sausage Gravy.
I use buttermilk and cold butter to build my biscuits.  They work great and give great flavor.
The butter is crumbled up with the dry ingredients, until it kind of looks like sand.  Then I add the buttermilk.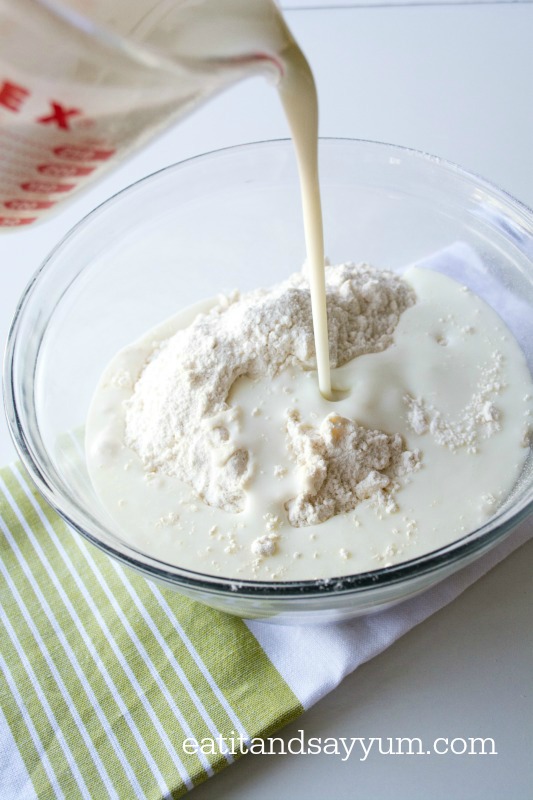 Mix the biscuits until everything is starting to stick together, then add the grated cheese and parsley.  You could add more herbs if you want.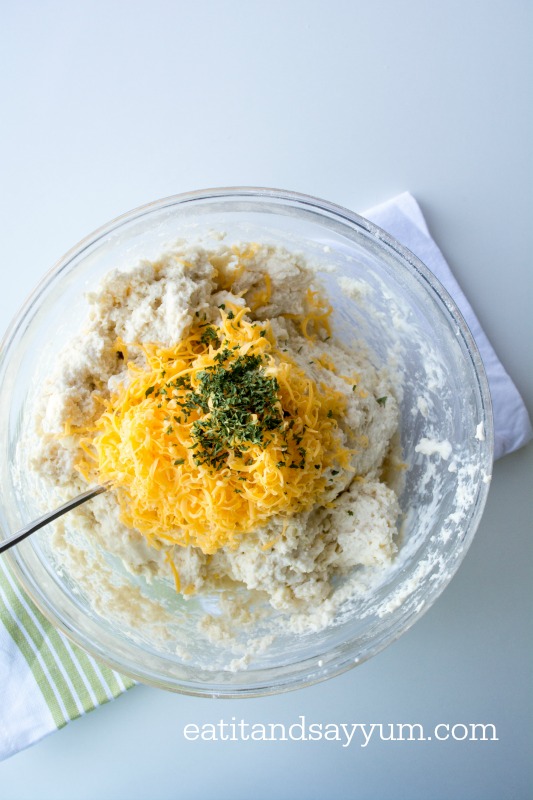 Mix again, just until everything is incorporated.  Don't over mix.
I sprinkle flour over a pastry cloth and a little more flour over top of the dough, so I can roll it out without having it stick to my rolling pin.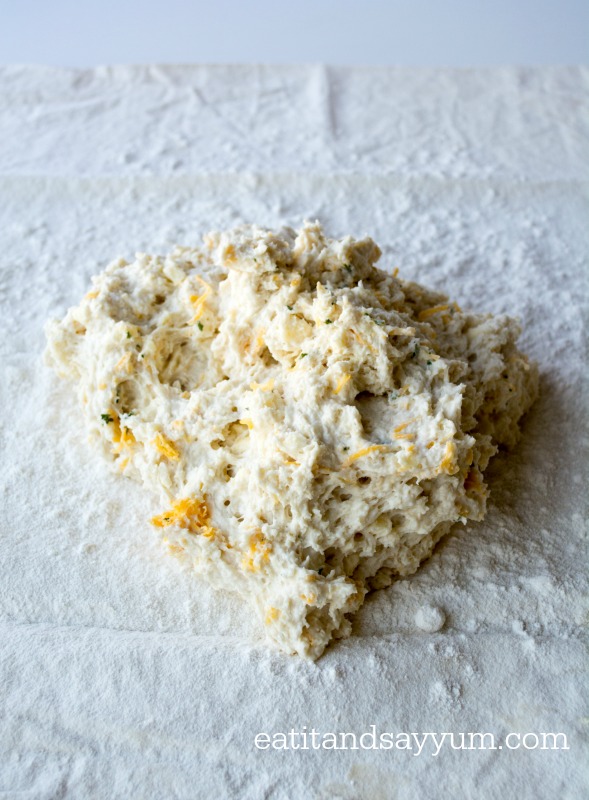 Then I used a 3 inch round cutter to cut the biscuits out.  Cut them as close together as you can.  any remaining pieces, I gently press together into circles and bake with the biscuits.  They still taste great, but they might not be as pretty.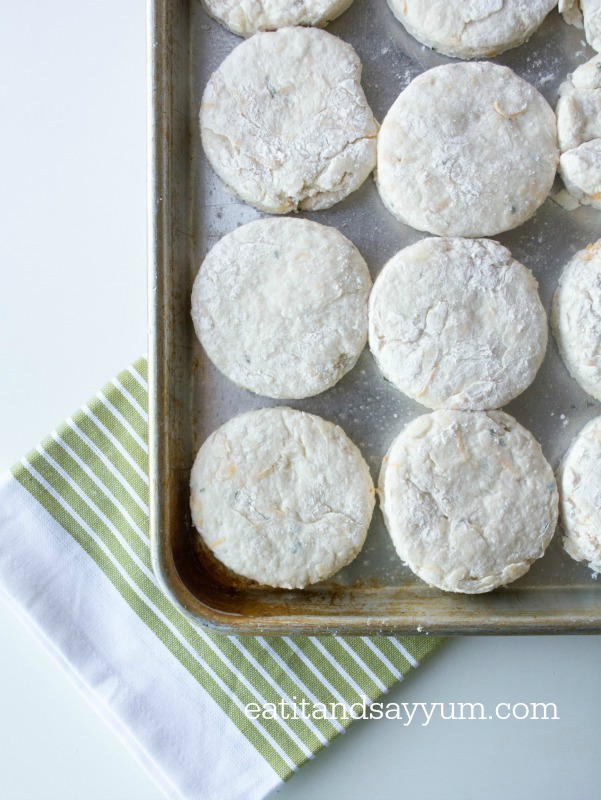 Bake in a 450 degree oven for 15-20 minutes.  Until they are golden brown and baked through.
Ingredients
3 cups flour – plus extra for when rolling out the dough
1/2 tsp baking soda
1 3/4 Tbs baking powder
1 1/2 tsp salt
12 Tbs cold butter- cut into 1 inch cubes
1 1/2 cups buttermilk
1/2 cup grated cheddar cheese
1 tsp parsley- or herb of choice
Instructions
Preheat oven to 450 degrees. Whisk the flour, baking soda, baking powder, and salt. Add the butter cubes and cut the butter into the flour with a pastry cutter, until the mixture resembles coarse sand.
Add the buttermilk and stir with a fork. Add the cheese and parsley and continue to mix with a fork until the dough comes together and the flour is mixed in.
Sprinkle extra flour onto a pastry cloth or your counter and place the dough on it. Sprinkle extra flour on top of the dough, so it doesn't stick to your rolling pin. Roll the dough to about 1 1/4 inch thickness, then cut out the biscuits with a round cutter. Place on a greased baking sheet, with biscuits almost touching. Bake for about 18 minutes, until golden brown. Serve warm.
http://eatitandsayyum.com/cheese-and-herb-biscuits/
These made some delicious sandwiches, and worked great as breakfast biscuits.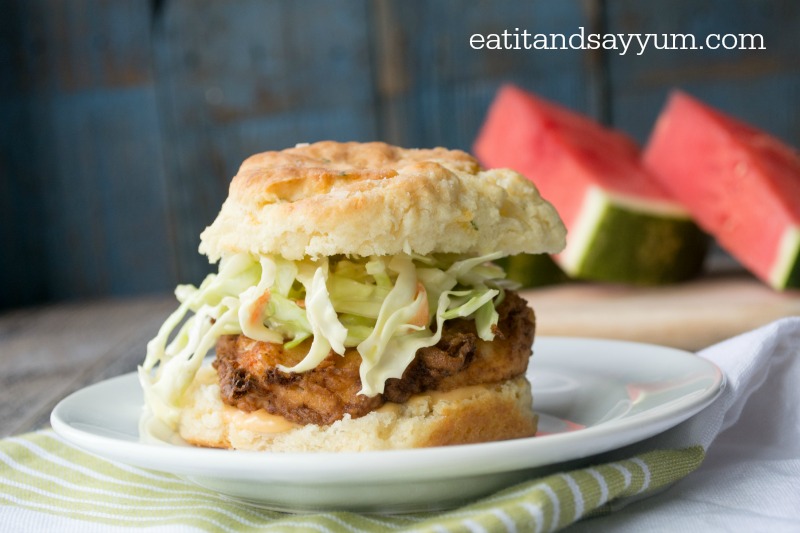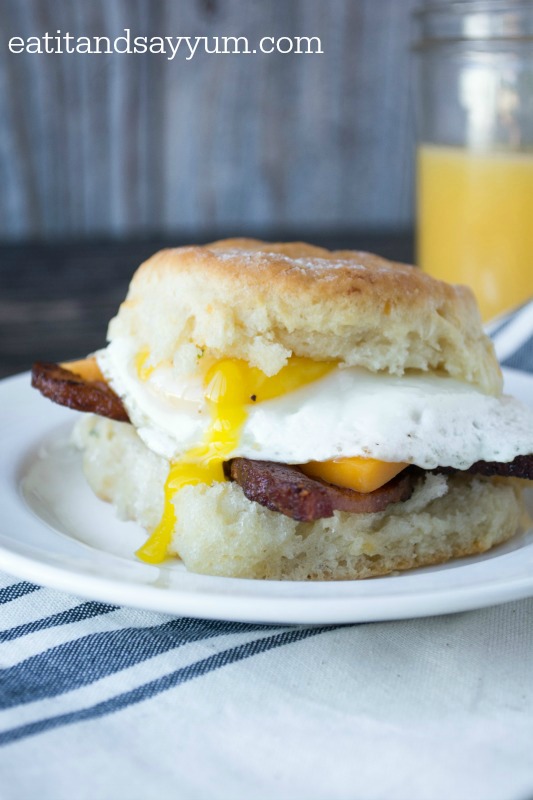 You might also like: