These meatballs are so delicious.  They get crisp on the outside, but stay soft and moist on the inside.  And did I mention they are packed with cheese?!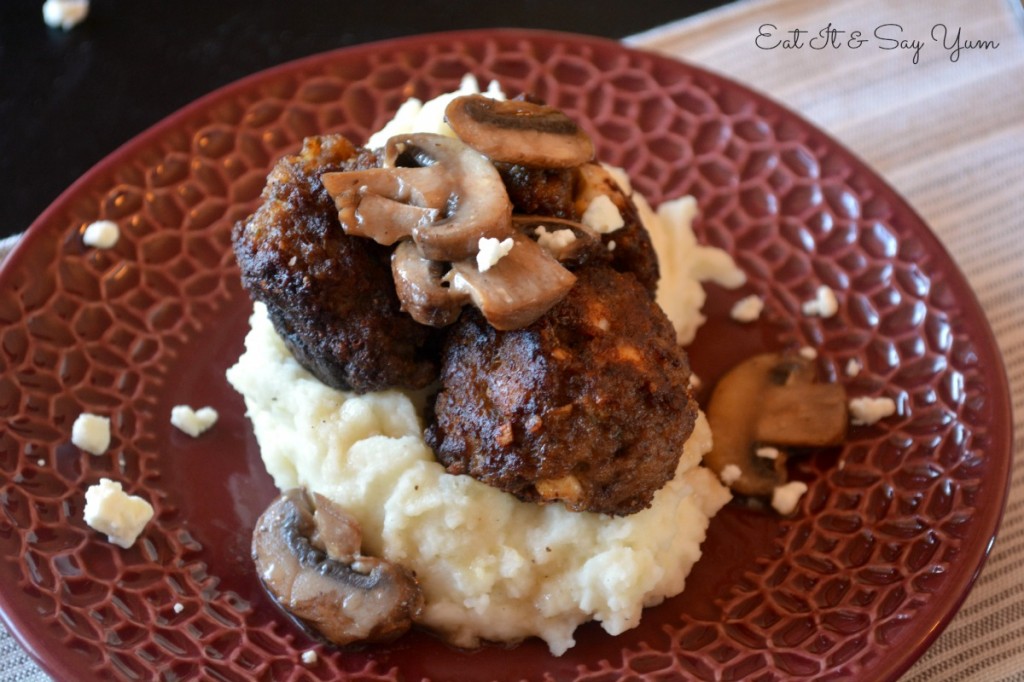 I used Feta cheese to make this batch, but Roquefort, Bleu Cheese, or Gorgonzola would work as well.  Pretty much any cheese that crumbles like this, not a cheese you would grate.
So mix all the ingredients together and shape into 1 inch meatballs.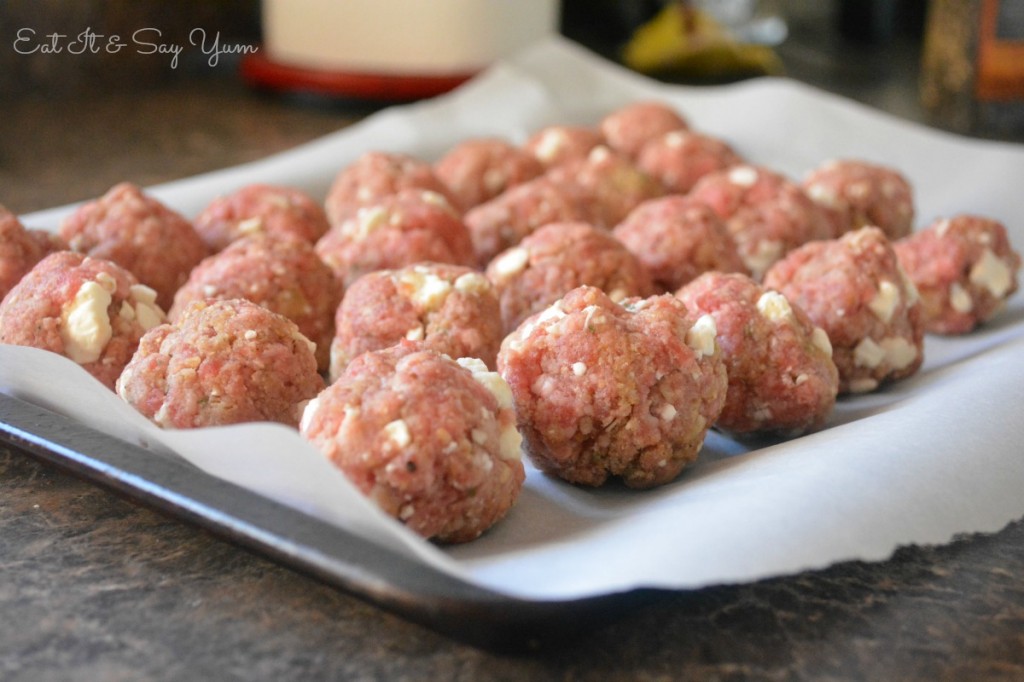 Cook the meatballs in olive oil and a touch of butter.  Rotate the meatballs often to cook all sides.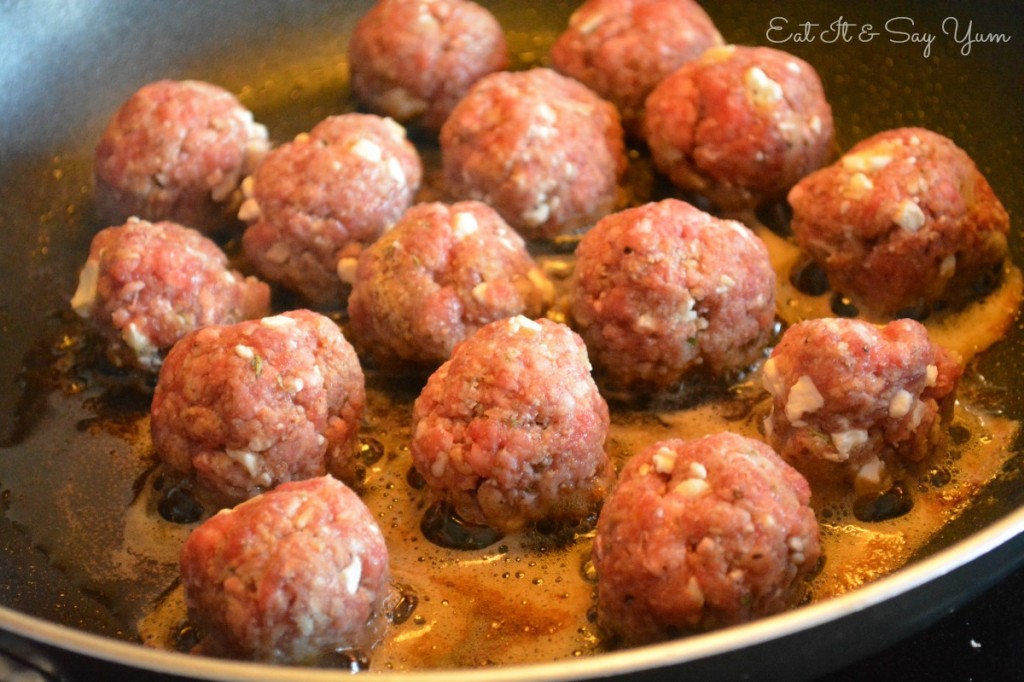 They should take 5-8 minutes to cook all the way.  Test a meatball by splitting it open to be sure it is cooked all the way through.  Remove the meatballs from the pan and place on a cookie sheet in a warm oven, until ready to serve.
To accompany these meatballs I browned some mushrooms in the same pan I cooked the meatballs in.  Then served it all over mashed potatoes.  Rice or pasta would work great as well.
Ingredients
1 lbs ground beef
1/2 cup bread crumbs
1/2 cup crumbled cheese (Feta, Roquefort, Bleu, or Gorgonzola)
1 egg
2 Tbs chopped onion
3 Tbs milk
3/4 tsp salt
1/4 tsp (or more) pepper
3-4 Tbs olive oil
1 Tbs butter
Optional: 4-6 sliced mushrooms, I used baby bellas
Instructions
Mix together the meat, cheese, egg, onions, bread crumbs, milk, salt and pepper. Form into 1 inch round meatballs.
Over medium heat, cook meatballs in olive oil and butter. Adjust temperature if meatballs brown too quickly. Cook 5-8 minutes, turning frequently to cook all sides evenly.
Test a meatball by splitting it open to assure it has cooked all the way through. NO pink should remain!
Remove meatballs to a cookie sheet and place in a warm oven until ready to serve.
Optional: slice the mushrooms and brown them in the same pan as the meatballs. Only a few minutes total, turning half way through. Serve alongside the meatballs as main dish or as an appetizer.
http://eatitandsayyum.com/cheese-stuffed-meatballs/
You could also serve these as an appetizer, serving a meatball and mushroom slice on a toothpick.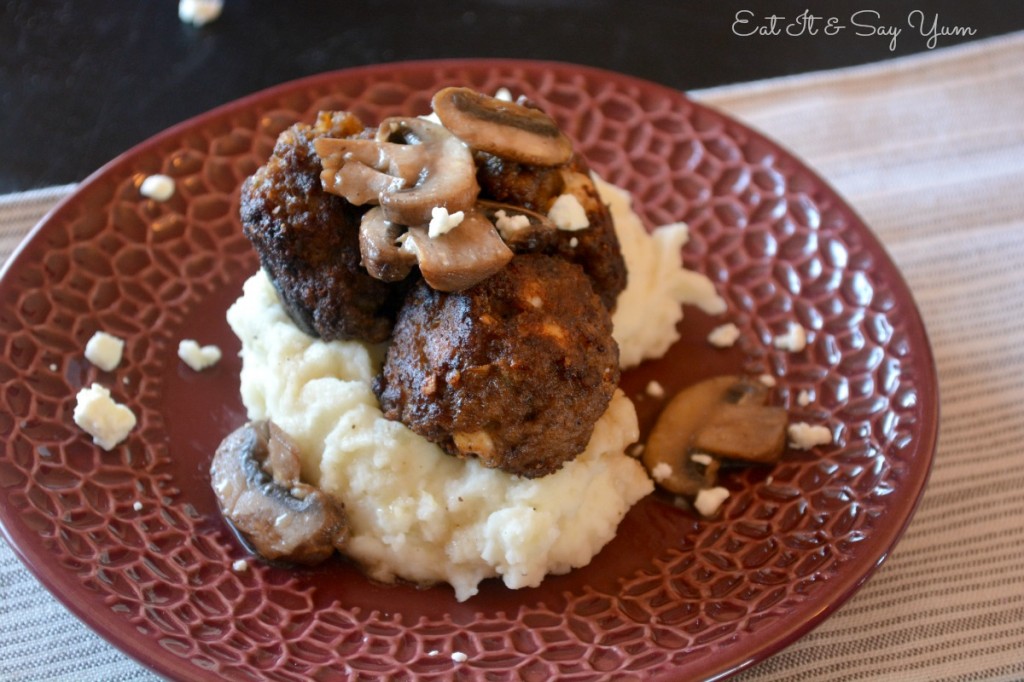 These hold together beautifully, and taste amazing.  My kids loved them as well!
So choose your favorite crumbly cheese and whip up some cheese meatballs soon!
Click here to see where I link up.