Noveau (naw-voo) Potatoes have always been a favorite comfort food of mine.  They made a great side dish to pretty much ANY meat.  And they are easy to throw together.  Couple all that with amazing cheesy-goodness, and potatoes, and you have this delicious side dish.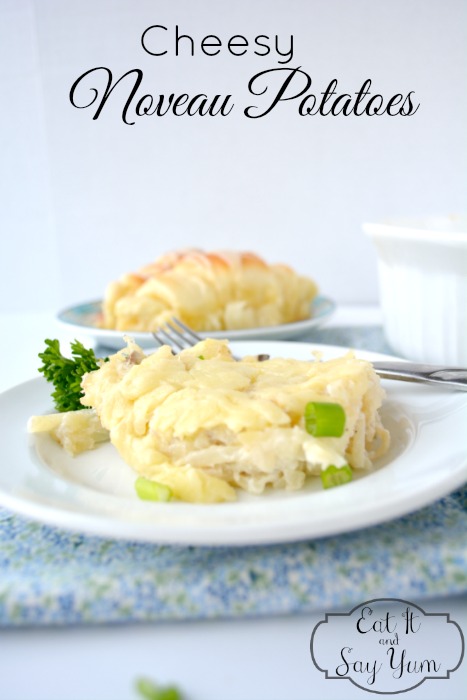 Have you heard of funeral potatoes?  These are probably pretty similar to those, but my family never called them funeral potatoes.  And for good reason…  who thinks that sounds appetizing?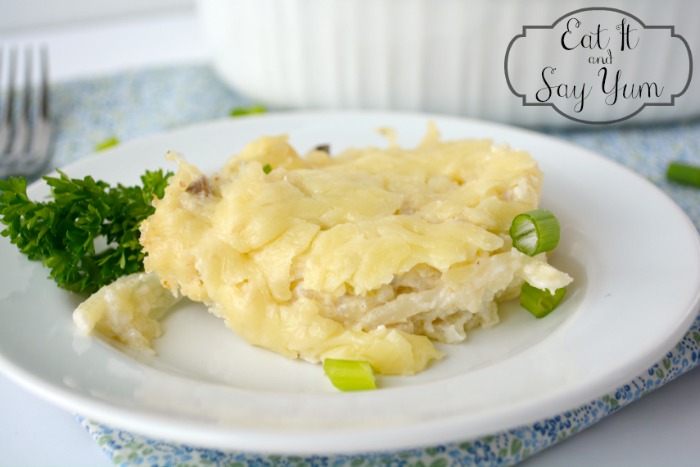 I said these were easy to make, and they really are.  I use frozen hash browns (not the kind formed into patties, just loose potato pieces), and that saves me from having to pre-cook the potatoes, and peel them, and shred them.  That's a lot of time saved.
With the frozen hash browns I mix in some sour cream, cream of mushroom soup (you can use a homemade substitute if you want), dehydrated onions, salt and pepper, milk, and cheese.  (I used aged white cheddar cheese for these photos, but you can use cheddar, colby jack, pepper jack, etc.)  Stir it all together and toss it in the oven.  Simple.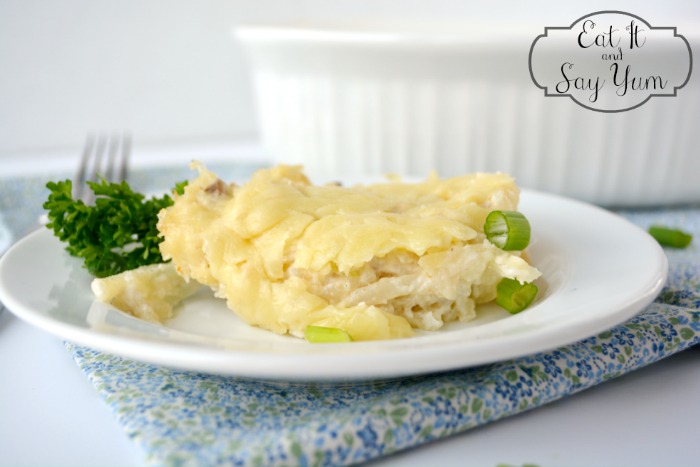 These do have to cook for 45 minutes to an hour, so plan for that.  Just before they are done you sprinkle more cheese on top, and bake again to melt the cheese.  I told you, CHEESY goodness!!
Ingredients
1, 10 oz can cream of mushroom/ chicken soup (or your favorite homemade substitute)
26 oz bag of frozen, shredded hash browns
1 cup sour cream
salt and pepper to taste
1/4 cup dehydrated onions
1/4 cup milk
2 cups shredded cheese -divided (cheddar, white cheddar, colby jack, etc.)
Instructions
Preheat oven to 350 degrees. In a large mixing bowl combine all ingredients, except 1 1/2 cups of the cheese. Stir until fully incorporated.
Spread potato mixture evenly in a greased 9×13 baking dish. Bake for 45 minutes. Sprinkle remaining cheese over the top of the potatoes and return to oven for 5-10 minutes, or until hot and bubbly.
Serve warm.
http://eatitandsayyum.com/cheesy-noveau-potatoes/
This is an Easter classic for me.  Definitely part of my traditional Easter dinner.
I hope you all enjoy these as much as I do!!
Visit my Linky Party page to see where I link up.
Don't forget about the BIG cash giveaway going on now!!