My husband is pretty much a 'man's-man.'  He likes to play football, go hunting and fishing, drive fast, pee in the woods and all that jazz.  When it comes to salad he would rather "save his calories" than eat the salad…
But when he tried this salad, something strange happened.  He REALLY liked it.  He kept coming back for more.  He loved the crunch of the noodles, and almonds.  He was asking about the dressing.  It was strange.  But a good strange.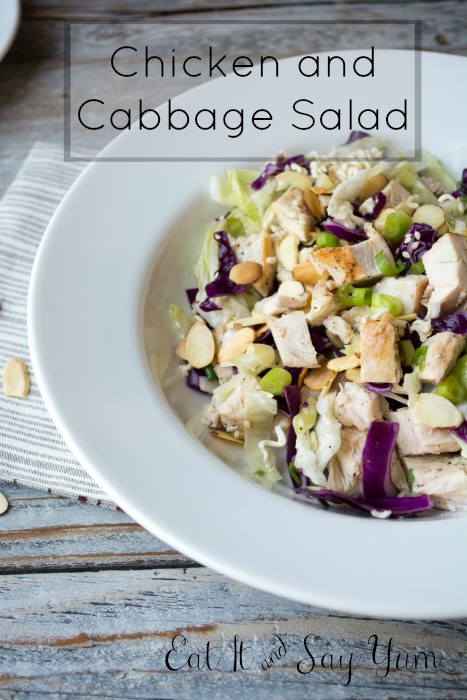 This salad has great texture.  As I mentioned above, there is some crunch from some uncooked Ramen Noodles, toasted slivered almonds, and toasted sesame seeds.  The cabbage is a little crisp as well.  Pair all that with some delicious chicken and dressing and you've got a pleasing bite.
I LOVE to use red/ purple cabbage in my recipes.  I just love the color it lends.  I use a combination of both green and red cabbage here.  You can use both or one, doesn't matter.
The dressing is super easy and uses the seasoning packet from the Ramen Noodles.  So you're not wasting anything.  And this dressing is good on other salads as well.  You will have some left over from this recipe, so try it on other mixed greens sometime, too.
I was super excited to see this jar had measuring lines on the side of it!  Sweet!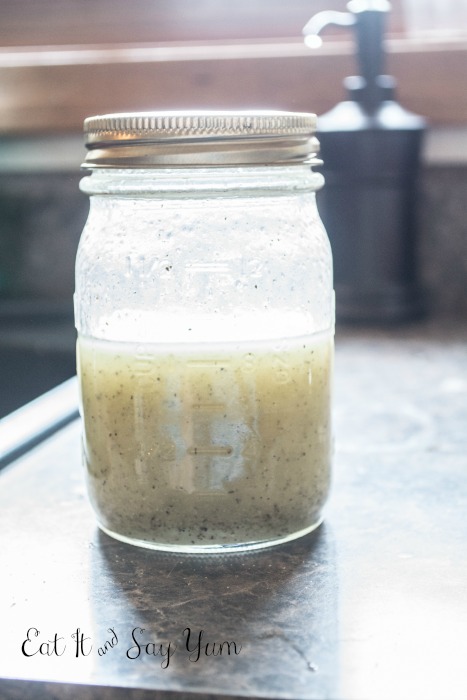 This recipe makes enough for about 4 entree sized servings.  Feel free to double this recipe and serve it at a potluck.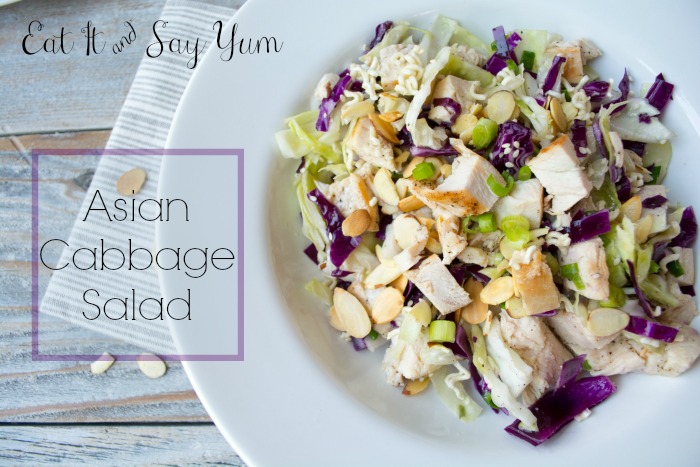 Toss the chopped cabbage, green onions, and cooked chicken together with about 1/3 cup of the dressing and let sit int the fridge until ready to serve.  Right before eating toss the salad with the broken noodles, almonds, and sesame seeds.  Add more dressing as desired.
Chicken and Cabbage Salad
Ingredients
2-3 chicken breasts
6 cups chopped cabbage- about 1/2 a head of cabbage (I use red and green cabbage)
1 package of chicken flavored Ramen Noodles (not in the cup)
1/4 cup slivered almonds, toasted
1 Tbs sesame seeds, toasted
2 green onions, sliced
Dressing: 3/4 cup oil (canola, vegetable, etc.)
2 Tbs sugar
6 Tbs vinegar
1 tsp salt
1 tsp pepper
1 seasoning packet from Ramen Noodles (from the package of noodles used above)
Instructions
Salt and pepper the chicken then cook over medium-high heat in a pan on the stove. Turn the chicken over after about 5 minutes, check occasionally to make sure it doesn't burn, adjust heat as needed. Once cooked through, remove from pan and let rest.
While chicken is cooking lightly toast the almond slivers under the broiler for about 30 seconds to 1 minute. They burn fast so keep a watchful eye on them. Once they are done, repeat the toasting process with the sesame seeds.
Once chicken is cooked and the nuts and seeds are toasted, set them aside and prep the cabbage. Wash 1/2 the head of cabbage and then slice in fairly thin bite sized slices. Place in a large bowl. Slice the green onions by removing the end with the roots and slicing up to almost the top of the green ends. Discard the ends. Place the sliced green onions in the bowl. Dice the chicken and add it to the bowl as well.
Mix all the ingredients for the dressing in a jar with a lid or a small bowl. Pour about 1/3 cup of the dressing over the cabbage and chicken. Lightly toss and then set in the fridge for an hour or so, or until ready to serve.
Just before serving crunch up the dry Ramen Noodles and pour them over the salad bowl. Add the toasted almonds and sesame seeds as well. Toss together and serve as an entree, or as a side dish. Makes about 4 entree sized servings.
http://eatitandsayyum.com/chicken-and-cabbage-salad/
See where I link up.
You might also like: