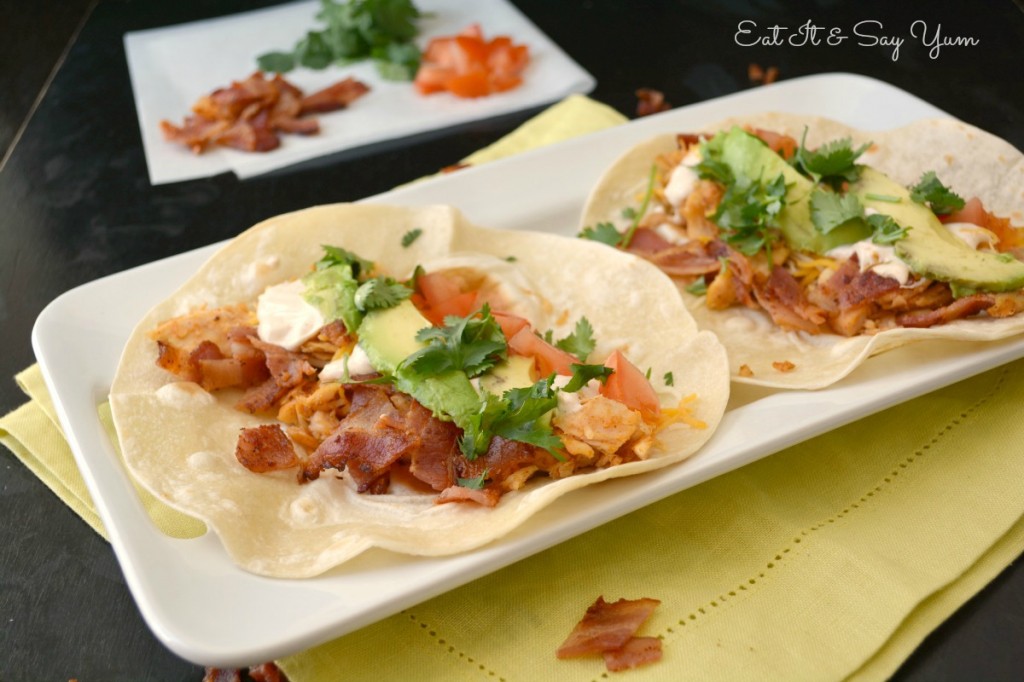 I've been making Chicken Club Tacos for years.  They are so good.  But when I came up with this Spicy Chipotle Ranch Sauce, things moved to a whole new level.
My mouth waters just thinking about this dish.
The chicken tastes so good.  Then you add bacon!  Don't forget some avocado or guacamole, and cilantro.  The tacos are already bursting with flavor, but you can't pass up on the Spicy Chipotle Ranch Sauce. I really can't say enough to express how delicious these are. Are you getting the picture?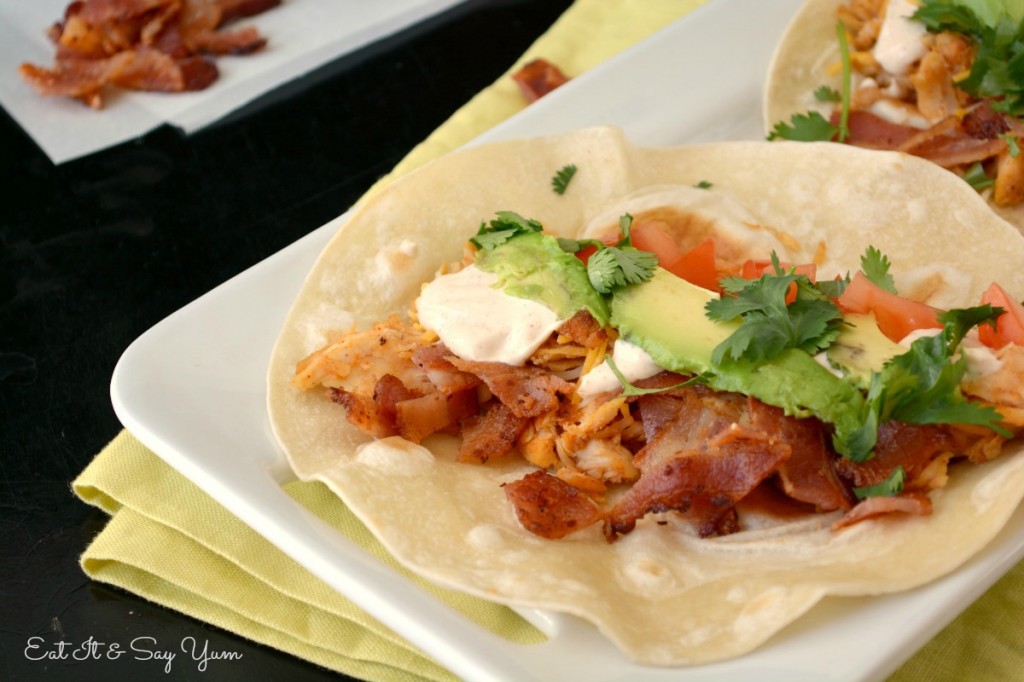 The sauce is made with sour cream, so it's cool and creamy.  You can change how spicy it is depending on how you like it.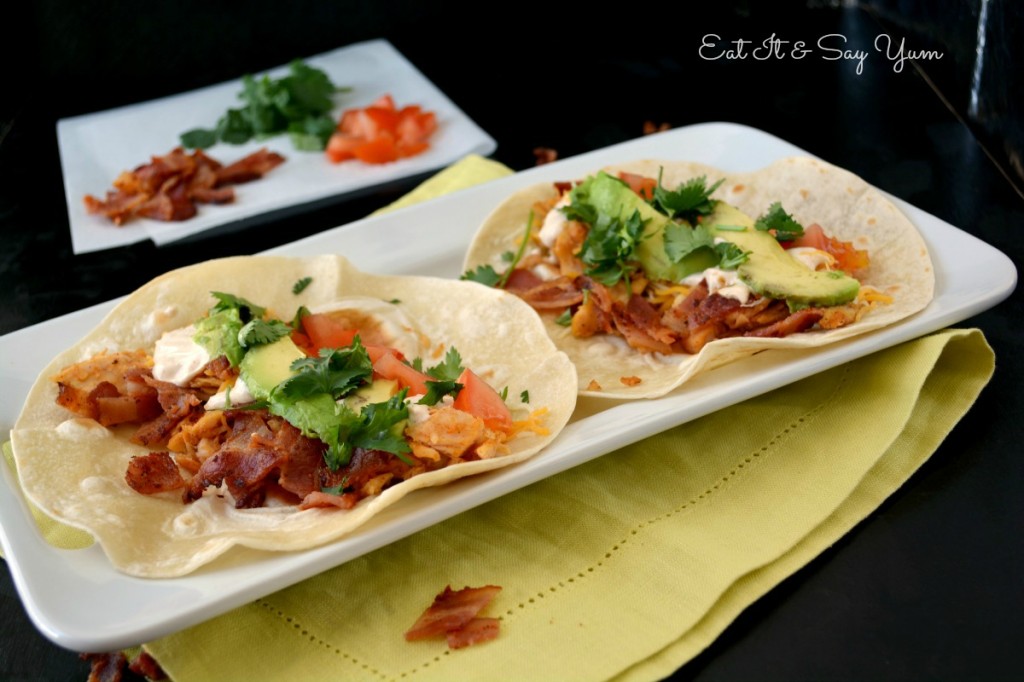 You can cook up your own chicken breasts here, but I used left over rotisserie chicken.  So much easier.  Costco sells their left over rotisserie chicken meat in their deli section.  That stuff is amazing! So easy to add to almost any meal, or salad.  And you can freeze it, too.  Awesome!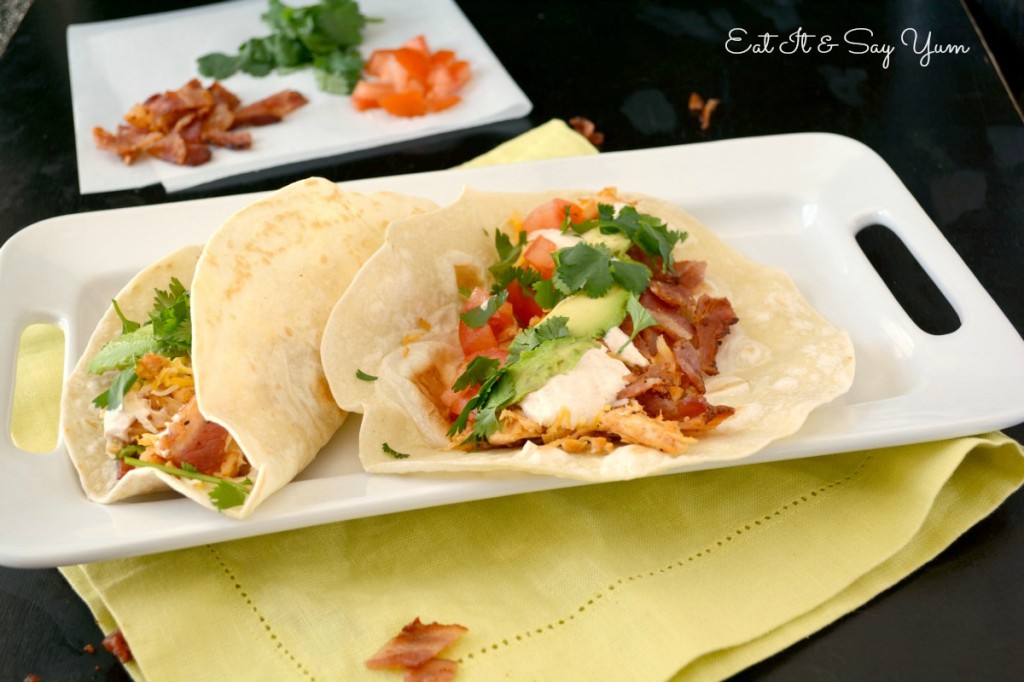 Chicken Club Tacos with a Spicy Chipotle Ranch Sauce
Ingredients
3 chicken breast- cooked and chopped OR about 2 cups of chopped left over rotisserie chicken meat
Seasonings for chicken: 1/4 tsp chili powder
a few dashes (or more) of chipotle chili powder
1/4 tsp garlic powder
salt and pepper to taste
Spicy Chipotle Ranch Sauce: 1/2 cup sour cream (or 1/4 cup sour cream and 1/4 cup mayonnaise- not miracle whip)
1/2 tsp powder ranch mix (like Hidden Valley ranch dip or dressing mix)
1/4 tsp (or more) chipotle chili powder
1-2 Tbs of milk
The rest: 4-6 flour tortillas
4 slices of bacon- cooked and crumbled
1 tomato- diced
1/4 bunch of cilantro- top half chopped
sliced avocados or guacamole
grated cheese
Instructions
Cook the bacon til crispy, remove from pan and set on a paper towel. Crumble bacon when cooled. Remove bacon grease from pan, and cook diced chicken, or heat left over rotisserie chicken, over medium heat. Add the chicken seasonings, stir to combine. Let chicken start to get golden brown and a little crisp around the edges.
In a small mixing bowl combine the sour cream (and mayonnaise, if using), with the ranch mix, and chipotle powder. You can add more chipotle powder if you like things spicier. Stir. Add enough milk to slightly thin the sauce. Do not make it runny like a salad dressing, just a little thinner than sour cream.
Down the middle of a warm tortilla spoon some of the chicken, then bacon, then grated cheese, chipotle sauce, avocado or guacamole, cilantro, and tomatoes. Fold tortilla in half and serve while still warm.
http://eatitandsayyum.com/chicken-club-tacos-with-a-spicy-chipotle-ranch-sauce/
So, let's review.  If you use left over rotisserie chicken, then all you have to cook here is the bacon.  These can be whipped up in less than 30 minutes.  You can even heat the chicken in the same pan you cooked the bacon in.  These tacos will make your taste buds and heart sing.  Your hubby will be happy that he gets bacon for dinner.  And even children love to eat this hand held food.
I see no reason for not making these at least once a week.  😉
*This entree could be gluten-free with gluten-free tortillas.
See what linky parties I link to here.  Or below…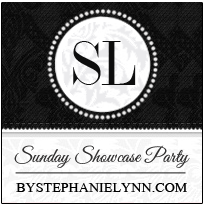 You might also like:
Black Bean and Chicken Fajitas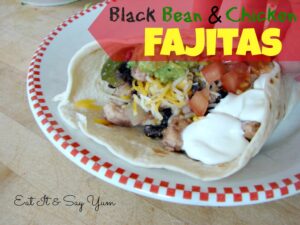 Pico De Gallo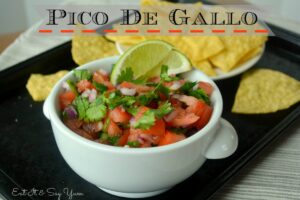 Guacamole