Chicken Enchilada Nachos are an easy snack, or appetizer to keep ingredients on hand and throw together for quick eating.  
These nachos are my family's go-to Sunday snack.  I like to keep all the ingredients on hand, ready to go, so when we come home from church at 1:00 I can just throw these together and we are eating within a few minutes.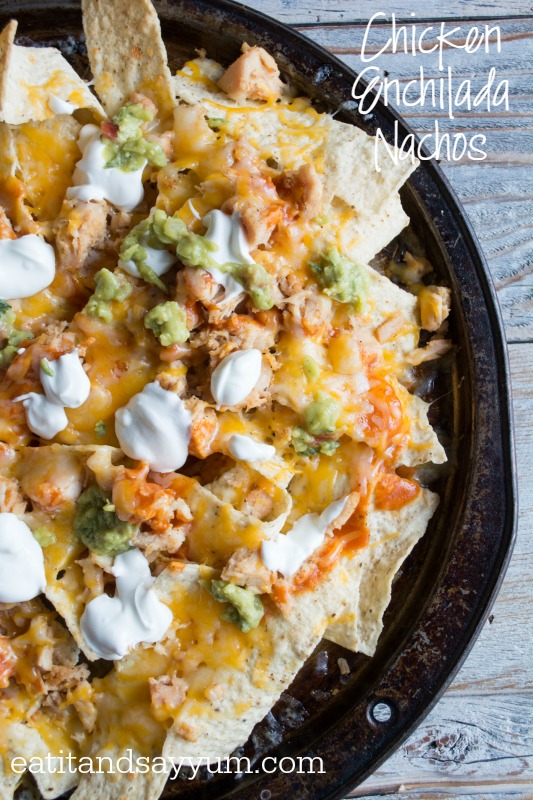 As I have mentioned before, about a thousand times, I LOVE buying the rotisserie chicken meat in bulk from Costco.  I use it All. The. Time.
Having that chicken already cooked and shredded makes my life so much easier.  It's worth it to me to keep my fridge/ freezer stocked with that stuff.
I also make enchilada sauce in a big batch, so I can get several meals out of it.  Any left overs I freeze in ice cube trays so I can use it whenever I need it.  Which is perfect for these nachos, because you don't need a ton of sauce.  Four or five ice cubes worth could do the trick.
So, I start by spreading some tortilla chips over a large pan, usually a pizza pan.  Then I top those with lots of grated cheese- making sure to get it in all the nooks and crannies, the shredded chicken, some red enchilada sauce, and then more cheese.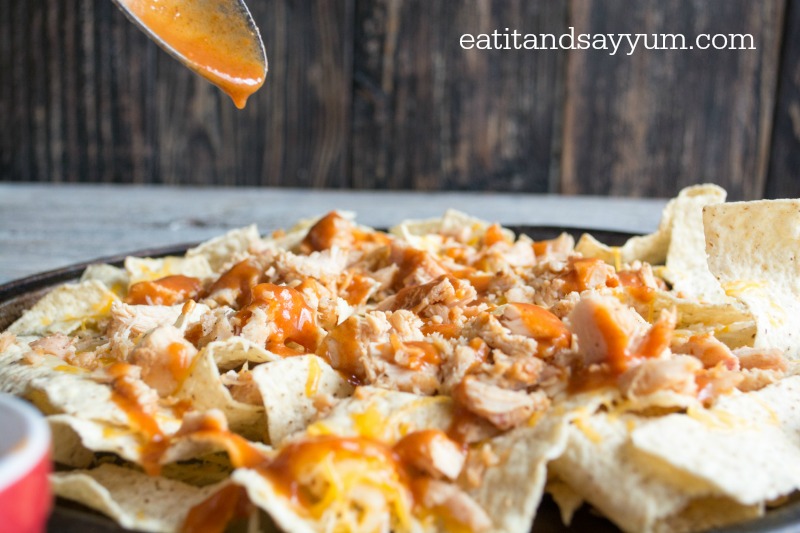 Once I have those layers on I put the pan in the oven with the broiler turned on.  It only takes a minute or two to melt the cheese and turn into toasty, melty, nacho perfection.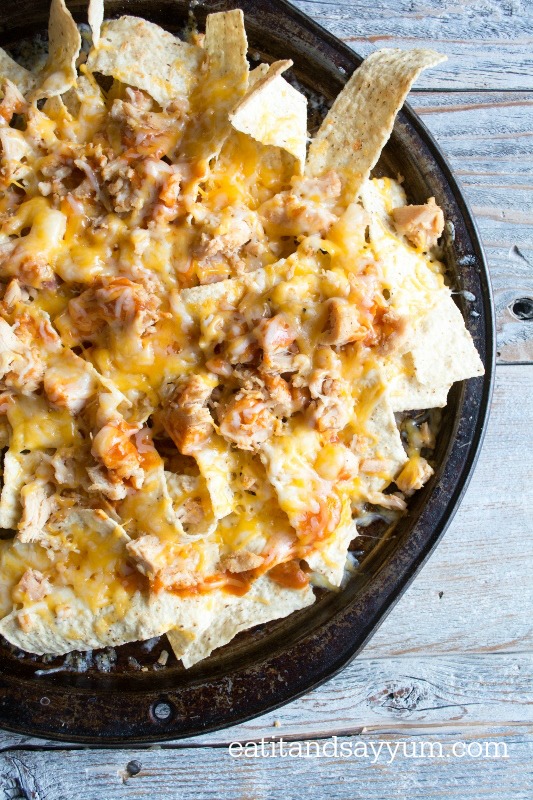 From here I add my favorite cold toppings, like sour cream, guacamole, sliced green onions, diced tomatoes, sliced olives, etc.  Whatever you want.
The chicken and enchilada sauce add so much to nachos.  Now I don't feel bad about serving nachos for lunch.  This hearty and filling snack food.  Not just chips and cheese.
Ingredients
2 cups cooked chicken- shredded or chopped
1 tsp chili powder
1/2 tsp garlic powder
salt and pepper
1/4 tsp chipotle chili powder- optional
2 cups shredded cheese- or more
1/2 cup red enchilada sauce
1 bag tortilla chips
toppings: sour cream
guacamole
diced tomatoes
sliced green onions
sliced olives, etc
Instructions
Preheat oven with broiler on. Heat the cooked chicken in a pan over medium/ high heat and add the seasonings- about 3 minutes.
Spread the tortilla chips over a large baking sheet or pizza pan. Cover the chips with most of the cheese, then layer the chicken on, and drizzle the enchilada sauce over top. Sprinkle the remaining cheese over everything. Place under the broiler for a minute or so. Until the cheese in melty.
Top the nachos with your choice of toppings and eat right away, while still hot.
http://eatitandsayyum.com/chicken-enchilada-nachos/
So, I bet you won't be able to stop with just one bite here.  And with a family of six these go pretty fast.  It's actually kind of fun having everyone hunker over the pan and dig in.  We seriously love nacho time.
More easy meals using rotisserie chicken: