Southern comfort food bundled up as a biscuit sandwich.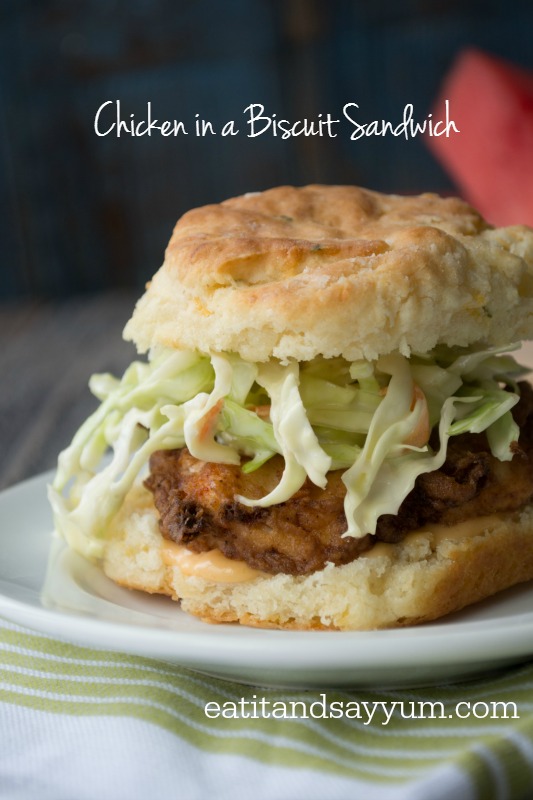 Have you ever tried the Chicken in a Biscuit crackers?  I think I had one or two back in high school, so it's been a while.  Anyway, recently my kids were singing a song from a tv commercial.  Something about 'chicken in the biscuits, chicken in the beans, chicken in the lemonade…'  Well, it sparked a thought to make a chicken in a biscuit sandwich.
I have a love for biscuits.  If you haven't tried my biscuits and gravy yet, you are missing out!  So, it really wasn't a stretch for me to make a biscuit sandwich.  With some fried chicken.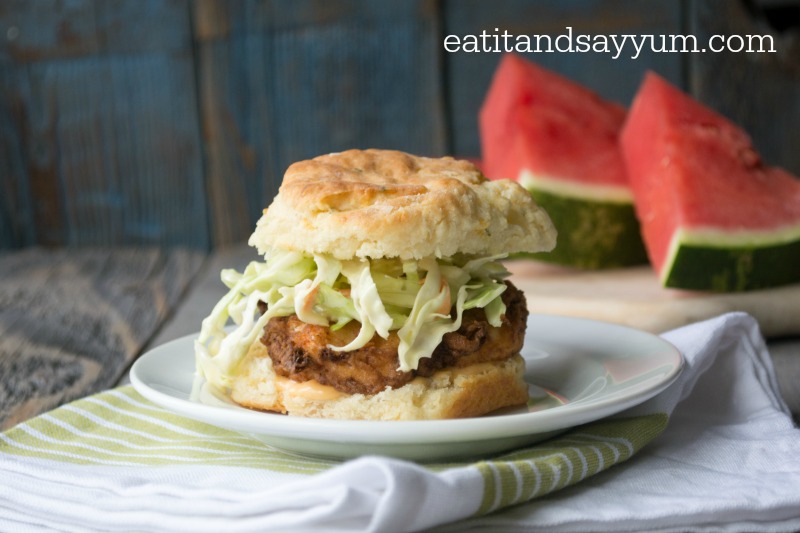 I made some honey sriracha mayo and coleslaw to go with it.  All together it made for a very tasty sandwich.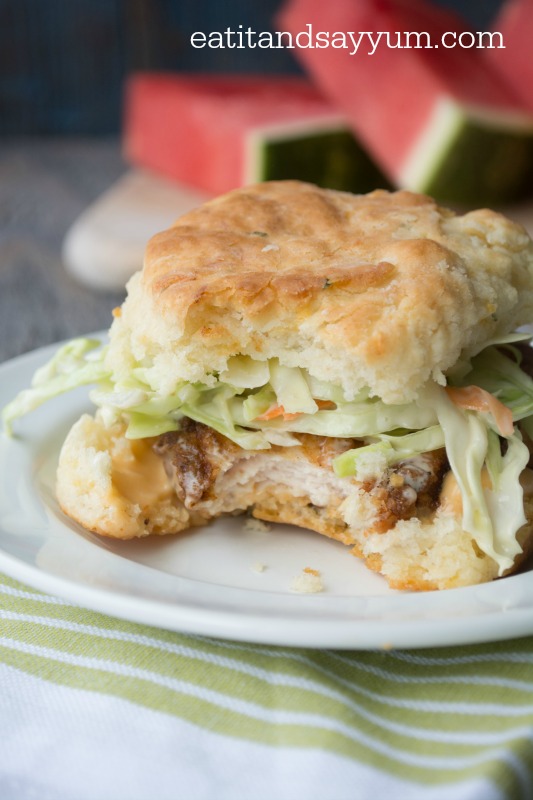 The biscuits even have some cheese and parsley.  Yummy!  Get the recipe here.
So, have I won you over yet?  Fluffy biscuits, fried chicken, honey, sriracha, coleslaw!  All. So. Good.
Chicken in a Biscuit Sandwich
Ingredients
Oil for frying- vegetable, or canola, etc.
1 batch of Cheese and Herb Biscuits (you will have some extra biscuits)
3-4 chicken breasts- not frozen
1 cup flour
1 tsp seasoning salt (Lowrys, etc)
pepper to taste
1/4 tsp garlic powder
1/2 tsp paprika
1/2 cup buttermilk
Coleslaw: 1/2 head cabbage- sliced thin
1/3 cup mayonnaise
1 1/2 Tbs sugar
2 Tbs vinegar
Honey Sriracha Mayo: 1/2 cup mayonnaise
1/2 Tbs Sriracha
1 Tbs honey
Instructions
Mix the Honey, Sriracha and mayonnaise together and set in fridge until ready to use. Mix the Coleslaw dressing ingredients (mayonnaise, sugar, vinegar) in a small bowl and set in fridge until ready to serve.
Slice the chicken breasts in half, thickness-wise, set aside. Heat the oil in a large pot or pan, over medium-high heat. Enough oil to cover the bottom of the pan, about an inch thick. You can lower the temperature once you start frying the chicken. Mix the flour, seasoning salt, pepper, garlic powder, and paprika in a medium bowl. Pour the buttermilk into a separate bowl, large enough to fit a piece of chicken. Dredge the chicken in the flour, then the buttermilk, and back in the flour.
Fry piece of chicken for about 4 minutes on the first side and about 3 minutes on the other side. Chicken should be golden brown and cooked through. Adjust the cooking temperature and time accordingly. Thicker pieces of chicken will need to cook longer than thin pieces.
Lay fried chicken on paper towels to drain the grease and keep warm until all chicken is done. Mix the sliced cabbage with the coleslaw dressing.
Assemble sandwiches by spreading the honey sriracha mayo on half of the biscuit, top with a piece of fried chicken and a spoonful of coleslaw. Replace top of biscuit and eat while still hot.
http://eatitandsayyum.com/chicken-in-a-biscuit-sandwich/
You might also like: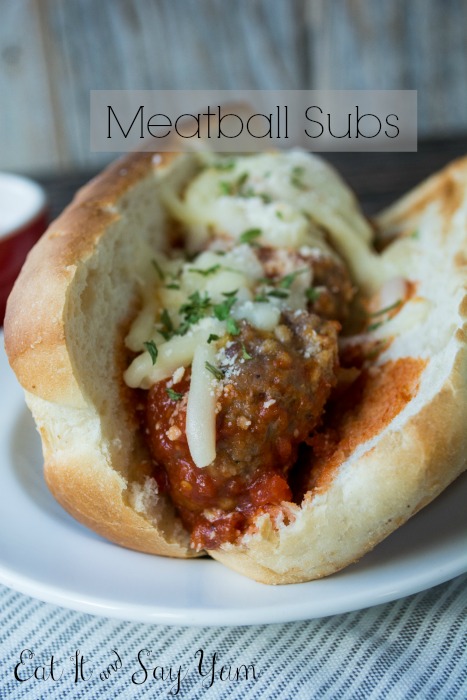 Italian Beef Sandwiches