Spicy , creamy, hearty chicken egg rolls will jalapenos and cream cheese.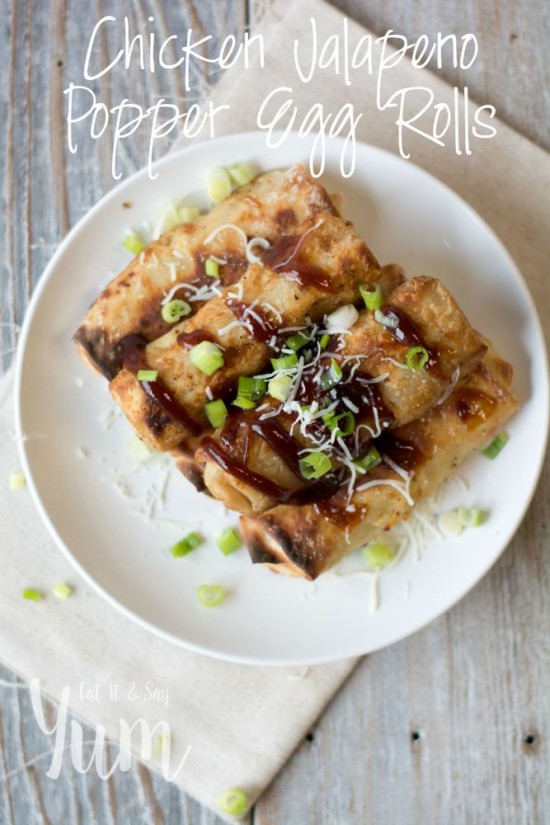 Hey y'all!  Welcome to the July installment of the Monthly Ingredient Challenge!  Yay!
The challenge ingredient this month was cream cheese.  Oh boy.  Yum!  I love cream cheese in so many different forms.  I first thought I would do a dessert, but I wanted to stretch myself a little more.  So I made these Chicken Jalapeno Popper Egg Rolls.
I had been drooling over these egg rolls from Carlsbad Cravings, and so egg rolls were on the mind.   Then thinking of flavors I like with cream cheese, and this recipe was an easy one to come up with.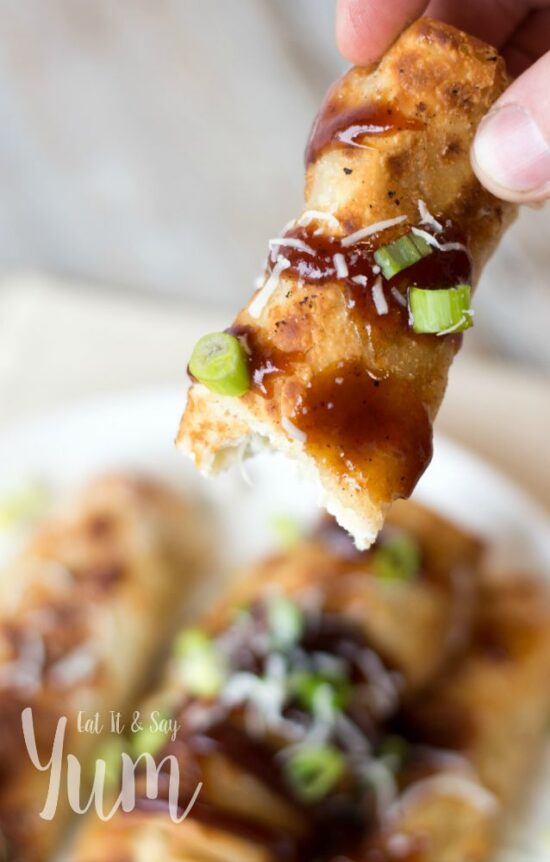 I drizzled some barbecue sauce over top and sprinkled green onions and extra cheese.  The barbecue sauce tasted great and the green onions provide a little freshness to each bite.  But of course, those things are optional.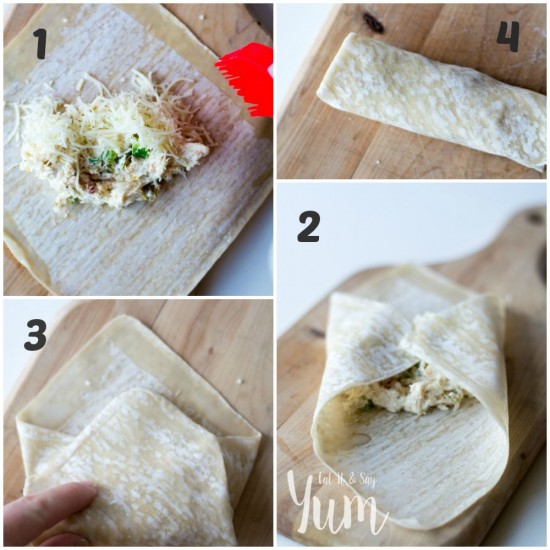 Use these step by step pictures for how to roll an egg roll.  It's really not difficult.  I used a pastry brush to wet the edges so the dough would stick to itself when all rolled up.
Chicken Jalapeno Popper Egg Rolls
Ingredients
1 package of egg roll wrappers
3-4 chicken breasts
salt and pepper
8 oz cream cheese
2-3 cups mozzarella cheese- grated
1 jalapeno- diced
15-30 pickled jalapenos- chopped
2-3 Tbs pickled jalapeno juice
1/2 cup diced bacon- cooked and crumbled
1/2 cup parmesan cheese- grated
oil for frying
Instructions
Preheat oven to 350 degrees. Slice chicken breasts open, so they are thinner and cook faster. Salt and pepper the chicken, then bake for 15-20 minutes, until cooked though. Turn chicken over halfway through cooking time.
Shred chicken, and mix in the cream cheese, 1 cup mozzarella cheese, both types of jalapenos, the jalapeno juice, diced bacon, and parmesan cheese. Add salt and pepper to your tastes.
Spoon about 3 Tbs worth of the chicken filling on to the center of an egg roll wrapper. Forming it into more of a line than just a pile. Sprinkle a pinch of mozzarella cheese over the filling.
In a large pan or pot, heat the oil- enough to cover the bottom of the pan by about an inch.
Lightly wet the edges of the egg roll wrapper with water. With a corner of the wrapper pointing towards you, fold in the two side corners to the center. Fold the bottom corner up and over the filling, so it points towards the top. Then roll from the center towards the top, making a nice, tight egg roll. Repeat with the remaining wrappers and filling.
Fry the egg rolls in hot oil, long enough to brown all the sides. Turning the egg roll as needed.
Serve warm. Optional toppings include barbecue sauce, extra cheese, and sliced green onions.
http://eatitandsayyum.com/chicken-jalapeno-popper-egg-rolls/
Did you miss the previous Monthly Ingredient Challenges?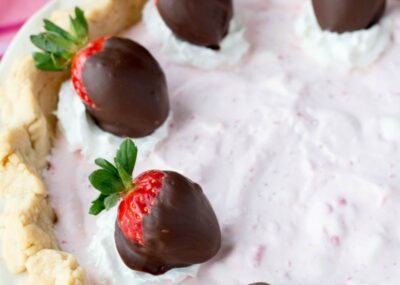 A layer of soft ganache on the bottom and a strawberry, cream cheese filling on…
Check out the other yummy Cream Cheese recipes from more of your favorite bloggers!