So, my mom makes the best Chicken Salad Sandwiches.
And I learned by watching her.  Lucky for you, I'm sharing my recipe.  Modeled after my mother's.  Like I've said before, she is the queen of just adding things until it tastes good.  So, I actually had to write this recipe, but it tastes the same as my mom's.  Just how I like it.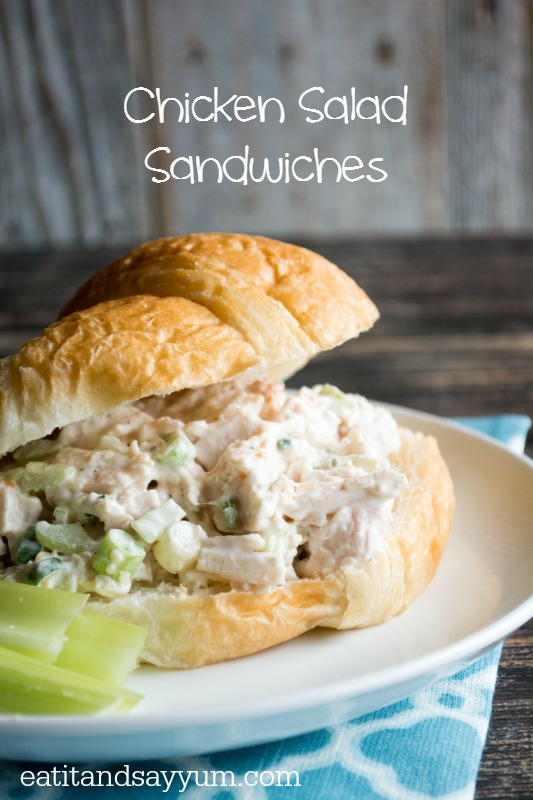 These sandwiches are perfect for picnics, camping, or ball games.  You can make the chicken salad ahead of time and then stick it in your cooler.  When you are ready to eat, just fill your croissants with the chicken salad.  Bam, ready to eat.
Yes, I said croissants.   They are the best portal for chicken salad.   They are so light and flakey, and buttery… mmmmm.  Sure you could use dinner rolls, tortillas, or regular bread.  But then you would be missing out on half the pleasure of eating a great chicken salad sandwich.  For me, croissants are BEST.   Just slice them through the middle, but not all the way through.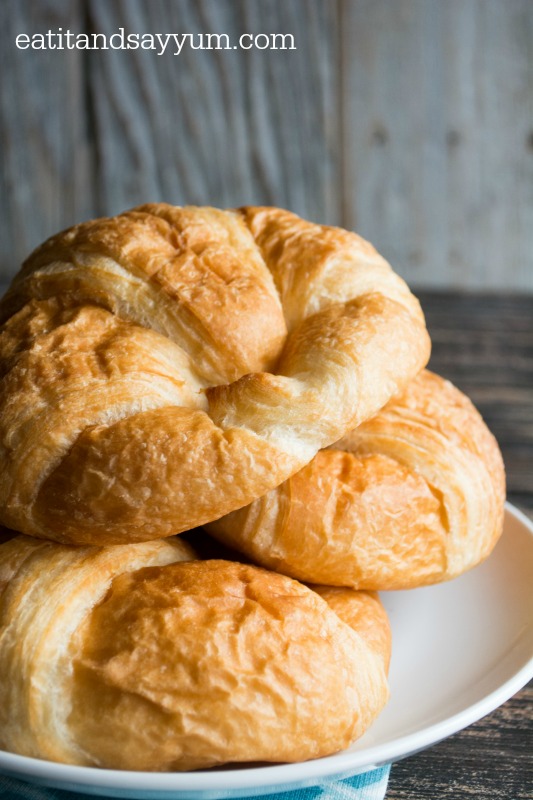 The chicken salad it's self is pretty easy.
I like to use left over rotisserie chicken, because it makes my life easier.  But cooking up some chicken breasts is also no big thang.  (I've been saying that a lot lately…)  I slice the breasts in half to make them thinner, then salt and pepper each side and bake at 350 until the juices run clear.  About 15 minutes, and I flip them half way through.
Once the chicken is cooked, chop it or shred it, into nice little pieces.
Then I add some finely chopped celery (because I HATE big pieces), sliced green onions, and some roughly chopped cashews.  Oh yeah, cashews.  They give a great crunch, a little extra salt, and they just taste amazing.
Then throw in the mayonnaise (not miracle whip!) and fold everything together.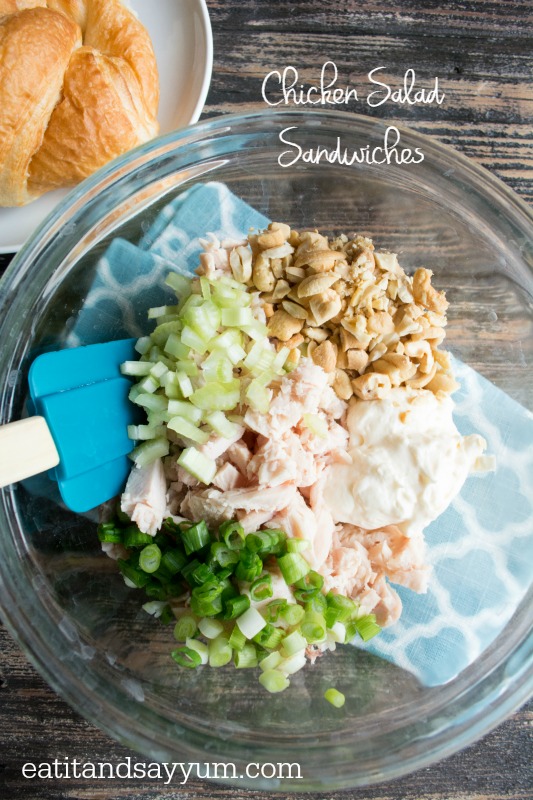 When it's about half way mixed up I start adding salt and pepper.  Taste the salad as you go and you can decide how much salt and pepper you want.  Add more as you need to.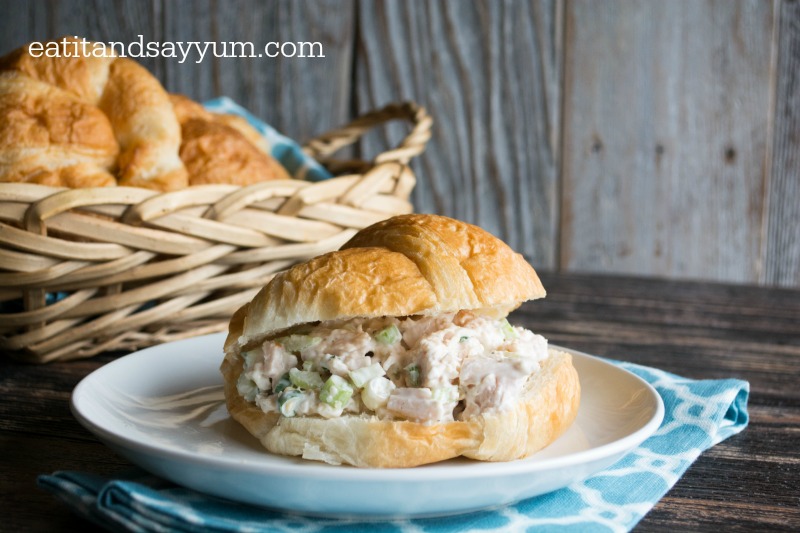 If you are making the salad ahead of time, don't add the cashews until right before serving.  You want those stay nice and crunchy.
Ingredients
4 cups chicken- cooked, and chopped/ shredded
3-4 green onions- sliced
2 celery ribs- finely diced
3/4 cup mayonnaise
3/4 cup cashews- roughly chopped
salt and pepper to taste- I use quite a bit, but taste as you go and add more as needed
4-6 Croissants- sliced in half
Instructions
Add the chopped, cooked chicken into a large bowl. Add the chopped celery, sliced green onions, chopped cashews, and mayonnaise. Stir together and add salt and pepper to your tastes. You can add more as you go, don't over do it right away.
Chill the chicken salad until ready to serve. If waiting more than an hour or two before serving, with hold the cashews and add just before serving. Spoon the salad onto the sliced croissants and serve right away. Keep salad in the fridge or cooler with ice.
http://eatitandsayyum.com/chicken-salad-sandwiches/
I know there are versions of chicken salad that have fruit in them, and that's great.  But it's not the way momma made it, so that's not the way I prefer it.  Anyway, are you going to give this recipe a try?!
I made this for a co-worker and she RAVED about it.  Love it when that happens.  🙂
You might also like: