Hello there.  🙂
It's time for the Monthly Ingredient Challenge again!
The challenge ingredient for June was Coconut.
I have to confess, I've spent most of my life NOT liking coconut.  It's only been the last 3 or 4 years that I have been willing to give it another chance.  And I'm glad I did.  I'm rather enjoying it now.  🙂
So, I made some Coconut Oatmeal Cookies and then dipped them in chocolate.  Because everything is better with chocolate.  😉
And don't forget to visit all the other super awesome bloggers are doing this challenge with me.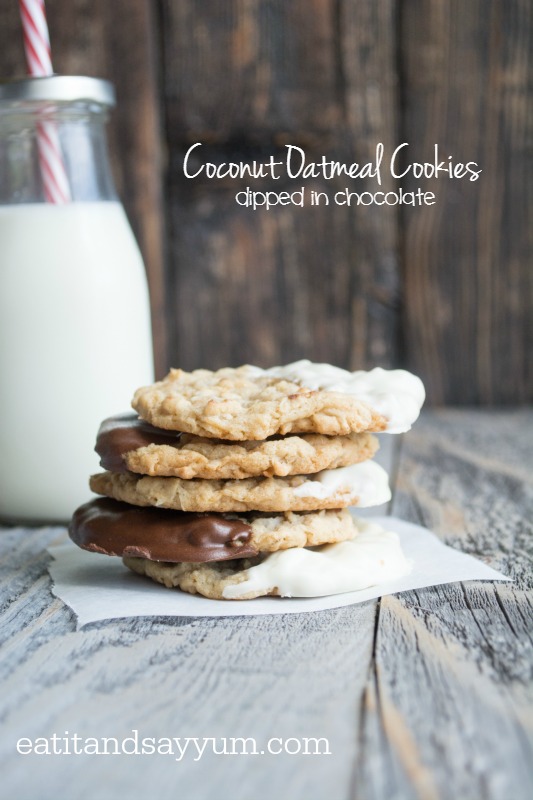 These cookies are on the thinner side, and you can make them soft and chewy (just how I like them), or bake them a bit longer and they will be a little crispier.  If that's what you prefer.
Once the cookies are cooled, I melted some semi-sweet chocolate and some white chocolate to dip the cookies in.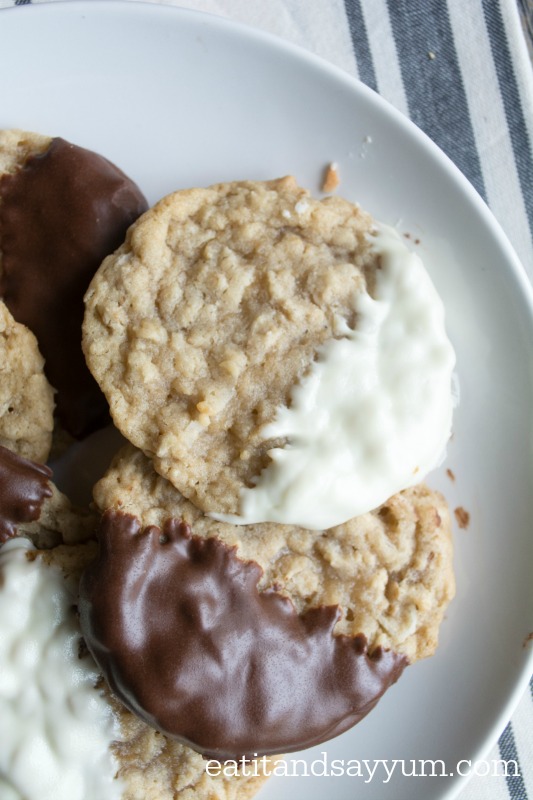 A few words about melting chocolate…  For this situation I recommend candy melts, or almond bark.  They will set up better.  By all means, you can use chocolate chips, but just be prepared that the chocolate will stay soft at room temperature once dipped.  I even added some shortening to my melted chocolate chips and they still were a little melty if I touched the chocolate.  I stuck my dipped cookies in the freezer to help them set up faster, but at room temp the chocolate was soft again.   You could also do half candy melts (or almond bark) and half chocolate chips.
Anyway, there's my advice.  Do what you want.
At any rate, they will taste fabulous.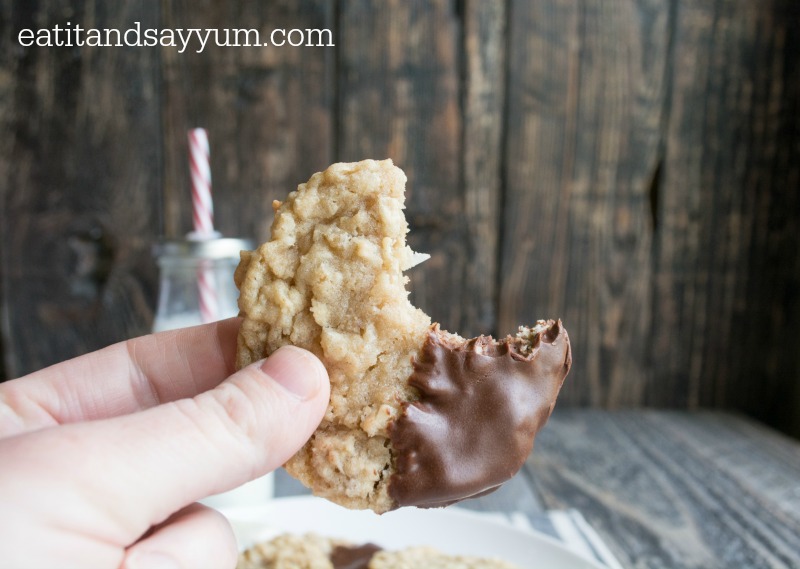 If you want even more coconut, sprinkle some of the shredded coconut on the chocolate half of the cookie before it cools.  Yum.
Chocolate Dipped Coconut Oatmeal Cookies- Monthly Ingredient Challenge
Ingredients
1 cup butter
1 cup brown sugar
1 cup sugar
1 tsp vanilla
2 eggs
2 cups of flour
1 tsp salt
1 tsp baking soda
2 cups oatmeal- uncooked, quick oats
1 1/2 cups coconut
1 cup chocolate candy melts, etc
1 cup white chocolate candy melts, etc
Instructions
Preheat oven to 375 degrees. In the bowl of a stand mixer, cream the butter and both sugars. Once fluffy (about 1 minute) add the vanilla, eggs, salt and baking soda. Mix again. Add the flour, coconut, and oatmeal and mix just until fully combined.
Use a cookies scoop, or spoons to make balls of dough and place on a greased cookie sheet. Bake for about 8-10 minutes for a soft and chewy cookie. Bake for 10-12 minutes for a crispier cookie.
Let the cookies cool, then melt the chocolate and dip half of each cookie into the melted chocolate. Set on parchment paper to let the chocolate set. Store in at room temperature, or cooler. Warm temperatures may melt the chocolate again.
http://eatitandsayyum.com/chocolate-dipped-coconut-oatmeal-cookies-monthly-ingredient-challenge/
If you missed our previous installments of The Monthly Ingredient Challenge, check 'em out:
January- Cilantro Lime Fries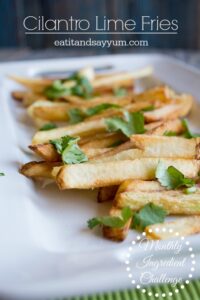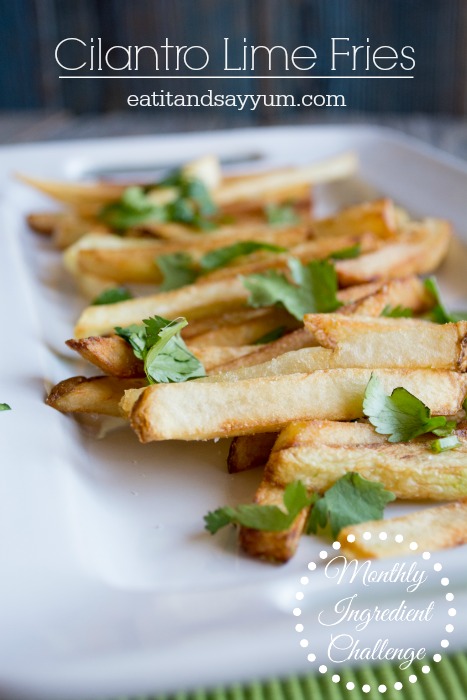 February- Apple Cake a la mode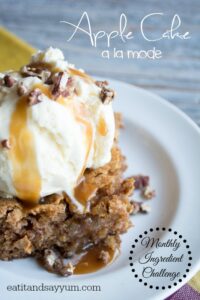 March- Thai Peanut Tacos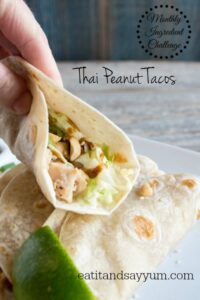 April- Bacon Chocolate Chip Cookies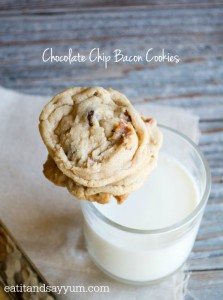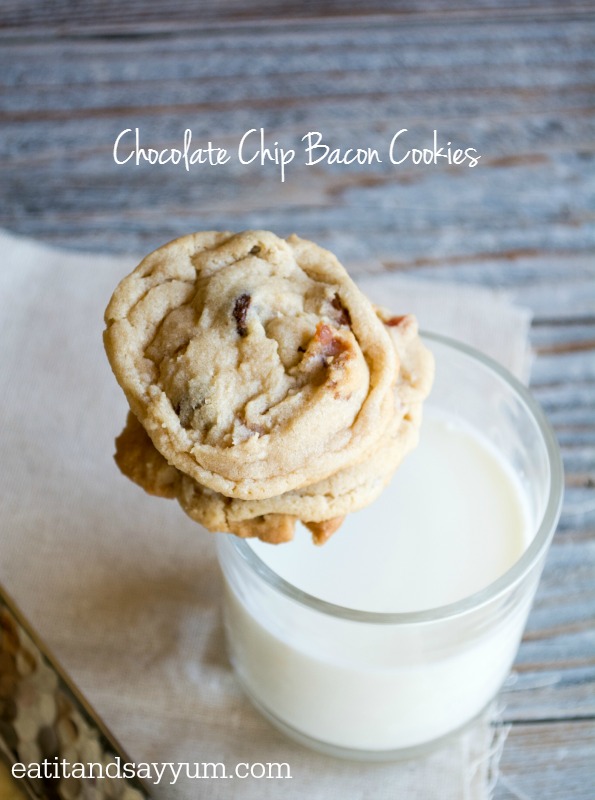 May- Lemon Chiffon Cake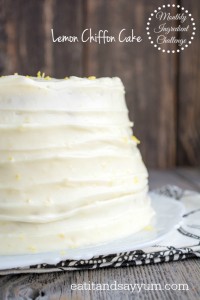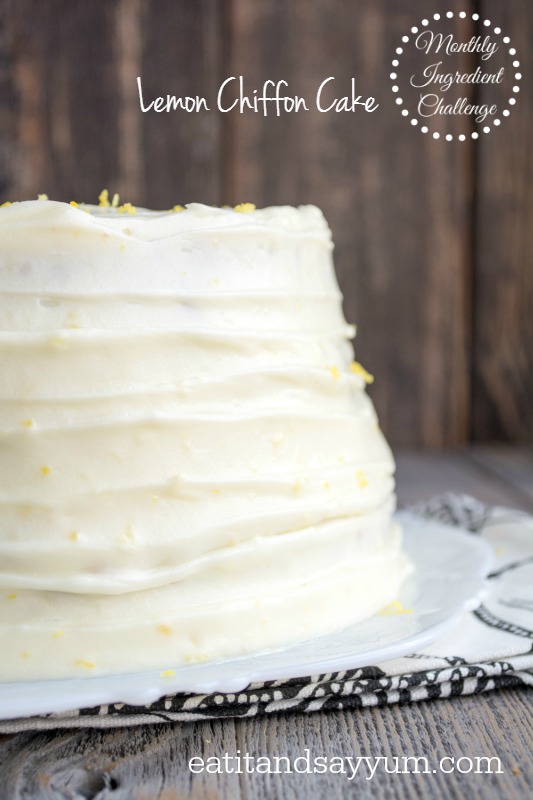 Check out the other great Coconut recipes: