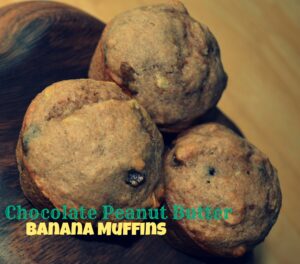 I mentioned in the previous post that my family is on a muffin kick right now.  I think it is a great way to incorporate some fruit or veggies into a meal that used to consist of mainly cold cereal on our busy mornings.  These banana muffins have been a popular addition to our breakfast routine.
I know the chocolate and peanut butter chips probably aren't healthy, but I do use King Arthur's Whole Wheat flour, and less sugar than the recipe originally called for.  That's got to count for something, right?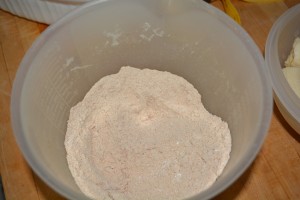 So, start with two bowls.  One for dry ingredients, and one for the wet ingredients.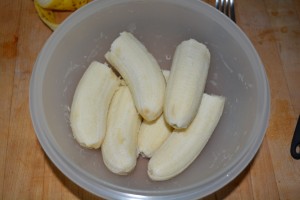 I like to mash my bananas with just a fork.  I think it works great.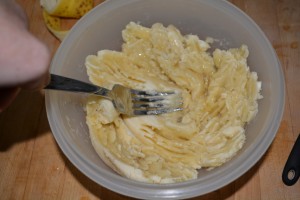 A fork also works well for adding the wet ingredients to the dry ones.  Muffin batter can be thick, and a fork is easy to cut through the batter and scrape off the excess batter at the end.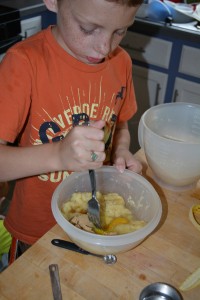 Since school is out, I am blessed with 4 extra little helpers in the kitchen.
Thankfully, this recipe is easy, and can't really be messed up.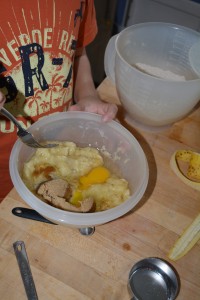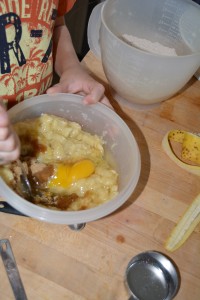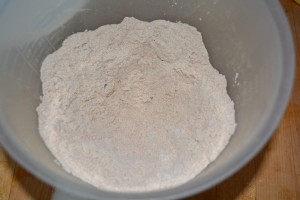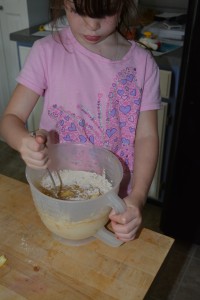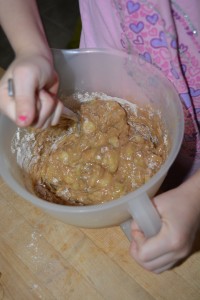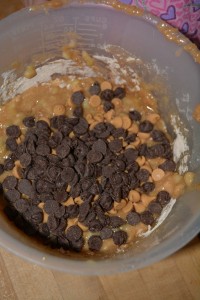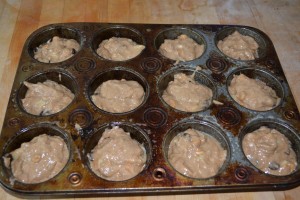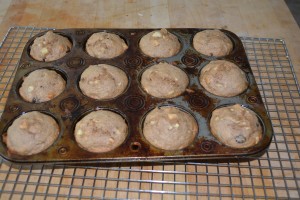 Once the muffins come out of the oven, I take them out of the muffin tin and let them cool on a cooling rack.  That is if we don't eat them before they cool.
I think baked goods are best served warm.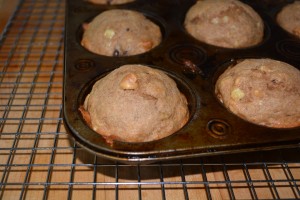 Chocolate Peanut Butter Banana Muffins
Ingredients
1 1/2 cups whole wheat flour (can substitute white all-purpose flour)
1 1/2 tsp baking powder
1/4 tsp baking soda
1/4 -1/2 tsp cinnamon
1 egg
3 ripe bananas (mashed)
1/3 cup brown sugar
1/4 cup oil
1/4- 1/3 cup chocolate chips
1/4- 1/3 cup peanut butter chips
(any type or combination of chips can be substituted)
Instructions
Preheat oven to 350 degree, then grease a 12 cavity muffin tin.
In a medium mixing bowl combine all the dry ingredients: flour, baking soda, baking powder, and cinnamon. Stir those together and make a well in the middle.
In a separate mixing bowl mash the bananas, add the sugar, oil, and egg. Stir to combine.
Pour banana mixture into the dry mixture, add chips, and stir to combine everything. Only mix until all the dry ingredients are fully incorporated.
Divide batter among the 12 muffins holes. Bake at 350 degrees for 16-19 minutes. Muffins are done when you can lightly push on the top and they do not sink in. The tops should be fairly firm.
http://eatitandsayyum.com/chocolate-peanut-butter-banana-muffins/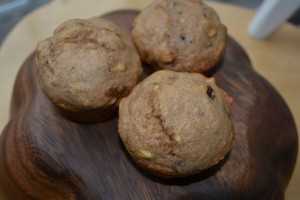 This recipe was adapted from the Better Homes and Gardens cookbook, recipe for banana bread.