I still haven't run out of zucchini over here, guys.  And we are enjoying every treat we make with it.  Like this super chocolatey zucchini bread.
I used dark cocoa powder this time, because it's what I had on hand.  But regular cocoa powder works great, too.  And the bread will turn out a lighter color as well.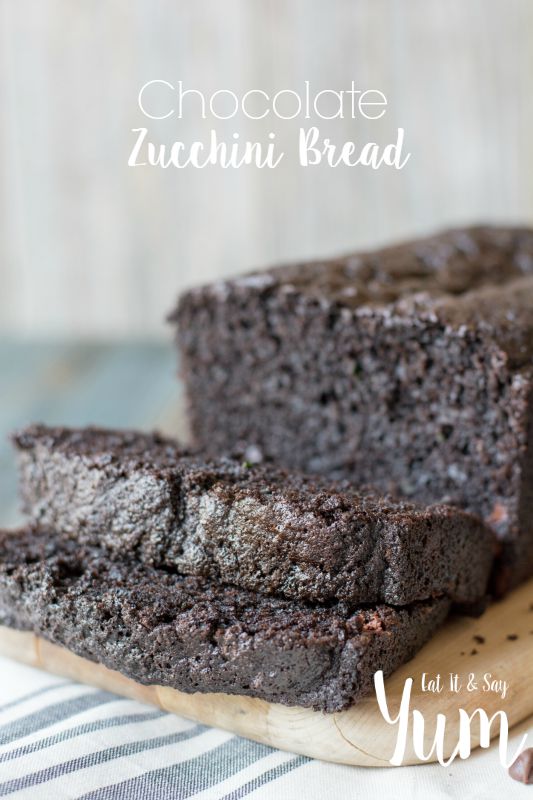 Any way to incorporate zucchini into baked goods makes me feel justified in eating those goods.  While making this bread I found myself thinking 'does the zucchini make up for the chocolate and make the bread healthy?  Or does the chocolate counteract the zucchini and just make the bread delicious?'  Either way, the bread is super yummy, and I'll just keep thinking it's healthier this way.  😉
This recipe makes 1 normal sized loaf, but you could always use smaller bread pans and have a loaf to give away as well.  Who wouldn't want some Chocolate Zucchini Bread?!  Great way to meet new neighbors.  🙂
Ingredients
3/4 cup cocoa powder- regular or dark
3/4 cup brown sugar
3/4 cup sugar
1 1/2 cups flour
1 1/2 tsp baking soda
1 tsp baking powder
1 tsp salt
3 eggs
3/4 cup buttermilk
1/2 cup oil
1 1/2 tsp vanilla
1 cup grated zucchini
1 cup chocolate chips
Instructions
Preheat oven to 350 degrees. In a large mixing bowl combine the cocoa powder, both sugars, flour, baking soda, baking powder, and salt. Whisk together.
In a separate mixing bowl, combine the eggs, buttermilk, oil and vanilla. Add the wet ingredients to the dry ingredients and mix until almost fully mixed. Add the grated zucchini and chocolate chips, then finish mixing until the dry ingredients are fully incorporated.
Pour the batter into a greased loaf pan. I recommend using a metal one. Then bake for about 60 minutes. Until a toothpick inserted near the center only has dry crumbs, or none at all.
Let cool in the pan with the pan tilted on it's side for about 5 minutes, then tilt to the other side for another 5- 10 minutes. Remove the bread before completely cool. Serve warm or at room temperature. Keep leftovers wrapped air tight.
http://eatitandsayyum.com/chocolate-zucchini-bread/
Recipe adapted from oprah.com
You might also like:
Crumbly Topped Zucchini Muffins