Hi there!
I'm super excited to tell you about one of my new projects.
I've started a Monthly Ingredient Challenge for myself and several other bloggers.
Each month one of us chooses a challenge ingredient and we all have to come up with a recipe using that ingredient.  You can find links to all the other participants at the bottom of this post.
January was my month to choose and I picked cilantro.
I LOVE cilantro.
I use it all the time.  It is one of my go-to ingredients for Mexican, and Tex-Mex style foods.
However, this time I wanted to use it in a way that I hadn't before.
So, I strayed a little from the typical Mexican dishes.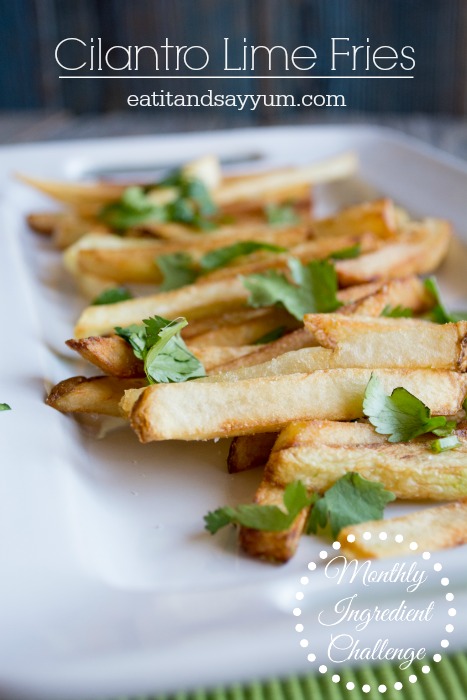 I love the flavor combination between the cilantro, lime, salt, and garlic.  So good.
In addition to the fries having great flavor, they also had great structure.  There are a few steps you need to follow in order to have nice crispy fries.
I start by peeling about 1/2 of my potatoes, and just scrub the other half real good.  I don't mind some skins on my fries.
Then I cut them into slices and then strips.  I always cut the strips a little smaller than I think they need to be.  Otherwise I end up with fries that are too big.  Once the potatoes are cut into fries, I soak them in a big bowl with cold water.  This helps draw out some of the starch in the potatoes which would have prevented them from getting so crispy.  After about an hour, if you have planned ahead enough, I drain the water and give the potatoes one last rinse in cold water.
Then lay the potatoes out on a big towel and pat them dry.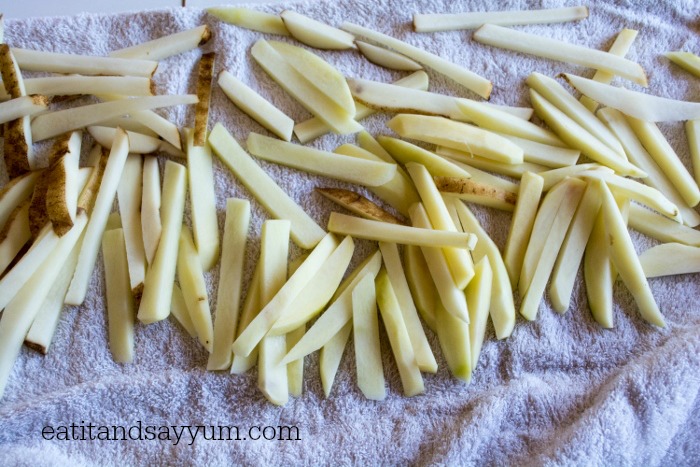 Next, I fry the fries in a big pot with about 1/2 an inch of oil in the bottom.  The oil should be hot, about 375 degrees.  If you don't have a thermometer, just drop a small piece of bread in and see if it instantly starts frying.  Then it's ready.
I cook the fries in batches.  You want one layer at a time.  I cook them for about a minute or so, gently turning them over occasionally.  I don't fry them until brown, not yet.
Remove the fries, while still very light in color, and add the next batch until all the fries have been cooked, once.
Then I fry them again.  This time the fries are already mostly cooked and can now get crunchy and golden brown.  It doesn't take long, so watch them closely.  I do this in batches as well, same as before.
And the result is beautiful, golden-brown, crispy french fries.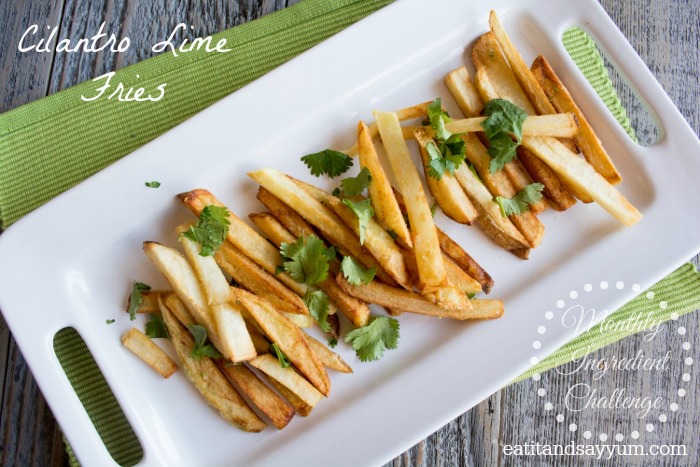 This is where the Cilantro-lime flavor comes in.  While the potatoes were soaking I mixed up some coarse ground sea salt (not big chunks, smaller- like after going through a salt grinder), garlic powder, and lime zest.
Can I just say how I love lime zest?  So much flavor and I think it looks pretty.
Anyway, as each portion of fries comes out of the fryer for the second time, I sprinkle them with my salt mixture, while the fries are still hot.  When all the fries are done, and salted, then I add some chopped cilantro.
Cilantro Lime Fries- Monthly Ingredient Challenge
Ingredients
6 big potatoes, I like russets
a few cups of oil
1 1/2 tsp sea salt
3/4 tsp garlic powder
zest from 1 lime
1/3 cup roughly chopped cilantro
Instructions
Peel half of your potatoes, wash the other half really well. Slice the potatoes into thin, french fry sized strips. Place all the cut potatoes into a large bowl of cold water and let soak for about an hour, for best results. Drain the water and rinse the potatoes one more time with cold water. Lay the potatoes out on a big towel and pat the slices dry. While the potatoes are soaking combine the salt, garlic powder and lime zest in a small dish and set aside.
In a large pot, add enough oil to be about 1/2 inch deep. Heat over high/ medium-high heat until it comes to about 375 degrees. You can test with a piece of bread if you don't have a thermometer. Add an handful or two of potatoes, so they are one layer thick in the pot of oil. Let fry for a minute or two, but remove them before they start to brown. Place on a pan covered with paper towels, or brown grocery bags. Repeat until all the potatoes have been fried once. Then fry the fries again, for a second time, but let them get a nice golden brown color before pulling them out of the oil this time. Takes about 1-2 minutes. Watch them carefully. Place the fries on new paper towels or brown bags. As each batch comes out of the fryer sprinkle some of the salt mixture on them.
When all the fries are a nice golden brown, sprinkle them with the chopped cilantro and serve while still hot.
http://eatitandsayyum.com/cilantro-lime-fries-monthly-ingredient-challenge/
The fries were amazing.  I even made some Jack cheese queso to dip them in.  Oh yum!  I"ll be sharing that recipe soon.  😉
Check out the links below to see how the other fabulous bloggers used cilantro.