These pancakes are so light and fluffy.  They will satisfy those nostalgic, breakfast cravings.
I know moms are busy.  Trust me, I'm a busy mom too.    It can be tempting to just grab that old pancake mix and add some water or milk and start pouring pancakes.  But I'm here to tell you there is a better way.
These pancakes are made from scratch so they are better for you than the dry mix from the store.  Plus they taste about a thousand times better, too.  And once you are familiar with this recipe you can whip these out rather quickly.  I make these so often I've got the recipe memorized.  And this is the recipe I use to base all my other pancake recipes off of.  You know the saying "if it ain't broke, don't fix it!"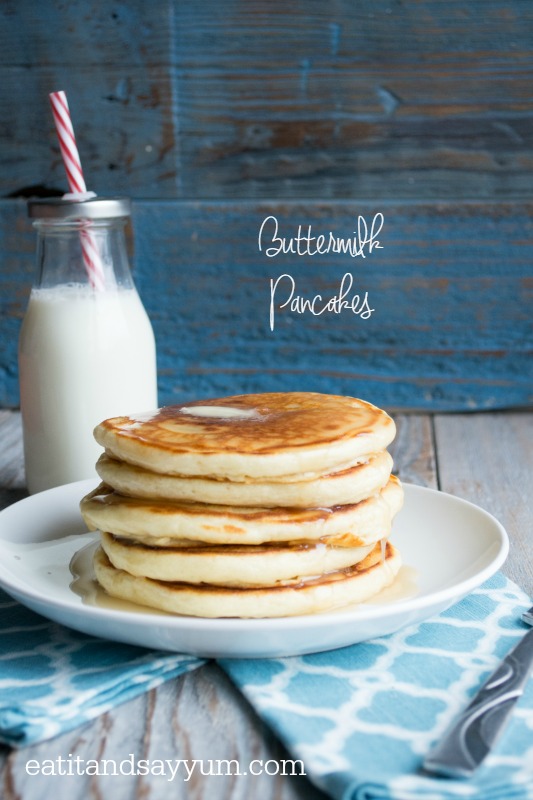 The secret to these pancakes being so light and fluffy is whipping the egg whites til they are stiff.  Also, allowing the buttermilk to mix with the baking soda gives them more lift.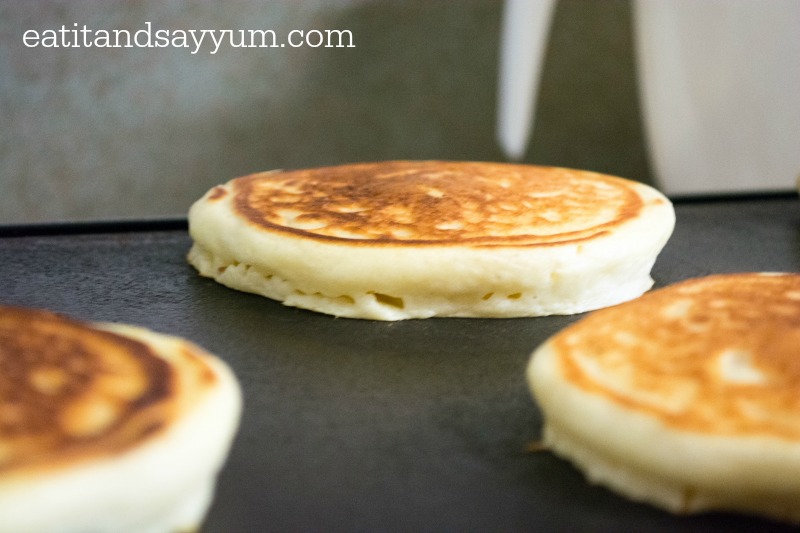 To keep all that airiness in the pancakes you should only flip them once.  Wait until the bubbles start popping around the edges of the pancake and it has risen nice and high, then flip.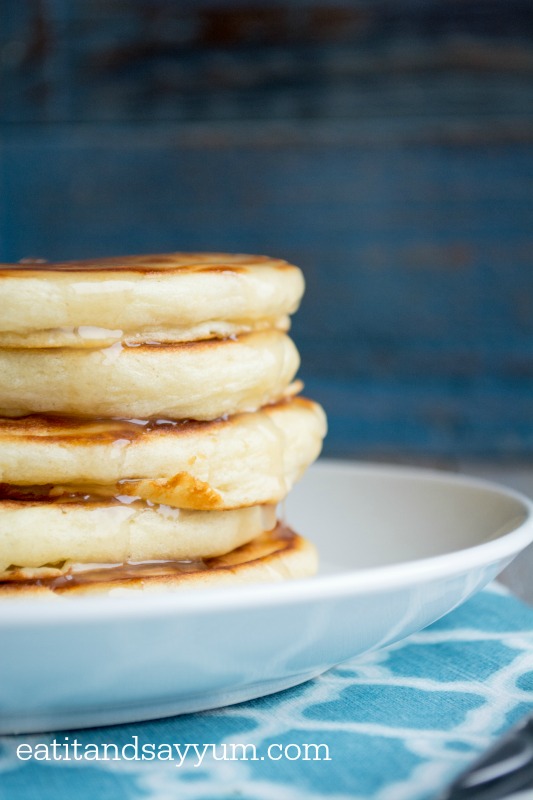 This recipe typically makes the perfect amount for my family of 6.  But I'm noticing as my kids are growing up that they are eating more and more pancakes…  Eek!  Not really a problem.  I've started doubling the recipe so I can have extras to store in the freezer.  My kids can just pop the frozen pancakes in the toaster, microwave, or in the oven and have homemade pancakes any day.  I don't consider too many pancakes a problem.  😉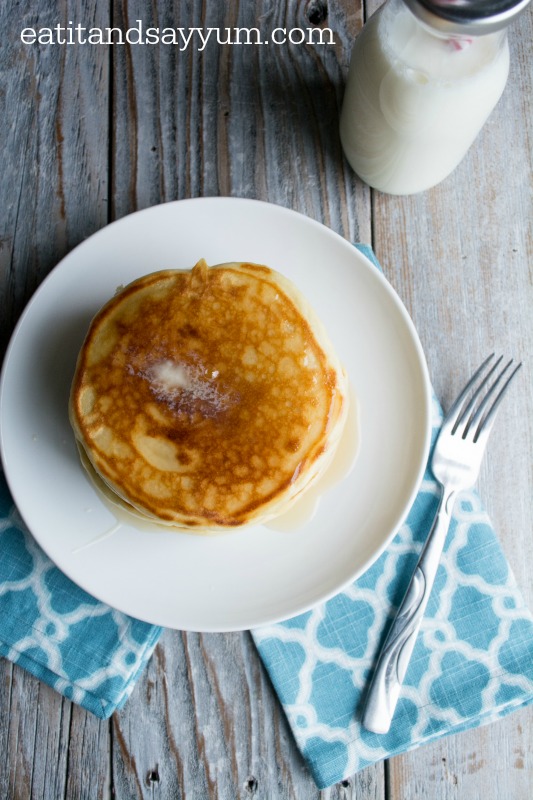 My husband likes to say that my kids have been spoiled by these pancakes.  If they ever go on an over night scout trip, they might be disappointed by the box-mix pancakes they get there.  Oh well, let it be known that mom makes the best pancakes!!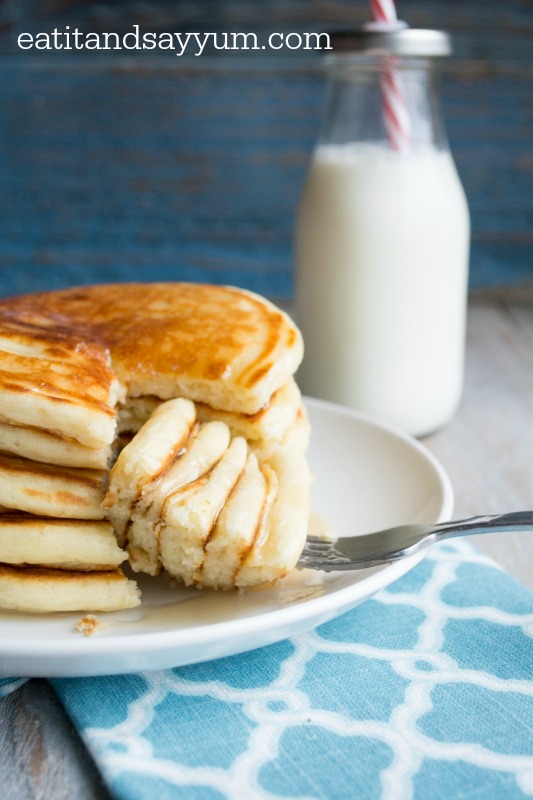 And of course, we top our pancakes with buttermilk syrup.  It's just amazing.  That's another recipe I make so often I have it down by memory.  🙂
Classic Buttermilk Pancakes
Ingredients
1 1/2 cups flour
1 tsp baking powder
1 tsp salt
1 tsp sugar
1 tsp baking soda
1 2/3 cups buttermilk
3 eggs- yolks separated
1/2 cup oil
Instructions
In a large mixing bowl add the buttermilk and baking soda, give a quick stir. In a medium bowl add the egg whites, add the yolks to the buttermilk. Beat the egg whites until stiff peaks form. Add the flour, baking powder, salt, and sugar to a third bowl and stir. Preheat griddle to about 350 degrees, or medium-high heat.
Mix the dry ingredients with the buttermilk mixture, beat together on low or medium with an electric hand mixer. Add the oil and mix again just until fully combined. Use a rubber scraper to fold the egg whites in to the batter. Don't stir! You want the air bubbles to stay in the egg whites.
Use a 1/4 cup measuring cup (can be a heaping scoop) to portion the batter onto a hot, greased, griddle. Let the pancake cook for about 1-2 minutes, once you see the air bubbles forming and popping, but the top isn't drying out, flip the pancake. The cooked side should be golden brown. Only flip the pancakes once. When the bottom is done cooking, remove from griddle and serve immediately with warm syrup.
Cool and freeze any extras.
http://eatitandsayyum.com/classic-buttermilk-pancakes/
You might also like:
Whole Wheat Apple Cinnamon Pancakes