Update:  I've added some new recipes to this collection.  Take a look and see what your Easter meal is missing.  🙂
I have been working hard to compile a list of recipes for a complete Easter meal.  Or a great meal for any get together, really.  But with Easter NEXT week, (eek!) I figured some people might want some suggestions.
So here it is!!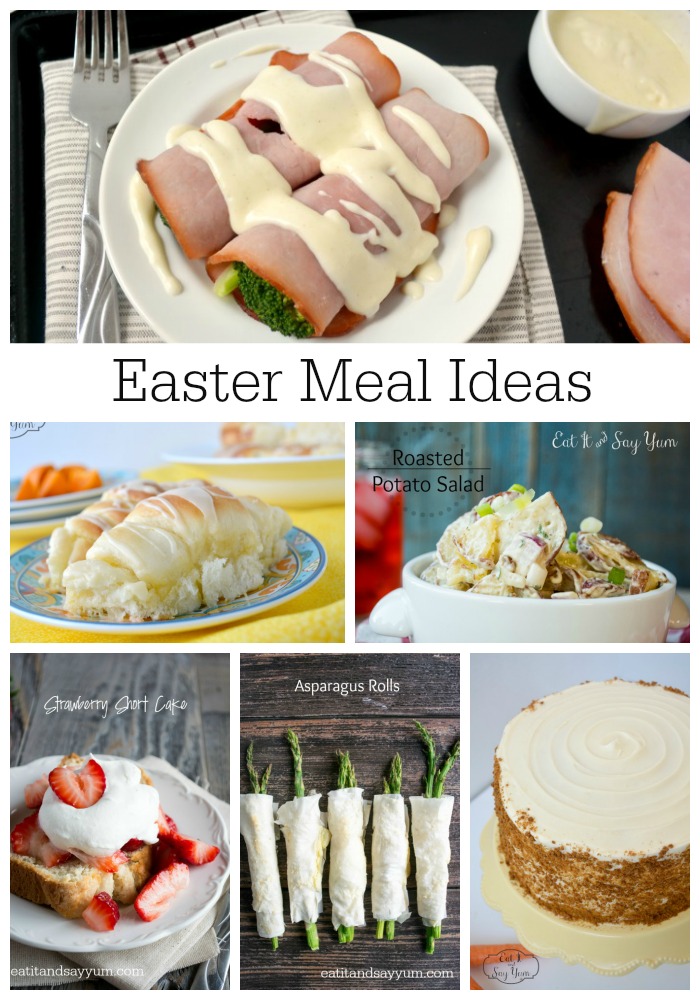 A collection of my favorite recipes for a great Spring meal.
Appetizers:  Marshmallow Fruit Dip, Asparagus Rolls, Salami Roll-ups, Roasted Red Pepper Dip,
Entree:  Trees in a Blanket
Side Dishes:  Ambrosia Salad, Cheesy Noveau Potatoes, Roasted Veggie Risotto, Vegetable Risotto with Bacon, Raspberry Layered Jello, Roasted Potato Salad 
Bread: Sweet Orange Rolls, Dilly Bread, Sweet Corn Muffins
Beverage:  Banana Slush Punch
Dessert:  Fresh Carrot Cake with Ginger Snap Crumbles, Banana Cream Pie, Strawberry Short Cake, Apricot Bars, Easy Fruit Trifle, Sugar Cookie Fruit Cups
I have lots more great options here on the blog, if one of these isn't your 'cup of tea,' feel free to browse and see what other yummy recipes I have.
Enjoy your Spring, and impress your friends and family with some great food.  🙂
See where I link up here.