This post was sponsored by Omaha Steaks.  The recipe, photos, and opinions are all my own.  The Old World Beef Franks were provided by Omaha Steaks.
It's full on grilling season here in Montana.  The weather has changed to some beautiful sunny days, and the temps are a climbing.
All this means that it's time for barbecuing.
I've got THE most delicious recipe for you to enjoy some hot dogs this summer.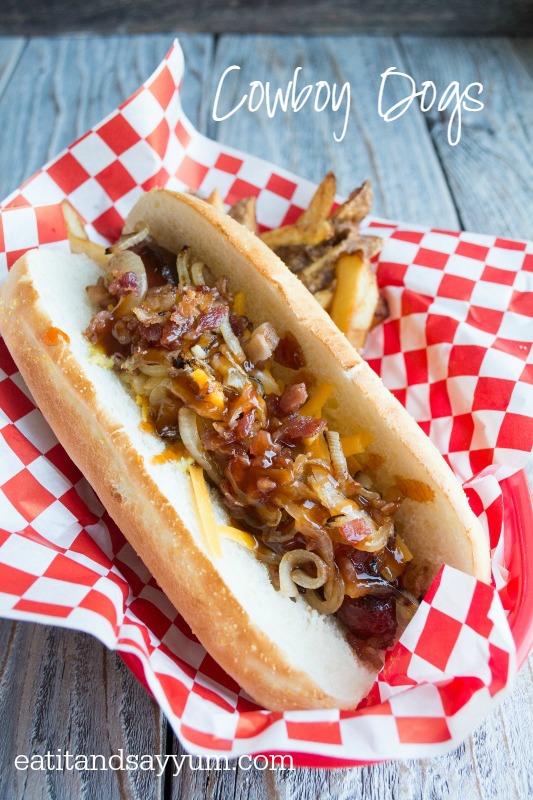 The combination of flavors and textures on this 'dog' is just amazing.
This was the first time I made caramelized onions, and I'm in love.  Those slow cooked onions have SO much yummy flavor.  Add the crispy bacon and creamy cheese to that, and honestly you would enjoy this even without the hot dog.
Let's not forget about my homemade hot dog sauce.  It's pretty much a barbecue sauce, but it's very tangy.  And sweet.  So good.  How ever much you think you want on your bun, go ahead and double that.  You won't be sorry.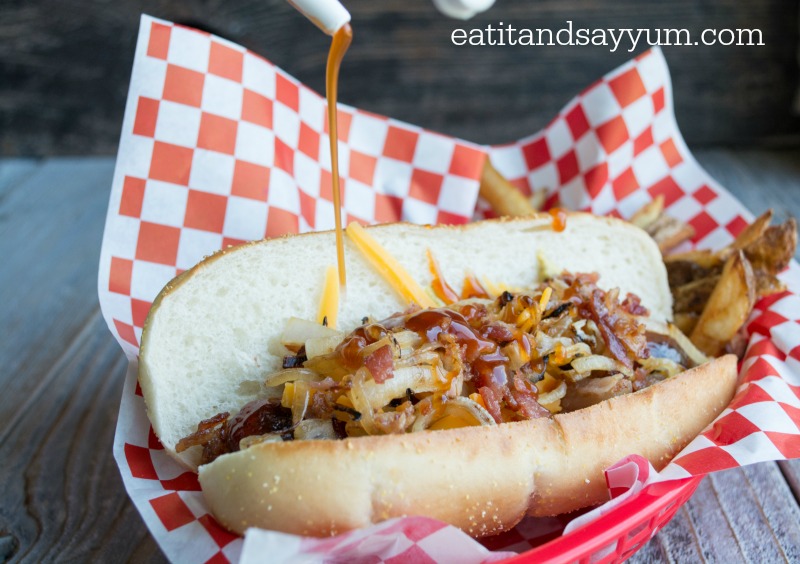 Of course I toasted my buns, I just like them that way.  And I cut some slits in the sides of the hot dog, it helps the dogs not split open in other places and keeps them looking delicious.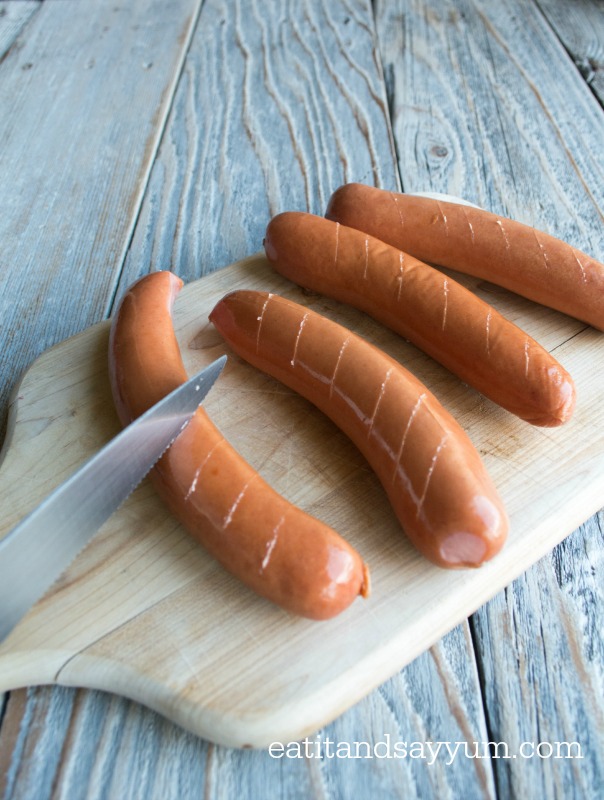 See how pretty they turned out?  They also look like grill marks, which is a good trick if you are cooking them under the broiler.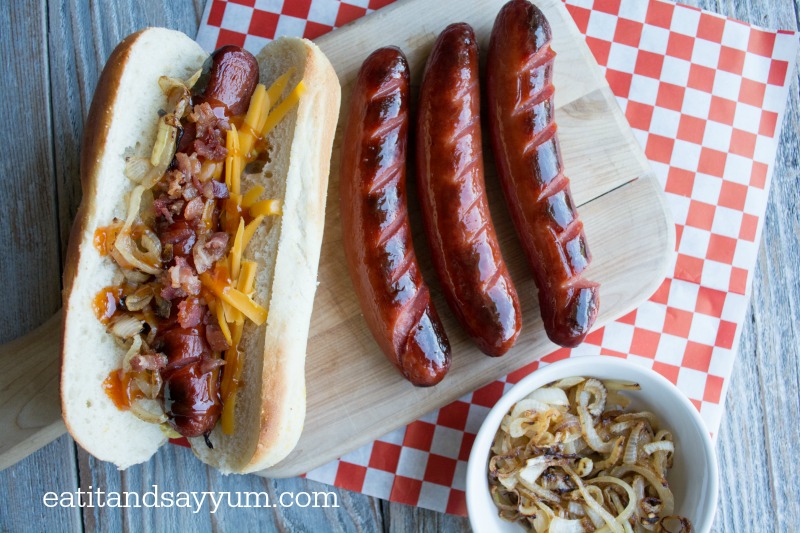 You just can't go wrong with bacon.  And cheese.
Cowboy Dogs with Homemade Hot Dog Sauce
Ingredients
8 Hot Dogs- or Old World Beef Franks from Omaha Steaks
8 hot dog buns- toasted
2 yellow or white onions- sliced very thin
1-2 cups grated cheddar cheese
1 cup crispy bacon- crumbled- precooked, real bacon works great
spicy brown mustard
1-2 Tbs olive oil
Hot Dog Sauce: 1 cup brown sugar
1 cup ketchup
1/2 cup apple cider vinegar
2 tsp Worcestershire sauce
Instructions
In a large skillet, over medium heat, saute the onion in the olive oil. Let caramelize over medium heat for about 20 minutes.
In a medium pot over medium/ high heat, boil the sauce ingredients for about 5 minutes. Stirring frequently. Then remove from heat until ready to serve.
Cut slits on two sides of the hot dogs and grill or cook under the broiler until they are darkened and sizzling hot.
Toast buns under the broiler to a nice golden brown. Then assemble dogs by adding the spicy brown mustard on the bun, then the hot dog, then the caramelized onions, then the bacon, cheese, and top it off with the sauce. Serve while still hot.
http://eatitandsayyum.com/cowboy-dogs-with-homemade-hot-dog-sauce/
We love these Cowboy Dogs so much that we made them 4 different times in one week.  And no one complained.  In fact I'm ready for some more right now..
So, I dare you to break away from the mustard and relish and try something new on your next hot dog!
You might also like:
Patriotic Ice Cream Sandwiches