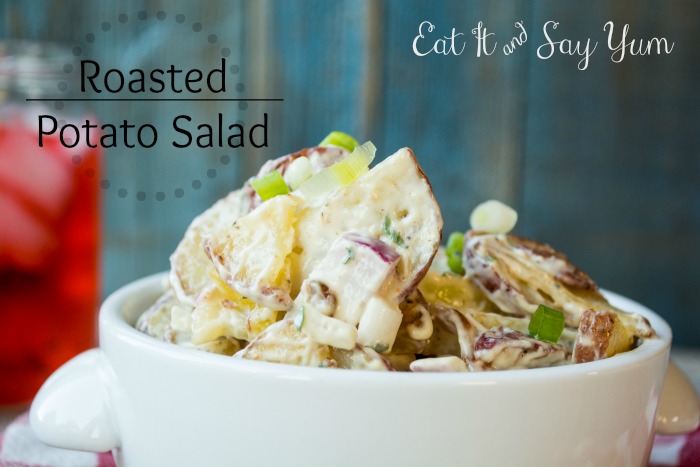 Hey y'all.  I know we are all itching for fall.  I personally can't wait to break out the sweater and boots, and have some cool, crisp mornings.  However, summer isn't over yet.  And I while I might be done dealing with the heat, I can still enjoy some bbq's and good summer salads.  This potato salad is not your average salad.  It has ROASTED potatoes, and bacon!  Need I say more?
It's seriously so delicious.
The flavor combination is a unique and amazing twist on the traditional potato salad.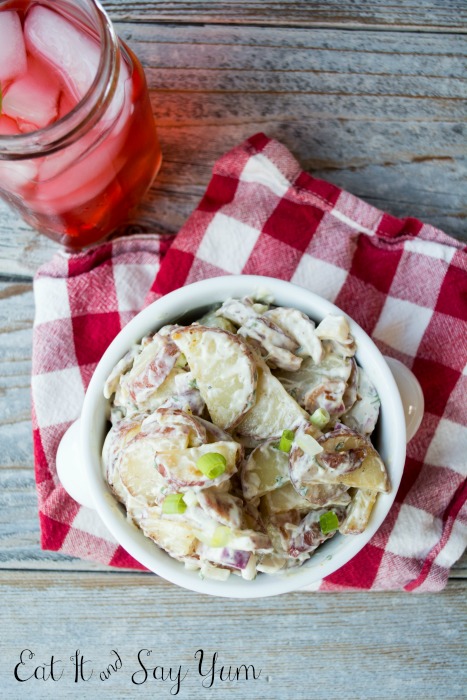 Start with halved and then thinly sliced potatoes.
 I prefer red potatoes, but you can use what you like.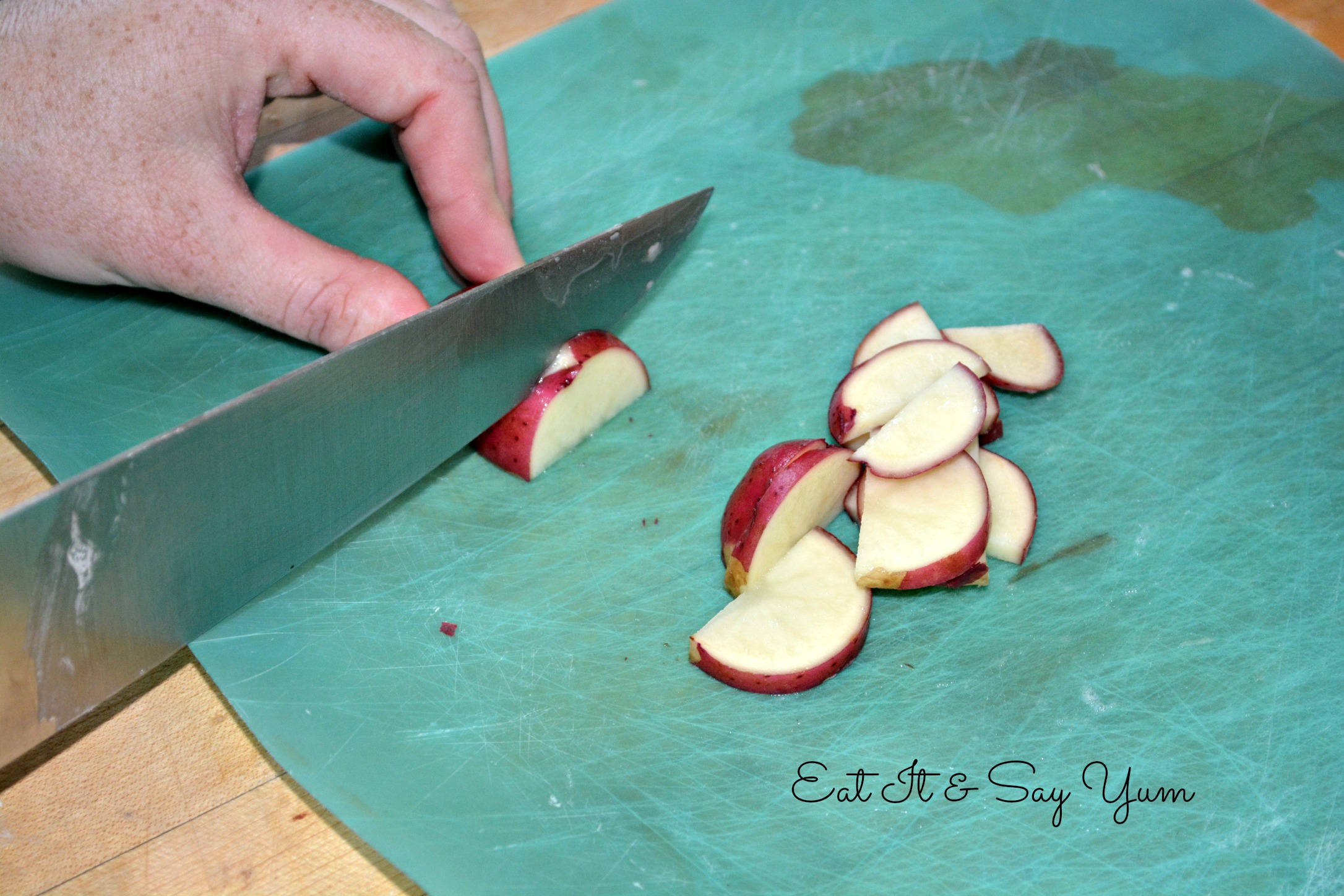 Toss the sliced potatoes with olive oil, garlic, and salt and pepper.
(Sorry this pic is so dark, I'm sure one of my children was standing in the window sill or something…)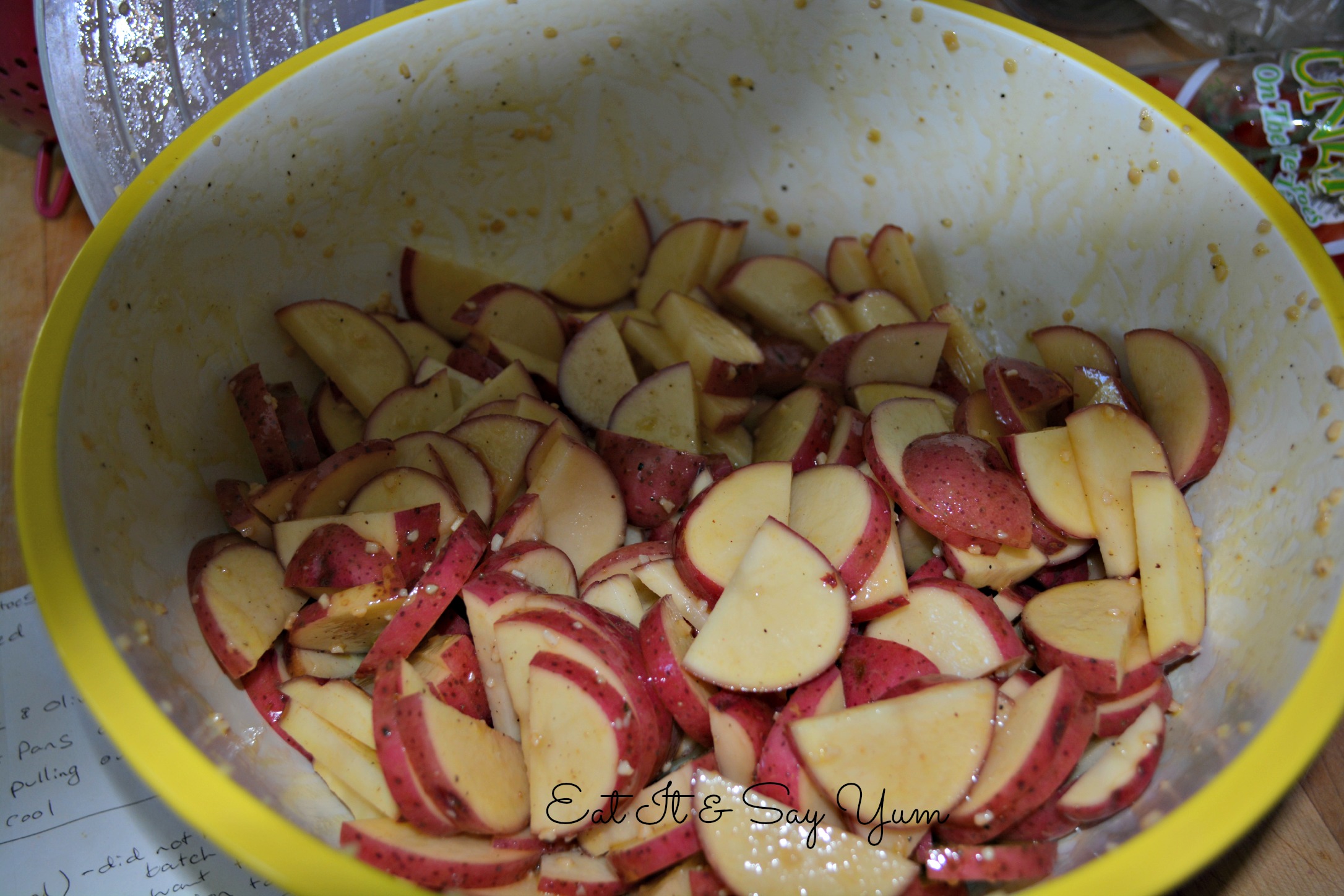 Spread the potatoes on a greased cookie sheet.
Try and get them in a single layer, so they can cook and crisp up evenly.
I use two pans.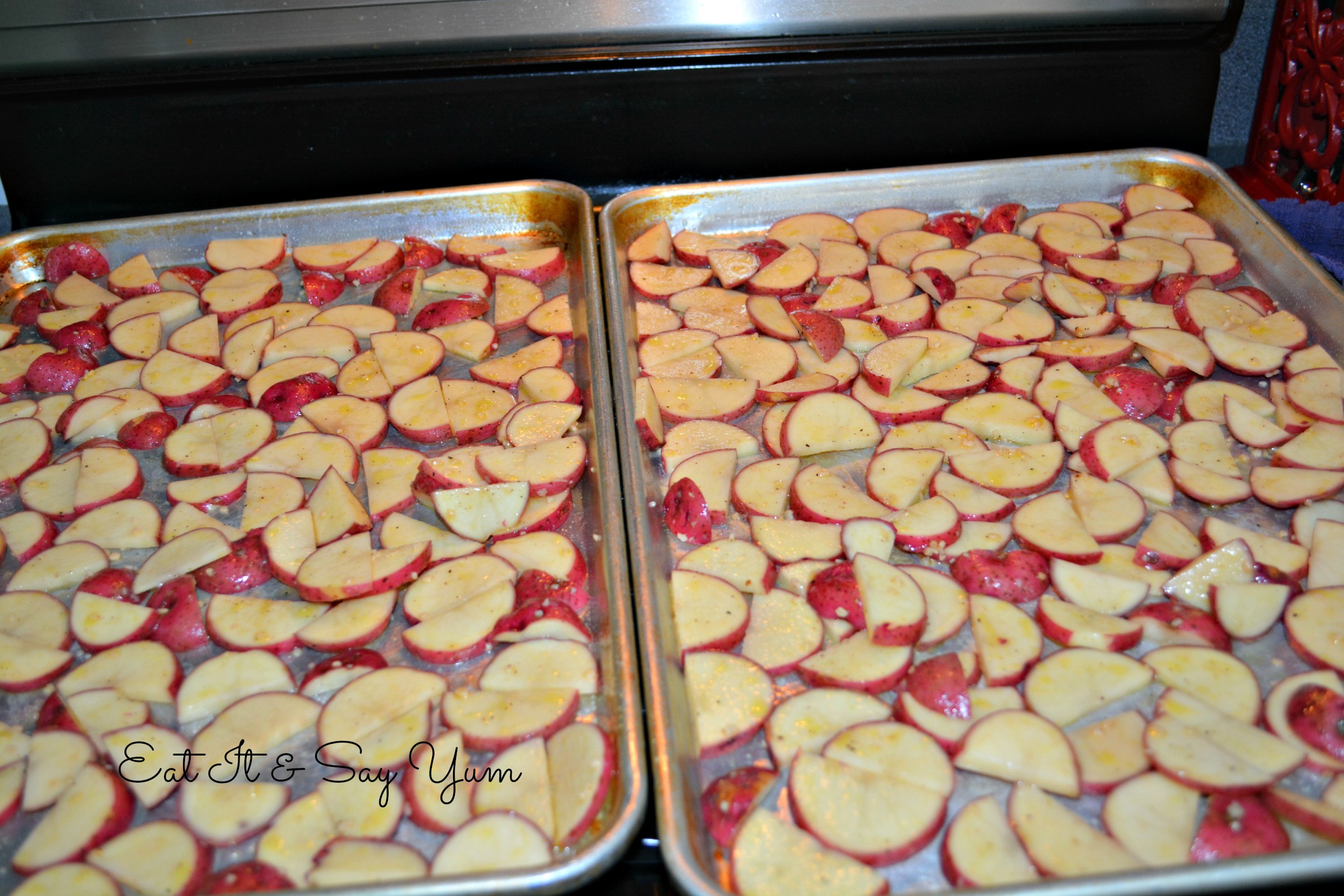 Roast them, then turn them and roast some more.  Repeat.
See those spots of golden brown?  That's what you want.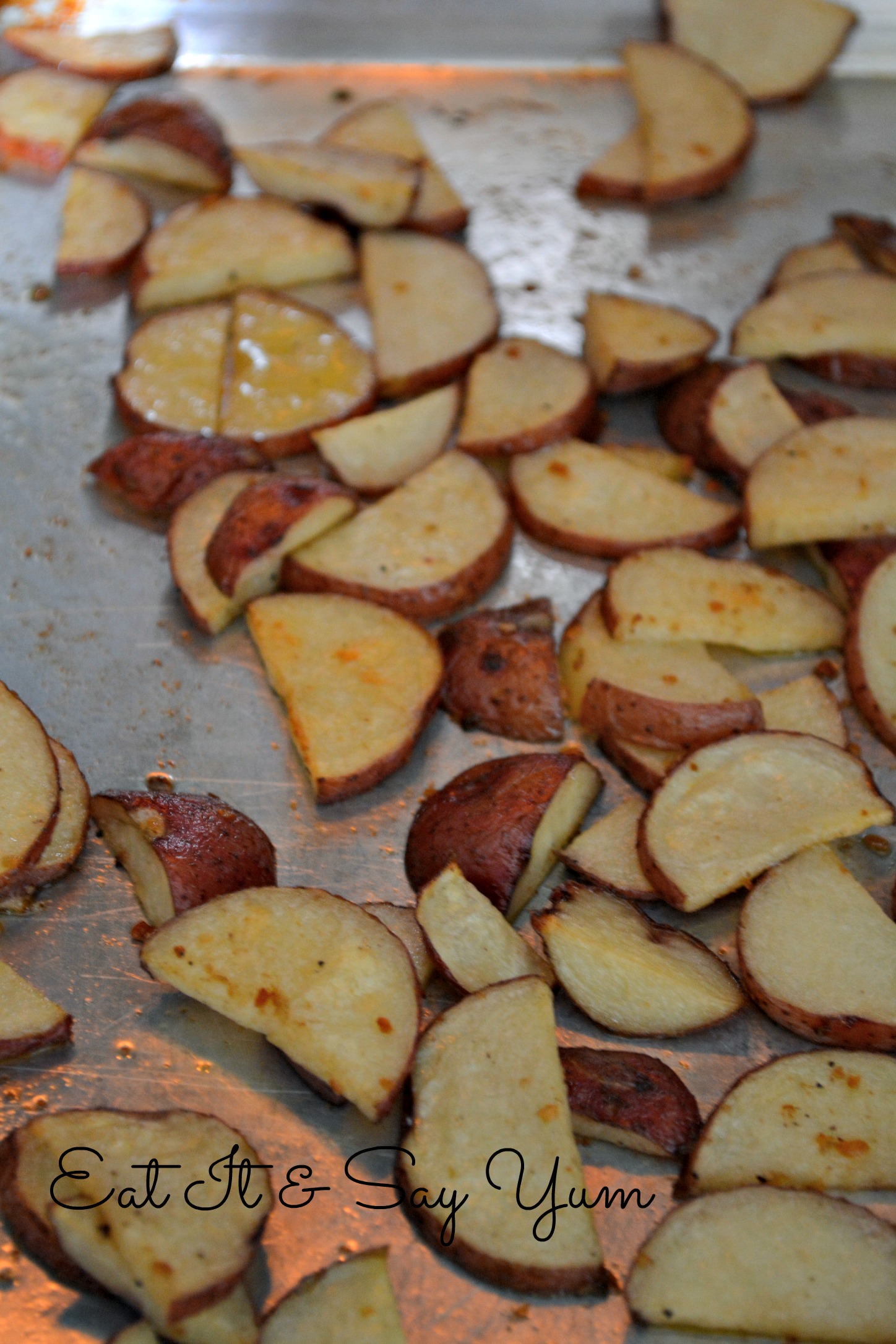 While the potatoes are roasting mix up the ingredients for the sauce.
Start with bacon.  Pause, and enjoy the fact that this salad not only has roasted potatoes, but it also has crispy bacon.  You're welcome.  There are a couple other special ingredients that give this dish such a special flavor.  See the recipe at the bottom.  🙂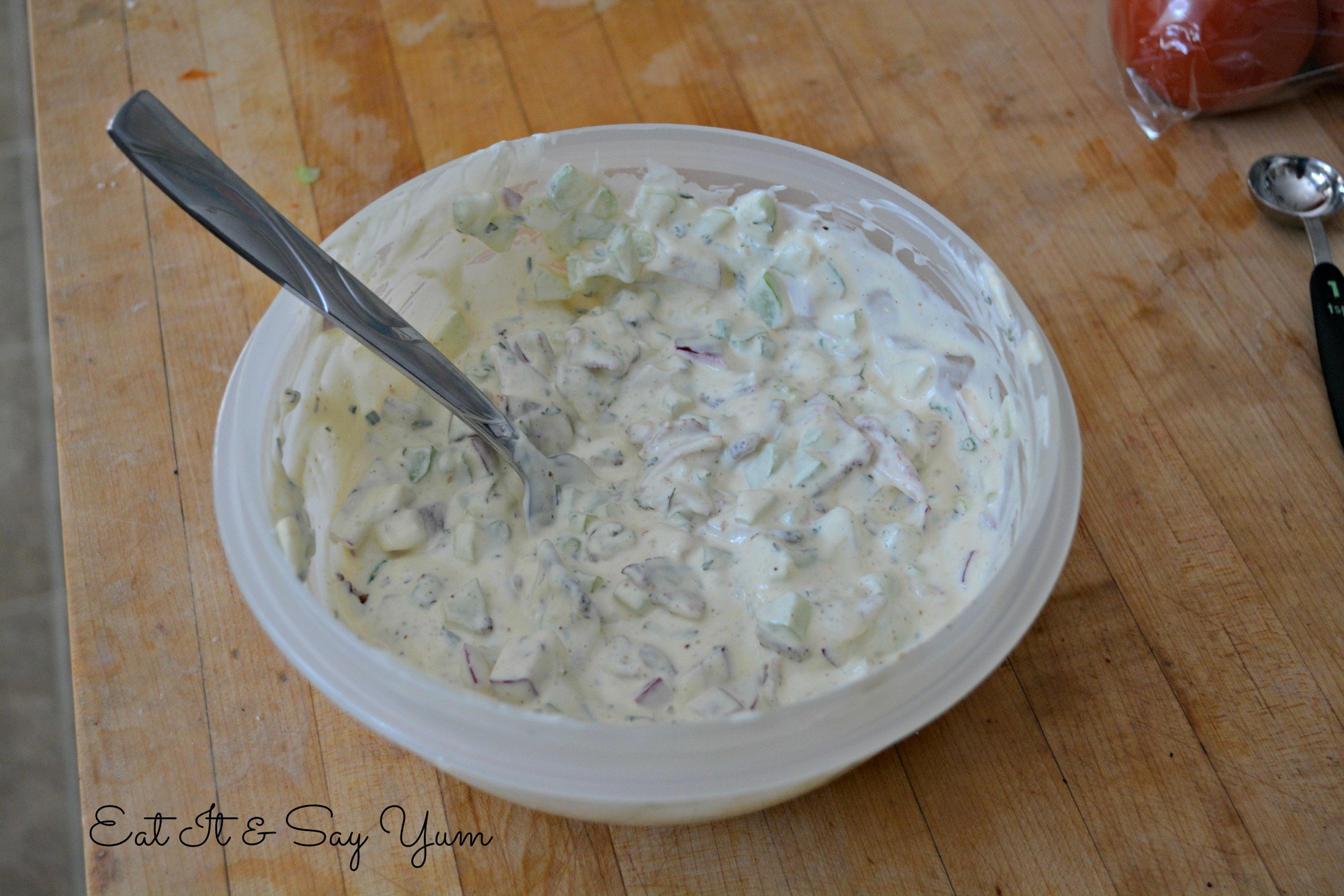 Allow the potatoes to cool before tossing them with the dressing or sauce.
Chill until about ready to eat.
I like this best at room temperature.
But, either way, you can't go wrong.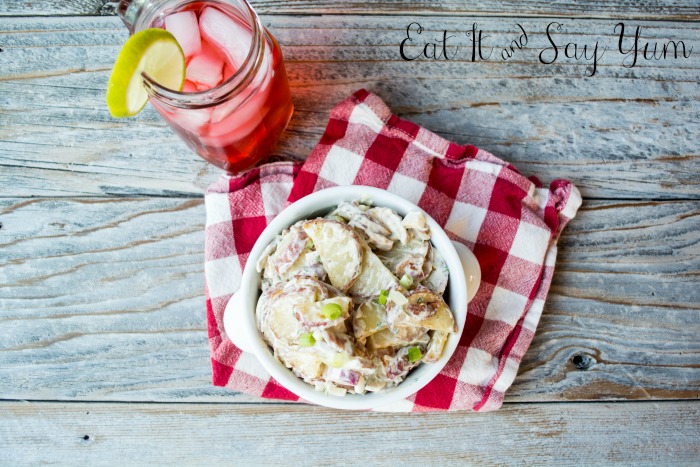 Creamy Roasted Potato Salad w/ Bacon
Ingredients
3-5 lbs Russet/ Yukon/ or Red Potatoes- washed, halved, and thin sliced
4-6 cloves garlic, minced
1/4- 1/3 cup olive oil
Salt and pepper to taste
Dressing ingredients:
1/4- 1/2 red onion- diced
1-2 green onions sliced
1 cup mayonnaise (not miracle whip)
2 Tbs Honey Dijon mustard
2 tsp parsley flakes
2 Tbs White Wine Vinegar
2 ribs celery- finely diced
6-8 slices of bacon- cooked til crispy, then crumbled
Instructions
Preheat oven to 400 degrees. Toss sliced potatoes with olive oil, garlic, and salt and pepper. Arrange in a single layer on a greased baking sheet. Roast in oven for 45 minutes. Every 15 minutes stir or turn over potato slices for even cooking. Rotate pans from bottom rack to top or top to bottom every time you turn the potatoes. Total cook time 45 minutes, then allow potatoes to cool.
Combine all dressing ingredients in a bowl and allow flavors to marinate while potatoes cool. Once potatoes are cool, toss then with the dressing. Let sit in fridge or room temperature for 1 hour before serving.
http://eatitandsayyum.com/creamy-roasted-potato-salad-w-bacon/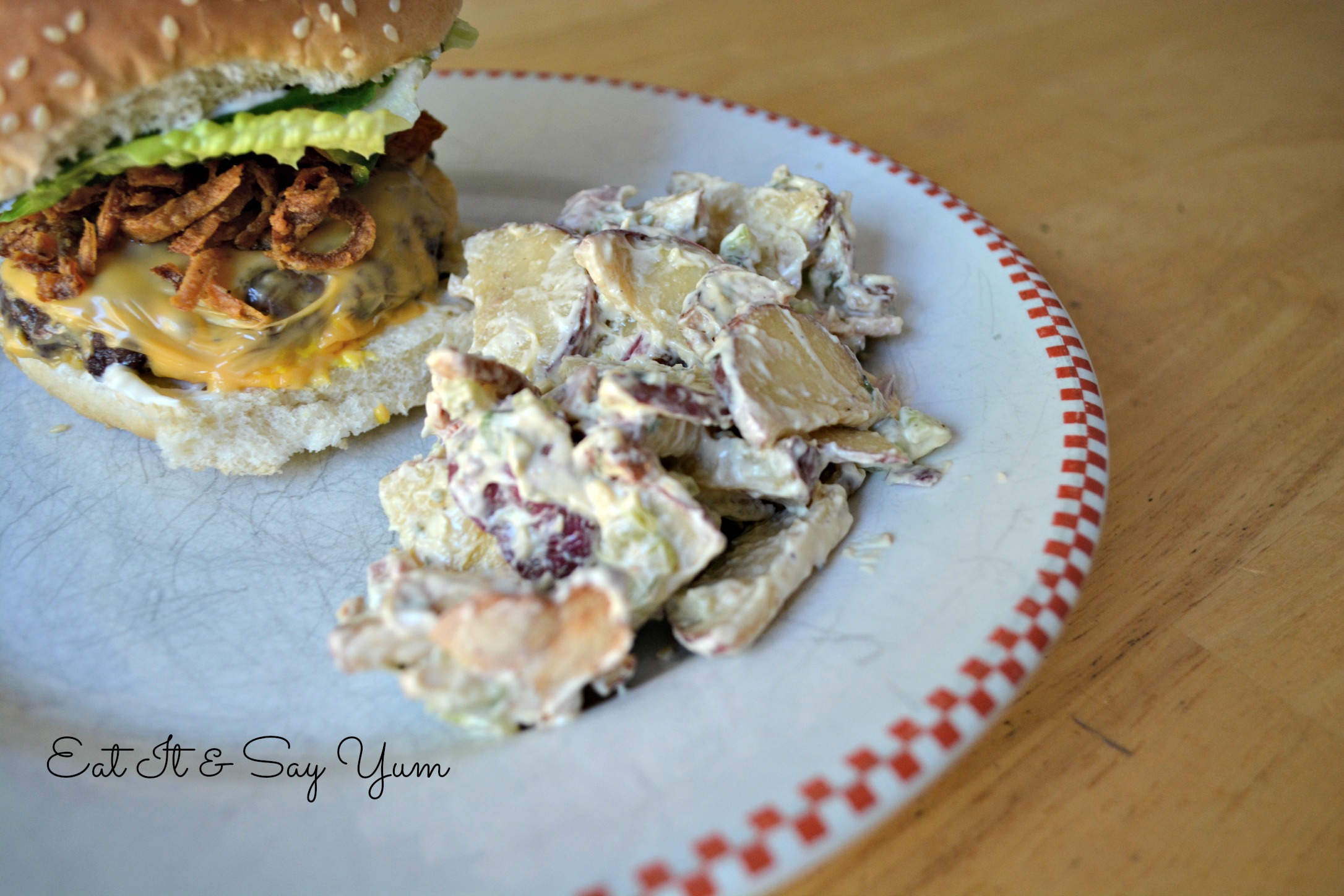 Serve with your favorite burger, ribs, brisket, or even a oven roast.
You will love it!
(Unless you are my 7 year old son, who doesn't seem to like anything… disclaimer.)