So the calendar says it's Fall, but we are still in those weeks where the weather is warm one day and then freezing a few days later.  Back and forth.  One day I'm craving salads and the next day I want soup.
Well, a few weeks ago we were hit with one of those cold days.  And it just so happened that my 10 year old son had a football game that day.  And it was raining.  And cold.  Did I mention that?  So after a few hours of snuggling under blankets and umbrellas at the football game, we came home and needed to warm up.
We all agreed that grilled cheese sandwiches and tomato soup would do the job.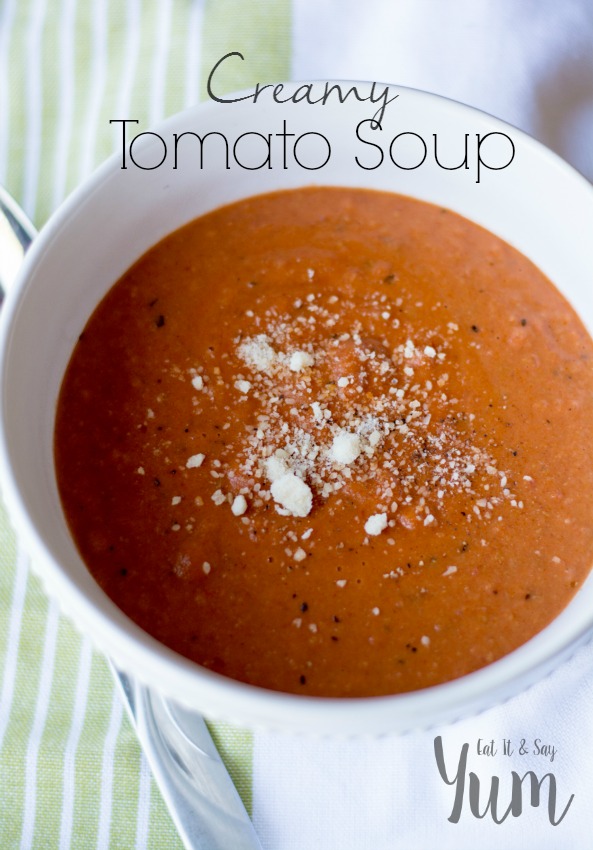 So, I used some canned diced tomatoes and whipped up this thick and creamy tomato soup.   Let me tell you, this soup is perfect for dunking your grilled cheese in.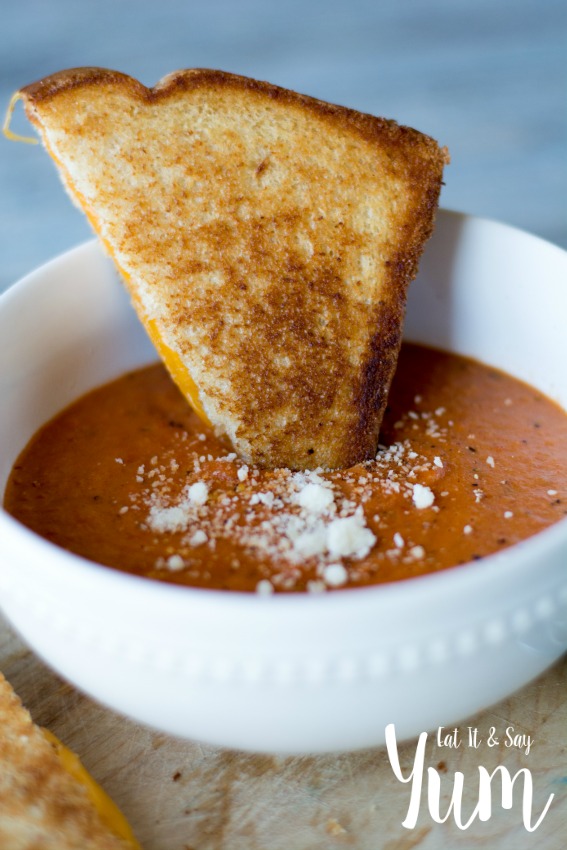 Instead of watery soup that just makes for soggy sandwiches, this soup is thick and really clings to the sandwich, and packs a mouthful of tomato flavor.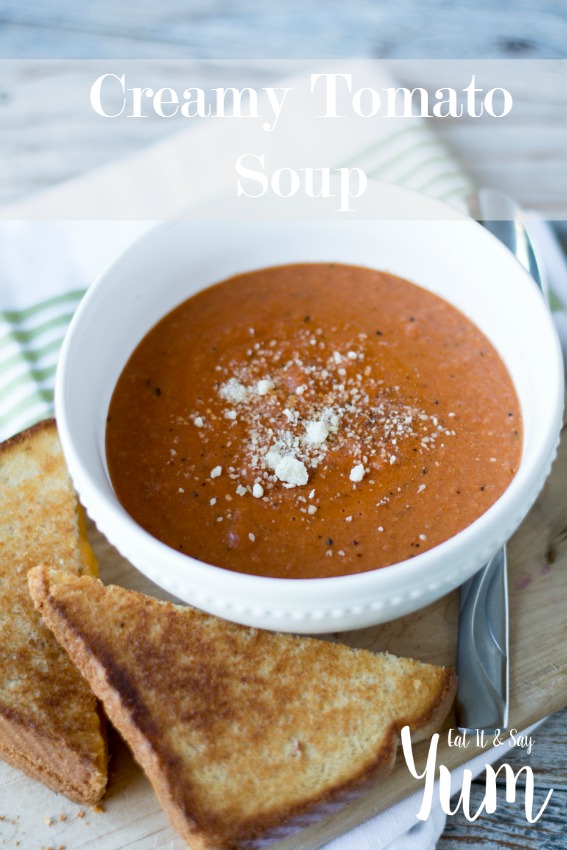 I just love the combination of tomatoes, cream, and cheese.  So good on my tastebuds.
This soup doesn't take long to make AT ALL.  And chances are good you might even have all the ingredients on hand.
Ingredients
2 cans of diced tomatoes (14 oz cans)- drained, reserving the liquid, should be about 1 1/4 cups of liquid
1 Tbs brown sugar
2 Tbs butter
1/8 tsp garlic powder
1/2 tsp onion powder
2 1/2 Tbs flour
1 cup chicken broth (or more if desired)
1/2 tsp dried basil
1/3 cup parmesan cheese, plus extra for garnish
1/2 cup heavy cream
Instructions
In a large pot or pan, add the drained diced tomatoes and the brown sugar. Heat over medium-high heat, stirring frequently for about 3-4 minutes. Add the tomatoes to a blender with 1/2 cup of the reserved liquid. Blend until smooth, then set a side.
In the same pot, add the butter and flour, garlic powder, and onion powder and stir to make a roux. Once thickened, slowly add the chicken broth, whisking as you go. Stir until no lumps remain, just a minute or two.
Add the blended tomatoes and the all the remaining tomato juices into the pot, stirring everything together. Bring the soup to a boil, then reduce heat to simmer. Add the basil, cream and parmesan cheese and stir to combine. Let the cheese melt and then serve the soup.
Serve the soup while hot, garnish each serving with parmesan cheese if desired. Soup pairs perfectly with grilled cheese sandwiches.
http://eatitandsayyum.com/creamy-tomato-soup/
You might also like: