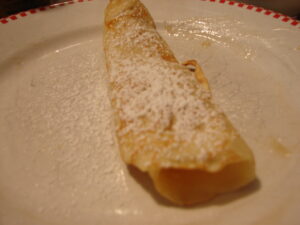 One of my family's favorite Sunday dinner/ desserts is crepes.
They are really easy to make (a little time consuming, since you make them one at a time), and my kids love them.  My 7 year old can seriously eat like 9 of them!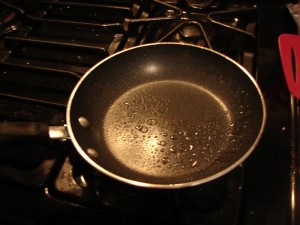 Start warming your pan while you mix up the ingredients.  Toss all indregients in a blender and give a whirl for about 15-20 seconds, until everything is well mixed.
Spray your pan with a non-stick spray and pour about 2 Tbs on batter into the pan.
(This amount will vary if you are using a larger pan.  You are going for a very thin coat once evenly spread across the pan.)
Give the pan a swirl to coat the bottom of the pan with batter.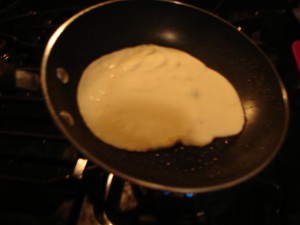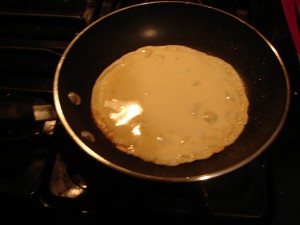 Once your pan is covered let it sit and cook for about 20-30 seconds.
Then using a spatula flip the crepe over.  See the perfect golden brown gold.  That's what you want.  Let this side cook for about 20 seconds.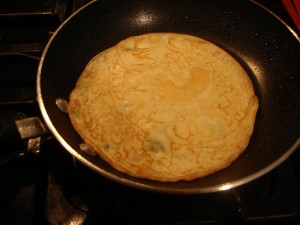 Remove the crepe to a plate and fill with whatever toppings you want.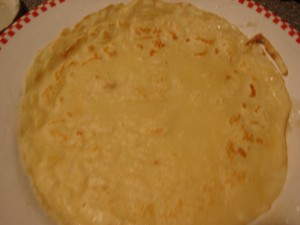 Some of our favorite toppings are:
strawberries
bananas
raspberries
fried apples
cinnamon and sugar
nutella
Really the possiblities are endless.
Roll that baby up and sprinkle with some powder sugar and you are good to go!