It's that time of year again, when I break out my sweaters, wooly socks, gloves, and my crock-pot.
Actually I use my crock-pot throughout the year, but I love it even more when it gets cold outside.
This crock-pot dish is SOOOO easy.  I have the recipe memorized.  Which is great when I'm in a hurry and can throw everything together quickly without needing to measure anything.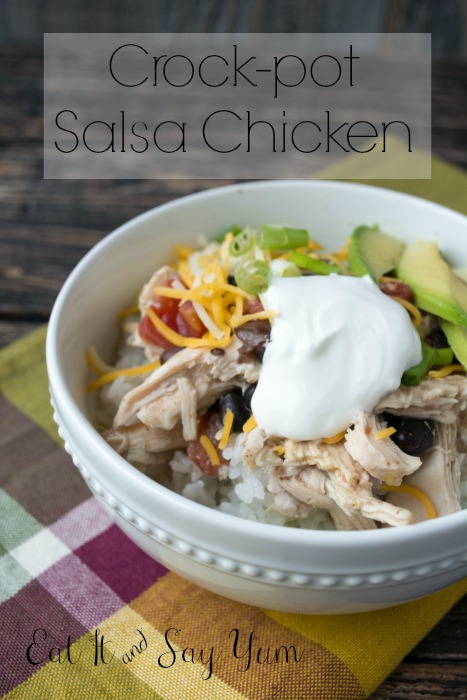 I love how the smell of yummy food cooking all day makes my house smell so good.
This dish has a Mexican-food flair to it, so I top it with all my favorite taco toppings; sour cream (my kids and I SERIOUSLY love the stuff), avocado, cheese, green onions, and black olives are my favorites here.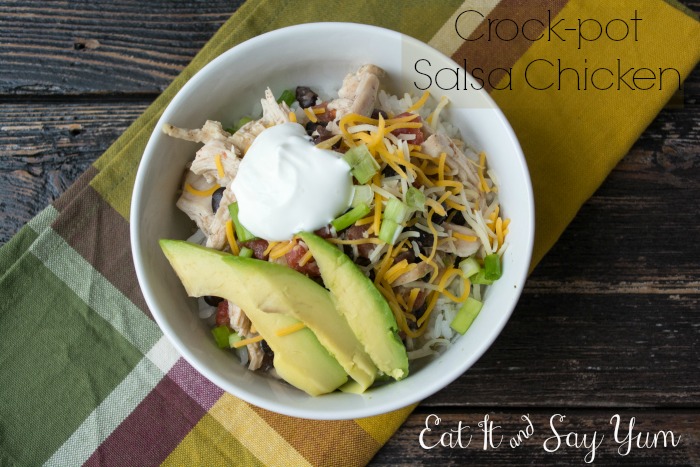 To make this, simply place some chicken breasts in your crock-pot, sprinkle some taco seasoning over them.  In a medium mixing bowl combine a can of black beans, a can of rotel, and a can of cream o' chicken (or mushroom) soup.  Pour those over the chicken and then let it cook for several hours.
The chicken is so tender.  I shred it just before serving, and add it back to the sauce.
Serve over rice, or even noodles, and add those toppings I mentioned before.
Ingredients
3-4 chicken breasts (frozen works fine)
1 packet taco seasoning, or about 2 Tbs of homemade taco seasoning
1, 15 oz can black beans, drained and rinsed
1, 10 oz can Rotel
1, 10 oz can cream of chicken (or mushroom) soup
Your choice of toppings: sour cream, avocado, cheese, cilantro, sliced black olives, sliced green onions, diced tomatoes, etc.
Instructions
Place chicken breasts in the crock-pot, sprinkle the taco seasoning over the chicken. In a medium mixing bowl, combine the beans, Rotel, and soup. Mix together then pour over the chicken in the crock-pot. Set to cook on low for about 6 hours. Or on high for about 3 hours. (Every crock-pot is different, so cooking times may vary. Chicken should be tender and easily pull apart when done.)
Before serving, remove the chicken breasts and shred them with two forks, then place shredded chicken back into the crock-pot with the sauce. Let sit until ready to serve.
Serve over rice with your choice of toppings.
http://eatitandsayyum.com/crock-pot-salsa-chicken/
What are your favorite crock-pot meals?
See where I link up.
You might also like: