Chile Colorado that cooks all day to make super tender beef, all in a smoky red sauce.
Chile Colorado is a Mexican dish made of beef chunks and red sauce.  I put my own spin on this version, and use chipotle peppers in the sauce.  The chipotle peppers can add a lot of heat if you aren't careful.  But they also bring a great smoky flavor, that I just love.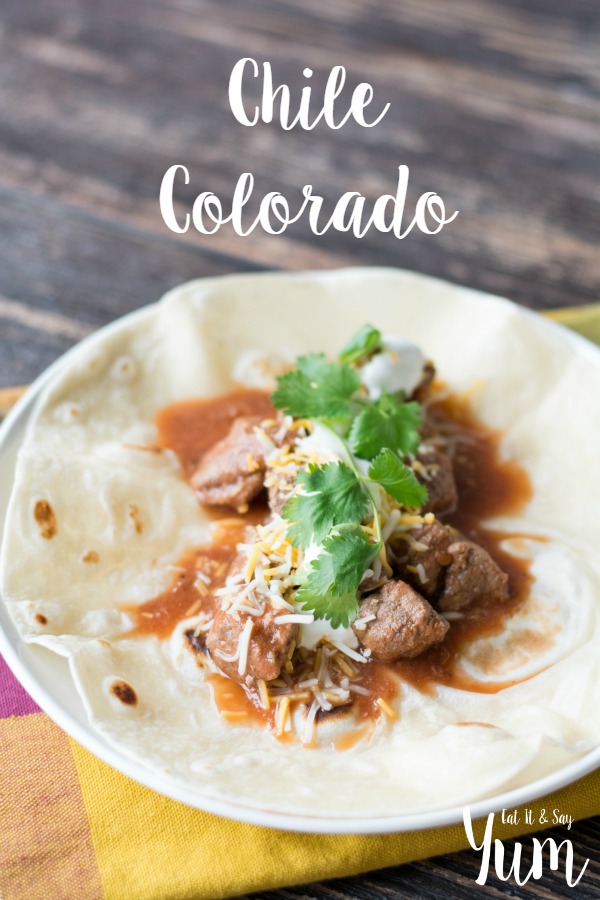 One great thing about this dish, is that you make it in the crockpot.  So nice and easy!  Plus your house will be smelling amazing by dinner time!
You start by browning your cubed beef in a pot on the stove.  This helps lock in moisture, and gives great flavor.
Add the beef to the crockpot, and set to low.  In a blender, add most of the sauce ingredients and blend them up.  Pour that over the meat, then add a couple more chipotle peppers on top, and an onion.  I cut the onion in half so it can be easily removed if you don't want to eat it.  I actually LOVE to add pieces of the onion into my tortilla when I eat the chile colorado, but my kids prefer it without the onion.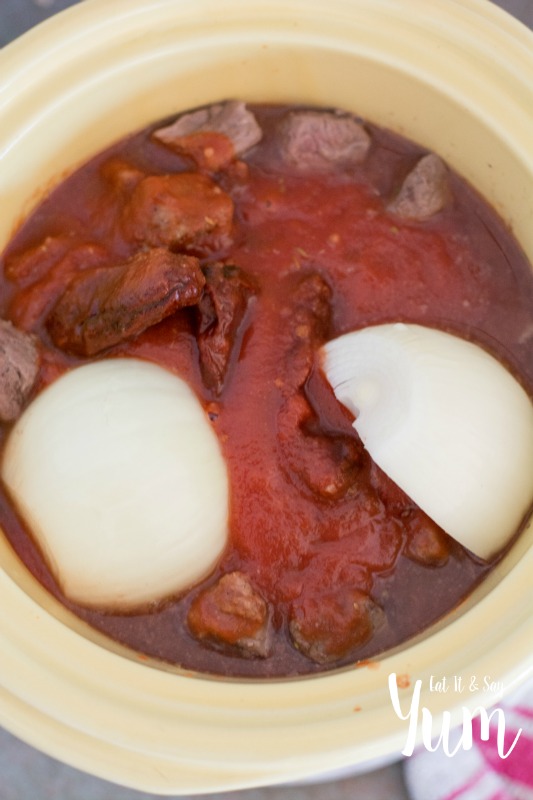 Let it cook all day on low, or for about 4 hours on high.  It's done when the meat is so tender you can easily pull a piece apart with a fork.
Now, there are a few ways you can eat this.   Spoon the meat and sauce into a bowl, and eat it like a soup or chili.  Of course add your favorite toppings.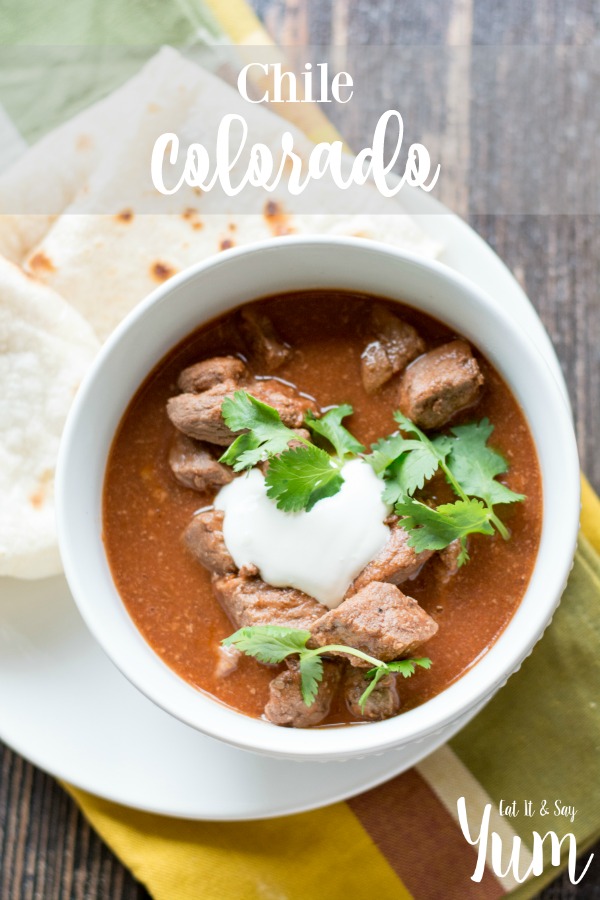 Or, spoon the meat and a little bit of sauce onto a warm tortilla.  Again, add all those toppings you like, roll up the tortilla and take a bite.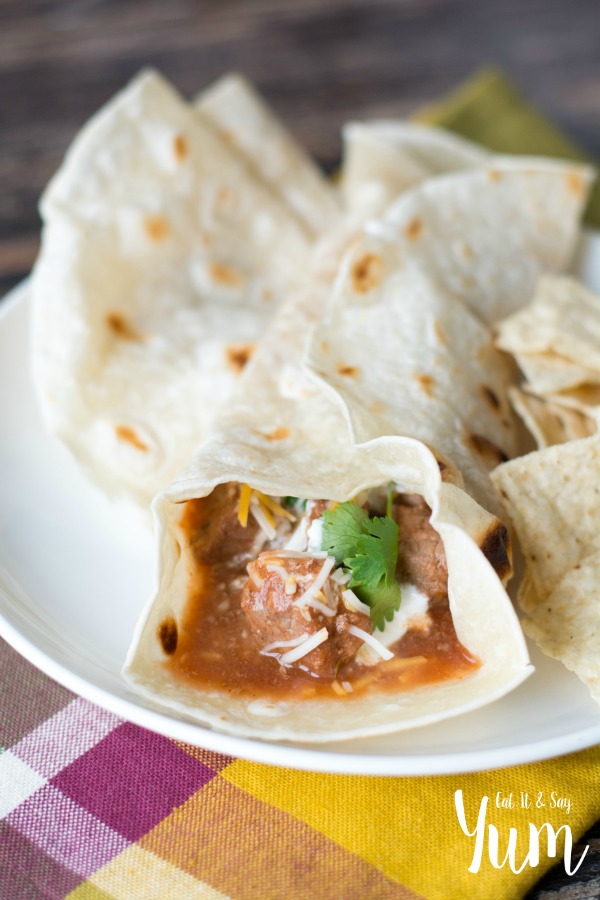 I just know you are going to love how tender that beef is.  So. Good.  Some more ideas for ways to eat this Chile Colorado could be to spoon some over rice, like these rice enchiladas.   Use this as the filling and sauce in regular enchiladas.  Save the sauce for another time and just use the meat in tacos or burritos.  You could totally reuse the sauce for another batch!  Just spoon all the meat out, then freeze the sauce for another day.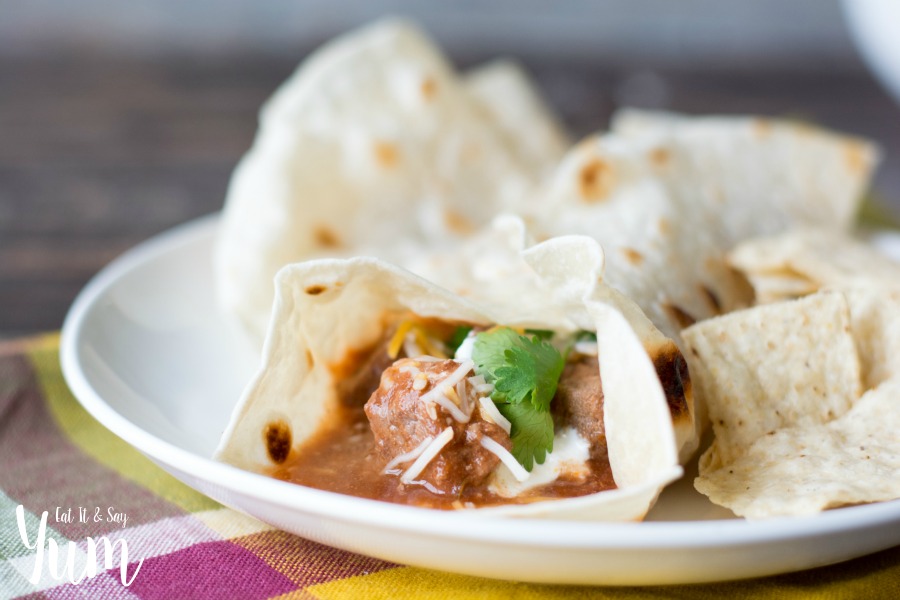 Ingredients
2 lbs beef- cubed (steaks, roast, stew meat, etc.)
salt and pepper- to taste
1, 15 oz can tomato sauce
1/2, 7 oz can chipotle peppers in adobo sauce
1/2 tsp cumin
1 tsp salt
1 tsp oregano
1 onion- cut in half, or diced
1/2 cup chicken broth
2 tsp brown sugar
Optional: your choice of toppings, tortillas, etc.
Instructions
In a large pan over high heat, brown the outside of the beef cubes, not cooking all the way through. Add some salt and pepper while browning. Pour the browned beef into a crock pot, set on low for all day cooking, or high for about 4 hours of cooking.
In a blender, add the tomato sauce, 1 chipotle pepper, the cumin, salt, oregano, chicken broth, and brown sugar. Blend until smooth, then pour over the beef.
Add a few more chipotle peppers on top of the beef, and the onion halves, or diced onion if you choose.
Let the chile colorado cook until the beef is so tender and it easily falls apart. Remove the extra peppers, and the onion- if you choose.
Serve the beef in a bowl with the sauce, or spoon it into tortillas. Top with your favorite toppings: cheese, sour cream, avocado, cilantro, etc.
http://eatitandsayyum.com/crockpot-chile-colorado/
You might also like: