You just can't beat homemade bread, fresh out of the oven.
The smell is ah-mazing.
The warmth of the bread, and some melting butter warms my heart.  Mmm.
Dip it in some soup, serve it with a casserole, salad, steak, potato, etc.  It goes with everything.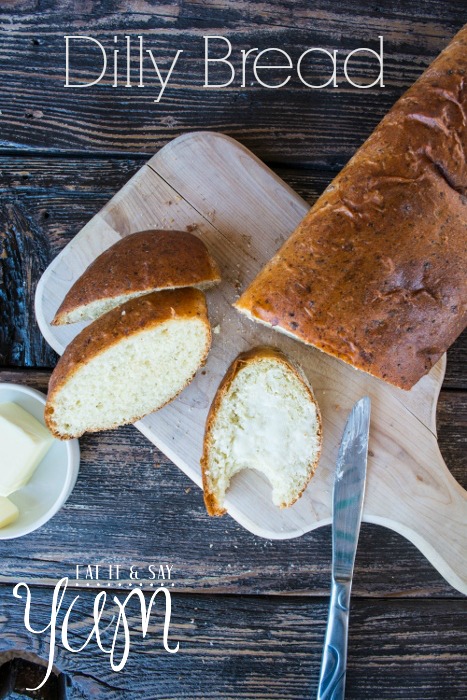 This bread is near and dear to my heart.  We served it at my wedding.  It's seriously so good.
It's full of flavor, and texture.  A savory bread.
Don't slather it with jam or jelly.  Stick with butter.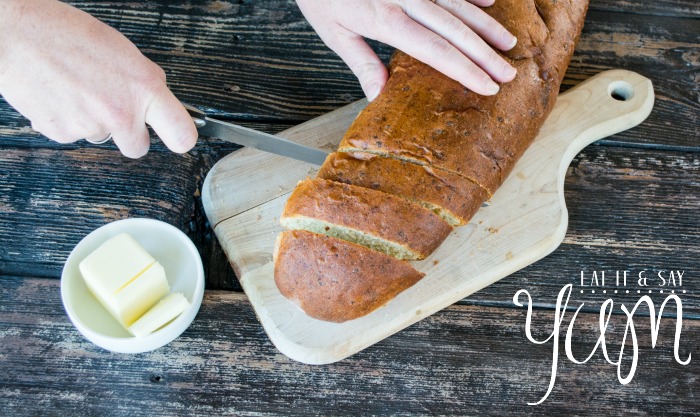 Let me warn you, that I am NOT a bread maker.  Yet.  I have lots of practicing to do.
But this bread, is TOTALLY manageable.
I mix up the dough in my Bosch.  Any other stand mixer would work, too.  Those sure do make life easier, right?  But a mixer isn't necessary.  You could totally knead it by hand.
After the bread bakes, take a stick of butter and rub it all over the top crust.
The salty butter makes that crust irresistible.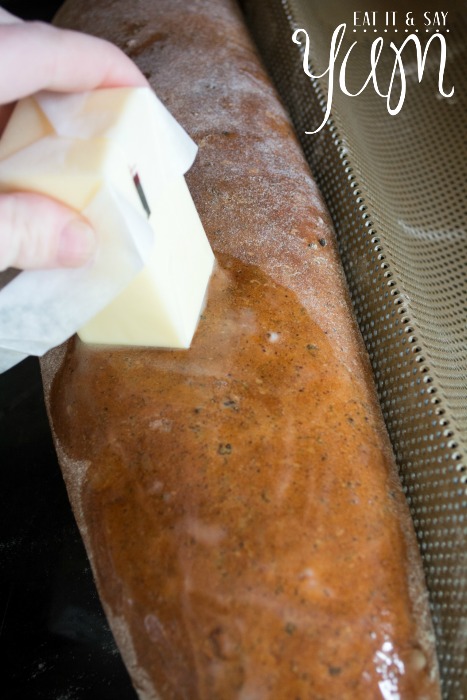 Slice the bread and serve while still warm, for best results.
If the bread is day old slice it and pop it in the toaster before buttering.  Oh man.  So good.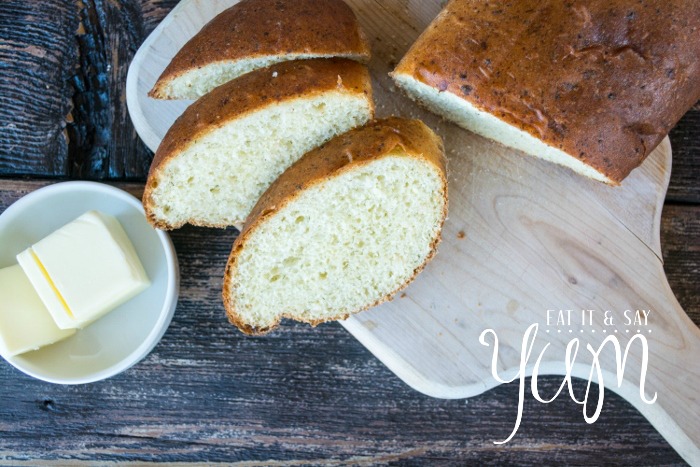 Like I said before, I love this with just about any meal.  Since it's Fall, and things are starting to cool down, I have been enjoying dipping this Dilly Bread in my soups.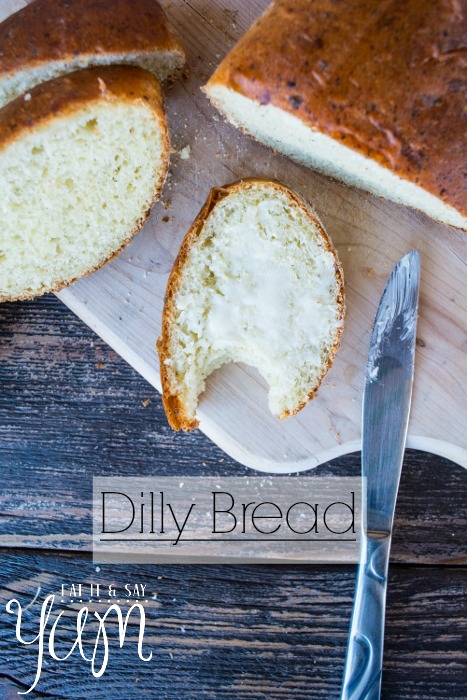 There are some unusual ingredients in the bread.  But those are what make it so amazing.  Like cottage cheese, dill weed.  Who'd have thought?!
Ingredients
1 Tbs yeast
1/3 cup sugar
1/4 cup warm water
1 cup cottage cheese, warmed
1 egg
2 tsp dill weed
1 tsp salt
1 Tbs butter, melted
1 heaping Tbs dehydrated onions
1/4 tsp baking soda
2 3/4 cup flour- divided
extra butter- to rub on crust
Instructions
In a stand mixer, stir the yeast, sugar and water. Let sit for about 5 minutes, to let the yeast activate. Then add the warmed cottage cheese, and stir. Add the egg, salt, dill, melted butter, and dehydrated onion. Stir just until combined. Add the baking soda and 2 1/2 cups of the flour, adding 1/2 cup at a time, while the mixer is mixing on low speed. Let the dough knead until the dough cleans the bowl, just a few minutes.
Grease a mixing bowl and turn the dough out into that bowl. Gently shape the dough into a ball. Cover with greased plastic wrap, or a damp cloth. Let sit in a warm spot until dough has risen, about double in size. Should take 20-30 minutes.
Sprinkle the remaining 1/4 cup flour onto your counter, or other surface, and dump the dough onto the flour. Gently knead the dough, incorporating some of the flour, while shaping the dough. Make a loaf, or a ball shape if using an 8 inch spring form pan.
Let the dough rise again for 20-30 minutes. Then bake at 350 degrees for 30-40 minutes. The crust should be fairly dark when done baking.
Remove the bread from the oven, after about a minute rub the top crust with a stick of butter. Just enough to cover the top with some melty butter. Slice and serve with butter, while still warm.
http://eatitandsayyum.com/dilly-bread/
You can bake this as a loaf, as pictured above.  Or, I also like to use a spring form pan.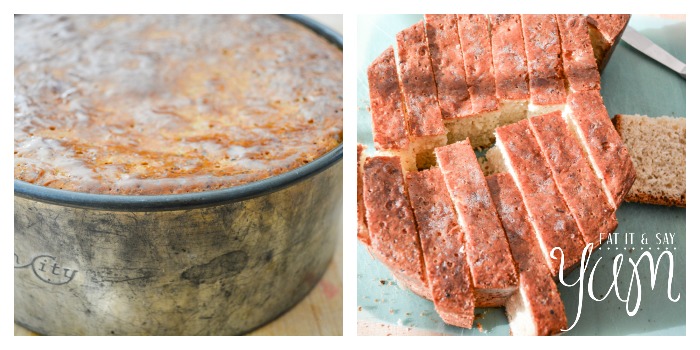 You might also like: