Apple pie is such a go-to American treat.
Especially during this time of year.
Those warm apples combined with cinnamon are just so tempting.
But sometimes making a pie is just more than you want to do.
This dessert is to help everyone enjoy those flavors of apple pie, but without all the work.
Talk about an easy week night dessert.  Or late night snack, after the kids are in bed…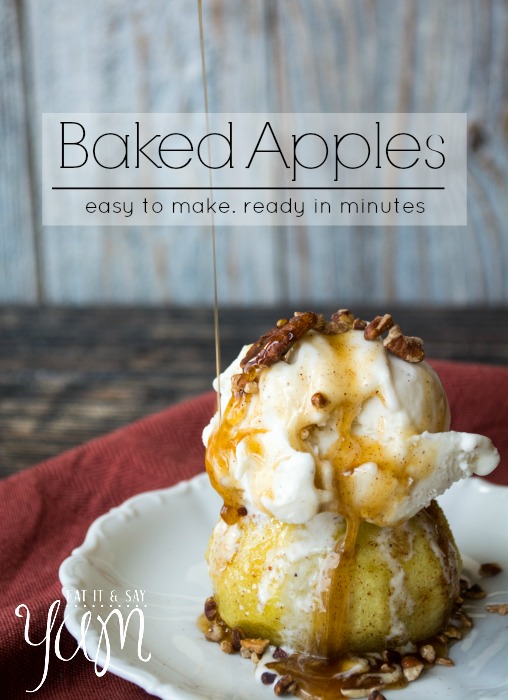 I enjoyed these baked apples as a kid.  My family would make them for an easy dessert.  In fact, they are so easy that I even made them as a kid.
Now, I've modified my childhood version and added some more flavors and textures, and these baked apples are divine!  But still easy.
As the apples bake, all the other ingredients melt together and make this delicious cinnamon-caramel sauce.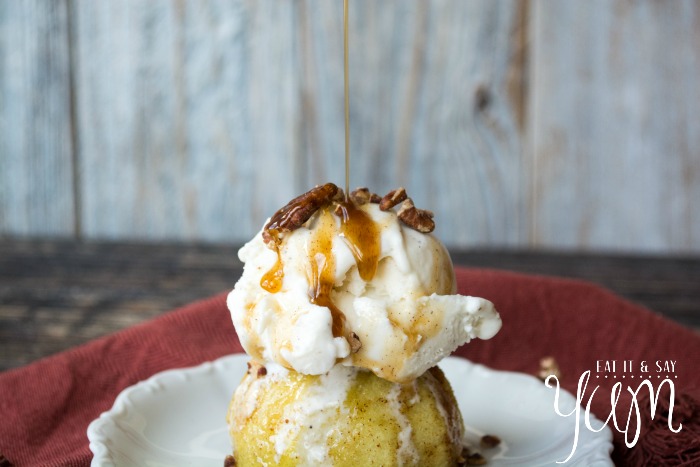 I drizzle that sauce over the top of the ice cream.  It's seriously SO good.  And the toasted pecans add an amazing crunch.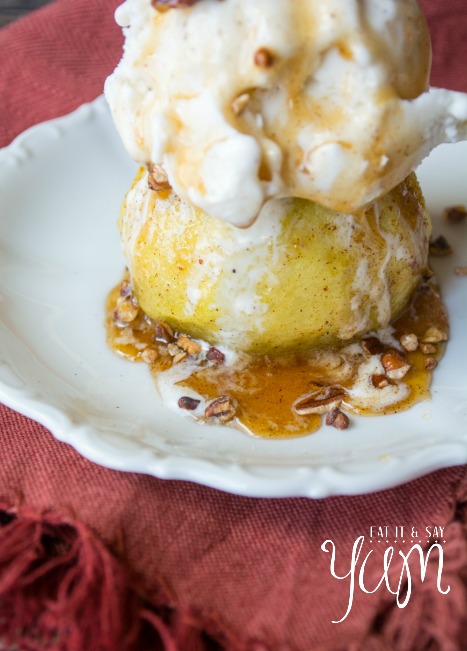 This recipe makes about 4 apples, but you can easily double it for more, or lessen the ingredients to make one!  It's not an exact science.
To make these so quickly, I cook them in the microwave.  It works greats.  You could bake them in a 350 degree oven as well, but then it's not so fast.
Ingredients
4 granny smith apples
6 Tbs brown sugar
1/2 tsp cinnamon
1/4 tsp nutmeg
salt- pinch or two
1 Tbs butter
1/4 cup toasted pecans (or other nut of choice)
Vanilla ice cream
Instructions
In a small mixing bowl combine the brown sugar, cinnamon, and nutmeg. Stir together and set aside.
Roughly chop the pecans and place in your oven with the broiler on for 30- 60 seconds, or until they become fragrant. Watch them closely so they don't burn.
Core and peel your apples. Place the apples in a baking dish (about 8×8), so the hallowed core is upright. Divide the brown sugar mixture among the 4 apples, filling the core of each apple. Divide the butter into quarters and put one piece on top of each apple. Right over the brown sugar. Sprinkle the pinch or two of salt over top of the apples.
Cook the apples in the microwave for 3-6 minutes. Check at 3 minutes, add 30-60 seconds and continue to cook until the apples are tender enough for you. The cooking time varies because the size of apples can really vary. Small apples will cook fast than large ones. If you are cooking one apple at a time, cook for 1 1/2 minutes then check.
Place each apple in a bowl or plate and top with a scoop of vanilla ice cream, drizzle the sauce that is left in the baking dish over the ice cream. Top with the toasted pecans.
http://eatitandsayyum.com/easy-baked-apples/
So, satisfy those apple pie cravings with this easy dessert. I bet you'll be licking the bowl when you're done!
You might also like: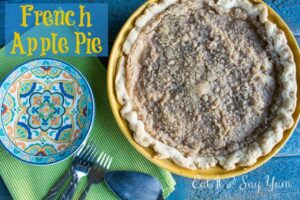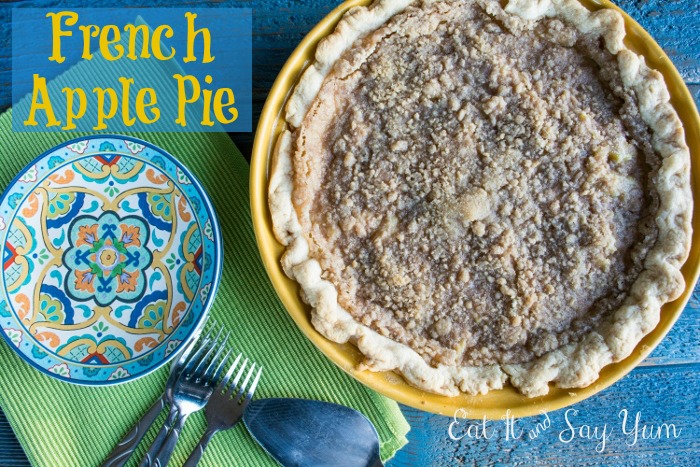 Vanilla Bean Cheesecake with Cinnamon Apples and Caramel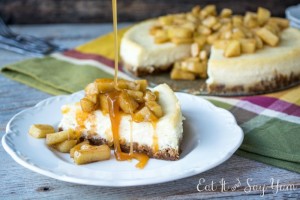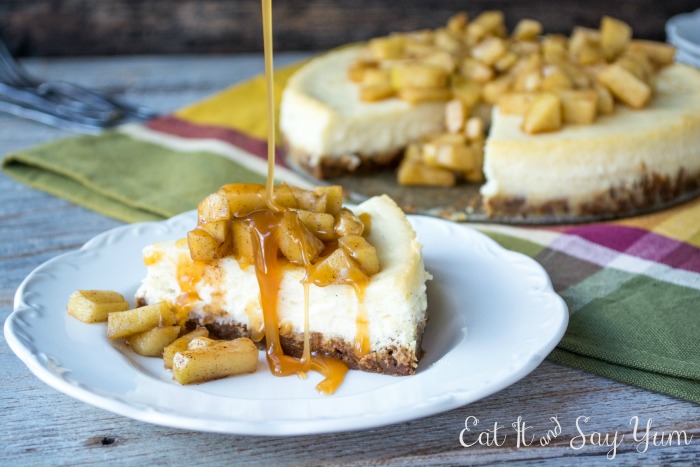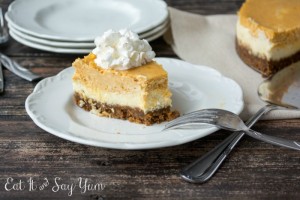 See where I link up.