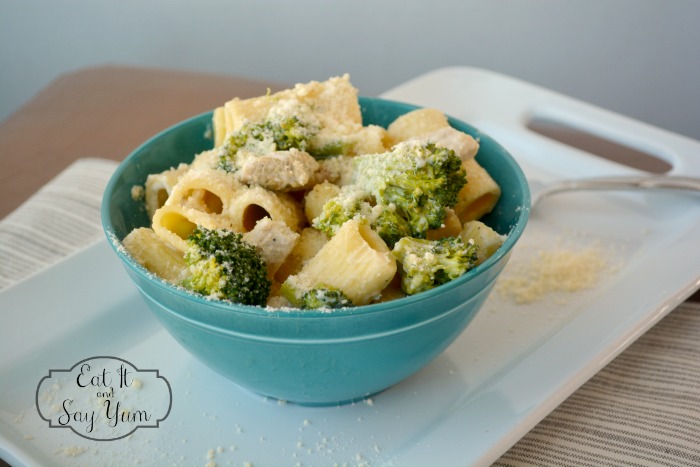 Need a dinner that is pretty quick, super easy, all-in-one, and tastes great?  Yes?  Ok.  🙂
How about this Easy chicken and broccoli Alfredo.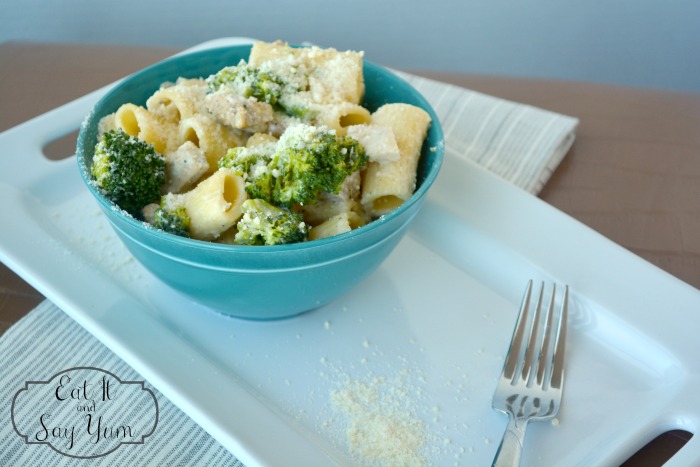 I have always loved pasta, especially when it's smothered in Alfredo sauce.
In this dish the chicken, broccoli, and Alfredo just taste great together.
I used a few chicken thighs, because they stay so moist, and have great flavor.
The broccoli is steamed, and the pasta cooks all while the chicken is cooking.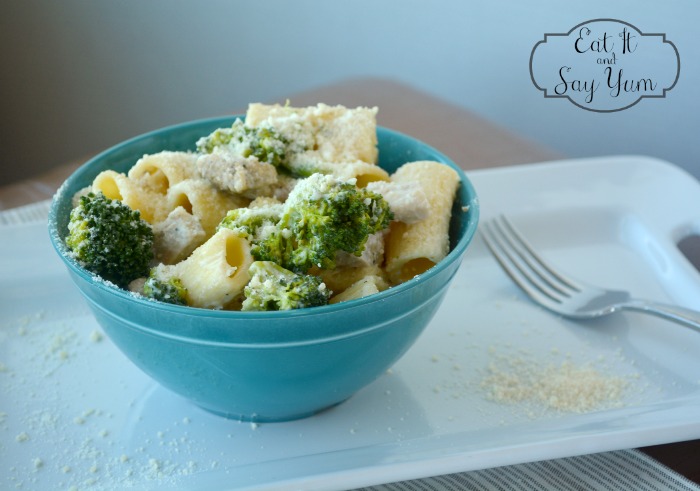 And because you can steam broccoli and boil pasta without watching them, you have time to make the Alfredo Sauce.  This sauce is super easy, and flavorful.  It tastes great, but has a secret ingredient that makes it non-traditional, but still extra creamy.  Cream Cheese.
Easy Chicken and Broccoli Alfredo
Ingredients
4 chicken thighs- I like boneless, skinless
1-2 heads of broccoli- florets removed from stems
1 pound package of pasta- pretty much any kind works
salt and pepper
2 Tbs butter
2 Tbs flour
1/4 tsp or more, garlic powder, or fresh garlic
dash of nutmeg
4 oz cream cheese- cubed
1 1/2 cups milk- add more if you want a thinner sauce
1/2 cup grated Parmesan cheese
Instructions
Turn on broiler in oven, set top rack in the middle of the oven, or one rack up from there. (Not on the top shelf) Bring pot of water to a boil, and salt the water.
Salt and pepper the chicken thighs and cook them under the broiler. They should cook 5-7 minutes on each side, or until cooked all the way through. Watch them carefully so they do not burn. Lower the rack they are on if necessary.
Add pasta to boiling water, and cook according to package directions.
Place broccoli florets in a medium pot with a lid, and add about 1-2 inches of water. Heat over medium heat to steam. Cook until the broccoli is fork tender, but not mushy.
In a medium pot (can use the same pot as the broccoli, after the broccoli is cooked and removed) over medium-high heat, melt the butter, then whisk in the flour. Stir until no lumps remain. Sprinkle in some salt and pepper, but don't over do it. You can add more at the end to get the amounts just right. Add the garlic and stir. While whisking vigorously, slowly add the milk. Add about 1/4 cup at a time, and stir to work out the lumps, then repeat. Continue to stir until all lumps are gone. Add the cream cheese and a dash of nutmeg. Bring sauce to a boil, so it will thicken. Boil about 1 minute. Reduce heat to simmer and stir in the 1/2 cup Parmesan cheese. Once cheese is melted, remove sauce from heat. If too thick, you can add more milk, 1 Tbs at a time, to thin the sauce down.
Once chicken is cooked, give it a rough chop. Drain the pasta, and the broccoli. Add the chicken, broccoli, and pasta to a large serving bowl, and pour the sauce over the top. Toss all together to mix. Sprinkle with additional Parmesan cheese if desired. Serve hot.
http://eatitandsayyum.com/easy-chicken-and-broccoli-alfredo/
One thing I love about this meal, is that it is a whole meal in one.  The meat, broccoli, pasta, and sauce are all served in one dish.  You can always change up the proportions of each ingredient; if you want more broccoli, add more.  If you want more meat, add more.  Easy to make, easy to modify, delicious to eat.
Perfect weeknight dinner.
If you want a vegetarian version, omit the chicken.
Click here to see where I link up.
Subscribe by email to receive future posts right in your inbox.  Use the box in the right sidebar to subscribe and follow on various social medias.