When I married my husband, I married into a whole bunch of new traditions, family members, and FOOD.
There are seven kids in my husbands family.  Four of them are boys.  So I know my MIL liked easy meals, that were hearty and filling, and tasted good.
One meal from my husbands childhood, that my kids and I now enjoy, is Rice Enchiladas.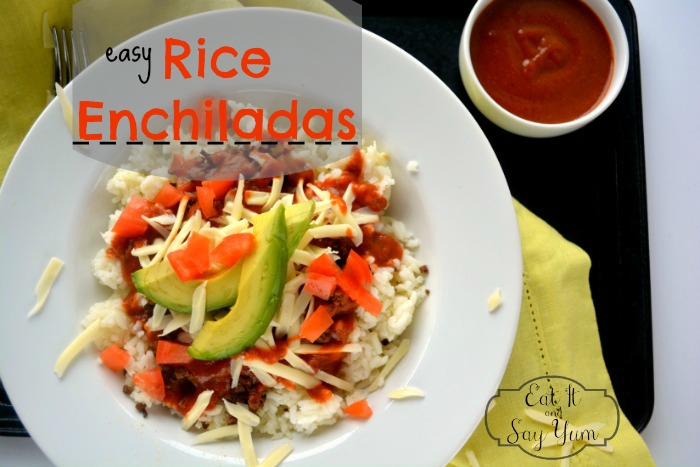 This meal is super easy, and is an all-in-one type of dish.
Did you need an idea for week night dinners?  Bingo!
You can get all the food groups involved in this.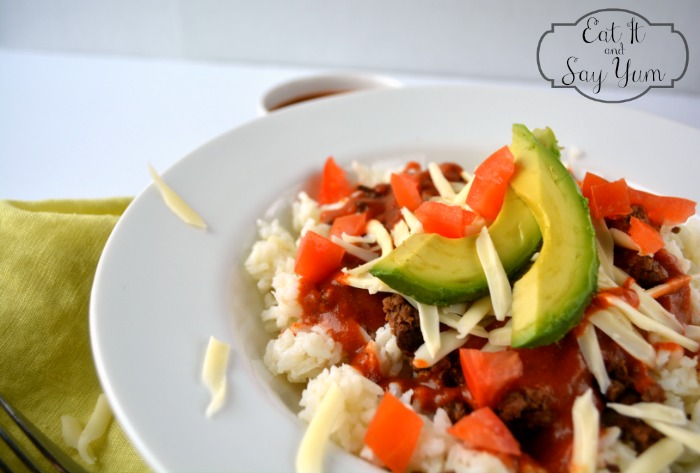 We always start with rice as the foundation.  Then top that with meat, enchilada sauce, and cheese.
The veggies come next: lettuce, tomatoes, avocado, olives, green onions, whatever you want.
And my personal preference is to top it off with sour cream.  I LOVE sour cream.  I would never, ever, ever, ever, ever choose to eat Mexican food without sour cream.  Love it.
What's so great about this meal, is that each member of the family can customize it to their liking.
You serve all the elements separately, and everyone builds their own Rice Enchilada on their plate.
Ingredients
2 cups rice
1 lb ground beef (or shredded chicken or pork)
1, 14-15 oz, can red or green enchilada sauce (or homemade)
1 cup shredded cheese- cheddar, jack, pepper jack, etc.
2 cups shredded lettuce
1 tomato- diced
1 avocado sliced
1-2 stalks of green onions- sliced
1, 15 oz can of black olives- sliced
sour cream
Ground beef seasonings: 2 tsp chili powder
1/2 tsp cumin
1/2 tsp oregano
1/4 tsp seasoned salt (like Lawrys)
1/4 tsp garlic powder- or 1 clove fresh garlic, minced
a few dashes of chipotle chili powder (optional)
2 tsp dehydrated onion, or 1/4 fresh onion, minced
Instructions
Start the rice cooking in a pot of water, or rice cooker, according to rice package directions.
Brown ground beef and add the seasonings listed above. When meat is fully cooked, cover pan, remove from heat and set aside.
Heat the enchilada sauce in a pan over medium-low heat, until hot. Turn to low and simmer until ready to use.
Shred the cheese, and lettuce. Dice the tomato, and slice the avocado, green onions, and olives. Place each of these into their own bowl, ready to serve.
Once the rice is done, serve each item of food separately so everyone can build their own Rice Enchilada and add the items they like.
On each plate begin with a serving a rice, then on top of that add the meat and then sauce. Sprinkle with cheese, then whatever other toppings you choose.
http://eatitandsayyum.com/easy-rice-enchiladas/
We usually use ground beef with red enchilada sauce.  But I also love shredded chicken, or pork with green enchilada sauce.  Mix it up and make it how you like it.
Super easy, and totally kid friendly.  Honestly the most time consuming part here is making the rice…
After we eat, I take whatever is left over and make it up just how I would eat it (minus the veggies), in a tupperware dish.  Then the leftovers are ready to toss in the microwave for lunch the next day.  And there is usually just enough left to make one more serving.
You might also like: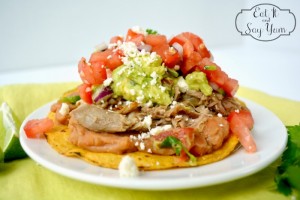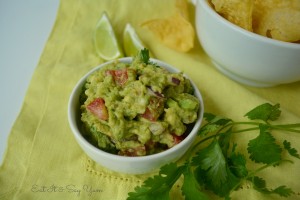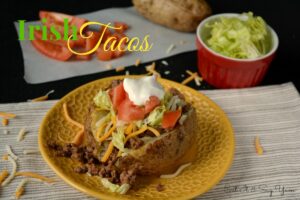 See where I link up.