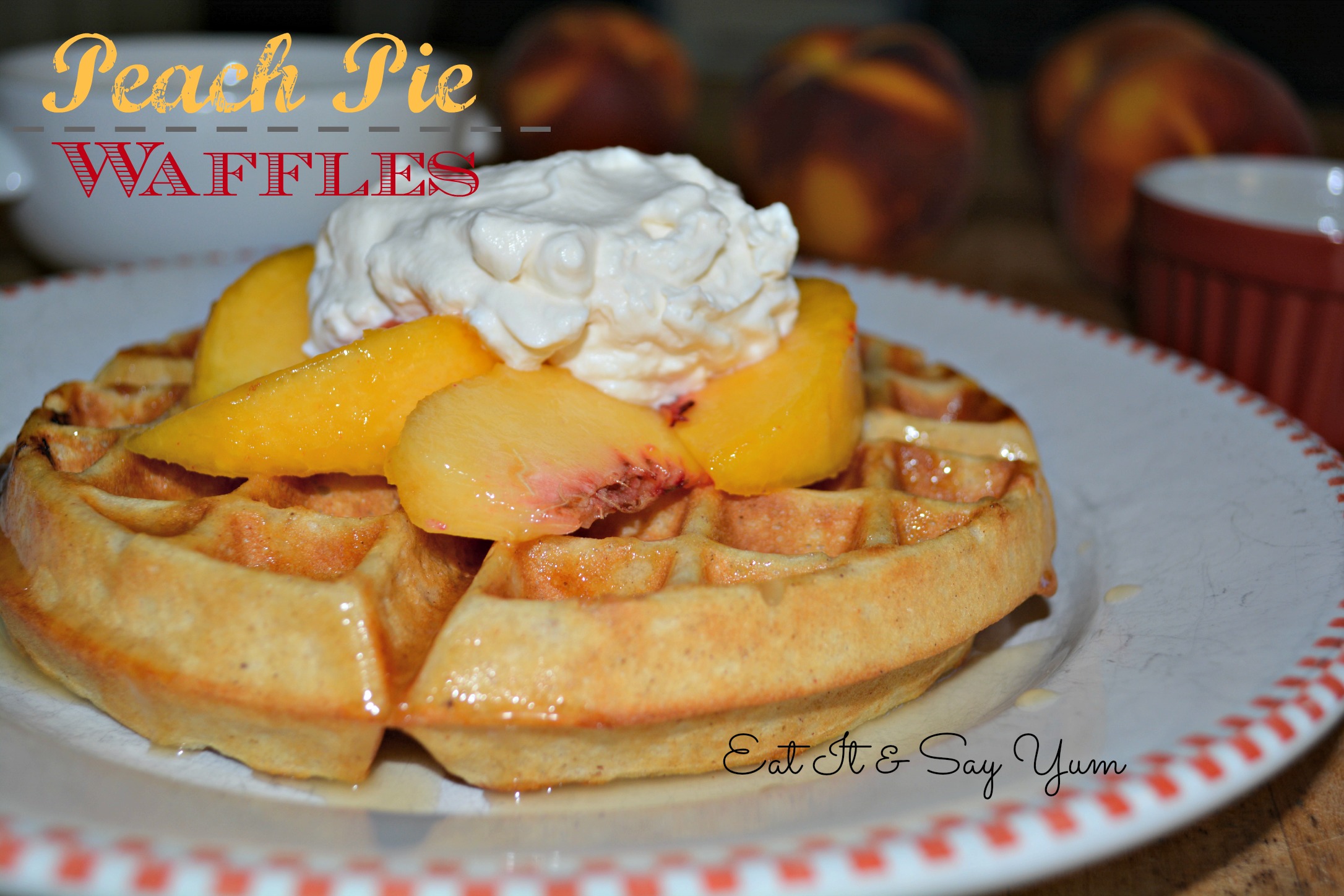 So, I had a different post in mind for today, but then someone requested peach recipes.
Since I just happened to have a Costco size box of peaches on my counter, I thought this was the right time to indulge in these babies again.
I've made this recipe for my family, but I hadn't photographed it.  And with summer drawing to a close I figured I better get these out there to the world soon.
So, World, meet Peach Pie Waffles.
I came up with these one Saturday morning when my kids were begging for waffles (like every Saturday), and I had a bunch of yummy peaches sitting on my counter.  Instead of just topping a waffle with peaches, I wanted this have a little more umph to it.  So, Peach Pie Waffles were born.
The combination of warm waffles, sweet peaches, and cool cream makes these irresistible, and such a treat.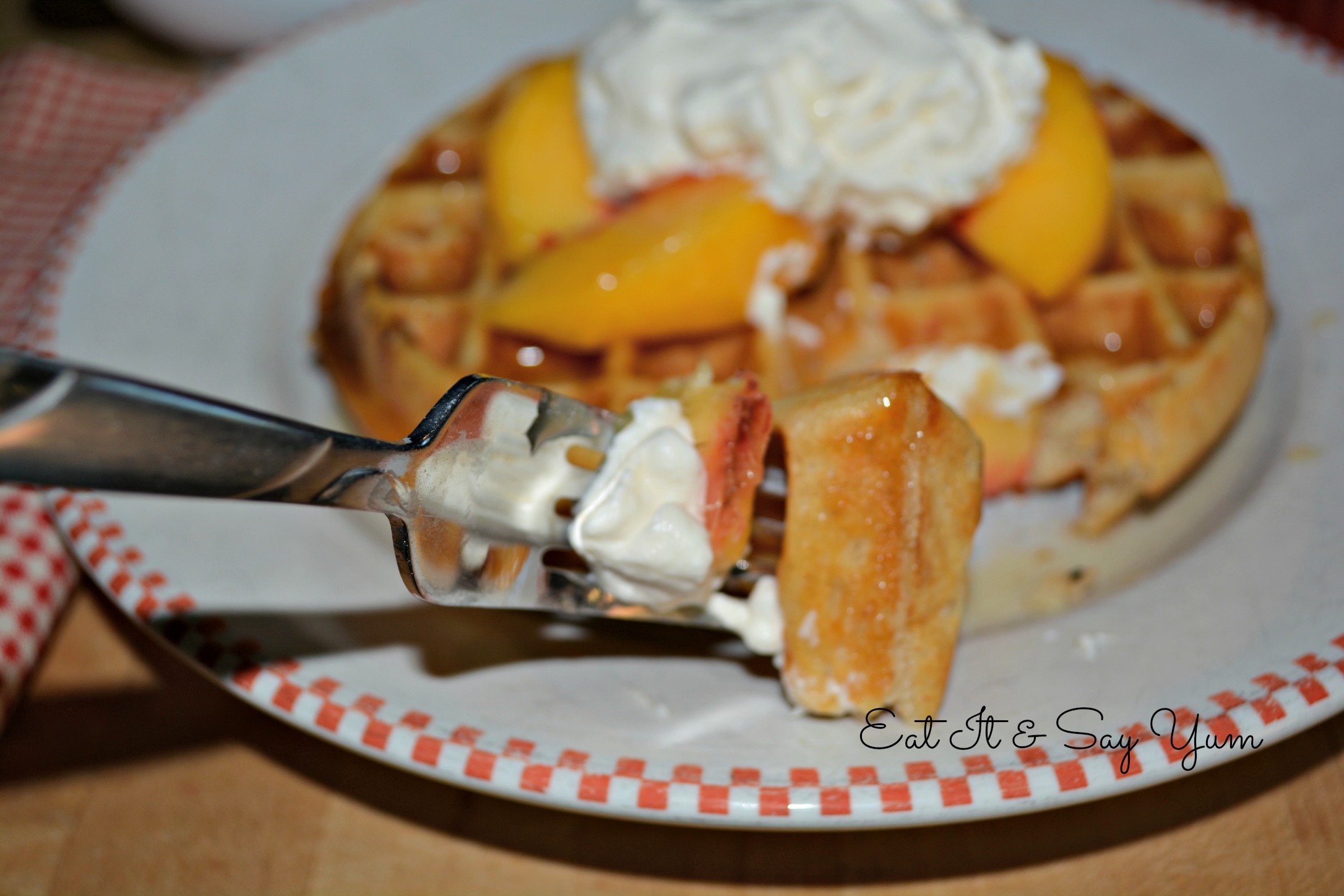 I like to have a little peach and cream in every bite of waffle.  Who wouldn't, right?
I know summer is coming to end soon, so enjoy some peaches while you can!
(I'm sure canned peaches would still be good during the winter months, but in my opinion fresh is best!)
I serve these waffles with fresh whipped cream (recipe below), fresh sliced peaches, and Buttermilk Syrup.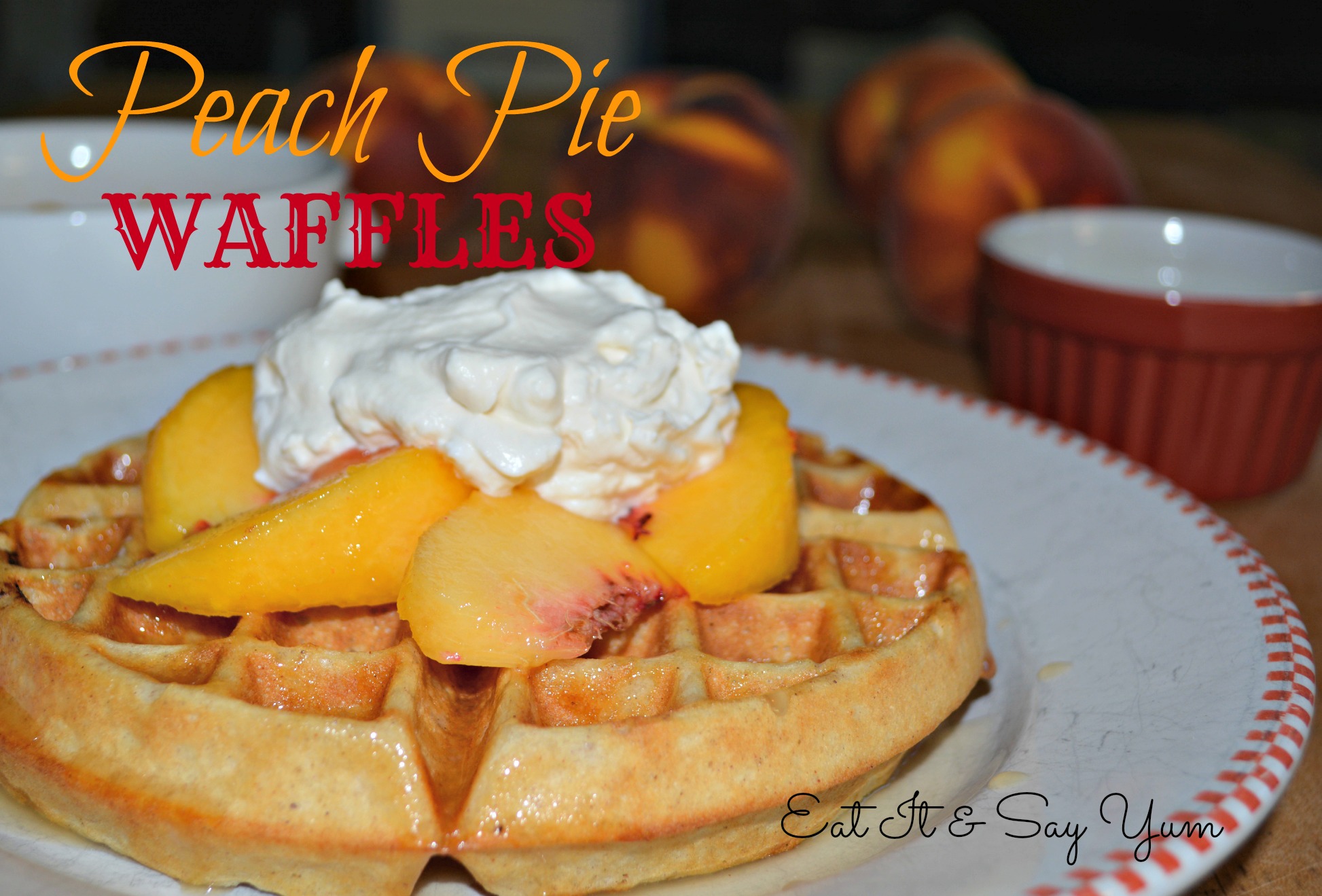 Ingredients
1 3/4 cups flour
1 tsp baking powder
1/4 tsp salt
1/2 -1 tsp cinnamon
1/4- 1/2 tsp nutmeg
1/2 tsp baking soda
2 eggs- yolks separated
2 cups buttermilk
1/2 cup oil
Toppings: Whipped Cream, Fresh Sliced Peaches, Buttermilk Syrup
Instructions
In a medium mixing bowl combine all dry ingredients and stir with a fork (or something other than the hand mixer you will use to beat the egg whites). Add egg yolks, buttermilk, and oil to the dry ingredients, but do not mix yet.
In a separate mixing bowl, whip egg whites til stiff peaks form, using a hand mixer.
Now mix dry ingredients and wet ingredients with the hand mixer to make the batter. Using a rubber scraper fold the egg whites into the batter.
Cook in a hot waffle griddle according to griddle instructions.
To make whipped cream: Beat 1 cup heavy whipping cream, 2 Tbs white sugar, and 1/2 tsp vanilla in a medium mixing bowl until peaks form.
Serve waffles topped with Buttermilk Syrup, whipped cream, and fresh sliced peaches.
http://eatitandsayyum.com/fresh-peach-pie-waffles/
You might also like: