This post was sponsored by Omaha Steaks.  The recipe, photos, and opinions are all my own.  The Stuffed Pasta was provided by Omaha Steaks.
So, I've always been a fan of Italian food.  I just can't resist cheese in pasta, or on pasta.  I also love chicken parmigiana, but that's a different story.
I used to buy tortellini all the time, and eat it in alfredo sauce.  Yum.
So, I pretty much jumped at the chance to get my hands on these beautiful little stuffed pasta shells from Omaha Steaks.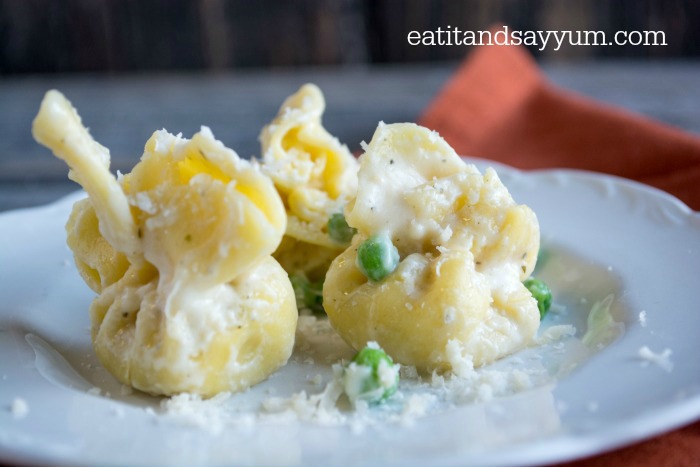 These babies are stuffed with THREE cheeses and truffle shavings.  The flavor that comes from the truffles is just amazing.  And then there is the cheese sauce.  Mmmm, I could drink that stuff.
To make this a heartier meal, I added some yummy garlic chicken, and peas to the dish.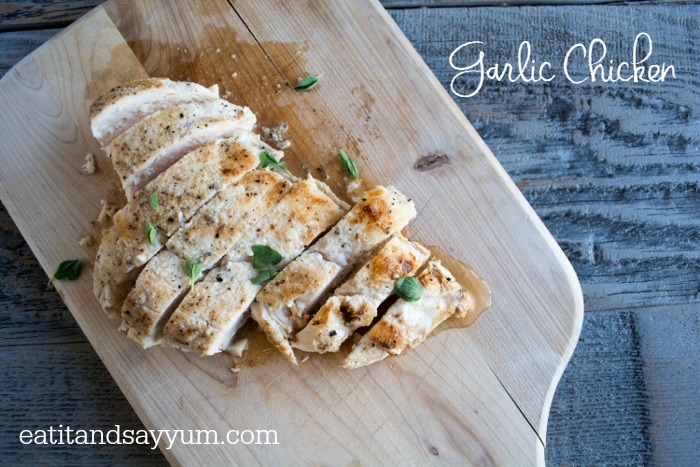 The chicken was so moist, and tender.  Definitely the best chicken I have EVER made, to date.  I just love the color of it, and you can see the juices gathering there on the cutting board.  Is your mouth watering yet?
I could eat this any night of the week.  (In fact, last I checked this pasta was on sale for about $10!!  Sign me up!)
Garlic Chicken and Stuffed Pasta
Ingredients
Truffle and Three Cheese Stuffed Pasta with Peas Ingredients: 1 package of stuffed pasta with sauce
½ cup frozen peas
1 T olive oil
Garlic Chicken Ingredients: 2-3 Chicken Breasts- thawed
Salt and pepper
3/4 tsp garlic powder
½ Tbs butter
Grated parmesan cheese
Herbs of choice for garnish
Instructions
Heat pasta and sauce according to package directions. Place the cooked pasta in a serving bowl and drizzle with the olive oil. Add the peas and white sauce then gently stir together.
Heat a pan (oven safe is ideal) over med-high heat. Season all the chicken with the salt and pepper, and half the garlic powder on one side. Place the chicken seasoned side down in the pan and sear for 2-3 minutes. Season the top side of the chicken and then turn the chicken to cook that side, for 2-3 minutes. Add the butter to the pan (or switch everything to an oven safe pan if needed) and cover with foil, place in the oven at 350 degrees while you cook the pasta, and the chicken cooks through. Serve when chicken is no longer pink in the center, about 5-8 minutes in the oven. Garnish with desired herbs and cheese.
http://eatitandsayyum.com/garlic-chicken-and-stuffed-pasta/
But, even if you don't buy the pasta, you can still enjoy this delicious chicken.  'Cause I'm giving you the recipe for it.  I know, I'm pretty nice.
You might also like: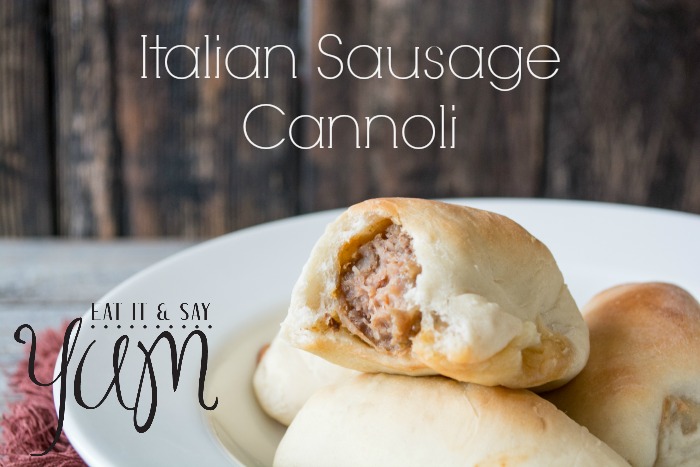 Carnitas Taquitos with Cilantro Lime Crema