This post contains affiliate links.  One Modify Ink print was provided to me for this post, but all opinions and photos are my own.
Hi y'all!
Do you remember when I posted about buying a new house?  Like 5 months ago…
And I promised I would someday share some pictures of it with you?
Well, today is the day that I give you a little peak into our VERY 'under construction' home.  Remember it's only 105 years old, and needing lots of work.
Before we moved in we made a big push to get the kids rooms done.  There are two attic rooms in the upstairs and we didn't want to be moving furniture up and down stairs each time we needed to work on a project.
Plus there was some sheet rock work that needed to be done.  And some flooring that had to go.
Let me show you the before of my daughters room…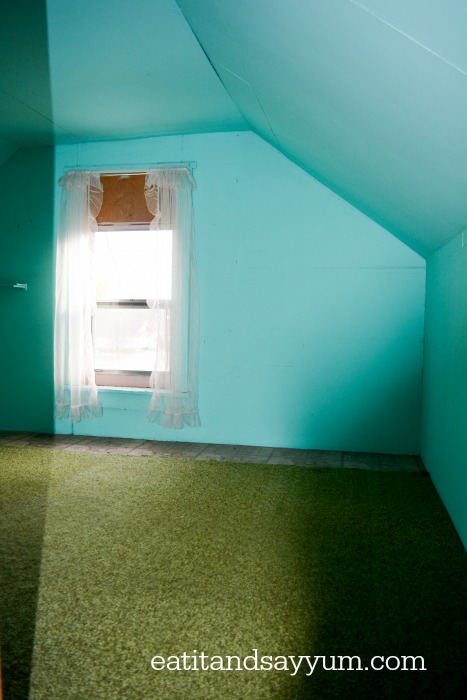 That blue was pretty bright.  And the dark cracks between each sheet of sheet rock were SO obvious.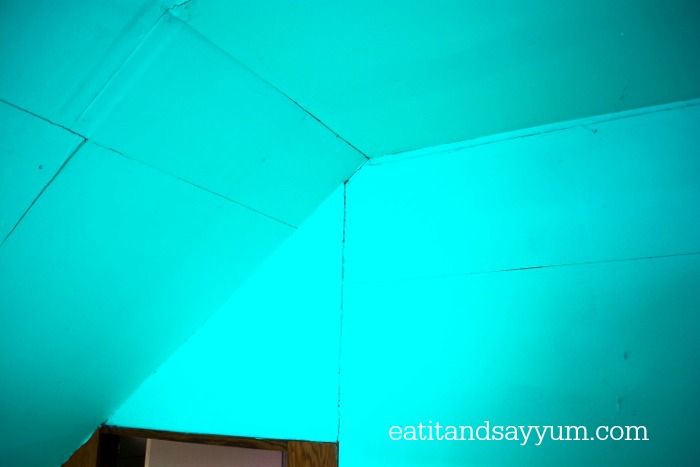 And there were 3 different types of flooring in just one room.  On top was the nasty green carpet.  But it wasn't even big enough to cover the whole room.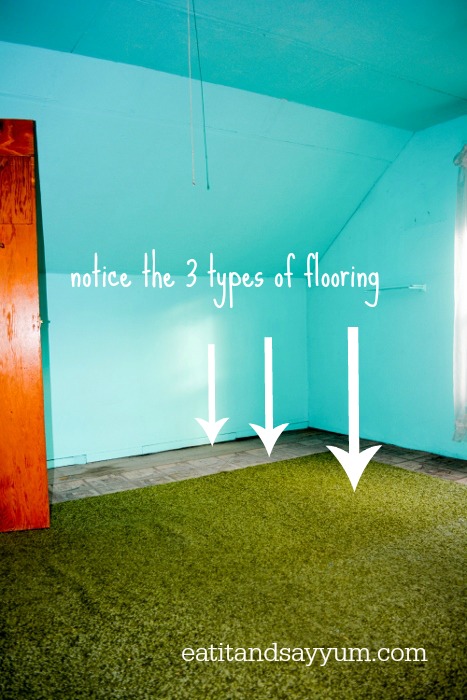 Under the carpet was some lovely old linoleum.  With ships and bridges and I don't even know what else.  Then under that was the original wood floor.  In bad shape.  When the previous owners had put down the linoleum, and it didn't cover the whole room, they just painted the wood floor that was still visible.  That was a beast to get off.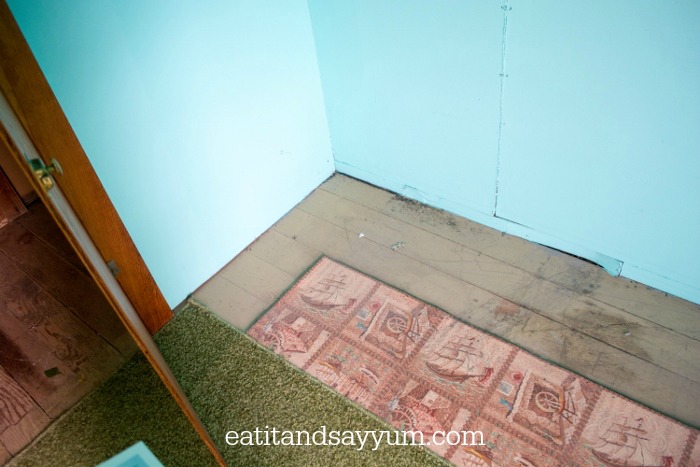 We did find this old school floor sander to rent in our little town, but that sander had seen better days.  It wasn't working right, and so we ended up quickly getting the center of the floor done as best we could, but the edges couldn't be touched by the floor sander.  So, we had to do all the edges with a palm sander.  And where they had painted took FOREVER!!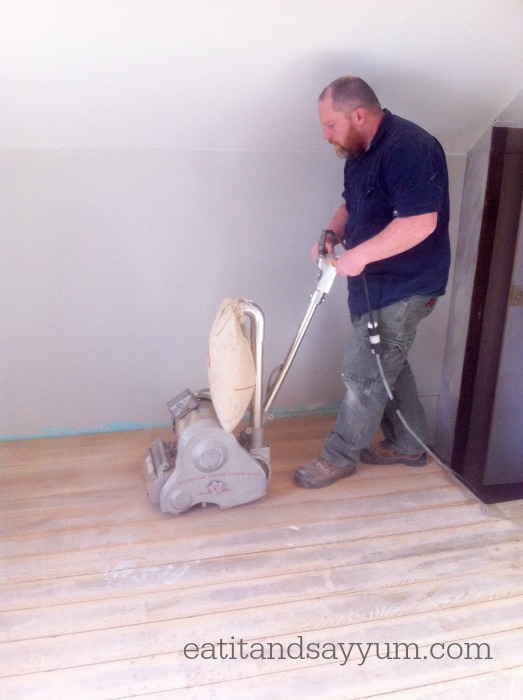 This is what the floors look liked after the sanding.   And notice the awesome, single pane windows there?  At some put they replaced the windows but put smaller windows in.  So there is just a piece of wood filling in the extra space.  We are putting in new windows within the next month or so.   Ones that actually fit the space.   And do you notice no more cracks in the sheet rock!?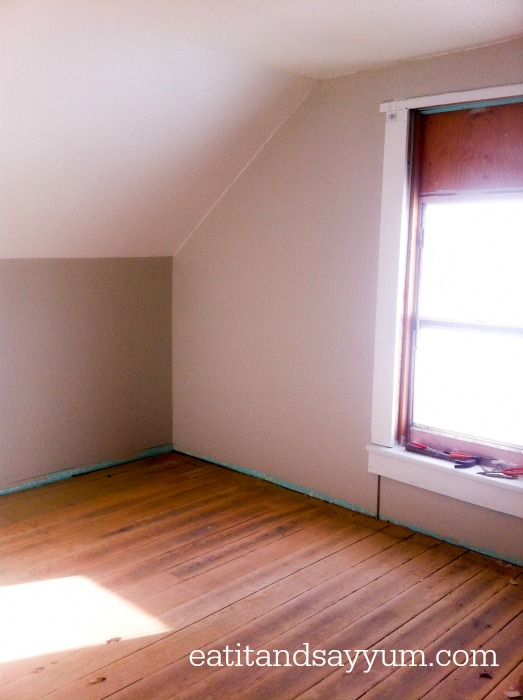 We patched, taped, mud-ed and textured the sheet rock.  Then we painted the walls grey and the ceiling white.  So much brighter, in a good way.
We stained the floors with an Ebony stain.  It was really dark, and at first I was nervous about it.  But then we saw the grain and texture coming through and I loved it!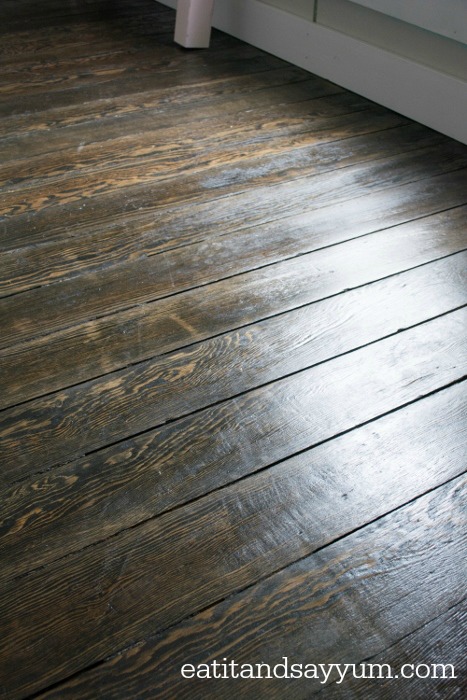 And now, the room is looking MUCH better and is totally livable.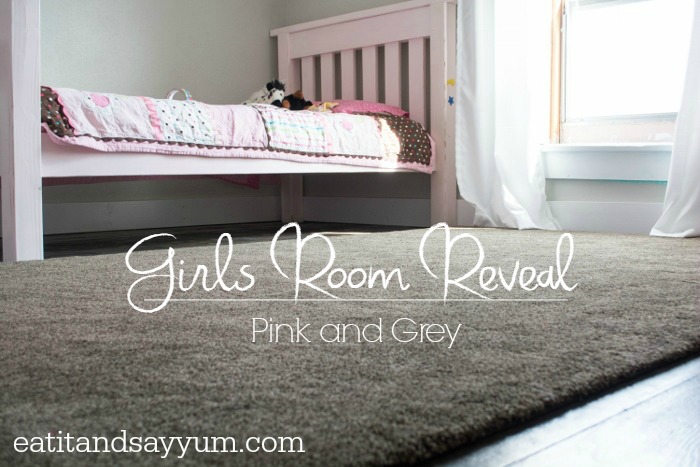 One thing I love about attic rooms is the cool slanting ceiling lines.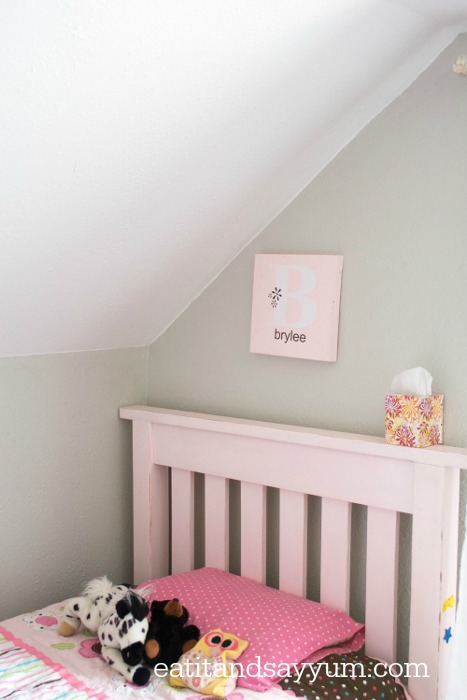 My daughter has more shoes than me…  See that shoe basket?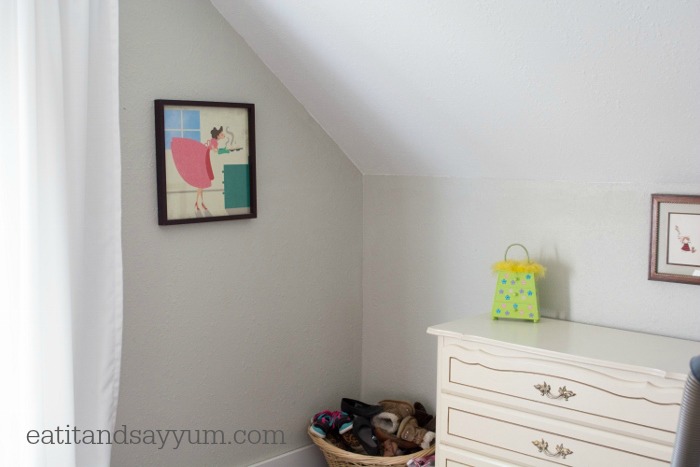 That cute print on the wall there is from Modify Ink.  They offer the coolest services!!  You can pick any of their prints and then change all the colors and textures to fit your color pallet.
When I saw this print, I knew it would be perfect for my little girl.  She is an aspiring baker.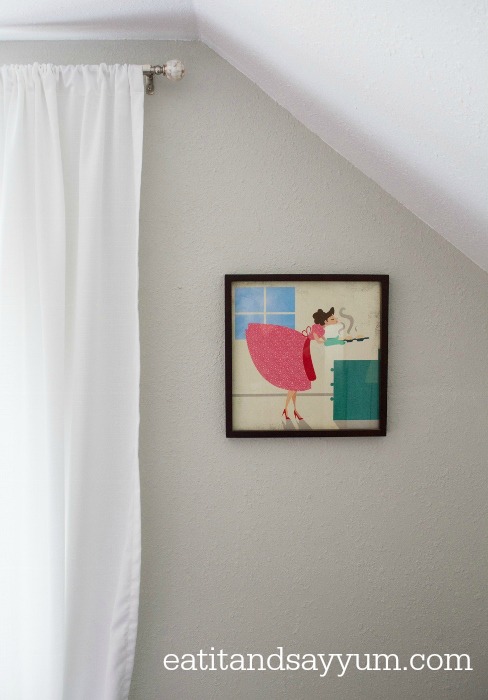 I loved being able to change the colors to match her personality and the scheme of the room.  I love it.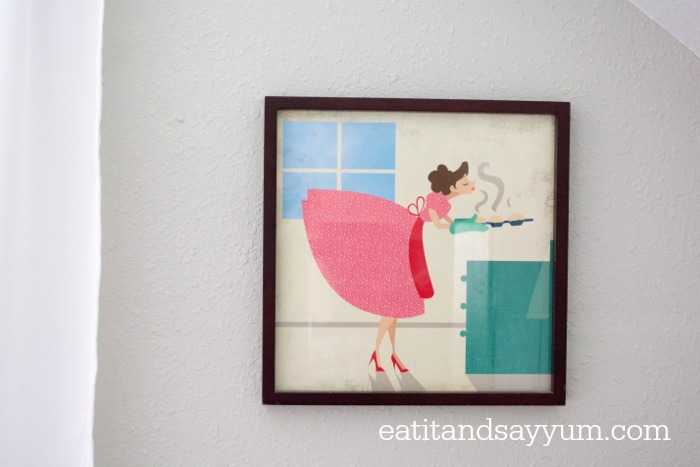 This dresser was given to us by my mom.  And I'm so excited to make it over, too.  But I think we need to do some more work on the house before I tackle painting a dresser.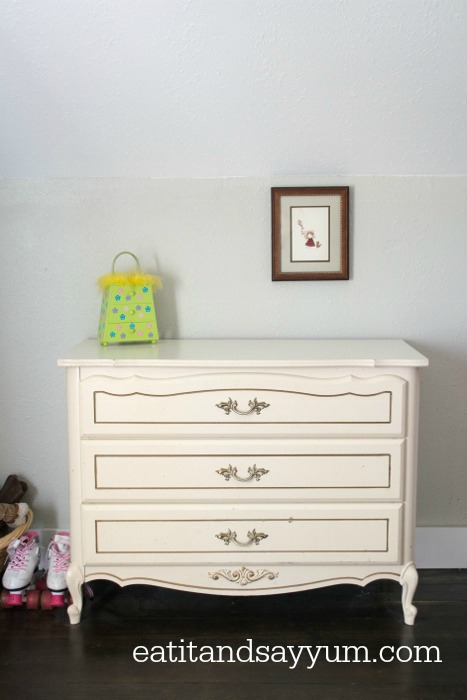 This cute print here is also from Modify Ink.  I just loved it.  It captures the 'little' in my girl, even though she is growing up.  That's just a part I don't want to let go of yet.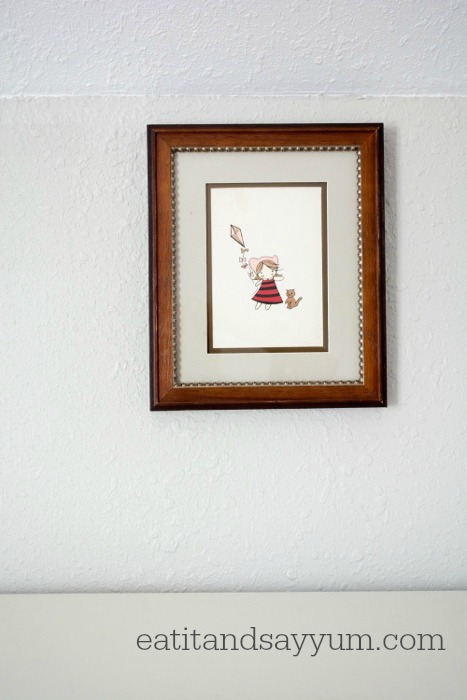 Just a few more things I've made for that little 'baker' in my life.  Along with all her easy bake oven tools.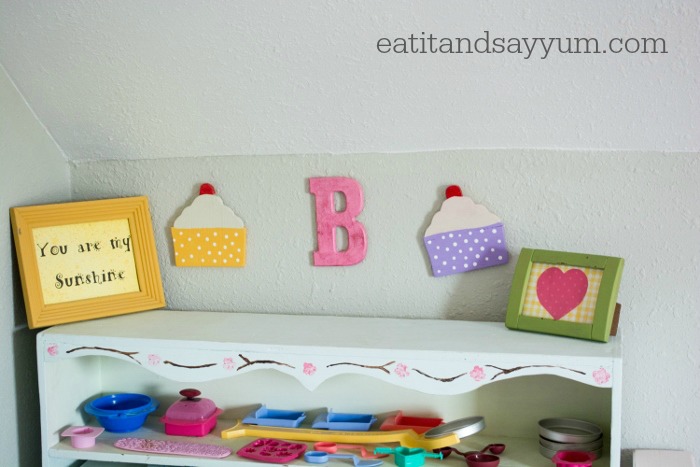 And these shots are from a special photo session, back when we lived in Missouri.  This fairy photo shoot was so awesome, and done by the amazing Jillian Farnsworth.  We had fun, and I love the great prints we got to always remember how fun it was to dress up and make-believe.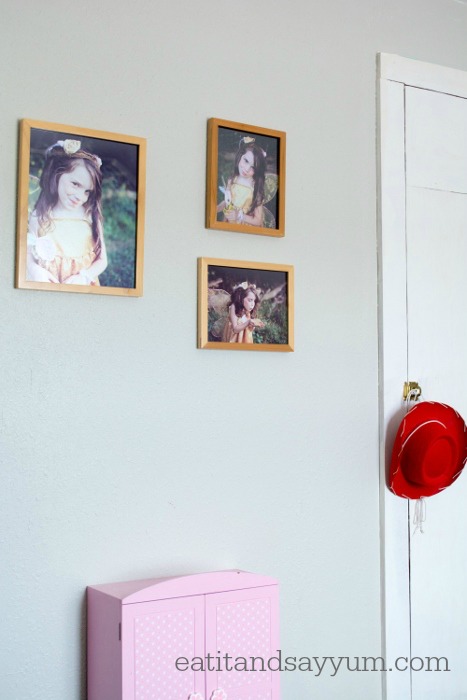 And doesn't every little girl need a cow girl hat?  You never know when you'll need one.  (Especially here in Montana!)
So, what do you think?  Big improvement?  Have you tackled a remodel?  I swear I'll never do it again.  Haha.
Be sure to check out the Modify Ink products!  As a bonus for my readers there is a 30% off code, when you follow my links.  The code is only good for 3 days, so hurry!  🙂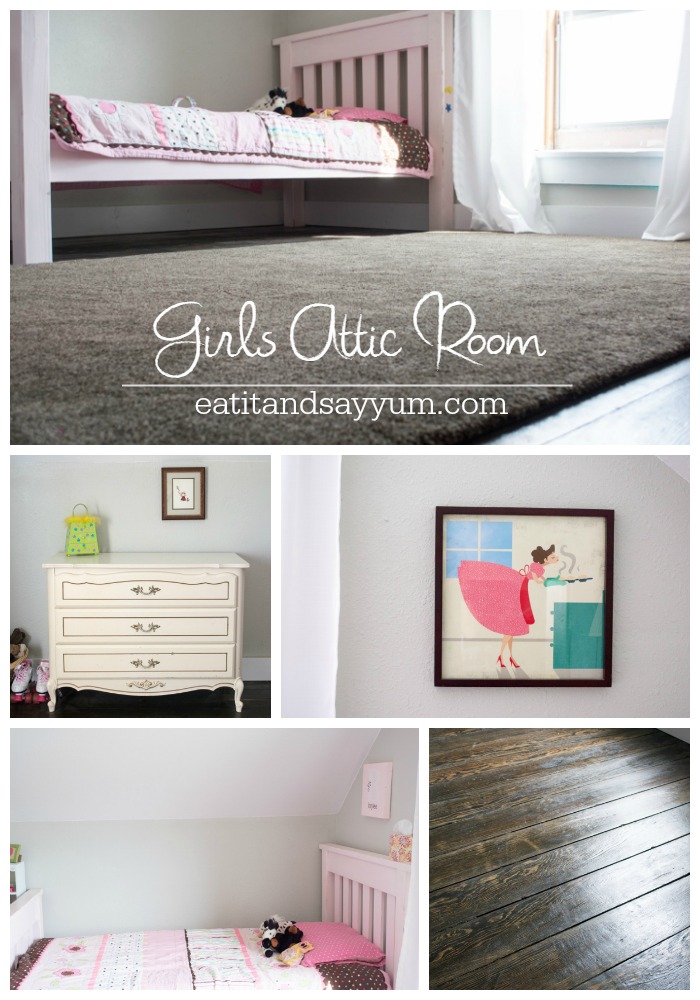 You might also like:
12 Signs You Might be Raising a Foodie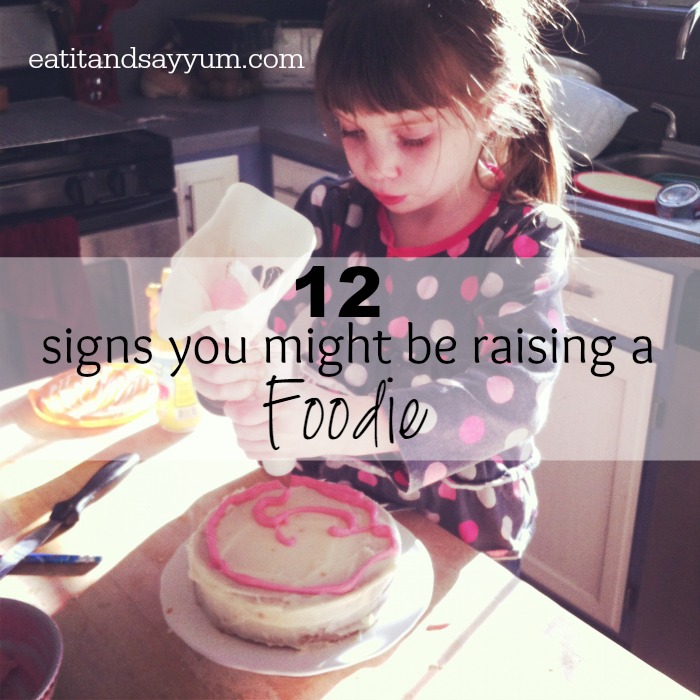 How to Build a Framed Chalkboard